A love of fitness and an unconventional career path inspired Jocette Mower to run her own successful F45 businesses
From performing her first music concert at the Sydney Opera House at age five to becoming a globe-trotting model and now, a thriving F45 franchise owner in the UK, Jocette Mower has managed to make a success of everything she puts her mind to.
Keep up to date with the latest What Franchise News sent straight to your inbox. Sign up here.
Ever since her first time on stage at the Sydney Opera House, she caught the "performance bug", which led her to attend the Sydney Conservatorium, studying for a performance degree that majored in the oboe.
"I played the oboe and toured with the SBS Orchestra and Matthew Krel all over the world," says Jocette. "I was on television a lot playing my oboe, and during that time, I got to know a lot of photographers."
One eventually convinced her to go to a modelling agency in Sydney and that was when Jocette was thrust into the world of fashion. "My first job modelling earned me more money for half a day of work than I would make playing music in a year," she adds.
Soon after, in the late 90s, an agency scouted Jocette for a contract working in Tokyo. The fashion world had won her over with its colourful and exuberant personalities. "It was irresistible to a poor performing arts student," she says. "And at the tender age of 19, I was making $50k profit per month from modelling."
She has been all over the world modelling in New York, London, Japan, Hong Kong, Canada and South Africa and still continues to do so. "I have a television commercial that's currently running Europe-wide for Nivea Q10 face cream and I'm in my mid-forties now," she says.
From the heroin chic era to the age of abundance
Modelling not only opened up opportunities for the ambitious franchise owner but it also sparked her passion for fitness, although it may not have been voluntary at first. As a model, she needed to keep in shape as part of her career.
"It was part of my contract and my body was constantly being scrutinised. In some ways, I had no choice. Now, fitness is less of a chore and more of a passion," she says. "I workout with friends, family and I get to be a part of so many of our clients' fitness journeys. Being around so many like-minded people makes fitness fulfilling as well as functional."
Jocette started her modelling career in the "heroin chic era", where it was more about abstinence and the discipline required to eat less and stay skinny.
Now it's about the abundance of nutritious food, exercise, motivation, team energy and stretching. "Exercise often leads to losing weight but now the focus is more about toning, feeling lean and energised and looking vibrant rather than malnourished," says Jocette.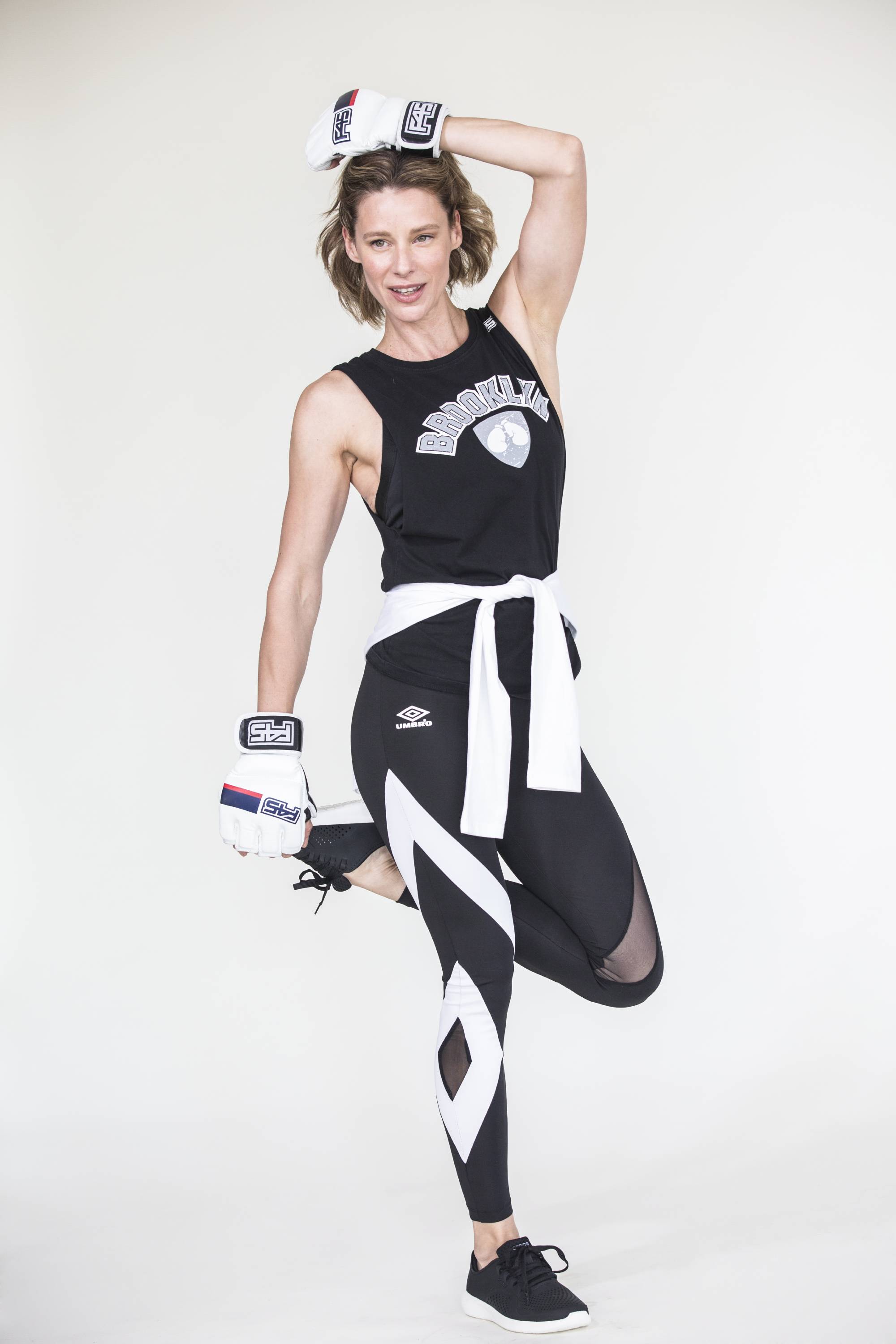 Boss lady: Muma Jojo
F45 Training was born in Australia as a high-intensity interval training (HIIT) class. It is based on the principle, Excessive Post Oxygen Consumption (EPOC), where you burn more in the immediate aftermath of a workout than during a class, which is why F45 produces such noticable results. The fitness franchise now has 1,750 units and six million F45 members around the world.
The first F45 launched in the UK in 2017, and Jocette and her husband, Andrew, opened the doors to F45 Farringdon that same year. "We were the second F45 to open in London, and we also own F45 Ravenscourt Park in Hammersmith as well," she says.
Managing a team of 30 staff, her fitness franchise is booming. At the last count, her client list topped over 12,000, who had all signed up in a two-year period. "We are in the process of streamlining our procedures," she explains, "and once that is complete, we will be opening another studio in London. We are closing in on a property right now!"
This has all been made possible through the option of franchising, especially for those that have the entrepreneurial drive but don't necessarily come from conventional business backgrounds.
"If you don't have any formal experience of running your own company, franchising is one of the best business opportunities available," says Jocette. "Working under a brand that already has significant market exposure and operates with a proven business model, minimises the risk and increases the prospect of achieving a profitable and sustainable business."
Staying ahead of the curve
With a growing number of gym openings lined up, how does the F45 franchise stay on top in a crowded marketplace? "It's all about the personal service we provide," says Jocette.
She points out that with most gyms after signing up for a year and going once or twice a week, operators have no contact with clients. This results in a loss of interest or even worse, injury. "You'll pay your monthly fees until your contract runs out and you never go back," she continues.
"If you don't have any formal experience of running your own company, franchising is one of the best business opportunities available"
To avoid clients slipping through the gaps, F45 takes a personal interest, first asking clients about their goals so that trainers can help them individually with exercises. And if they don't show up to class, the trainers call to check up on them.
"There are also no mirrors on the gym floor, so there are no egos," says Jocette. "You will find a 19-year-old working out next to a 60-year-old – everyone gives their 100 per cent for 45 minutes.
"The team training aspect levels out the playing field. It is extremely motivating to be in that environment as you give 100 per cent every time because everyone else is sweating it out with you."
The fountain of youth
Jocette believes that exercise is the fountain of youth and for her, F45 is the source. "The fitter we are, the more we can achieve and the less likely we are to become injured or fatigued. The more exercise people get, the less their cells appear to age," she says.
As the mother of three, she says she owes it to them to be as fit and healthy for as long as she can. "I still want to be playing sports with my kids into my eighties and with the proper education in health, exercise and care, which F45 provides me with, I know I can live a very long fulfilling life with my children," she explains.
With the ups come the downs
Although there have been tremendous highs in her career, it has not been an easy path. Jocette singles out fatigue as a major challenge in the early stages of running her fitness business. She explains: "Many business owners, even the successful ones, get stuck working much longer hours than their employees. This usually stems from a fear that their business cannot thrive in their absence, which has them avoiding taking any time away to recharge."
For her, another challenge was finding the balance between her maternal side as she viewed clients and staff as family and the business side of having to make difficult decisions to ensure the financial viability of a small business.
"I do believe strength and gentleness can exist side by side and can lead to success in businesses of any size. It can be a challenge to learn not to take setbacks personally and how to compartmentalise different aspects of the business, but women are great multi-taskers, which can be an incredible asset for a small business," Jocette concludes.
The multi-unit franchise owner reflects on her unconventional path to franchising, crediting her modelling career for opening so many doors. "It just goes to prove that an entrepreneur can come from many different industries. I turned my unconventional experiences in the arts and fashion industry into entrepreneurial success.
"There's no rule that says you have to study business to be a success. Drive, creativity, and determination are crucial to success when you're running your own company – my past has granted me with many different experiences that have enabled me to know where my skill-sets can be used best."
For more information, visit: F45 Farringdon and F45 Ravenscourt Park
THE AUTHOR
Amanda Peters is a staff writer for Global Franchise and What Franchise.
Photographer: Paul James Hay
Stylist: Marian Schlicker