The information you submit via our enquiry form is shared only with the franchise business(es) that you have selected.
The franchise business will contact you by means of email and/ or telephone only to the email address and phone number you have provided.
By submitting the enquiry form you are consenting to send your personal information to the selected franchise business.
You also agree to receive further newsletter email marketing from What Franchise.
Close
Did you know?
Opportunity Marketing has outlets available across the UK

Request free information in just 60 seconds!
Take the first step in becoming your own boss!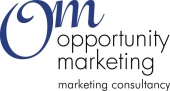 Opportunity Marketing
Opportunity Marketing is a marketing agency that works with SMEs to help provide solutions and strategies to help grow their businesses.
Minimum Investment
£12,750
Business Type
Business & Professional Services
Expected Revenue After 2 Years
N/A
About Opportunity Marketing
Opportunity Marketing is a marketing agency that provides services to SME businesses. Unlike many other marketing agencies, Opportunity Marketing focus purely on a 'back to basics' approach, helping businesses to understand the role of marketing, and developing a clear and transparent strategy.
What does Opportunity Marketing franchise offer to its customers?
Opportunity Marketing provide a varied and accessible menu of marketing services to their customers, giving franchisees the advantage of having a diverse range of things to offer, and tap into a broader audience. Their service packages include everything from a brief marketing pit stop and brainstorming session, for more experienced clients, to a detailed health check or the development of a complete marketing strategy. This structure allows a wider range of clients to use their services, increasing the income stream of the business model.
Franchisees can also break their services down into a bronze, silver, gold and platinum-tiered model, which encompasses a variety of activities, depending on which level the client has chosen.
Where is the Opportunity Marketing franchise head office based?
The head office for the Opportunity Marketing franchise is located in Leeds.
Where can you find a franchise territories with Opportunity Marketing?
Territories for franchise opportunities are available across the UK. To find out more about current opportunities, contact their franchise team for further information.
How much does it cost to start an Opportunity Marketing franchise?
To start a franchise with Opportunity Marketing, you will need to invest an initial start up fee of £12,750, as well as monthly charge of £250. Prices are exclusive of VAT.
You will also be required to pay commission on all monthly work, including a twenty per cent fee for all centrally generated leads, and ten per cent from all leads generated by yourself.
What kind of financial support can you get with an Opportunity Marketing franchise?
Opportunity Marketing do not offer direct financial support, but funding is available for up to £15,000 from some lending services for start ups. You may also be able to get funding for some or all of the investment amount required from most major high street lenders.
What sort of experience do you need to start an Opportunity Marketing franchise?
It is essential to have a substantial foundation in marketing, as well as previous experience in working with SMEs, to start a franchise with Opportunity Marketing. The brand recommends that all potential candidates have at least five years' experience in the marketing management sector. The business is ideal for an existing marketing manager who wants to move away from a corporate role or looking for a fresh change of direction. You should also be clearly motivated to work independently, with the ability to drive yourself.
What kind of training or support is provided with an Opportunity Marketing franchise?
Opportunity Marketing provide a robust and detailed training package for all franchisees, with an in-depth training course to cover the brand's methodology and approach to their services.
Did you know?
Opportunity Marketing has outlets available across the UK

Request free information in just 60 seconds!
Take the first step in becoming your own boss!
This includes extensive training on the various product packages offered by the brand, and how to execute them most effectively, as well as insight into how to work with clients to find out relevant information about their business and objectives, in order to develop the best marketing plan and strategy for them.
You will also be provided support on all practical aspects of running a business, including advice on developing your own sales and marketing strategies and effectively finding new leads. You will also be provided training and support on all of the brand's own in-house systems and tools, including use of their bespoke invoicing process and managing documentation, and other essential aspects of running your own business. As all invoicing is carried out by the company's central office, franchisees will not need to be involved in this.
Once trained and ready to start, franchisees are supported on an on-going basis with mentoring and further training opportunities, designed to help you grow the business further.
Opportunity Marketing also have their own centralised lead management system. The brand have their own centralised marketing which helps in finding new clients. Their central team also manages all invoicing and payments, reducing the administration required from franchise owners.
New franchisees are also equipped with a franchise package, designed to help you get started quickly. The package includes a variety of marketing collateral, such as business cards, leaflets, and templates, as well as a tailored landing page to direct leads.
What business opportunities are available with an Opportunity Marketing franchise?
A franchise with Opportunity Marketing provides a broad range of business opportunities for franchise owners, as the brand is well established amongst the SME audience, and it has an excellent reputation for provide clear and effective marketing support for emerging businesses and start ups. With hundreds of thousands of new businesses registering in the UK each year amidst a growing startup market, this provides a great opportunity for franchisees to thrive in the marketing industry.
Working with the brand as a franchise also provides a range of other advantages, including reducing the cost of overheads. All initial collateral is provided as part of the franchise package, and the business can be managed from a home office easily, minimising any additional costs, and providing more flexibility to manage your working schedule around other commitments.
Working with a well established brand also gives franchise owners access to a network of existing franchisors, with the opportunity to gain guidance, support and advice from others. These factors can help you succeed in advancing your earning potential much more rapidly, while minimising the risk involved in starting a new business.
How to get started
To get started with a franchise with Opportunity Marketing, contact the brand directly using the form on this page and review their franchise package.

Request Free Information
Send a free enquiry to Opportunity Marketing for further information!
Enquire into this franchise today