The information you submit via our enquiry form is shared only with the franchise business(es) that you have selected.
The franchise business will contact you by means of email and/ or telephone only to the email address and phone number you have provided.
By submitting the enquiry form you are consenting to send your personal information to the selected franchise business.
You also agree to receive further newsletter email marketing from What Franchise.
Close
Did you know?
toodle has an expected revenue of £121,849 after 2 years!
Request free information in just 60 seconds!
Take the first step in becoming your own boss!
toodle
Provides hospitality, event, and retail operators an order management ecosystem that offers the highest degree of touchless automation
Minimum Investment
£25,000
Business Type
Business & Professional Services
Expected Revenue After 2 Years
£121,849
About toodle
toodle provides hospitality, event, and retail operators an order management ecosystem all on the mobile phone, offering the highest degree of touchless automation for their outlets and venues, so they can reduce costs and enhance their service proposition.
toodle offers brick-and-mortar operators, within hospitality, festivals, events and retail industries, an accelerated and innovative solution to modern-day consumer demands, post-pandemic problems and business balance sheet pressures, in the form of the toodle cloud-based and app-enabled ecosystem, providing merchants with a CAPEX-free, low OPEX cost software as a service solution.
· toodle streamlines - resulting in a more efficient way of servicing more customers with your existing staff.
· toodle is contactless - ensures less staff handling of cash or contact with payment machines and also has the added benefit of less queuing in-store payment tills.
· toodle is convenient - creates not only an added sales channel but also a more convenient customer experience in today's fast-paced world.
· toodle is efficient - ensures operational control and data driven management capabilities on handled on standard mobile devices.
Although toodle is a unique and new-to-market solution, it has worked tirelessly at perfecting its offering and currently has over 40 operational pilots with various merchants across multiple sectors.
Unlike other order management solutions that are built for a specific sector, toodle has been developed to provide unique solutions to multiple sectors. Its technology and infrastructure allow it to develop the right solution for multi-unit businesses or businesses that typically don't have an available solution, such as:
· Businesses that seek access to the rapidly expanding in-store m-commerce trend in retail and hospitality
· Stores with busy queue times
· Outdoor venues with roaming serving staff
· Operators who desire to be a COVID challenger
· Operators who see a need to improve their ease of customer payment
· Owners who realise the power of customer data and have the means to directly target the market
· Owners who wish to lead in their category and/or segment, with a goal to combat competitors or increase market share.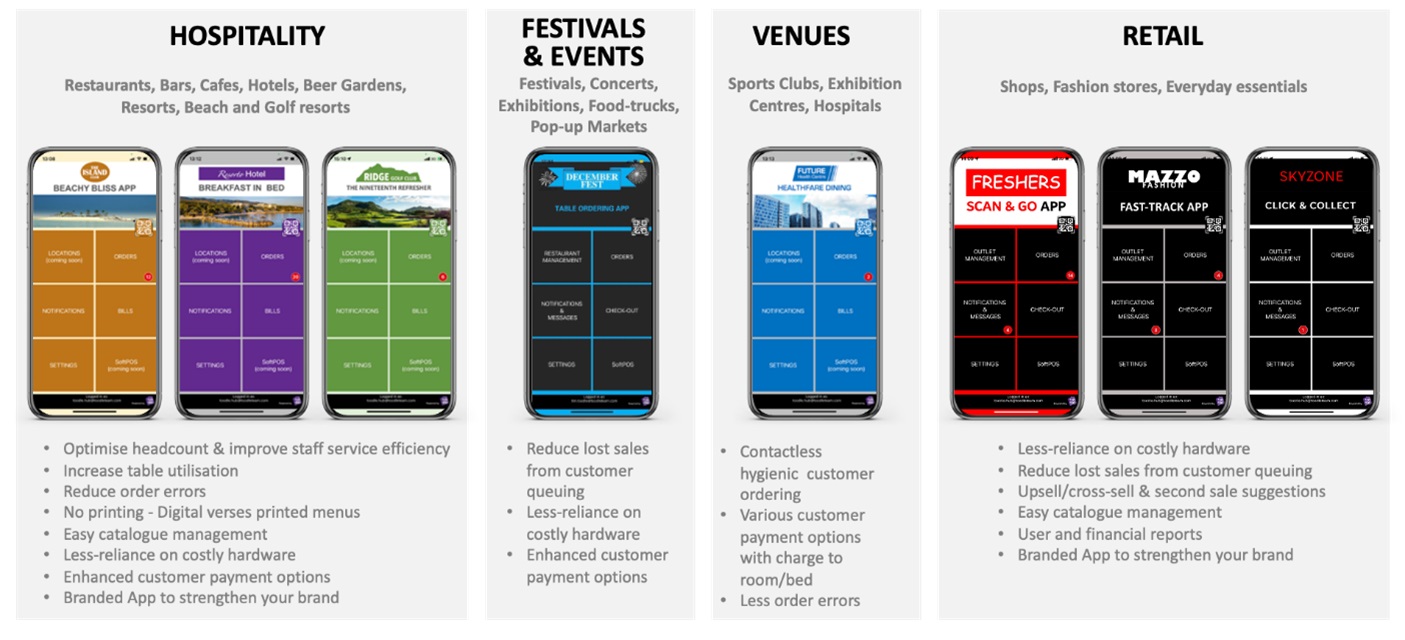 How does the franchise model work?
As this is a management franchise, this has a high focus on sales, networking and client relationships. The team handle all of the set-up, technical support and ongoing integrations.
Keeping in line with its vision and the foresight of its experienced management team, toodle is now looking for the perfect franchisees to help expand its proven and highly scalable built-to-franchise brand and business throughout the UK and Ireland and elevate the brand to new heights!
With aggressive growth and marketing strategies, toodle anticipates rapid expansion which will not only bring more customers and merchants to the brand but also help current customers to grow their own sales and increase transaction values.
The toodle platform runs off a single income stream, being on average 5 per cent of commission received through sales on the toodle platform.
toodle franchise benefits:
• Respected brand and experienced management team
• Extensive technical and management training on all aspects of the business
• Full suite of materials and tools to hit the ground running
• An innovative idea which has international demand
• Proprietary, first-of-its-kind toodle technology
• Low-cost business model with a high return on investment from year 1 of trading.
What is toodle looking for in its franchisees?
The ideal toodle franchisee is driven, self-motivated, entrepreneurial and ambitious. Whilst the team encourage ideas and innovation, for brand protection, it is essential that franchisees are willing to learn and are committed to following its processes and work well with the rest of the team in order to create their own successes.
You do not need previous experience in toodle to join the franchise as you will receive all the training you need to get set up and run your toodle business successfully.
Did you know?
toodle has an expected revenue of £121,849 after 2 years!
Request free information in just 60 seconds!
Take the first step in becoming your own boss!
What training and support can franchisees expect?
toodle has structured a comprehensive training programme covering every aspect of the business designed to fast-track you through all the operating procedures. You will be required to attend a structured and in-depth training programme. Ongoing training is available as and when required which may ensue extra costs.
Initial training and support provided:
• Onboarding business planning programme
• Full initial training in all aspects of the business
• Quality brochures and business cards
• Initial supply stationery and business cards
• Training materials and operations manuals
• Personal mentoring and ongoing support.

How much does a toodle franchise cost?
The minimum investment required is £25,000 and breakeven time is expected in less than 12 months.
What locations or territories is toodle looking to operate in?
The team would like to grow toodle in locations across the UK and Ireland.
What are the franchise terms of agreement and renewal?
The initial franchise fee of £25,000 covers a franchise agreement term lasting five years.
Why is this franchise a good investment?

Current merchant proprietary hardware and software offerings for order management are costly and can tie the merchant to lengthy contracts and expensive POS hardware. However, this technology has become necessary for businesses to remain competitive.
The toodle model is built to franchise and it has developed the financial model to scale through this direct sales approach with the right franchise partners. The first key target is 50 franchisees by the end of 2023 who will generate more new customers but also help their current customers grow their own sales and increase transaction values.
How in demand is this service?

Research shows that business owners and operators of hospitality and retail outlets with the highest degree of touchless automation in-store will enjoy a clear competitive advantage. With a predicted 53 per cent of global transactions at point of sale (POS) being contactless within the next five years and customer service speed and transaction safety becoming the top expectation, a new dining and shopping experience is expected, and merchants will need to shift their mindsets and redesign the way they do business to meet this demand.
Consumers in the UK today, are also less likely to choose cash as their preferred payment method, with one in five customers no longer carrying cash, and with more than a quarter of cash machines throughout the UK adding a fee to the consumer to withdraw cash from an account. These consumers will expect merchants to be able to accept their contactless or other online payment methods, or they will likely choose to support the merchant that does.
What do customers say about the brand?
· "It's the perfect solution for ordering F&B"
– Ajman Hotel
· "toodle is perfect for our food trucks as you can monitor sales and inventory NO matter how remote they are"
– Barakah Exit
· "We are a modern venue with state-of-the-art facilities! We needed a payment system that fitted our green and health-conscious credentials. toodle fitted perfectly with our ethos, it's quick. Easy and allows us to serve our customers seamlessly and without cash"
– The Agenda
· "As toodle's UAE business development partner, Qbust has been identifying and on-boarding toodle merchants across all sectors, including hotels, restaurants, shops, and even pop-up markets. It's a great innovation to sell and really helps the outlets and customers"
– Qbust
How do I start setting up my own toodle franchise?
To find out more, or to request further information on franchising with toodle, complete the form below and click on the 'Request Free Information' button now.
Request Free Information
Send a free enquiry to toodle for further information!
Enquire into this franchise today