The information you submit via our enquiry form is shared only with the franchise business(es) that you have selected.
The franchise business will contact you by means of email and/ or telephone only to the email address and phone number you have provided.
By submitting the enquiry form you are consenting to send your personal information to the selected franchise business.
You also agree to receive further newsletter email marketing from What Franchise.
Close
Did you know?
Your Mortgage Plus has an expected revenue of £90,000 after 2 years!

Request free information in just 60 seconds!
Take the first step in becoming your own boss!

Your Mortgage Plus
Mortgage, protection and advisory service, working with residential, buy-to-let, commercial real estate and finance protection
Minimum Investment
£15,000
Business Type
Business & Professional Services
Franchise Fees
£249+ per month + commissions
Expected Revenue After 2 Years
£90,000
About Your Mortgage Plus
Welcome to Your Mortgage Plus, an exciting and unique professional franchise that provides you with the opportunity to secure your long-term future career and income as a fully qualified Mortgage, Finance and Protection Insurance Adviser.
With Your Mortgage Plus, you will be your own boss generating significant income working the hours you want to suit your lifestyle, supported every step of the way by a dedicated and highly experienced back office team.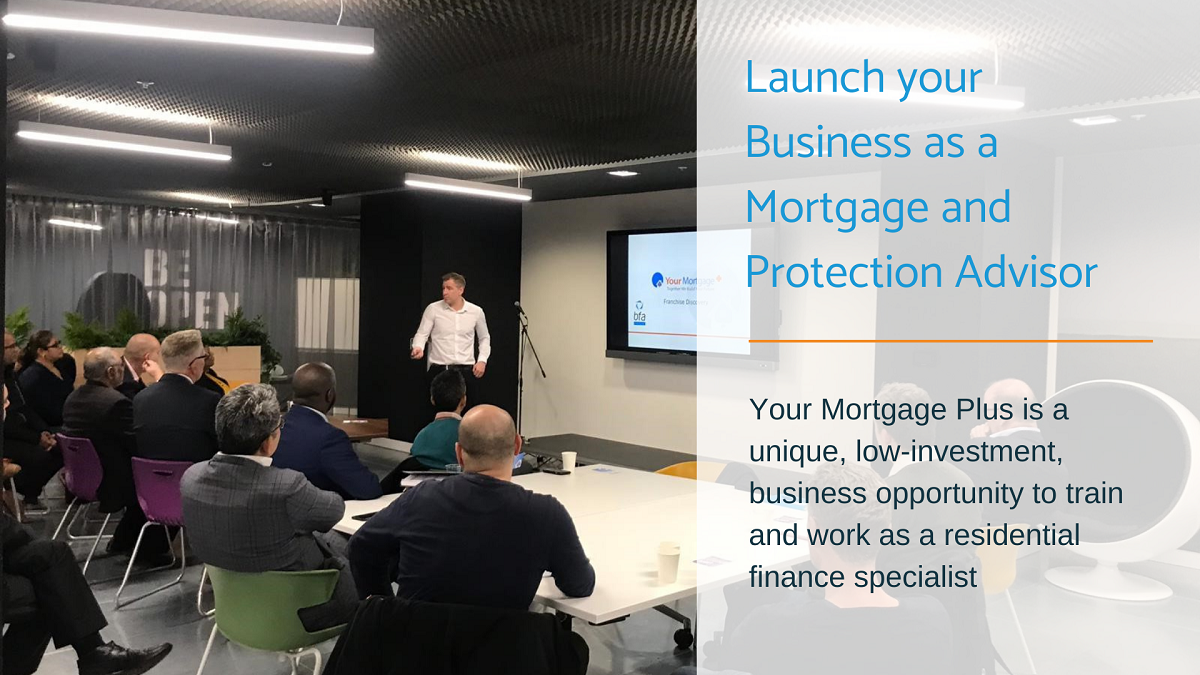 How does the Your Mortgage Plus franchise model work?
As a Your Mortgage Plus franchisee, you will become professionally qualified and gain transferable professional skills, have access to market solutions for regulated mortgages and associated products.
With no experience necessary, become a residential mortgage and protection adviser with Your Mortgage Plus, a white-collar, professional, career for life business opportunity in a mature sector with a current broker shortage. Access a huge, uncapped income potential (average case earnings £2,500 – Join the 1 a day club!) with a genuine whole of market opportunity, including high street banks and building societies in a huge repeat market, seeing 10.9 million mortgages refinancing every two to five years.
Existing CeMap qualifications welcome but not necessary and compliance guidance and support provided will allow you to source and submit cases directly to lenders or allow Your Mortgage Plus to package and process them on your behalf. You will be given an assigned territory area, branding, and marketing collaterals. Assistance with lead generation and business development support is provided across all options.
Additional income opportunities include:
• Life insurance, critical illness cover, income and mortgage protection included
• Buy to let mortgages
• Access to wills, trusts and estate planning
• Commercial finance
• Commercial insurance
• Equity release
• Self-build mortgages
• International mortgages
• Pension-led funding.
What is Your Mortgage Plus looking for in franchisees?
This tried and tested mortgage broker franchise welcomes professional applicants from all walks of life who aspire to pursue a career in finance. It will invite you to build on its success with no financial experience necessary. Regardless of your entry position, with the right approach, you will be able to join the team and learn all the necessary skills to succeed as a Your Mortgage Plus franchisee.
At present it has franchisees from all walks of life, coming from IT, healthcare, sales, banking, oil and energy, education and many more industries and sectors, showcasing that this is an opportunity for anyone who is willing to do the work and get stuck in. In addition, Your Mortgage Plus is proud to say that at present because of its application and selection process, combined with its ongoing support, it has retained all of its franchisees.
What training and support does Your Mortgage Plus offer its franchise business owners?
Your Mortgage Plus recognises that starting a franchise is a big commitment, and that is why it runs regular discovery sessions, both online and at its head offices. This is an opportunity to find out more and meet the team. It always highly recommends attending one of these sessions if you are interested, as they are a great way to find out more about Your Mortgage Plus.
It also offers the option to come and visit on an individual basis at a time of your choosing. This will allow you to meet the team, ask questions, and ultimately get a feel for what the world of mortgage and protection advising is really about.
If you decide to proceed, you will begin a comprehensive training package that will get you up and running as a mortgage and protection advisor, covering every aspect of running your very own Your Mortgage Plus franchise.
As a partner you will receive:
• Full business launch package, ensuring you are ready to start trading with resources including email addresses, business cards, a full document suite, your own website and the full partner lender directory.
• CeMap qualification with video courses for convenient and accessible learning experience.
• Systems and sales training to ensure you are confident and knowledgeable in selling mortgages, protections and all the other products you will gain access to.
• State-of-the-art e-learning courses through the Mortgage Assess system to support continued development and allow for refresher sessions and recaps.
• Complimentary commercial finance training, with silver packages and above, taking place online over a week of afternoons to expand your offering to provide the best support and guidance possible.
• Wills, trusts and estate planning included with silver packages and above, further enabling you to provide critical support and guidance to your clients.
• Supervision and mentorship from its experienced team to support you to Competent Advisor Status (CAS).
Did you know?
Your Mortgage Plus has an expected revenue of £90,000 after 2 years!

Request free information in just 60 seconds!
Take the first step in becoming your own boss!
Further to all of the above, Your Mortgage Plus provides a variety of ongoing training and development opportunities so that you can access support in the way that works best for you:
• Webinars with lenders and providers, giving you the chance to hear about some of the hottest products in the market first-hand.
• Access to a regulated network of support managers who will support you across all areas of running your own business.
• Compliance support and guidance made available through its experienced regulated team who will work with you to ensure you are confident and competent in processing cases.
• Access to a business development team that will assist you by enhancing your marketing and sales skills so that you can kick start your business and keep it growing to more and more success.
• File checking support from its case processing team who will be there to make sure you are comfortable in submitting accurate cases and that you are covering and including all of the necessary information.
• Regular competency meetings to make sure you are staying compliant and delivering the best advice possible to your clients.
• Invitations to attend regular CPD Network training to keep your business at the top of its game.
• Regular forums to discuss cases and lead generation ideas with your peers and the support team.
How much does a Your Mortgage Plus franchise cost?
One of a wide range of proven low-cost franchises operating in the UK, you can join Your Mortgage Plus for an initial investment of just £14,995 (with investment options ranging up to £49,995), with the potential to generate six-figure earnings within your first year. There is a range of package options that include the different products you can offer. Depending on which option you feel best suits your aspirations and capabilities, you'll take home anywhere from 50 per cent to 80 per cent of the total case income.
What locations or territories is Your Mortgage Plus looking to operate in?
Outlets are available across the UK, so there may be a Your Mortgage Plus mortgage broker franchise for sale near you.
What are the franchise terms of agreement and renewal?
The agreement will remain in place for a minimum of five years. After five years, the franchisee can apply for a further five-year term, provided contract terms have been met. No additional investment will be required beyond your initial outlay unless you wish to upgrade to a higher package.
What makes Your Mortgage Plus a good franchise choice?
Its expert support and wide range of Finance Broker packages mean that there is an option for everyone. Your Mortgage Plus welcomes applicants from any business background, without the need for prior experience or qualifications in the finance sector – Your Mortgage Plus instead is looking for enthusiastic and driven individuals, who want to build their own sustainable business.
With years of experience in the industry, Your Mortgage Plus provides the support you need to succeed. It kicks off with a discovery session, where the team describes the benefits of working with Your Mortgage Plus, the incredible earning potential, and each of the packages in more detail. Should you decide to proceed they register you with the FCA and provide you with the training and support required for you to establish and build your business. Your Mortgage Plus then provides you with access to regular training and CPD seminars which help you develop in your career and network with other brokers.
How in demand is Your Mortgage Plus' services?
As a Your Mortgage Plus franchisee, you will enter a huge £1.5tr UK market with high demand, recording 10.9 million mortgages in 2019, which continues to grow and remains the biggest market in Europe!
The average house price in the UK is at an all-time high of over £250,000 as of February 2021 according to the ONS, making the need for guidance in the house buying process bigger than ever. That is where you will come in as a Your Mortgage Plus mortgage and protection advisor, using your newly acquired knowledge to give crucial advice to those in your area looking to move, re-mortgage or buy their very first home.
How do I start setting up my own Your Mortgage Plus franchise?
To find out more about this mortgage broker franchise opportunity, complete the form below and click on the 'Request Free Information' button now.

Request Free Information
Send a free enquiry to Your Mortgage Plus for further information!
Enquire into this franchise today