Huge take up
Posted: 20 Apr 2019
Estimated Read Time:
in 7 minutes
CYCLEme TOTS wants to recruit ambitious franchisees to keep up with demand for its services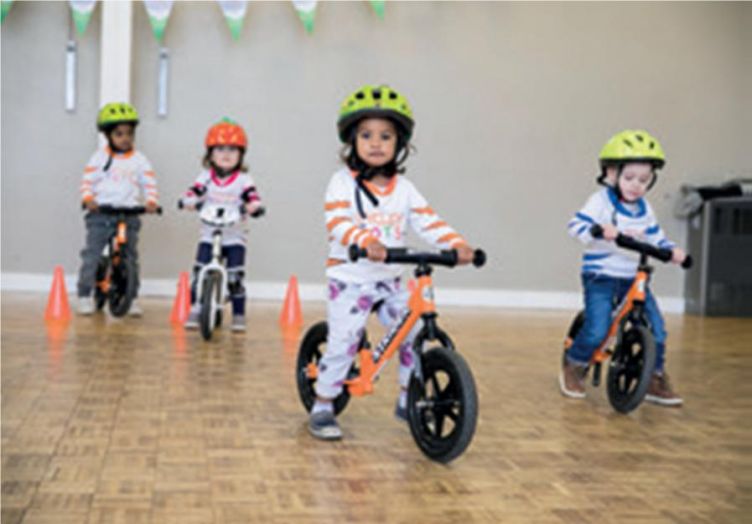 Many new companies come about because somebody somewhere sees a gap in the market that is crying out to be filled.
That's exactly what happened to Chris Mollison, 35, when he looked around for a group that would teach his young son to ride a balance bike.
Chris, who was running a cycling-based fitness company for adults called CYCLEme Fitness, discovered that nobody in Kent were offering classes aimed at children.
Something new
He knew that his experience in bikes and training would stand him in good stead to create something new. After discussing the idea with his wife Sarah, 30, and friends who had kids, CYCLEme TOTS was born.
The plan was that Chris would get the classes off the ground and Sarah would take care of the business side of things, while continuing with her day job.
The couple partnered with Strider, the UK's number one balance bike brand.
Balance bikes look just like regular bicycles, but without pedals. Research shows that children who ride them generally progress to riding pedal bikes independently at a much younger age than those who learn using stabilisers. In addition, it's found that the transition is a much smoother one.
The programme was rolled out to Kent-based schools, nurseries and community centres and from the off take up was huge. Immediately, all the classes were oversubscribed and many had waiting lists.
Chris had to take on other staff members in order to run all the classes and when the couple's second child, Mila, was born in 2017 Sarah realised there was enough work for her to be able to give up her job too in order to take the company to the next level.
She is working on developing the franchise arm of the business and the couple are actively seeking other like-minded people in the UK to get involved.
Class activities are delivered in small groups of no more than 12, which ensure children receive the attention they need.
Sound investment
For an investment of £10,000 potential franchisees receive full training on how to run the classes and support to launch the business, including a range of marketing materials such as branded uniforms and stationery.
Also included is the necessary equipment to operate the business, including balance bikes, activity games and welcome packs.
The return on your investment is a sound one. There are a variety of sales channels, including the classes, as well as birthday parties and race track sessions. Online sales of equipment offers another revenue stream.
Franchisees will be given an exclusive trading area, defined by postcodes. Each territory will offer an excellent opportunity for ambitious entrepreneurs to build a successful and profitable business in their designated geographic area.
Chris and Sarah are passionate that their idea is a good one and are keen to share this opportunity across the UK, supporting other families to build a profitable business to suit their personal circumstances.
Our Guide to Getting Started in Franchising
Grow yourself from a franchising no to a franchising pro!
Ones to watch
Franchisors provide an insight into how they've built their businesses.
This month's
best opportunities
You have pending
Here's just
five reasons

why you should join our

FREE

newsletter!
New articles added every week

Hand picked franchise opportunities just for you

First class help and advice for franchising and business

We have the industries best contributors on board

Inspiring and insightful franchise case studies