The information you submit via our enquiry form is shared only with the franchise business(es) that you have selected.
The franchise business will contact you by means of email and/ or telephone only to the email address and phone number you have provided.
By submitting the enquiry form you are consenting to send your personal information to the selected franchise business.
You also agree to receive further newsletter email marketing from What Franchise.
Close
Did you know?
Dom's Coffee House has outlets available across the UK

Request free information in just 60 seconds!
Take the first step in becoming your own boss!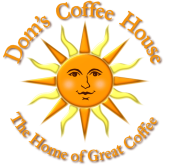 Dom's Coffee House
Dom's Coffee House is a modern coffee shop that offers hot beverages and food in a friendly atmosphere
Expected Revenue After 2 Years
N/A
About Dom's Coffee House
Dom's Coffee House is a new franchise opportunity based upon the success of the independent coffee shop of that name to be found in the city centre of Bristol.
Dom's Coffee House offers hot drinks and food as well as the best possible experience for customers. Opened in 2016, the new café bucked the trend for small coffee businesses opening in containers that had become popular in recent years — Bristol's Cargo at Wapping Wharf being a good example of a popular destination with a variety of eateries housed in a village of converted shipping containers.
Dom's Coffee House is, instead, a city centre shop with plenty of space for meetings — the shop regularly hosts breakfast meetings for businesses and events such as the Bristol Exchange encouraging informal business networking.
Dom's Coffee House also hosts regular games evenings and encourages freelancers to enjoy the warmth and fast WiFi of the Den. Dom's boasts that their coffee house is a place that customers want to come back to, time and again.
Dom's Coffee House is seeking to expand through licensing to strengthen the brand and offer the opportunity for other businesses to build on its experience and success.
Who is behind the Dom's Coffee House franchise?
Incorporated in September 2015 by Louis Sherman, a former technician and security analyst working on behalf of many major companies and communications networks, the first Dom's Coffee House was opened in 2016.
Dom's Coffee House is named after Dominions House, the prestigious Grade II listed building which houses the coffee business. It was originally built in the Victorian era for Star Life Insurance, which later became Eagle Star and Dominions Insurance Co., the largest insurance company in the UK. The building, originally designed with five stories by Arthur Blomfield Jackson, was never as planned, opening in 1899 with two floors and a planned French chateau-style roof with domes unbuilt.
How does the Dom's Coffee House franchise model work?
Dom's Coffee House is hoping to expand through franchising to other cities in the UK using its specialised approach as a blueprint to success. Franchisees can run their business entirely as their own enterprise, but using the Dom's Coffee House model to give them the competitive advantage of a business model they know works.
Dom's Coffee House does not just offer coffee. The franchise also works with local bakers (including Redland Bakery and Farro) and serve locally made cakes from Cakesmith's, as well as sourcing many other delicious and tasty treats from other companies in the South West.
Dom's is looking at city locations such as Birmingham, Bath, Exeter, Swindon or Cardiff as territories for franchisees, the license guaranteeing that there will be only one Dom's Coffee House in each territory.
Dom's Coffee House will help with the selection of the right premises in which to set up a franchisee's business and will help give that location the right look and feel for the business, advising on store design and layout and recommending manufacturers for the build and furniture.
Franchisees will be given the full business model from which to build their operation, down to book-keeping systems, VAT processes, cash-flow forecasts, and seasonal predictive sales graphs that are based on experience. Dom's Coffee House has HR processes, including staff contracts, a staff training manual, and can suggest staffing and rota methods. Again, experience has shown Dom's how to recruit excellent staff.
Franchisees will be taught everything necessary to guarantee their business will live up to health and safety policy and food standards. The franchise also includes equipment specifications for a franchised shop fit-out, including the all-important coffee machine and grinder, Dom's reliable, low-cost EPOS system, computer network operation and their specialised WiFi set-up.
Dom's Coffee House will also help guide franchisees in how to successfully submit and present their alcohol license, how to prepare for an environmental risk assessment visit from the Food Standards Agency in order to get a five-star rating, and prepare fire risk assessments and emergency procedures suitable for the location of the franchise.
Did you know?
Dom's Coffee House has outlets available across the UK

Request free information in just 60 seconds!
Take the first step in becoming your own boss!
Franchisees will also have access to delivery systems for great tasting coffee and a suggested delivery schedule, contact will all of Dom's Coffee House's suppliers, complete with product recommendations and presentation methods.
Total investment in the franchise is from £10,000.
Is financial aid available for a Dom's Coffee House franchise?
A bank will often look more favourably on a franchise as they generally have a better chance of succeeding as a business, with many banks having a local franchise manager or a specialist franchising unit. Loans of up to 70 per cent of total investment are not unusual, depending on the financial history of the franchisee.
What training and support does Dom's Coffee House offer franchisees?
Potential franchisees will have identified and secured their own property, leasehold or freehold, which must be in a city centre location, with high visibility, high footfall and A3 planning consent or planning prior approved. Dom's Coffee House will be happy to consult on finding the right property location and advise on what to demand in a leasehold agreement.
Potential franchise candidates should not worry if they have never poured a cup of coffee before, as full managerial training will be provided at the Bristol headquarters of Dom's Coffee House.
Franchisees will also be given Barista training and learn exactly what their staff will need to know to deliver quality customer service.
What are the potential rewards from a Dom's Coffee House franchise?
Dom's Coffee House has said that the Bristol flagship store currently turns over in excess of £240,000 per annum and turnover is expected to grow by at least 25 per cent over the next 2-3 years, peaking at around £350,000 per annum.
It would be expected that, excluding London, a similar city-centre franchise, carefully located, would follow the same model.
What is Dom's Coffee House looking for in a franchisee?
Franchisees will have to be dedicated, hard-working and resilient. Prior experience in the coffee shop industry is not a requirement, but it will be to the benefit of the franchisee if they have experience of management and handling staff, and experience of customer service will be a definite plus.
Depending on the operation, the Dom's Coffee House franchise would probably require one full-time employee as house manager, with a number of casual contracts to cover other shifts.
Are existing Dom's Coffee House franchises available for sale?
Dom's Coffee House is a recent franchise with no existing stores available for resale. However, this is expected to change in the future and those interested in opening a store in a specific territory are advised to get in touch with Dom's Coffee House to find out if a location is available for sale as an existing business or as a new location.
How in-demand are coffee franchises like Dom's Coffee House right now?
Out-of-home purchases of hot drinks grew 37 per cent in the five years to 2016 and reached an astonishing £3.4 billion that year. Around 80 per cent of the UK population will buy a takeaway hot drink with almost 25 per cenr of those buying two or three drinks every week. Coffee accounted for 77 per cent of hot drink bought.
The number of coffee outlets grew to 22,000 in 2016 to keep up with demand, which has grown more quickly amongst 16-34-year-olds than older Britons. 81 per cent of this younger age group buy hot drinks out of home, and more regularly, pushing consumption up to 70 million cups of coffee every day.
How can I find out more about investing in my own Dom's Coffee House franchise?
To find out more, or to request further information on franchising with Dom's Coffee House, click on the 'send enquiry' button found on this page now.
Request Free Information
Send a free enquiry to Dom's Coffee House for further information!
Enquire into this franchise today