The information you submit via our enquiry form is shared only with the franchise business(es) that you have selected.
The franchise business will contact you by means of email and/ or telephone only to the email address and phone number you have provided.
By submitting the enquiry form you are consenting to send your personal information to the selected franchise business.
You also agree to receive further newsletter email marketing from What Franchise.
Close
Did you know?
MagiKats Maths and English is eligible for funding support!
Request free information in just 60 seconds!
Take the first step in becoming your own boss!
MagiKats Maths and English
English and Mathematics tuition for children and teenagers
Minimum Investment
£12,500
Funding Support
Relationships with major banks
Franchise Fees
£12,500 including VAT
Expected Revenue After 2 Years
N/A
In Brief
The MagiKats franchise offers you the ability to build a successful and profitable business helping mould the future of children and teenagers in your community.
Be part of one of the UK's fastest-growing market sectors while enjoying a high margin, home run, business with excellent referral rates. The overheads are low and there are incredible expansion opportunities for those who want them.
About MagiKats Maths and English
A franchise with MagiKats Tuition Centres offers you the chance to build a substantial business whilst giving back to the community by educating the next generation in maths, English, and reasoning.
If you are looking to swap the corporate lifestyle for one more centred around you and your family, then MagiKats could be for you.
If you are in education but want to regain control of your "free" time then MagiKats could be for you.
If you simply feel you need to be your own boss, but with the support of a proven system that has been successfully operating for over 15 years, then MagiKats could be for you.

What is MagiKats?
MagiKats Tuition Centres are unique – they each follow the same system but also reflect the personality of the person in charge.
Every MagiKats Tuition Centre offers out of school tutoring in maths, English and reasoning, for children from pre-school to GCSE (National 5 in Scotland).
Every MagiKats Tuition Centre offers an individual programme for each of its students, ensuring they get the support they need, no matter their situation.
Every MagiKats Tuition Centre is run to certain standards and uses our bespoke, KATS online system to prepare and manage work for every individual.
But every MagiKats Tuition Centre also fits into its community – tailoring its provision to the demands of local families.
What are the benefits of joining the MagiKats network?
Support. Pure and simple.
As a family business, MagiKats knows how important it is that your business works for you and your family – whatever shape or form that takes. MagiKats provides a proven system and training methods to ensure you know how to deliver effective tutoring in your local area. The franchise provides all the sales and marketing tools you need to build that business. MagiKats also provides you with a single point of contact for all your questions – but at the same time access to a wide network of similarly-minded individuals who are also doing what you are doing. What you provide is motivation, energy and your personality.
Potential
Every business is unique, and every business owner has their own goals. The MagiKats team does not have performance targets or penalties for its smaller businesses. If what is agreed works for you, then that's great. At the same time, MagiKats supports those looking for a significant business opportunity operating across multiple sites. Whatever works. The head office team just wants kids to benefit from studying MagiKats.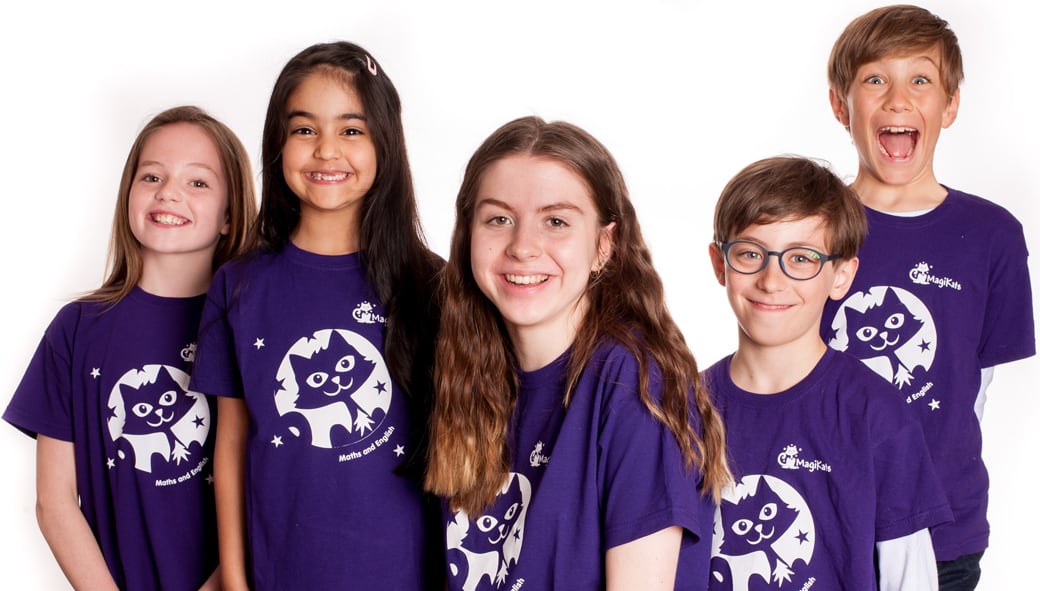 Did you know?
MagiKats Maths and English is eligible for funding support!
Request free information in just 60 seconds!
Take the first step in becoming your own boss!
How do I get involved?
Once you enquire, the MagiKats team will send you more detailed information about the opportunity.
When you are ready, by far the best next step to take is to come and meet the MagiKats team. Only by doing that can you really understand its family, its business and its ambition. MagiKats wants to meet you and discover if you are the right fit for them, and them for you. That can only be done face to face. Oh – and you can see the fabulous workshops in action, too!
What do I get in return for my investment?
Your MagiKats franchise package is comprehensive and includes:
• Rights to use the MagiKats trademark, goodwill and intellectual property
• Rights to use the MagiKats know-how, operating methods and systems
• A customised business plan, designed to reflect your particular circumstances
• Your own marketing plan, including PR articles
• An exclusive and protected territory
• Business preparation training
• A comprehensive training programme
• Ongoing professional development
• On-site support visits
• Marketing/sales training
• Print kit of stationery and marketing materials
• 'KATS' computer system
• Staff training programme
• Proprietary management systems
• Opening inventory
What is the investment?
The franchise fee of £12,500, including VAT, will secure your MagiKats franchise, training and territory. And the franchisor recommends a working capital of £5,000.
Funding support is available via third parties or you may qualify for a government-backed Business Start-Up Scheme which would allow you to borrow up to £25,000 without investing any money of your own. This figure doubles, if the business has two directors. MagiKats is more than happy to discuss this option in more detail with you.
If you need a small business loan, then MagiKats can introduce you to the franchise departments at most major banks that can, subject to status, help you with funding.
The company believes that you should have flexibility over how you charge for the services you provide, without worrying about how that impacts your costs. With that in mind, MagiKats does not charge an ongoing percentage based on your turnover like many franchises. Instead, it charges two types of fixed fees each month: a support fee and a materials fee.
What territories are available?
MagiKats has single and multi-unit franchises available across the UK, so apply today to ensure you secure your preferred area.
To start your innovative and exciting new business adventure, enquire today!

Request Free Information
Send a free enquiry to MagiKats Maths and English for further information!
Enquire into this franchise today