The information you submit via our enquiry form is shared only with the franchise business(es) that you have selected.
The franchise business will contact you by means of email and/ or telephone only to the email address and phone number you have provided.
By submitting the enquiry form you are consenting to send your personal information to the selected franchise business.
You also agree to receive further newsletter email marketing from What Franchise.
Close
Did you know?
Donnelli's Pizzeria has outlets available across the UK

Request free information in just 60 seconds!
Take the first step in becoming your own boss!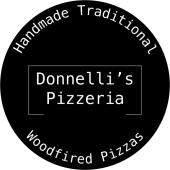 Donnelli's Pizzeria
Donelli's Pizzeria is a pizza restaurant franchise, specialising in providing traditionally-made pizza
Minimum Investment
£24,995
Expected Revenue After 2 Years
N/A
About Donnelli's Pizzeria
Donnelli's Pizzeria was founded in Norwich, as a family-run pizzeria, specialising in providing an authentic Italian pizza experience, with an emphasis on traditional menus and methods. The brand focuses on combining classic Italian ingredients, recipes and flavours, with an inviting, contemporary dining experience, helping them to stand out in a competitive market.
What makes the Donnelli's Pizzeria franchise a unique concept?
The brand's aim as a franchise business is to help other franchisees bring high quality pizza to other locations around the UK. Donelli's Pizzeria places a premium on high quality ingredients, using imported Italian flour for their dough, fresh herbs, cheeses and cured meats, to deliver an authentic Italian taste. This has helped the brand gain recognition, success and loyalty amongst its customers.
Where is the Donnelli's Pizzeria brand based?
Donelli's Pizzeria is based in Norwich, England.
What territories are available for a Donnelli's Pizzeria franchise?
Currently, Donnelli's Pizzeria is looking to expand to 24 outlets across the UK. All franchisees will receive an exclusive territory, and have the potential to expand further to additional territories once a successful track record has been established.
How much does a Donnelli's Pizzeria franchise cost?
To start your own Donnelli's Pizzeria franchise, you'll need to invest an initial amount of £24,995 (ex. VAT). A management service fee of 7 per cent, and a national marketing fee of 1 per cent, is chargeable on gross turnover. The franchise agreement is valid for five years, and will need to be renewed after that period.
Do you need to have experience in the pizza industry to start your own Donnelli's Pizzeria franchise?
While it can be helpful to have prior experience in the food industry, what's most important is that franchisees have good entrepreneurial and management skills, and are able to communicate well, solve problems effectively and work as a team with the brand's network of franchisees, to succeed.
What does the Donnelli's Pizzeria franchise fee cover?
The franchise fee allows all franchisees the right to use the brand's protected trademark, and you will also get a start up pack that includes leaflets, flyers and other physical marketing collateral, and digital templates for letterheads, business cards, compliment slips and advertising material, as well as a tailored e-commerce website. Franchisees will also receive their unique operating methods, systems and know-how manual, as well as a manual covering details about running the franchise.
Donnelli's Pizzeria will provide support and assistance in the practical set up of a physical premise, including guidance on identifying the best location and property, and helping you to design the outlay of your site. Franchisees can receive a discounted rate for shop fitting and equipment installation, as well as help with signage and other practical considerations.
Once the physical premises have been established, franchisees will also get assistance in using point of sale and till systems, and a reporting pack covering all key aspects such as cashflow management, performance analysis, staff rota and stock management. You will also have access to the brand's own panel of high quality suppliers for all stock, and the advantage of purchasing through the group, to keep prices down.
Did you know?
Donnelli's Pizzeria has outlets available across the UK

Request free information in just 60 seconds!
Take the first step in becoming your own boss!
What training is available for Donnelli's Pizzeria franchisees?
All franchisees receive management training before beginning to trade, and a tailored launch package to help the business develop leads across the local territory. This includes a comprehensive training programme prior to launch, covering everything you need to know to run a profitable franchise.
As well as practical guidance and training on production and service, franchisees will receive education on how to run a small business, sales training and marketing, with a personal account manager to guide you through every step. You'll also carry out a complete franchise training course on-site in an existing Donnelli's franchise branch, to get an immersive experience of what is involved in the day to day running of the business.
The brand also provides additional training materials and ongoing support for the first four weeks, to help franchise businesses continue to succeed after launch. You will also get advice and training on online marketing, including on how best to generate leads through a website. The brand continues to support its franchisees with long term programmes, including monthly meetings with a dedicated franchise support manager and quarterly reviews with the Head office team and other franchisees.
The Donnelli's Pizzeria team also organises an annual convention with all UK franchisees, as an opportunity to exchange ideas and advice, as well as providing a dedicated helpline for sales and marketing queries, and regular updates and information through the brand's web channel.
Does Donnelli's Pizzeria provide business support for its franchisees?
In addition to helping train its franchisees on how to run a small business, the Donnelli's Pizzeria brand also provides a robust programme of ongoing business support, covering all essential aspects such as IT systems, health and safety and professional accounting. All franchisees also have a dedicated mentor, specialising in business and marketing support, and will also receive a discount on business insurance, when purchased through the brand.
Is a Donnelli's Pizzeria franchise a good opportunity?
Donnelli's Pizzeria can be a great opportunity for anyone looking to go into the food industry, with a keen interest in providing a high quality product. The brand is known for an authentic product and traditional flavour, and is a trusted brand amongst customers, helping it to stand out from other national competitors.
The comprehensive support and training offered gives franchisees a good springboard for success, alongside the brand's own local and national advertising campaigns to increase outreach. With a relatively low investment required and the potential to expand beyond the traditional restaurant format, into private functions, corporate services, parties and more, it can offer franchisees a good return and a flexible business model.
How can I get started on running my own Donnelli's Pizzeria franchise?
To find out more about owning your own Donnelli's franchise, email them to receive a franchise pack and arrange a day visit to the team at their head office.

Request Free Information
Send a free enquiry to Donnelli's Pizzeria for further information!
Enquire into this franchise today