The information you submit via our enquiry form is shared only with the franchise business(es) that you have selected.
The franchise business will contact you by means of email and/ or telephone only to the email address and phone number you have provided.
By submitting the enquiry form you are consenting to send your personal information to the selected franchise business.
You also agree to receive further newsletter email marketing from What Franchise.
Close
Did you know?
Bracey's Accountants has outlets available across the UK

Request free information in just 60 seconds!
Take the first step in becoming your own boss!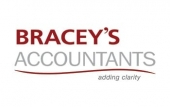 Bracey's Accountants
Bracey's Accountants provides innovative tax and accounts services to maximise clients' profits and minimise tax
Minimum Investment
£19,500
Business Type
Financial Services
Expected Revenue After 2 Years
N/A
About Bracey's Accountants
Bracey's Accountants describes itself as a blend of forward-thinking and responsive individuals who are technologically advanced and built on a bedrock of experience and wisdom.
Bracey's is not a stereotypical accountancy firm but considers itself warm and friendly with a wide-ranging set of useful skills, qualified to guide its clients whatever their accounting needs.
It provides innovative tax and accounts services to maximise clients' profits and minimise tax. Dedicated specialists stay with clients through regular review meetings, delivering a personable service so they are always available for clients. Whatever size and whichever need, Bracey's tailors a solution that suits its clients and their goals.
How does the Bracey's Accountants franchise model work?

Investing in a Bracey's Accountants franchise means joining an established and successful network of accountancy practices with the full support of an experienced head office team.
Franchisees will be working alongside like-minded entrepreneurs, working for themselves but not by themselves. Bracey's dedicated account managers take time to understand their client's unique business accounting needs, as well as their personal goals.
From start-up planning through to management accounts, franchisees call their clients three months before their year-end, so they can avoid any nasty surprises. They also schedule regular chats to continually refine their accounting services, ensuring clients benefit from any changes in the market or regulations.
How much does a Bracey's Accountants franchise cost?
A Bracey's Accountants franchise costs £19,500 franchise fee, plus a 10 per cent monthly royalty fee.
Why is Bracey's Accountants a good investment?
Before you commit to investing in a Bracey's franchise, the company works with you on your business plan and will never expect you to achieve more than you believe you are capable of.
Bracey's has seen exceptional performance from some of its existing franchisees but recognises that anyone starting their own business needs to do it at their own pace. A franchisee's success is dependent on their determination to grow their business, the amount of time invested in building relationships and an ability to convert leads to clients. (Bracey's does not charge for any leads passed to franchisees.)
Clients choose Bracey's flexible approach because it allows them to combine modular business accounting services in order to run a fully outsourced finance function. In addition, Bracey's is known for its expertise - the company's VAT director was previously an HMRC inspector for over 20 years.
After five years of trading, depending on how much time and energy has been committed to the business, a franchisee could be achieving a turnover of over £200,000.

What locations or territories is Bracey's Accountants looking to operate in?
Bracey's has expanded across the Home Counties in the last three years, with offices now in Hitchin, Stevenage and Hemel Hempstead. In 2018, the company opened an office in Edinburgh and the business is now looking to expand with the right people in the right locations across the whole of the UK.

Where in the UK is the franchise head office?
Bracey's head office is located in Hitchin, Hertfordshire, where the company has been based since 2015.

Did you know?
Bracey's Accountants has outlets available across the UK

Request free information in just 60 seconds!
Take the first step in becoming your own boss!
What support and training do Bracey's Accountants franchisees receive?
Franchisees come to Bracey's with a variety of different skills and expertise, so the company tailors its franchise training programme to fit each individual's needs.
Training programmes vary in length, but on average last between two-six weeks. Training includes a mix of systems, procedures, software training and marketing and is both practical and theory based.
Once franchisees are up and running, the support from head office lasts throughout the lifetime of the franchise agreement. The company's support team comprises in-house VAT, tax, research and development and audit specialists. Franchisees also have access to PR, brand and marketing experts, plus IT support.
On top of this, the company's centralised telephone system ensures no calls are missed during working hours - whether a franchisee is available or not.
Bracey's works with new franchisees on an achievable business plan, which sets out what can be achieved in the next five years of operating. There are no penalties applied if franchisees don't achieve targets, they are simply adjusted as necessary at the next business improvement review, which take place twice a year.
What are the Bracey's Accountants franchise terms of agreement and renewal?

Bracey's franchise agreements run for a five-year term, with the option to renew at the end of the term. At the time of renewal, franchisees must be compliant with Bracey's procedures and their offices decorated to current standards, with no breach or outstanding issues. An administration fee of £500 is required to cover the cost of renewing the agreement.

How in demand are accountancy services right now?
The number of new businesses and, therefore, potential Bracey's clients is increasing. The Federation of Small Businesses reports that the number of private sector businesses has grown by over two million since 2000 and predicts that this growth is set to continue.
The accounting services market grew by 5.9 per cent from 2012 to 2016 and is forecast to grow by a further 6.2 per cent by 2020. Within the accounting industry, a shift from traditional accountants, which provide historical information, to accountants offering analysis and strategic advice along with financial information, is taking place. A 2018 report by business and accounting software company Xero found that accountancy practices offering advisory services earn considerably more revenue per client than firms that offer only 'compliance' services.
Compliance work pricing is expected to become more competitive as the use of software becomes more common and accountants will have to extend their client offer to remain profitable.
Bracey's offer its clients specialist tax, VAT and audit services, which would not normally be feasible for a small accountancy practice. Technology is embraced at the firm and Bracey's has earned Gold status with Xero accounting software.

How can I get started on setting up my own Bracey's Accountants business?
Complete the enquiry form on this page and a member of the Bracey's franchise recruitment team will be in touch.

Request Free Information
Send a free enquiry to Bracey's Accountants for further information!
Enquire into this franchise today