The information you submit via our enquiry form is shared only with the franchise business(es) that you have selected.
The franchise business will contact you by means of email and/ or telephone only to the email address and phone number you have provided.
By submitting the enquiry form you are consenting to send your personal information to the selected franchise business.
You also agree to receive further newsletter email marketing from What Franchise.
Close
Bubblewrap
Produces delicious and visually stunning bubble waffles, an Asian dessert delicacy that first appeared in Hong Kong in the 1950s
Minimum Investment
£36,000
Business Type
Food & Beverage
Funding Support
Yes via third parties, both bank finance and asset finance
Franchise Fees
£15,000 (plus VAT) licence fee
Expected Revenue After 2 Years
POA
About Bubblewrap
Bubblewrap is in possession of a secret recipe to produce delicious and visually stunning bubble waffles, an Asian dessert delicacy item that first appeared in Hong Kong in the 1950s.
After careful location research and nearly two years of trading in various markets across London and catering for food festivals, Tony Fang opened the first Bubblewrap location in London's Chinatown in 2017.
Since the very start, Bubblewrap has achieved tremendous recognition from customers and media alike. Initial Facebook videos created by Time Out & BuzzFeed amounted to 33 million views, 211,000 shares and 188,000 likes alone, with the former being the highest performing Time Out London Facebook video in history. This viral mania, alongside the unique ingredients, led to queues of customers that still line the streets of Chinatown and an explosion in the 'Bubble Waffle' dessert trend.
BBubblewrap food franchises require a moderate initial investment and sell a high margin product. Thanks to its low operating costs, this food business can deliver spectacular returns and, due to its simplicity, it is perfectly suited to be scaled.
There is a massive opportunity in the UK and internationally to replace traditional dessert offers in tourist locations and regional shopping mall sites with a more Instagram friendly, exciting brand, which makes Bubblewrap a favourite also of the property community.
How does the Bubblewrap waffle franchise work?
As a Bubblewrap franchisee, you will be operating a proven business model in the food industry that is constantly improved by experimenting new ideas in the company's own locations at Bubblewrap's own cost. Bubblewrap then rolls out any improvements to franchisees.
You will also benefit from the bubble waffle franchise operation's food sector experience in areas such as training, operations management, supply chain, EPOS system, specialist equipment and business auditing. You will also benefit from the company's intense marketing activity, both online and via brand partnerships.
Your role as a franchisee will include:
• Staff recruitment, training and management.
• Local marketing.
• Customer development.
• Operational procedures and maintaining standards.
• Business administration and financial management.
• Shop performance analysis, forecast and review.
As in any successful network, teamwork is critical. Rather than being a sole trader and isolated (the common complaint of most small businesses), you will be part of a growing team and have the backing and strength of Bubblewrap's head office staff. Franchisees will also learn from each other and feel proud to be part of a 'larger family'.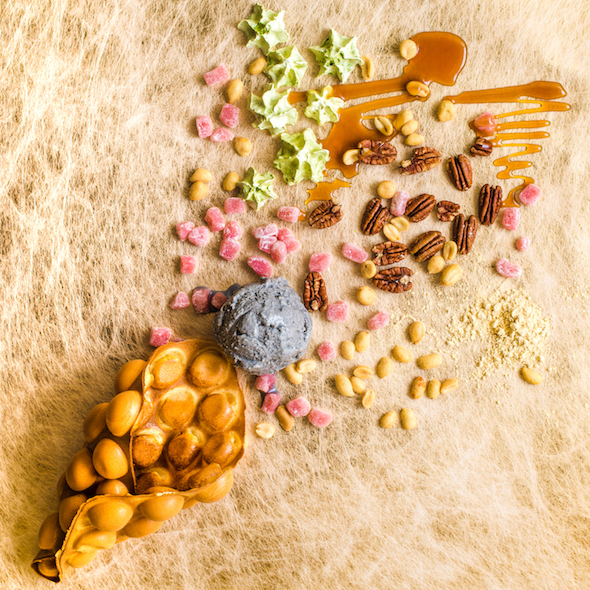 What kind of person flourishes by running this type of business?

Bubblewrap doesn't necessarily require franchisees to have a food or retail background, as its system is simple and thus can be easily taught.
What is most important is that each franchisee has a 'growth mindset' and willingness to expand the business in their own area, either by making their first location work and growing organically from there or by committing to a multi-site development from the outset.
Candidates will need to possess commercial acumen, people skills, a strong dedication to customer service and awareness about the strategic importance of local marketing.
An existing single- or multi-brand food franchisee, individual or corporate, or any existing restaurant and food retail business owners and former catering employees with store management experience, would be ideal candidates.
If you're not in possession of a food background, remain positive: the 'brand fit' and your attitude will play a big part in your application being considered.
What training and support is provided to franchisees?
Bubblewrap prides itself on being deeply involved in training and supporting its franchisees, as the company sees its active role and constant focus as critical to their success.
It will provide you with a comprehensive six-day theoretical and practical training programme at Bubblewrap facilities, then further assistance for five days upon launching your franchise store.
Bubblewrap will also give you access to all its contacts and expertise in launching the brand in the local market, using the company's phenomenal brand assets and collaborations with big brands such as Hello Kitty and Angry Birds.
On an ongoing basis Bubblewrap will visit you regularly to review standards, data and plan ahead. It will also consistently monitor the performance of your store against a set of key performance indicators to ensure you have the tools to get and stay at the top of your game.
The franchise package includes a number of key elements to start your own Bubblewrap franchise:
• Premises design and build assistance.
• Business manuals.
• Initial training and support.
• IT solution.
• Business stationery.
• Marketing collateral.
• Staff clothing.
• Specialist equipment.
• Initial product stock.
to ensure your business gets off to the best possible start.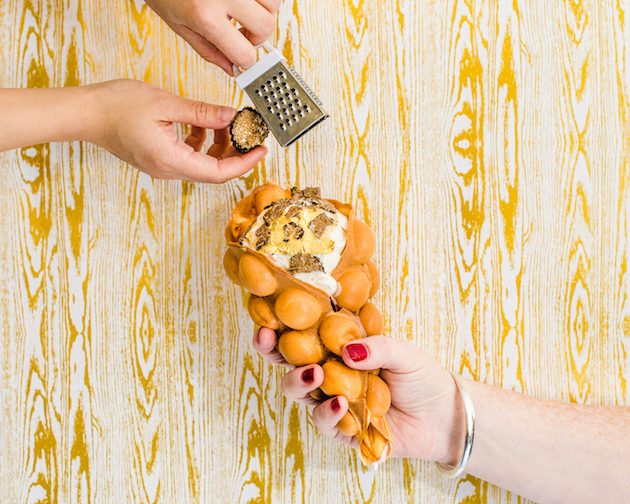 How much does it cost to become a Bubblewrap franchisee?
Investment per store can be as little as £38,000, the rest of the requirement can be fulfilled via bank lenders that have pre-approved the Bubblewrap concept and from asset finance providers approved by the company.
Because Bubblewrap is usually located in high footfall areas, the business is expected to reach profitability very quickly (provided the store is managed correctly). The company's first location in Chinatown paid back the total investment in a few months.
Requiring such a low capital expenditure, the Bubblewrap franchise lends itself to be developed on a multi-unit, territorial basis.
A Bubblewrap franchise business can be financed from either personal capital or a business loan.
Most of the major banks in the UK have specialist franchise departments and view franchising as a safer way to start a new business compared to setting up an independent entity on your own.
As a result, prospective franchisees can potentially borrow up to 70 per cent of the start-up costs of an established franchise.
What locations or territories is Bubblewrap looking to operate in?
UK: top tourist locations and towns.
UK: regional shopping and leisure schemes.
Western Europe.
Middle East.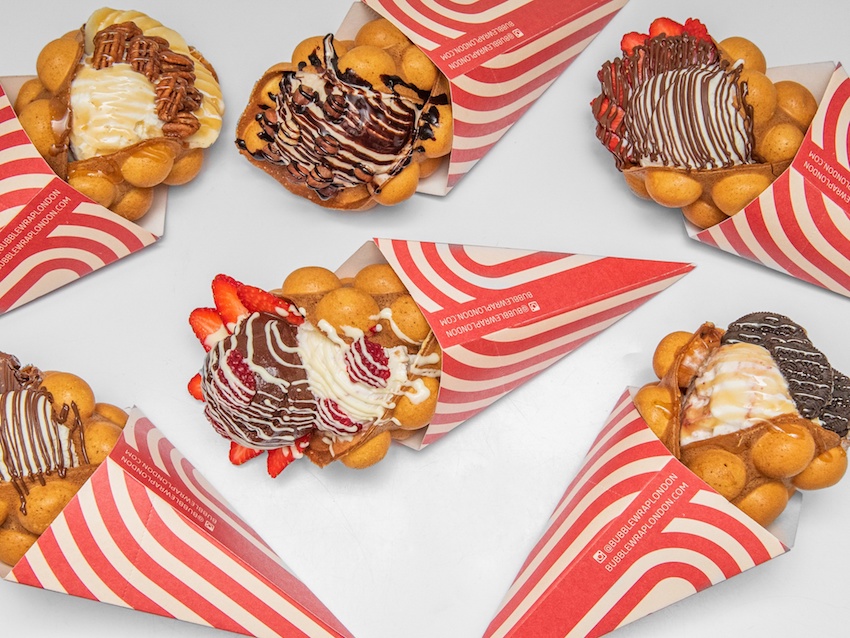 What are the franchise terms of agreement and renewal?

The initial Bubblewrap franchise agreement lasts for five years. It can be extended for a further five years once this period is up.
Why is a Bubblewrap franchise a good investment?

This franchise business has a simple system, moderate initial investment, high sales potential and low operating costs, making it an ideal business to scale for any existing or new food operator with an appetite to grow without high capital outlays and business complexities.
How in demand are the goods the Bubblewrap franchise provides?

A plethora of reports from various market researchers points to the growth of the Asian dessert category in the UK and the west in general.
Moreover, as consumers increasingly value experiences versus products, a brand's Instagram appeal becomes a competitive advantage. Bubblewrap has achieved a leading position in a growing category, thanks to a perfectly targeted marketing approach to its core consumer base.
How do I start setting up my own Bubblewrap franchise?
To request further information about this franchise opportunity, enter your name and email address in the form below and click on the 'Request Free Information' button now.
A member of the Bubblewrap franchisee recruitment team will then contact you. They will be able to answer any questions you have about the franchise, advise you about the opportunities available in your are and explain the recruitment process in more detail.
It is highly recommended that you conduct in-depth and independent research into a franchise before you make a commitment or invest any money in the business.
Request Free Information
Send a free enquiry to Bubblewrap for further information!
Enquire into this franchise today