The information you submit via our enquiry form is shared only with the franchise business(es) that you have selected.
The franchise business will contact you by means of email and/ or telephone only to the email address and phone number you have provided.
By submitting the enquiry form you are consenting to send your personal information to the selected franchise business.
You also agree to receive further newsletter email marketing from What Franchise.
Close
Did you know?
Concept Building Solutions has outlets available across the UK

Request free information in just 60 seconds!
Take the first step in becoming your own boss!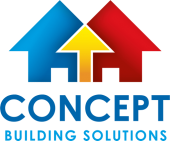 Concept Building Solutions
Specialises in insurance claims management and building and property repairs
Minimum Investment
£32,995
Business Type
Homecare & Property Maintenance
Expected Revenue After 2 Years
N/A
About Concept Building Solutions
Concept Building Solutions is a national company specialising in insurance claims management and building and property repairs. It handles thousands of claims every year, from flood damage to major fire loss, and has a franchise network of over 160 territories.
Trading since 2001, Concept Building Solutions began franchising in 2003, following the success of an extensive pilot scheme and has since gone on to become the largest network of insurance claims managers and building repair specialists in the UK.
Due to its continued success in acquiring new business, Concept Building Solutions is currently recruiting professional, focused partners to join the network.
How does the Concept Building Solutions franchise model work?
This company's franchisee help individuals and businesses restore their homes and premises to their former glory after disaster strikes.
Franchisees project manage all works from start to finish, assessing property damage and then preparing a work schedule and quotation. They then negotiate and settle the claim with the policy holder's insurance company or loss adjustor. Concept claims managers typically use a local contractor to carry out property repair works.
Franchisees source work in a variety of ways, which range from using direct advertising and utilising referral schemes with trade networks, to contractual arrangements with insurance brokers, property agents and loss assessors.
All franchisees trade from a dedicated territory exclusive to them for all directly advertised work. After an in-depth training course, franchisees are ready to hit the ground running from day one.
What locations or territories is Concept Building Solutions looking to operate in?
Concept Building Solutions has a number of franchise territories available around the UK and Ireland and is currently seeking motivated individuals from any background to start their own project management businesses.
Why is a Concept Building Solutions franchise a good investment?
This franchise would be an attractive proposition for investors looking to create a profitable business in the insurance claims and restoration sector.
A national and respected brand, Concept Building Solutions operates in one of the most recession-proof industries in the UK and has many years of franchising success under its belt.
The business model allows franchisees to work flexible hours and has the potential to return high-profit margins. Concept Building Solutions says some of its franchisees have achieved six-figure incomes with no prior building or insurance experience.
According to the company, finding new business isn't difficult - because the service is free to customers, word of mouth recommendations are common.
Andy Walmsley, group operations director for Concept Building Solutions, says: "We look to recruit franchisees for the long term and as we assist them in creating a successful business we reap the benefits.
"Many franchisors look to generate the majority of their income from franchise sales, but we have a longer term, more sustainable approach that benefits both sides in the partnership."
Did you know?
Concept Building Solutions has outlets available across the UK

Request free information in just 60 seconds!
Take the first step in becoming your own boss!
How much does a Concept Building Solutions franchise cost?
A Concept Building Solutions franchise costs from £32,995, with a minimum personal investment of £15,000.
Where in the UK is the franchise based?
Concept Building Solutions' head office is in Preston, Lancashire.
What support and training do Concept Building Solutions franchisees receive?
Concept Building Solutions provides full training and support so that franchisees without any experience in the sector are equipped with the knowledge they need to make their businesses successful.
A six-week launch establishment action programme is followed up with support from staff based at Concept Building Solutions' head office and field-based surveyors, who have a wealth of knowledge in insurance and property repair.
In addition, franchisees have a dedicated mentor from day one of their training, while a business coach can assist in developing their franchise in their local territory.
What else do franchisees receive as part of their investment?
The Concept Building Solutions franchise package includes a comprehensive operations manual, best practice tool kit, corporate guidelines, professional marketing materials, a tablet computer configured with all relevant software, branded workwear and a quantity of stationery.
Also included are a range of tools, such as laser measurers, damp meters and telescopic ladders.
Does an individual need any particular skills to become a Concept Building Solutions franchisee?
The company is looking for enthusiastic, motivated individuals who have the ability to project manage and develop professional relationships. They must also possess the drive and enthusiasm to grow their own successful business.
How in demand are insurance claims management services right now?
It is often not until consumers begin a claim that they realise the complexities of an insurance contract.
Using a claims management company gives consumers a better understanding of their rights and the remedies available. And when a company such as Concept Building Solutions steps in, a claim is likely to go through more quickly and run more smoothly.
Concept Building Solutions works tirelessly on customers' behalf to agree settlements with insurance providers, so they can begin restoring the property to its pre-loss condition as soon as possible.
How can I get started on setting up my own business?
By completing the enquiry form on this page, an alert will be sent to the Concept Building Solutions franchise recruitment team, who will be in contact to answer any questions you might have about the franchise opportunity.
This first, no obligation phone call will be the first step in joining the network, subject to both party's agreement.

Request Free Information
Send a free enquiry to Concept Building Solutions for further information!
Enquire into this franchise today