The information you submit via our enquiry form is shared only with the franchise business(es) that you have selected.
The franchise business will contact you by means of email and/ or telephone only to the email address and phone number you have provided.
By submitting the enquiry form you are consenting to send your personal information to the selected franchise business.
You also agree to receive further newsletter email marketing from What Franchise.
Close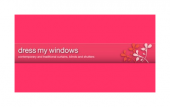 Dress My Windows
Supplying tailor-made curtains, blinds and shutters to homes and businesses in the local area
Minimum Investment
£12,995
Business Type
Homecare & Property Maintenance
Expected Revenue After 2 Years
N/A
About Dress My Windows
Dress My Windows understands just how important it is to get the window coverings in a home or business property is. Whether the customer is looking for better privacy or a combination of privacy and natural light, Dress My Windows can provide the perfect solution tailored exactly to the customer's needs.
As the market grows so does the Dress My Windows brand and it is now extending the opportunity to entrepreneurially-minded individuals or businesses wanting to seize the
chance to create a potentially very fruitful business using the Dress My Windows brand recognition and reputation.
The residential market growth in the UK over recent years for curtains, blinds and shutters (the main products of dress my windows) has been substantial as more and more homeowners are choosing to improve and renovate their homes as opposed to moving to a bigger house or a better area.
The benefit that a Dress My Window franchisee has is that they can be flexible in the products that they can offer to the customers based on what that customer actually wants
and are not restricted in the same way that a lot of other businesses are because everything is tailor-made to fit.
On the commercial side of things, Dress My Windows is fully equipped to serve a wide array of solutions to a multitude of businesses such as offices, schools, colleges, property developments and much more. Generally, those customers know what they want, but there is always the chance that Dress My Windows can provide a more effective or unique solution to the problem.
How does a Dress My Windows Franchise work?
Dress My Windows franchisees will basically take the proven business model provided to create a Dress My Windows business based in their local area. By utilising the best marketing and sales techniques, franchisees will be able to take advantage of a large territory completely free from competition from other franchisees.
With this franchise opportunity, you are handed a pre-built system that is proven to create growth and profit for franchisees, both of which can be highly rewarding. You will be given a full training program and full support throughout the life of the business.
You will also be provided with a large territory that will allow you to create a business in your area without the threat of competition from other franchisees. This means you will be able to realise and maximise your full potential. You will be the only franchise allowed to operate in that area.
How much does a Dress My Windows franchises cost?
A Dress My Windows franchise will require an investment of £12,995 (+VAT). On-going fees are set at five per cent of annual turnover.
What is the expected first-year income of a Dress My Windows franchise?
The expected first-year income for a Dress My Windows franchisee is £33,221. Year two potential income is £49,066 and year three is £60,033.
Although these are only potential earning figures based on the experience of other franchisees and no guarantee of these earnings can be given - it shows that there is definitely a potential to create a substantially lucrative business that serves a large number of homes and businesses in your local area.
Of course, these figures will require hard work and ambition, but you might even find that these figures are conservative and you could potentially surpass those figures if you are motivated and entrepreneurially minded enough to become a successful business owner.
Do Dress My Windows franchisees require experience?
Franchisees do not need previous experience to apply for a Dress My Windows franchise.
Full training and support are provided by Dress My Windows using a proven business formula. Dress My Windows has established systems designed to help franchisees be as productive as possible as well as increase sales to the business.
The training will teach you how to Identify target markets and use proven techniques to drive leads to your business. You will also be taught the principles of how to convert as many as possible incoming leads into paying clients in order to increase your profit margins right from the get-go.
Why choose a Dress My Windows franchise over window-installation competitors?
By choosing a Dress My Windows franchise, you are entering into business under an established brand with an excellent reputation with a time-tested formula for creating
successful franchise businesses.
Because of that, and the fact that franchisees are supplied with large territories to operate within without competition from other franchisees, you have the chance to create a very successful business with high-income potential.
Every franchisee is also provided with a complete start up package which includes training materials alongside sales and marketing materials and a central website through which to direct customers.
In addition, you will be provided with a demonstration kit to help you sell the Dress My Windows products as well as a fixing kit, three sets of uniforms and vehicle signwriting services.
Dress My Windows also provides assistance with raising finance for your start-up to help ease the process.
How can I find out more about becoming a Dress My Windows franchisee?
If you would like more information about this franchise opportunity and wish to find out if this could be the business model for you then you can apply for this opportunity via the contact form found on this page.

Request Free Information
Send a free enquiry to Dress My Windows for further information!
Enquire into this franchise today