The information you submit via our enquiry form is shared only with the franchise business(es) that you have selected.
The franchise business will contact you by means of email and/ or telephone only to the email address and phone number you have provided.
By submitting the enquiry form you are consenting to send your personal information to the selected franchise business.
You also agree to receive further newsletter email marketing from What Franchise.
Close
Did you know?
Countrywide Signs is eligible for funding support!

Request free information in just 60 seconds!
Take the first step in becoming your own boss!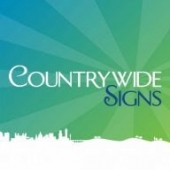 Countrywide Signs
An estate and letting agents board contractor, responsible for erecting and maintaining property signs
Minimum Investment
£19,995
Business Type
Lettings & Property
Funding Support
Third party
Expected Revenue After 2 Years
N/A
About Countrywide Signs
Countrywide Signs is one of the UK's leading letting agent and estate sales board contractors, responsible for managing property letting and sale signs across the country.
Countrywide Signs works with traditional and online estate agents to provide an invaluable supporting service, raising awareness of property availability in local areas, and also provide commercial signs for businesses in other industries.
The franchise has been one of the most successful ones in the UK, with over 96 per cent of franchisees enjoying a highly profitable outcome.
What kind of franchise is Countrywide Signs?
The Countrywide Signs franchise is van-based, and the company's services are all carried out on customer sites. Franchisees can enjoy a low overhead, as the general administrative and management tasks can be managed easily from a home office.
What territories are available for a Countrywide Signs franchise?
Countrywide Signs has territories available all over the UK, with a range of options available. Franchisees can purchase a vacant territory to start from scratch or purchase a resale franchise with an existing customer base already active. You can also take over part of a territory owned by an existing franchisee, with customers already present.
A review of the Countrywide Sign franchise options and cost
There is a range of different franchise packages available with Countrywide Signs, depending on your budget, experience level and business experience. For a single-van franchise, you will need to invest £21,500 (excluding VAT). This gives you access to a territory encompassing around 100,000 properties.
For a multi-van franchise, featuring two vans, you will need to invest £26,950. This gives franchisees a larger territory of 150,000 properties and is a good choice for a more experienced franchise owner, or someone looking to expand an existing territory.
For more established and seasoned businesses, Countrywide Signs also offers a larger franchise option, priced at £34,950 plus VAT, which covers a territory of 300,000 properties. This is ideal for anyone looking to employ other agents, and run the business as a managed franchise. With a flexible and adaptable approach, this can be a great way for anyone to grow their business as they progress and gain resources and experience.
What funding opportunities are there for a Countrywide Signs franchise?
Countrywide Signs is a longstanding, proven and ethical franchise company, and the brand has established connections with major banks. It may be possible to get up to 70 per cent funding support, to help you get your business started.
The initial deposit paid by incoming franchise owners includes the services of a highly-respected franchise finance specialist company with a very strong track record of securing loans. Everything a franchise owner needs to get started and build their business is included in the investment.
How does the Countrywide Signs franchise help you to grow your business?
Countrywide Signs has several existing national accounts in place with major brands in the property industry, which offers a steady flow of jobs passed on to franchisees on a regular basis. The company maintains a network of contacts between its head office and those of major letting agents, online companies and other national agencies, and manages requests for work, passing them directly to franchises in the local area.
Did you know?
Countrywide Signs is eligible for funding support!

Request free information in just 60 seconds!
Take the first step in becoming your own boss!
Franchise owners can expect a great starting point and recurring income, even in new territories, and because Countrywide Signs take on most of the administration involved, this can help franchises grow much faster.
What experience do you need to start a Countrywide Signs franchise?
You do not need prior experience in the property industry to succeed with your Countrywide Signs franchise. All franchisees are given complete training to help you establish your business, and grow at a sustainable rate.
As with any franchise, having the skills needed to manage your own business, self-motivation, and ambition will be essential qualities to help you succeed.
What training and support will you receive with a Countrywide Signs franchise?
New franchise owners are given comprehensive support and led through a rigorous training programme before launch, to ensure you are fully prepared to manage the business successfully.
Franchisees will first undergo three days of practical training at one of the brand's regional offices, including an introduction to the signage business, and an overview of business administration tasks. You will also be led through a review of budgeting and cash flow tips, health and safety management, and understand how to use the company's bespoke accounting platform.
Once training is complete, all franchises are given a tailored website, dedicated to your specific territory, as well as regular continued input from the head management team to answer any questions and provide advice on all aspects of running the business.
The brand also uses a lot of technology to help streamline the workflow for its franchisees, and you will receive access to their own online sign board management system, which enables clients to manage their orders and requests, and franchisees to keep track of job progress.
Franchisees will also receive a cutting edge stationary print management portal, which helps you manage orders and review proofs of sign boards, before they are sent off to be printed. These tools are all provided free of charge to franchisees, helping you to retain a competitive edge, reduce errors and speed up jobs, allowing you to take on more clients and grow your business faster.
Is a Countrywide Signs franchise a good business opportunity?
As one of the most successful franchises in the country with a strongly positive track record over the years, anyone looking at joining Countrywide Signs as a franchisee will likely be in good company. The brand is well established among the property industry, and highly in demand for its services, giving franchisees plenty of opportunity to grow and flourish.
The brand has also diversified into other signage services for businesses outside the property sector, and franchises can open to a broader market, for greater diversity and income potential.
How can I get started on running my own Countrywide Signs franchise?
To find out more about starting your own franchise with Countrywide Signs, contact them via the online enquiry form on this page to arrange a preliminary call back.

Request Free Information
Send a free enquiry to Countrywide Signs for further information!
Enquire into this franchise today