The information you submit via our enquiry form is shared only with the franchise business(es) that you have selected.
The franchise business will contact you by means of email and/ or telephone only to the email address and phone number you have provided.
By submitting the enquiry form you are consenting to send your personal information to the selected franchise business.
You also agree to receive further newsletter email marketing from What Franchise.
Close
Did you know?
ShopAppy has outlets available across the UK

Request free information in just 60 seconds!
Take the first step in becoming your own boss!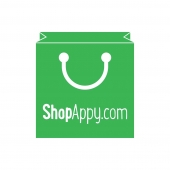 ShopAppy
Designed to help local independent businesses reach out to their customers more effectively
Minimum Investment
£7,500
Expected Revenue After 2 Years
N/A
About ShopAppy
What is ShopAppy?
ShopApply was founded in 2016, when the founder, Dr Jackie Mulligan, saw that local businesses in her hometown were struggling to reach out to local customers or to compete against bigger, out of town retail centres and online outlets.
ShopAppy was started to provide a unified shop window for every town, featuring local, independent brands and providing an opportunity for local people to shop with them directly in a more convenient way.
The brand brings together the convenience of bigger, online shopping platforms, while combining it with the advantages of local businesses, offering customers the chance to click and collect at a wide range of convenient times, as well as shopping in store.
The ShopAppy franchise is an ideal opportunity for anyone passionate about helping local communities to thrive and also provides franchisees with a rewarding opportunity to grow an innovative business.
Where can you find franchise territories in the UK with ShopAppy?
You can find franchise territories across the UK and can find out more information on potential locations by contacting the brand's franchise team. All franchisees receive an exclusive territory and may have the option to expand across multiple territories once a positive track record of success has been established.
Where are the headquarters for the ShopAppy franchise located?
The ShopAppy head office is based in Shipley, West Yorkshire.
How much does it cost to start a ShopAppy franchise?
To start a ShopAppy franchise, you will first need to invest in the intial franchise fee of £7,500. There may be other costs applicable in establishing the business, which can vary according to the territory and size of business. The terms of the franchise are valid for five years, with the right to renew after this period.
What kind of financial assistance can you get to help with starting a ShopAppy franchise?
You may be able to get some financial support from most major banks on the high street to help you start a ShopAppy franchise.
What sort of experience or background should you have to start a ShopAppy franchise?
ShopAppy has a structured and methodical approach to recruiting franchisees and always aims to ensure that any potential candidate is a good fit for the brand.
You should be well informed about the company's business model, brand philosophy and approach and have a good understanding of its objectives before making an application.
ShopAppy looks for individuals who are self motivated and have a high level of ambition and determination to succeed. You should also have excellent business acumen, with demonstrable leadership and people skills, and the ability to communicate well with all kinds of people. Most importantly, you should have a passion for your local area and its high street, as well as extensive knowledge about the businesses established there.
Did you know?
ShopAppy has outlets available across the UK

Request free information in just 60 seconds!
Take the first step in becoming your own boss!
What kind of training or support will you receive when starting a ShopAppy franchise?
ShopAppy provides franchisees with a thorough support programme to help them succeed with their franchise in their chosen territory. It also provides franchise partners with a fully integrated website and app to establish the brand in their local area, as well as an ecommerce site to help sell products from local businesses.
Franchisees will have access to the brand's comprehensive operations manual and operating systems, as well as the backing of its support team, who are on hand to answer questions and provide guidance, and are also given Full training on all other parts of the business formula. Franchisees are licensed to use the ShopAppy brand and systems and are given marketing materials to help promote and develop their business.
Once the franchise is established, ShopAppy is on hand to provide personal mentoring and support. To help promote a new franchise, the brand offers help with local marketing campaigns, as well as advice on how to effectively reach out to the local community and encourage word of mouth promotion.
What kind of business opportunities are there with a ShopAppy franchise?
Working with ShopAppy can be an exciting experience, as the brand is growing across the UK. The founder was awarded Entrepreneur of the Year for the development of the brand and continues to attract media attention, having been featured on the BBC and other networks. By working with an innovative brand, franchise partners can enjoy the additional marketing that comes from increasing national media attention.
Starting a franchise with ShopAppy can be a great opportunity for anyone interested in local business development and provides franchisees with a chance to connect more with their local community in a rewarding way.
The franchise offers potential partners the chance to be their own boss and control working hours, while reducing the risk involved in starting a new business. Franchisees also have the chance to control their earning potential and grow at a rate that feels right for them.
Working with ShopAppy can be a great step forward for potential entrepreneurs keen to establish their own business, as the brand has gained widespread attention and become an important influencer across the UK.
91 per cent of consumers in towns with existing ShopAppy franchises have found that it has helped them to shop more locally, while local businesses have seen a growth in new customers, as well as the opportunity to capitalise on online shopping channels. By giving local stores a 24 hour shopping presence, businesses benefit greatly, which in turn helps the franchise become better established.
How to get started
To get started with a ShopAppy franchise, contact the brand's franchise team directly to arrange an initial conversation and find out more about potential opportunities.

Request Free Information
Send a free enquiry to ShopAppy for further information!
Enquire into this franchise today