The information you submit via our enquiry form is shared only with the franchise business(es) that you have selected.
The franchise business will contact you by means of email and/ or telephone only to the email address and phone number you have provided.
By submitting the enquiry form you are consenting to send your personal information to the selected franchise business.
You also agree to receive further newsletter email marketing from What Franchise.
Close
Did you know?
ON Pizza has an expected revenue of £12,000 weekly revenue, 25% net profit after 2 years!
Request free information in just 60 seconds!
Take the first step in becoming your own boss!
ON Pizza
Delicious pizza available to order online as a takeaway or in restaurant
Minimum Investment
£80,000
Funding Support
Third Party
Total Investment
£120,000
Expected Revenue After 2 Years
£12,000 weekly revenue, 25% net profit
About ON Pizza
ON Pizza is a brand new family-owned business with 15 years of expertise in the food and beverage sector. An exciting pizza takeaway brand offering a contemporary pizza experience to its customers, ON Pizza offers a delicious menu range from its signature 20-inch pizzas to classic favourites, sides and treats. With its first store opening in Kent, ON Pizza believes in doing business differently — that's why its hybrid store uniquely elevates it from conventional pizza takeaway brands. Since opening, it has rapidly become a top-rated local takeaway in town. Offering great-tasting products and exceptional service, ON Pizza is a sure winner – whoever and wherever you are.
So what is the ON vision? To create a strong and competitive global pizza brand while maintaining its uncompromising values throughout its growth. By joining the team, you will be part of a growing brand that values passion for great food and hospitality. In return, you will receive full industry knowledge and professional support every step of the way.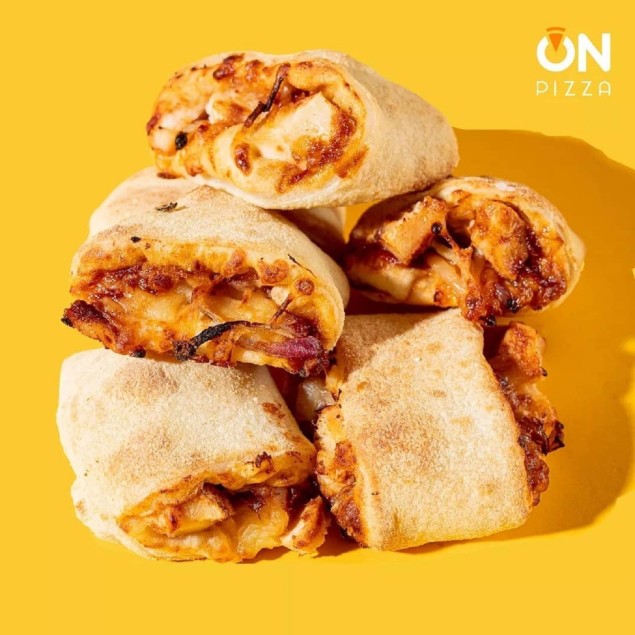 How does an ON Pizza franchise work?
The pizza restaurant's business model is uniquely curated to successfully kickstart your business in the food and beverage sector. The concept utilises smart design to maximise purpose and profitability through:
· Data-driven menu system – analysing customer ordering data and driving maximum orders via the company website and third-party operators
· Low square footage – maximising costs, space and profitability
· Additional grab and go concept – meeting customer convenience and building revenue
· Competitive entry and set up costs – offering competitive prices in a saturated market
· Exciting branding – investing in marketing strategies to bring the brand to life
· Hybrid store concept – grab and go unit set up, plus, dark kitchen and dine-in operations
· Sustainable packaging – investing in eco suppliers to adopt sustainable practices
· Compressed head office set-up – enabling quick decisions and working towards unit success more efficiently
In addition, the franchise provides a comprehensive training structure to guide every investor in running a successful store, regardless of previous experience. There is a gap in the market for an exciting, contemporary brand that focuses on modern design and adaptability. The ON Pizza business model foregrounds the basics of operations to help it expand.
What makes a great ON Pizza franchisee?
The food outlet is looking to work with a like-minded franchisee who believes in and supports its core values.
Its five core values are:
·A dedication to quality
·Genuine love for food
·Drive for innovation
·Sustainable practices
·Key collaboration
The brand is looking for driven and open-minded individuals who are willing to learn, preferably business-oriented and have good interpersonal skills. While no previous experience is required, knowledge about the food and beverage industry is desirable. Friendly and hard-working individuals who are passionate about the work that they do and value team and personal growth will flourish.
What training and support does ON Pizza offer new franchisees?
The company offers full training and ongoing support to a prospective business owner, with a comprehensive training plan that covers all aspects of managing and running a successful ON Pizza location. This includes on-site training from the training team, marketing support and operations assistance.
Did you know?
ON Pizza has an expected revenue of £12,000 weekly revenue, 25% net profit after 2 years!
Request free information in just 60 seconds!
Take the first step in becoming your own boss!
The initial training process offers 14 days of on-site training in an ON Pizza location before the soft launch week. Then, five days of mentoring will be provided to your team during the first week of operations. Additional support and training is always available upon request.
ON Pizza want your store to be successful and has developed effective marketing strategies to help you market your store professionally and digitally. Some of the marketing support you will receive includes brand guidelines, brand manual, social media guidelines, a full e-commerce ordering platform, software tracking and store launch marketing guidelines. You will receive access to the UK marketing team to support you with every step in driving your business forward. In addition, ON Pizza offers operations support with onboarding, site selection, project management – everything to get your store running successfully.
What is the cost of an ON Pizza franchise?
While the initial costs of opening a food franchise can seem relatively high, the rewards make them worthwhile. The minimum initial investment requirement would be £80,000. Multi-unit franchise opportunities are available to allow franchise owners to operate more than a single outlet within a specific location and expand their networks. The expected revenue after the first year is £400,000. The expected revenue after the second year is £500,000. The franchise fee comes to £15,000, in addition to a five per cent royalty fee.
What territories are available for an ON Pizza franchise?
ON Pizza is looking to create a national community and is currently targeting territories in the South, South East and Greater London areas. Through collaboration and community, it is going to the next level.
Why is an ON Pizza franchise a good investment?
The team at ON Pizza have created a credible business opportunity for those with drive and a passion for people and great food. You will be joining a competitive brand that understands all strategic and operational aspects of running a business, bringing you the knowledge and expertise gained across the biggest brands in the food and beverage sector. With a proven business model and an established business network, the franchisor will provide you with a head start in running your own business smoothly. You will be operating with established policies, procedures and standards and with full support from the brand. Franchising with ON Pizza isn't just about opening a pizza store. It is still about building a new, exciting and different brand.
What is the state of the UK pizza industry?
The pizza industry is worth £2.1bn in the UK and is anticipated to continue growing. ON Pizza wants to be part of the change.
Pizza is always a winner. The perfect food for any occasion. It brings people together — family and friends, and works for any occasion — a party or a work lunch. Demand is high for pizza delivery services, especially post-pandemic. The ON Pizza online ordering system plays a key role to meet those delivery demands. In addition to a delivery and takeaway service, this pizza joint also provides a dine-in service to prioritise its customers' needs.
Tasty and convenient with unique and exciting pizza flavours (including plenty for vegans) and all made from fresh ingredients with love and care – customers are sure to find a winner on the menu.
How do I start setting up my own ON Pizza franchise?
ON Pizza is committed to providing high-quality products and exceptional service. To find out more about this food franchise, complete the enquiry form found on this page.
Request Free Information
Send a free enquiry to ON Pizza for further information!
Enquire into this franchise today