The information you submit via our enquiry form is shared only with the franchise business(es) that you have selected.
The franchise business will contact you by means of email and/ or telephone only to the email address and phone number you have provided.
By submitting the enquiry form you are consenting to send your personal information to the selected franchise business.
You also agree to receive further newsletter email marketing from What Franchise.
Close
Did you know?
Kall Kwik has outlets available across the UK

Request free information in just 60 seconds!
Take the first step in becoming your own boss!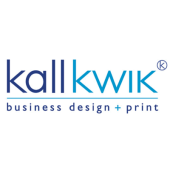 Kall Kwik
Kall Kwik Centres provide a first class service and offer bespoke solutions rather than a fixed product range. They achieve high average order values and excellent...
Minimum Investment
£50,000
Business Type
Print & Promotional Services
Expected Revenue After 2 Years
N/A
About Kall Kwik
An iconic brand, reinvented for the digital age
Kall Kwik is a B2B design and print franchise with multiple income streams.
The communications industry has transformed, and so has Kall Kwik. A familiar presence on the high street in the 80s and 90s, it has been relaunched for continued success in the digital age.
Franchise owners use the Kall Kwik business model and brand as a launchpad to develop their own successful businesses in this dynamic sector.
A cost-effective route into design & print
Kall Kwik has evolved from a production-led operation to a consultative print and design service provider. Outsourcing high-end production means entry level and ongoing costs can be kept to a minimum. As a business-to-business franchise, Kall Kwik is not subject to the fluctuating demands of the retail market and average order values are high with good profit margins.
Customers
The business is very customer-centric and offers a collaborative, bespoke service. This earns loyalty, which maximises repeat and regular orders, helping to drive business growth.
We've invested heavily in large format print to meet growing demand from conference and exhibition organisers as well as the hotel market and car dealerships. And the ability to print full colour to the highest quality enables centres to retain and develop relationships with a diverse customer base, including blue-chip companies.
A broad print & design offering
Kall Kwik benefits from multiple income streams. It's about much more than putting ink on paper.
Centres offer a wide range of services including:
direct mail
website design
email marketing
online, digital and litho print
large format printing
How much does it cost? And what do I get?
The cost is £50,000 + shop fit +vat, and working capital is also required. This covers your licence to trade under the well-established Kall Kwik brand as well as extensive training, support and essential equipment. Territories are large with 9,000 to 10,000 businesses (with some variations in London).
Comprehensive training
New centre managers benefit from four dedicated weeks of training. This includes sessions at our headquarters, one week onsite at an existing centre and a week in your own centre with senior Kall Kwik personnel working alongside you.
Getting you off to a strong start
In addition to training, we provide an extensive start-up package including:
a turnkey equipment suite (digital printers, laminator, trimmer, guillotine, finishing kit, Marlin (3D) printer etc.) all delivered and installed, with training given
a marketing launch programme to kick-start the business
access to a web2print solution
a dedicated website, contact management system and Kall Kwik email account
access to the Kall Kwik intranet and a 12-month subscription to dotmailer e-marketing.
There when you need us
You will make the key decisions in your business. But we are always on hand with advice and any additional support you may need in relation to marketing, finances or training. We also hold regular one-to-one business reviews and network meetings where you can meet centre owners from other territories to share ideas.
Did you know?
Kall Kwik has outlets available across the UK

Request free information in just 60 seconds!
Take the first step in becoming your own boss!
Wider benefits: strong resale value and work-life balance
Kall Kwik is a 'work from home' opportunity, minimising operating costs, maximising profits and facilitating an effective work-life balance.
Being very customer focused, with a wide range of services, Kall Kwik centres can cross-sell to their existing client base as well as developing new business. This results in robust, profitable businesses with good resale value.
At a glance summary
An iconic brand
Relaunched for the digital age
Home-working potential
Excellent support and training
Robust marketing framework
Are we right for each other?
We're looking for people who are good communicators and motivated by achievement. You must be ready to set and reach demanding business targets, and have the energy and enthusiasm to cope with changing industry and customer needs.
What do centre owners say?
"Building a rapport with clients and delivering outstanding customer service combined with competitive pricing is one of the keys to our success. Clients like knowing the people they are doing business with and the familiarity that goes with that." Natalie Muckell, owner of Kall Kwik Fleet Street since 2007
"I opened my Kall Kwik centre in 1984. I chose Kall Kwik because I had a gut feeling that it was an ethical franchise, run by an ethical franchisor. Kall Kwik is not a get rich quick scheme, but if you are looking for a partner to help develop your own long-term ambitions to create a successful business, it could work for you. It certainly worked for me!" Terry Woods, owner of Kall Kwik Chiswick
Find out more
Kall Kwik is a full BFA member and part of The Bardon Group, which runs three additional well-established, high-quality brands: Techclean, ComputerXplorers and Recognition Express.
Contact:
Emma Downes
edownes@kallkwik.co.uk
tel.: 01530 513300
www.kallkwik.co.uk

Request Free Information
Send a free enquiry to Kall Kwik for further information!
Enquire into this franchise today