The information you submit via our enquiry form is shared only with the franchise business(es) that you have selected.
The franchise business will contact you by means of email and/ or telephone only to the email address and phone number you have provided.
By submitting the enquiry form you are consenting to send your personal information to the selected franchise business.
You also agree to receive further newsletter email marketing from What Franchise.
Close
Did you know?
Mail Boxes Etc. is eligible for funding support!
Request free information in just 60 seconds!
Take the first step in becoming your own boss!
Mail Boxes Etc.
A multi-functional retail and B2B operator offering post, parcel, print, and virtual office address services for a variety of customers
Minimum Investment
£25,000
Total Investment
£60,000 to £70,000
Expected Revenue After 2 Years
N/A
In Brief
Multi-functional retail operator that acts as a one-stop-shop for a huge variety of customer needs. Core business is offering post, parcel, and virtual address services – all under one roof. Commitment to constant innovation. Partners also offer a wide range of other services – from print and design to marketing, making them an essential provider for all manner of businesses, as well as the general public.
About Mail Boxes Etc.
Starting your own successful business may be easier than you think – especially with a leading brand like Mail Boxes Etc. (MBE) behind you. By partnering with a global leader, you too can make your dreams of self-employment a reality.
The world continues to change, and the pace of change is accelerating. Never has there been more demand for Mail Boxes Etc.'s range of services. Part of MBE Worldwide Group, a global business with over 2,800 retail centres in 53 countries, for over 50,000 regular business customers, MBE is an essential provider of the day-to-day postal service, parcel and print operations, across 1,700 MBE franchise centres under the MBE brand. Each one relies on high-quality offerings and excellent in-store customer service.
With your new MBE centre, you'll become part of a network of Mail Boxes Etc. businesses, supporting the needs of small and medium-sized business owners, and retail customers. Through your easy-to-access distribution centre, you will provide an extensive range of business solutions including:

• Packing, shipping letters and parcels all over the world
• Logistics solutions for business
• Mailbox and virtual address solutions
• Graphic design and marketing services
• Printing and copying
How does the Mail Boxes Etc. franchise model work?
The MBE franchise is so successful because it is a simple, yet diverse model with a proven track record for success, stretching back more than 40 years. You have the opportunity to own and operate a rewardingly profitable distribution and print centre, located in the heart of your local community, providing excellent customer service.
The MBE franchise could also easily bolt on to an existing services business, enabling you to expand your reach and the means to grow your business further.
Whether a prospective franchisee wants to invest in a single unit, multi-unit or already established (called a resale) Mail Boxes Etc. franchise opportunity, every investor is given what the company describes as a complete turnkey package.
Research and development and market analysis are conducted on a regular basis by Mail Boxes Etc. in order for the business to stay ahead of the curve when it comes to adapting to customer demands.
For single-unit Mail Boxes Etc. franchise, a franchisee's role is a combination of office-based work administering the business, visiting current and potential new customers and networking in their local area.
A multi-unit Mail Boxes Etc. operation requires franchisees to adopt a less hands-on role, instead of employing staff to manage their business on a day-to-day basis - essentially it would be a management franchise where you will be working on the business and not in it.
Mail Boxes Etc. says its franchisees are self-motivated, entrepreneurial, commercially aware, are able to build long-term relationships with customers and are effective networkers.
What locations or territories is the Mail Boxes Etc. franchise looking to operate in?
The business service provider has a range of franchise opportunities requiring different levels of investment throughout the UK. Fill in the enquiry form on this page to get in touch.
Why is Mail Boxes Etc. a good investment?
If you want to be part of a large, powerful network, and use the support of an established brand to build a rewarding new future, MBE is the perfect business opportunity for you. It offers:
• Multiple revenue streams
By offering a broad mix of excellent services to local businesses and the general public, it ensures that you are never reliant on just one facet for your income. Customers come back time and time again because they know MBE can deliver a variety of solutions to almost any challenge, all with a professional and personal service.
• Support with finding the best location for your new business
As experts in the industry, it knows exactly what makes MBE stores work, and how to locate them to be most appealing to your customers. MBE will help you find the perfect site, and even help you with the lease negotiation.
• Constant innovation to keep your business moving forward
The market has changed immeasurably since 1980 – many years before the digital revolution. By constantly innovating in response to changing demands and technology, MBE ensures that its franchises are always one step ahead.
Did you know?
Mail Boxes Etc. is eligible for funding support!
Request free information in just 60 seconds!
Take the first step in becoming your own boss!
• Financing assistance and business planning
MBE will help you develop a comprehensive strategy for business development, from the day you open, right through the term of the partnership. It can also introduce you to the franchising departments of leading high street banks if you need help raising funds for your investment.
"When I opened my business, I wanted to be a part of my thriving, local community. I chose premises which were in a bustling area surrounded by businesses and restaurants, right on the edge of London's Olympic Park, the International Train Station, and one of London's many colleges," said Imran David, MBE East Village, Stratford.
How much does a Mail Boxes Etc. franchise cost?
The initial investment would be £25,000. You'll also need approximately £30,000 for your retail service centre, fixtures, stock and more. The strongest performing MBE Retail Service Centres are located in areas close to active commercial buildings, business centres, universities and auction houses, with easy access and convenient parking.
Is bank funding available for a Mail Boxes Etc. franchise?
Up to 70 per cent of the initial investment required for a Mail Boxes Etc. franchise can be bank-funded, subject to status. The company can introduce prospective franchisees to suitable potential lenders.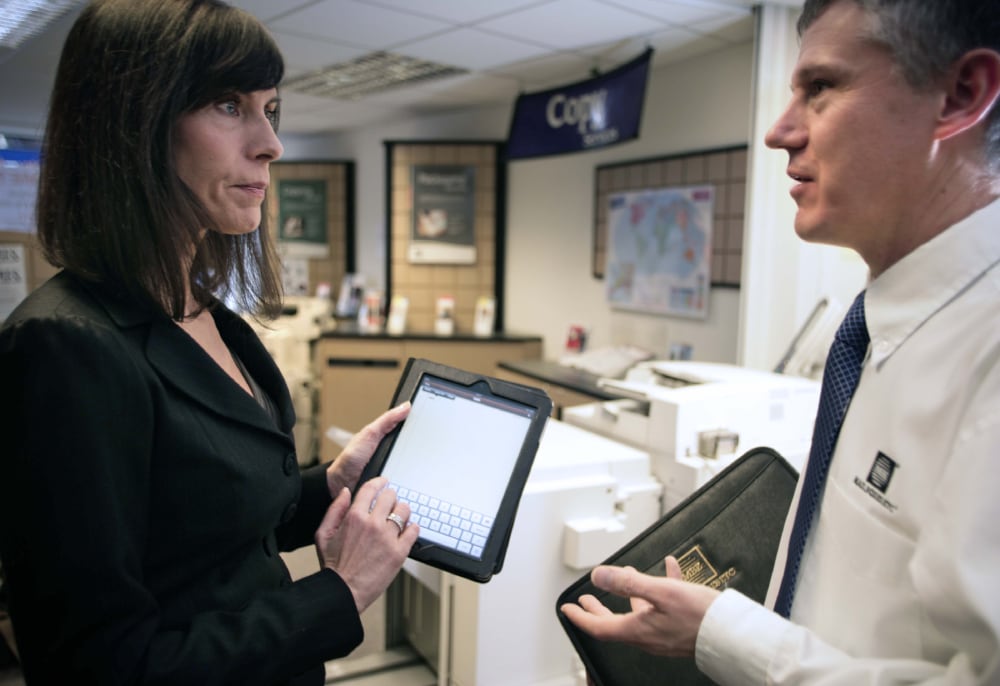 What is MBE looking for in its franchisees?
MBE is looking for franchise partners who share its values. If you are prepared to provide essential services to businesses and the public, in a friendly and professional manner, you could be a perfect MBE franchise owner.
Empowering you to build a better future…
As an MBE franchise partner, you'll be comfortable in a customer-facing role, and take an active lead in both sales and prospecting for new clients. You don't need to have any previous experience, although that would be a bonus. However, you will need to be driven and enthusiastic, with efficient organisational skills to grow your business with its support.
Above all, you'll need a strong entrepreneurial spirit, to appreciate the huge potential an MBE franchise offers you, to achieve significant growth. Put in the effort and time, by implementing its training and business model, and reap the rewards for yourself.
Where in the UK is the Mail Boxes Etc. franchise based?
The company's UK headquarters are in Chipping Norton, Oxfordshire.
What training and support do Mail Boxes Etc. franchisees receive?
The comprehensive training and support package has been perfected over nearly four decades. It's been designed to give you all the skills and tools you'll need to launch your new business and help you as you grow. This will include:
• Initial training – a series of in-depth seminars and lectures that focus on marketing and sales, product and service knowledge, operating procedures, staffing, business management and customer service, followed by invaluable hands-on training in one of the stores to prepare you for running your own MBE franchise business.
• Expert advice and guidance – the experienced franchise support team and area partners will be with you every step of the way.
• National marketing support – expert guidance on how to promote your business and generate leads, as well as inclusion in its nationwide media activities.
"As well as training at head office, I spent time with MBE London, Glasgow and Edinburgh and thought it was great to see how very differently they operated. Since opening, I've been supported by my mentor-franchisees, Pepe and Gill Bascetta, plus, the team at head office. There's always someone I can turn to who has the knowledge or experience to help. This, I think, is what has helped us become the kind of business where people come in and say, 'I was recommended to come to you.' There's nothing more rewarding, as a business owner," said Anne Balfour, MBE Stirling.
How can I get started on setting up my own Mail Boxes Etc. business?
The easiest way to do this is to request more information by filling in the enquiry form on this page. Franchisee candidates will then meet Mail Boxes Etc.'s head of franchise development, who will explain all about the business and, with your assistance, determine what type of franchise opportunity would suit your requirements.
Request Free Information
Send a free enquiry to Mail Boxes Etc. for further information!
Enquire into this franchise today