The information you submit via our enquiry form is shared only with the franchise business(es) that you have selected.
The franchise business will contact you by means of email and/ or telephone only to the email address and phone number you have provided.
By submitting the enquiry form you are consenting to send your personal information to the selected franchise business.
You also agree to receive further newsletter email marketing from What Franchise.
Close
Did you know?
PACK & SEND is eligible for funding support!
Request free information in just 60 seconds!
Take the first step in becoming your own boss!
PACK & SEND
National and international specialist packaging and delivery company
Minimum Investment
£50,000 - £ 60,000
Funding Support
Third party
Total Investment
£120,000 to £135,000
Expected Revenue After 2 Years
N/A
About PACK & SEND
PACK & SEND is a unique franchise opportunity that can pack and deliver any item to any location. The internationally renowned franchise, launched in Australia over 25 years ago, is available to entrepreneurs looking to get more out of working life.
In the rapidly growing £70bn logistics industry, which generates around 5 per cent of GDP, PACK & SEND is extremely proud to call itself the leading packaging and shipping specialist franchise in the UK. Given deliveries are both national and international, PACK & SEND also offers collection, customs clearance, and delivery services to clients in some 80,000 global destinations.
One area of speciality is the packing of large, awkward, valuable, and/or fragile items such as antiques, artwork, and electronic equipment. One-of-a-kind machines (Fill Aire) and specialist and/or unique packaging (Cell Aire) are used to keep these vulnerable goods safe in transit. Goods are sent via road, air, or sea freight depending on the client's requirements.
A management franchise in the packaging and shipping sector
The PACK & SEND franchise network includes both service and sales centres. Service centres are locations where clients can drop off and collect items. Clients can also visit these centres to discuss their requirements and arrange for collections and/or packing and shipment.
Sales centres, on the other hand, provide the same services but are not collection and drop-off points for clients to visit.
Depending on the type of centre, PACK & SEND franchise facilities vary in size and are usually located in business areas rather than high streets. Street frontage is considered essential in order to improve accessibility to the store and in order to advertise and build brand awareness.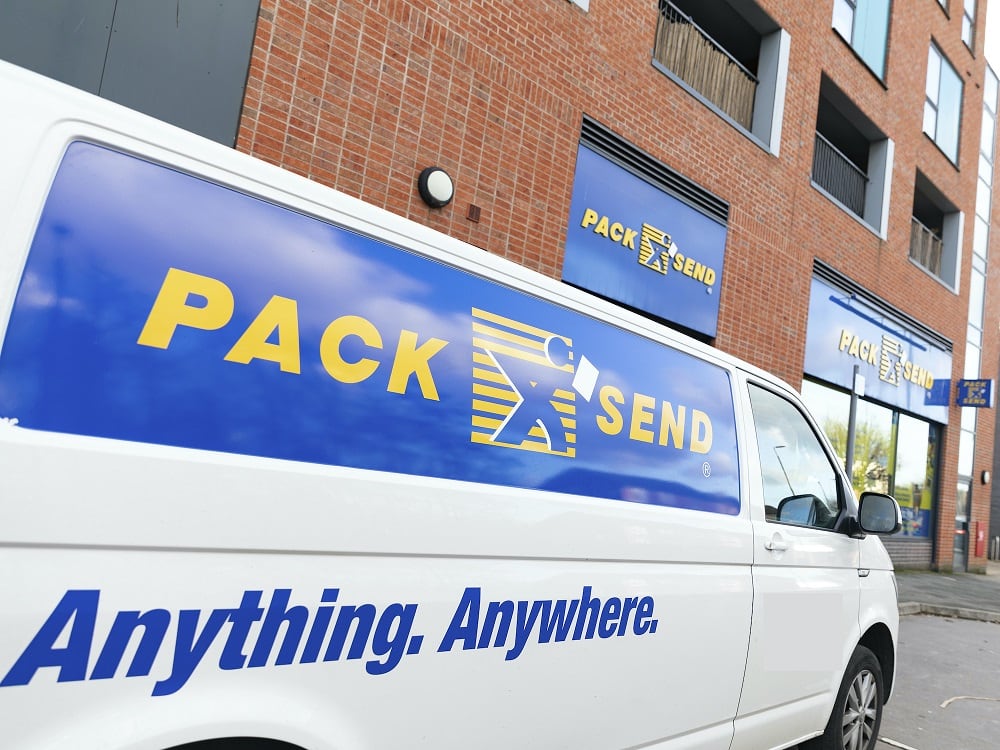 What services does PACK & SEND provide?
PACK & SEND offers reliability, flexibility, and convenience to customers.
Franchisees usually start as owner-operators of their franchise, building a team to manage the needs of their customers. You satisfy the needs of businesses and private clients by providing the very best solution when they're sending items. Here are just a few things your business will cover:
• Professional packing services – from simple bubble wrap to bespoke injected-foam packing
• Wide range of delivery options – road, air and sea freight
• Comprehensive loss/damage cover – with no upper limit on financial cover
• Flexible and bespoke solutions – ship almost anything to anywhere
• Customs/import document assistance – an end-to-end solution.
With all of the services, PACK & SEND ensures that the goods being sent are adequately covered by the appropriate type and level of insurance.
And the best part is you don't need to have any freight or logistics experience as PACK & SEND teaches you all about that in its specialised training programme. You've just got to be a team player who is sales-focused with a no-limits attitude. There are no limits on PACK & SEND's customer service, on your business potential or how much the company will support you to reach your goals.
How does the PACK & SEND franchise model work?
PACK & SEND will deliver anything anywhere, from small pre-packed parcels to fragile, large, awkward and valuable items requiring expert packing. Its packing capability ranges from ready-made cartons with bubble wrap through custom-made cartons with bespoke foam mould packing and foam-lined crates of any size.
It offers a comprehensive range of shipping services ranging from local, domestic, and international courier to air, sea, and road freight. Services include same-day, overnight and point to point deliveries, unaccompanied/excess baggage, furniture removals and hi-tech transport. PACK & SEND also offers high-security shipments and vehicle transportation.
The business model is differentiated from the competition by three things:
• It provides legendary customer service – devising bespoke solutions and managing the process from beginning to end
• It sends almost anything, anywhere for anyone
• Its 'no limits' approach means it will find solutions for the most difficult and challenging jobs.
The freight market has been growing for a number of years due to the growth of online transactions requiring fulfilment, increasingly to international destinations. This trend has been accelerated by the COVID-19 pandemic, which has resulted in substantial growth in PACK & SEND's network revenues over the last two years.
The impact of Brexit has also played a part, as the hitherto simple process of shipping to Europe has become substantially more complex. Customers are now seeking PACK & SEND's expertise in international, customs-controlled logistics to ensure their shipments are delivered successfully.
How much does a PACK & SEND franchise cost?
The initial franchise fee is £29,500 but you will need to budget for your service centre fit-out and working capital. The total budget required to open a PACK & SEND store is in the region of £120,000 to 135,000. On that basis, the franchisor advises new franchisees will need around £50,000 to £60,000 liquid capital. Up to 70 per cent funding support is available through high-street banks subject to personal circumstances.
The ongoing franchise management and advertising fees cover everything you need to get your business off the ground and keep it growing.
• Marketing material such as flyers, brochures, banners and posters
• Sales kits and management resources
• PR resource
• Digital and social media account management
• National advertising campaigns, sponsorships and promotions.
"Being a PACK & SEND franchisee means I spend a lot more time at home with the family. I've also been able to set up the business just two miles from my house, so it really is convenient for having that balance between family life and work. I'm still very happy that I made the decision to start the business. I still enjoy each day, so it was definitely the right decision for me."
– Gairn Kalla, PACK & SEND Guildford
What will I receive from PACK & SEND for my investment?
First and foremost, you are granted a license, but along with this is a broad range of services and support both before and after you open your store.
The initial part of your PACK & SEND journey will involve an eight-week training programme supporting you through your first year of business development. The franchise package consists of 21 key components to make a successful business, including an exclusive trading territory, your store fit-out and equipment, marketing resources, financial management and freight warranty policies.
When you're ready to launch, an expert will join you and your team in your PACK & SEND service centre for the first month. They won't run the business for you but they'll be on hand so you can get up to speed on maximising sales and customer satisfaction.
PACK & SEND also offers two guarantees to franchisees:
• Year 1 brand lead guarantee – PACK & SEND guarantees a defined number of leads with the opportunity to secure long-term repeat customers
• Year 1 marketing support guarantee – whatever you spend on marketing, PACK & SEND will match it (up to a maximum of £6,000).
Did you know?
PACK & SEND is eligible for funding support!
Request free information in just 60 seconds!
Take the first step in becoming your own boss!
"The first few weeks of training in the PACK & SEND store in Reading gave us a feel for what it was like to interact with customers and what our days would be like in the business. I have to say, this was the most useful for both me and my business partner, Koudy, as when we opened our own service centre, we already had some experience of how to operate the franchise."
- Daniel Savi, PACK & SEND Elephant & Castle
PACK & SEND prides itself on being at the forefront of technology to ensure franchisees and their customers have the best experience. As a PACK & SEND franchisee, you have access to:
• The exclusive PACK & SEND point-of-sale system - GMx. It helps with calculating packaging and freight costs, comparing competitor prices and saving, storing and retrieving customer information. On average, it saves franchisees two days a month compared to traditional systems requiring multiple points of data input.
• PACK & SEND's intranet site - Packnet - with resources including your operations manual, price lists, supplier information, benchmarking reports and more.
• PACK & SEND's quality supplier relationships with major logistics brands.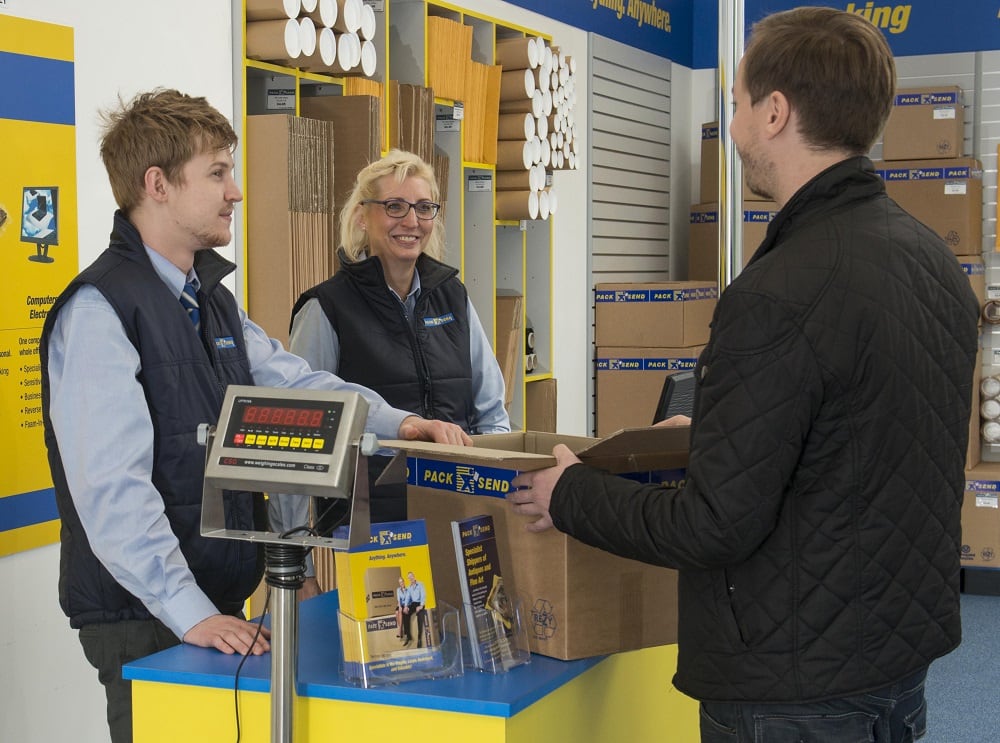 Do I need experience in the courier and delivery industry to run a PACK & SEND franchise?
While you don't need packaging, delivery, or logistics experience, there are certain skills and attributes that PACK & SEND requires its franchisees to possess in order to optimise the chances of success for all concerned.
You will need to understand the nature of a franchise and the obligations of both the franchisor and franchisee, be determined to run your own business, have a passion for customer service, and to have commercial experience so you have sound basic skills. Problem-solving, lateral thinking, organisational, time management, communication, people, numeracy, and computer skills are also necessary. A sales or management background is ideal but not essential.
Where does the PACK & SEND UK franchise currently operate?
There are franchise opportunities throughout England, Scotland, Wales, and Northern Ireland, but the franchisor has some territories that are priorities. These are Birmingham, Greater London, Greater Manchester, Sheffield, and Glasgow in Scotland. There are currently in excess of 70 sales and service centres open.
Will I be able to get an area of my choice?
There are territories available throughout the UK. The company's aim is to have strong and even representation nationally. In addition to there being a good chance of being able to select an area or location, the franchisor offers certain guarantees.
Firstly, no other stores will be opened in the territory granted in the license agreement. Secondly, the contract protects you in that no other franchisees are permitted to solicit business from customers in your allocated area or territory. Franchisees are permitted to market in areas that are not under franchise until such time as they are.
What are the franchise terms of agreement and renewal?
The PACK & SEND UK franchise agreement is for 10 years.
What are the average earnings from a PACK & SEND franchise?
While it is hard to quantify income, PACK & SEND claims that gross profit margins are 65 per cent plus. As with any business, the quality and quantity of work done by the franchisee and the marketing undertaken have a significant impact on revenue. However, of interest is the value of an average sale: £240.
Franchise holders generate profits through mark-ups on packaging material, freight services, fees from project managed services, labour costs generated from collections, packing, and delivering and messaging services.
Is income guaranteed?
Income is not guaranteed by the franchisor as it depends on several factors including the amount and quality of work done by the franchisee.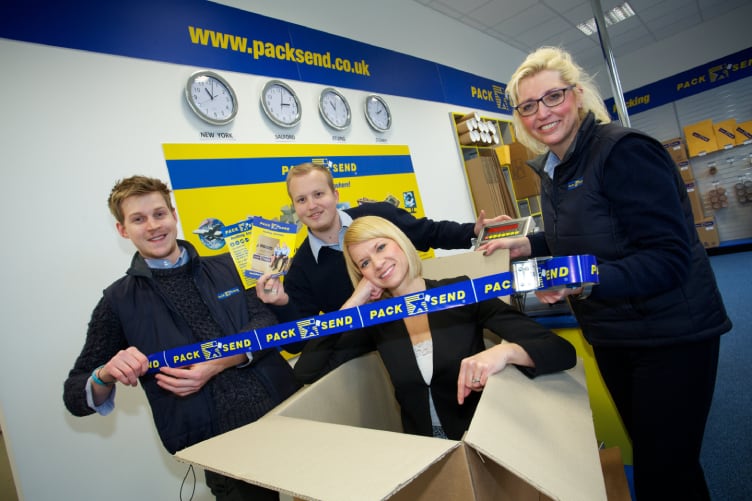 How soon will I start making money?
Once your PACK & SEND franchise application has been approved and you have been granted a license to trade, it usually takes three to four months from the date of the first enquiry to have a new store open for business.
How soon your first income is generated is hard to say as it depends on the success of your marketing and how quickly you attract customers to your store.
Is a PACK & SEND franchise a complicated business to run?
A PACK & SEND franchise is not an easy business to run in that franchisees need to manage every aspect of their business, think on their feet in terms of finding solutions and options for customers, and build relationships with clients and staff.
While many of these skills form part of the training you will receive, others rely on attributes and abilities you possess.
Why is a PACK & SEND franchise a good investment?
PACK & SEND predicts that the freight sector will continue to grow and it will grow at a faster rate than the rest of the market. The logistics market is highly competitive, with the vast majority of operators offering identical, basic shipping services at the lowest possible prices with minimal customer service.
PACK & SEND offers carefully planned packing and shipping solutions and takes responsibility for making sure that customers' goods arrive safely at their destination. In return, its customers appreciate the care and attention it provides and pays PACK & SEND for the value of its services rather than simply chasing the lowest price.
All franchisees are experiencing strong annual growth as their businesses win a constant stream of new customers on top of an ever-growing base of repeat customers.
How in demand are logistics services?
The logistics sector is booming, worth £70bn and generating around 5 per cent of GDP. PACK & SEND's unique offering, specialising in the shipping of fragile, large, awkward and valuable items across the world, is servicing a gap in the market and is seeing growth of 25 per cent across its network.
With no direct competitors, PACK & SEND franchisees are able to navigate the complexities and demand in the market that have accompanied Brexit and the pandemic. It is proud to call itself the UK's leading packing and shipping specialists.
Is this the best logistics franchise in the UK?
While there are several organisations in the UK – including the Post Office – that provide logistics services, PACK & SEND excels in personalised packing and freight solutions for a broad spectrum of clients and handles fragile and valuable items.
The fact that these franchises and the business model are successful is supported by statistics provided by the PACK & SEND head office. Only 1 per cent of stores come up for sale, 25 per cent of franchisees own more than one store, and 66 per cent of franchisees have been in business for in excess of seven years.
How do I get started on setting up my own PACK & SEND franchise?
The first step is to request an information pack by clicking the enquiry button on this page.
Once your application has been submitted you and the franchisor will begin the getting-to-know-you phase of the process. You need to know this is right for you, and PACK & SEND want to be reassured that you are a good match in terms of what it needs.
Request Free Information
Send a free enquiry to PACK & SEND for further information!
Enquire into this franchise today