The information you submit via our enquiry form is shared only with the franchise business(es) that you have selected.
The franchise business will contact you by means of email and/ or telephone only to the email address and phone number you have provided.
By submitting the enquiry form you are consenting to send your personal information to the selected franchise business.
You also agree to receive further newsletter email marketing from What Franchise.
Close
How to calculate franchise fees
Are you looking to understand what franchise fees are and how to calculate them? We're here to help you.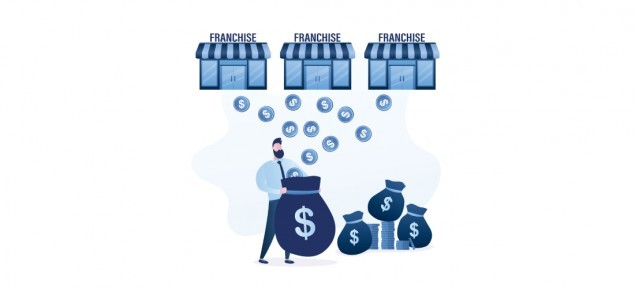 Low franchise fees
Back to top
More than 90 per cent of franchise units in the UK are profitable. With almost 50,000 units, it's clear entrepreneurs recognise the opportunity provided by franchising.
Becoming a franchisee may seem like the "easy" way to business success. After all, someone else has already taken the gamble on the business. Yet, being a successful franchisee usually takes a good deal of work.
It can also take a fair amount of cash. Some people count franchises out due to concerns about franchise fees. What are these fees, why are they charged, and how much can you expect to pay?
This guide contains the answers you're looking for. With it, calculating franchise fees will be much easier.
What is a franchise fee?
Before delving into calculations, it helps to take a look at what franchise fees are and why you're paying them. So, what is a franchise fee?
A franchise fee is essentially the cost of entry. The franchisor will grant you a licence to use their name and logo. To access this, you must pay the fee and sign a franchise agreement.
Other fees associated with franchising
The franchise fee is generally considered the one you pay to get the licence to own and operate a franchise business. That isn't the only fee you'll pay, though.
Other fees associated with franchising include:
• Marketing and advertising fees
• Royalty fees
You'll pay the franchisor a percentage of your monthly revenue or a set monthly fee for advertising. These fees can end up being quite steep, especially if the percentage is high and you're bringing in a fair amount.
Marketing and advertising fees are usually a good investment. The franchisor is able to pool the money to launch nationwide campaigns, which then benefit your franchise. High fees are only a problem if the franchisor's marketing is a little lacklustre.
Royalty fees are a set percentage of gross sales over a particular period. In some cases, you'll pay the fee based on weekly sales. Other franchisors may calculate the fee on gross monthly sales.
The franchise royalty fee may be paid weekly, monthly, or quarterly. It goes towards assisting with ongoing support and resources supplied by the franchisor. An example is customised software provided by the franchisor for use at all outlets.
Your royalty fees help to cover the costs of creating this software and keeping it up to date. They also assist with the provision of training for how to use the system.
Initial franchise fee vs. ongoing fee
There's also a difference between ongoing franchise fees and initial franchise fees. The initial franchise fee is what you pay when you first license the franchise.
Initial franchise fees may appear to be quite steep at first. Do be aware that they're often designed to cover a good deal of assistance to the prospective franchisee. Initial franchise fees may include the costs of:
• Site identification
• Lease negotiation
• Help with the site build-out
• Access to suppliers
• Recruiting
• Training
• Special equipment needed by the franchisee
• Stationery
• The business launch, including support staff and startup marketing kits
• It also gives the franchisee a licence to begin using the business's name and logo
This is a one-time only fee, intended to help get the new franchise unit off the ground.
Ongoing franchise fee
After paying the initial fee, the franchisee will continue to pay the franchisor so long as they operate a franchise unit.
The ongoing fees include the advertising and marketing fee and the royalty fees discussed above. In addition, a franchisee may also need to pay:
• Renewal fees
• Transfer fees
Renewal fees are charged if the contract is negotiated beyond its initial length. Suppose you sign a two-year deal to operate a franchise. As those two years end, you're happy with the performance of the franchise and wish to continue operating it.
The franchisor is also happy with the performance of your unit. They agree to a two-year extension. At this point, you'll be assessed a renewal fee, which will extend your licence to continue using the business's name, logos, and so on.
A transfer fee is applicable if the franchise is transferred to another party. Suppose you've opened a second location, but can't manage both as effectively. You want to focus on one location and sell the second location to one of your managers.
To complete this, you'd need to transfer the franchise to this individual. To do so, you'd need to pay a fee.
Franchisors may charge other fees as well. These may include the ongoing costs of doing business, such as:
• Technology fees
• Insurance
• Employee wages
• Ongoing training
• Audit fees
• Indemnification
This can be helpful for your business. For example, with insurance fees, you may benefit from the franchisor's insurance. Since they're insuring a group, they may be able to access a discounted rate you couldn't access on your own.
The same is true of technology fees and others that the franchisor may cover.
Ways to reduce fees
Sometimes, a franchisee comes to an agreement to open several locations in a set period. The franchisor will usually assess what's called a multi-unit development fee.
Franchisors may reduce the fee schedule for each location. Overall, you'll end up paying more, but the cost per unit will be less.
Another common tactic is for new franchisors to offer reduced fees to franchisees. The franchisor recognises that more established franchises may seem like a better bet for franchisees. They offer a reduced rate to reward franchisees who take a gamble on the new franchise.
How to calculate franchise fees in the UK
If you're considering a franchise in the UK, you're likely wondering exactly how much it will cost you. You'll need an estimate of franchise fees to create an accurate budget. You'll also need that estimate if you're looking for financial backing.
When calculating franchise fees, the UK depends somewhat on the franchise opportunity you're looking at. Different franchisors set their fees.
Fees can depend on a few factors, including:
• The industry
• The franchisor
• Legal restrictions
In the UK, it's not common for franchisors to change their fees based on location. In other countries, fees may vary depending on where you intend to open your location.
Initial franchise fees in the UK, on average, are around £15,000. You'll likely need additional funds, so be sure to factor those in.
Of course, you can find franchises that will cost you a lot less to buy-in. Some of the best franchises are actually low-cost options as well, with fees of less than £2,000.
Most franchisors are quite upfront about what their initial fees are. They're also willing to tell you exactly what those franchise fees include.
Calculating ongoing franchise fees
The trickier part of calculating franchise fees in the UK is getting a handle on how much your ongoing fees will be.
Again, most franchisors are forthcoming about what you'll be expected to pay. You can usually find the percentages they'll charge for royalties.
Average costs vary across industries. A high-volume industry like fast-food, for example, tends to charge lower percentages.
The reasoning here is quite simple. The volume makes up for the lower percentage point. It's not uncommon for fast-food franchises to have high annual revenues, which means you'll pay the franchisor a fair amount.
By contrast, a consulting franchise may have a royalty fee of 10 per cent. If you were doing millions in revenue, 10 per cent would be an exorbitant amount. Since most consulting firms have lower revenue, the 10 per cent fee may end up being much less.
The difficult part is determining how much revenue you can expect. Most franchisors can offer you estimates, based on averages across their locations. You can use this information to assist you in estimating royalties as you prepare a budget or a business plan for a potential lender.
Marketing and advertising costs can sometimes be more predictable. Some franchisors charge a set monthly fee, which you can easily factor in.
Other franchisors charge marketing fees as a percentage of revenue. You may be able to locate the rate easily, but you'll need to estimate your revenue to determine the costs.
Compare franchises
As mentioned, franchise fees can vary between industries. Even franchisors within the same industry may have vastly different fees. It's helpful to be able to compare different franchises.
There are several resources you can use to compare the best franchises in the UK. They can help you see the average estimated revenue. They may also have lists of low-cost franchises and high-performance franchises as well.
Having the right information is crucial to choosing the right franchise for you.
The right opportunity awaits
Franchise fees may seem high at first. They often provide access to everything a business needs to succeed. What's more is that they provide the gateway to a business that's already proven itself to perform in the market.
If you're thinking about franchise opportunities, then arming yourself with the right knowledge is key. Discover more about the best UK franchises and how to successfully operate one.