The information you submit via our enquiry form is shared only with the franchise business(es) that you have selected.
The franchise business will contact you by means of email and/ or telephone only to the email address and phone number you have provided.
By submitting the enquiry form you are consenting to send your personal information to the selected franchise business.
You also agree to receive further newsletter email marketing from What Franchise.
Close
Did you know?
Seniors Helping Seniors is eligible for funding support!

Request free information in just 60 seconds!
Take the first step in becoming your own boss!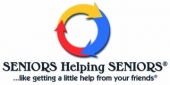 Seniors Helping Seniors
This franchise employs seniors to provide compassionate care to the elderly in the comfort of their own homes
Minimum Investment
£20,000
Business Type
Care & Elderly Services
Funding Support
3rd Party
Expected Revenue After 2 Years
N/A
About Seniors Helping Seniors
Seniors Helping Seniors' unique model of elderly care and support does not include personal care, lifting or medication.
This is a service that supports independence and encourages activity and involvement.
Because the care is not medical, the business is out of scope for the Care Quality Commission (CQC). Of the many benefits to the business being out of scope for the CQC, reduced management costs and management time are key.
This type of care equates to 60 per cent of all elderly care needs.
Seniors Helping Seniors points to two unique elements in its elderly care services for keeping clients and carers safe during COVID-19:
1. Employment. Senior experienced carers are employed part-time in the belief that people who are close in age to the clients they are supporting have a lot in common and relate well.
Carers tend to live alone or in small units, which has reduced their exposure to the virus. Carers are paid when they work. They are paid above the Real Living Wage when they work. They work because they love what they do. Carers treasure the flexibility at their time of life and they love to utilise their experience to help others when they need it most.
2. Schedules. Schedules are organised so the same carers visit clients, reducing the risk for both carers and clients
All offices have maintained schedules during the pandemic. Carers were available for work and enjoyed being helpful. Demand for the services grew as families distanced themselves and day centres and most other support closed or had reduced capacity.
Seniors Helping Seniors submitted infection control procedures and received the S.A.F.E care award in October 2020.
To help people find a secure future through franchising during the pandemic, Seniors Helping Seniors has reduced the franchise fee, updated initial training for social distancing and produced a COVID-19 specific FAQ (available on application).
Seniors Helping Seniors is an at-home management care service for the elderly that provides non-medical, in-home care to those who need it.
The service matches elderly people in need of care with a senior care provider, who can help them and the company fully manages every part of the service with fast and much appreciated response times.
Carefully matching carers to those needing care ensures common interests and relevant experience. The same carer provides stability for the client and management provides all the backup and support needed in today's uncertain and fast paced world.
Flat fees ensure easy budgeting for clients and the company pays above the Real Living Wage to carers, which means carers are properly valued and compensated for their experience and the company is a champion in the sector.
Ethical trading, transparent processes and easy access is a high priority for customers. Trust is placed in local expertise.
The Seniors Helping Seniors franchise offers care based around the specific needs of the client. The service is flexible, with award-winning customer service. Helping families out as much or as little as required.
No personal care or medical care - means no bathing, dressing or medication - concentrating on what is known as Activities of Daily Living (ADLs) prompting, reminding and encouraging.
The kind of care Seniors Helping Seniors provides includes preparing meals, light housekeeping, gardening and maintenance, providing transportation, shopping, companionship, respite, dementia care and support with most other specific conditions and a host of well-being activities.
This is a service that supports independence and encourages activity and involvement.
Seniors Helping Seniors is an award-winning service, which has over 300 franchisees worldwide. Senior Helping Seniors Canterbury was named 'Most Innovative Senior Care Initiative - UK' at the Social Care Awards 2017. Seniors Helping Seniors was also a finalist in the Franchise of the Year category at the 'People's Champion' awards 2017.
The care review named Seniors Helping Seniors one of the Top 10 Home Care Groups in its Home Care Provider Awards 2017, in the Top 20 in 2018 and a Top 20 most recommended care group in 2019.
The franchise also won the 'Customer Services Award' at the Best Business Awards 2018, was invited to Parliament in February 2020 to celebrate its unique employment record and was awarded the S.A.F.E. care award for infection control in October 2020
Seniors Helping Seniors is a member of the British Franchise Association (bfa).
Seniors Helping Seniors has launched a new website for its franchisees and a specific COVID-19 FAQ to keep potential franchisees up to date with the latest news, training and events.
Who's behind the Seniors Helping Seniors franchise?
The Seniors Helping Seniors franchise was brought to the UK by husband and wife team Sally and Christian Wilse.
Sally, who has a BSc in health care, worked in publishing and PR/marketing for over 25 years. Christian a Norwegian raised in Sweden, worked with media companies, technology and the Premier League and has lived in the UK since 1990.
The American company was founded by Kiran and Philip Yocom in 1998, and after meeting them, the Wilses realised the potential of the 20-year-old business in the UK. Kiran had worked with Mother Teresa in India for 14 years and remains chairwoman of the US company, with Philip her president/CEO.
The couple bought a master franchise for the UK, adapted it for the UK and began replicating the success of the American operation in the UK. The first office of Seniors Helping Seniors franchise launched in East Kent in 2013. There are five franchisees in the UK.
Each business supports around 70 experienced carers in local work they love, and helps hundreds of families with care they rave about.
The company helps raise the standard of living for people as they age in all sorts of ways and manages businesses in the range of £50,000 turnover to £1 million. Profit sits at around 40 per cent and businesses grow 20 per cent per year.

How does the Seniors Helping Seniors franchise model work?
The concept behind Seniors Helping Seniors is that clients are given peer-to-peer assistance they can rely on by someone they can trust and relate to.
Clients of the Seniors Helping Seniors franchise are helped to live safely and as independently as possible in their own home with the help of mature and experienced carers.
Outstanding carers are in constant supply and carers are valued and rewarded highly. Carers are loyal to the company because the terms and work conditions are unsurpassed and because the act of helping others is so rewarding.
Business owners have local knowledge, great people skills and a range of management skills and they are supported by the franchisors.
Seniors Helping Seniors is looking for franchise partners who can take on a large exclusive territory with a population of around 250,000. Seniors Helping Seniors is chiefly seeking franchisees in the East and South East of England at this time.
The Seniors Helping Seniors franchisee employs 50-70 carers flexibly, allowing staff to take on as much or as little work as they can handle during the days or weeks they choose to work.
Seniors Helping Seniors works with the NHS, social care services, local GPs and charities such as Age UK to help clients in their community but always on a case-by-case basis.
Did you know?
Seniors Helping Seniors is eligible for funding support!

Request free information in just 60 seconds!
Take the first step in becoming your own boss!
Clients are self-funders and their families. Some clients supplement care allowances. Seniors Helping Seniors has been called 'perfect primary care' for its role.
As a franchisee, you will run your own Seniors Helping Seniors independently with guidance from national office. Your daily duties will include meeting potential clients and carers, as well as visiting local charities, surgeries and local businesses that can refer clients to you or signpost your services.
Most franchisees take care of scheduling and marketing themselves, but each franchisee has the flexibility to outsource. The franchise fee for the South East and East of UK has been reduced to £20,000 (no VAT is payable) and covers training, 24/7 support and an enhanced business package, which was put in place during the pandemic.
The enhanced business package will remain in place for a limited period with the aim of supporting business' speedy supply of much needed services and work. A monthly royalty of six per cent on turnover (excluding VAT) is also applied. The initial 10-year term is renewable at initial costs or the business may resell.

What are the potential profits of a Seniors Helping Seniors franchise?
It is expected that a Seniors Helping Seniors franchise will break even at 12-15 months. Overheads are low. Costs are controllable in this work from home business modal. Profit is 40 per cent of turnover.
Business owners are supported to work full-time or part-time, alone or in teams, depending on their ambitions.
Social impact is doubled due to the innovation of employing carers who are close in age to their clients. Profit and impact are made possible by the Seniors Helping Seniors unique care model.
Exponential growth can be achieved and costs are low. There is no cap on earning and no limit on the number of carers or clients a franchisee can take on. Multiple territories are available to approved franchisees.

What territories are available to the Seniors Helping Seniors franchisee?
Seniors Helping Seniors began its first Seniors Helping Seniors in Kent.
Once the Canterbury and Thanet branch was established, Seniors Helping Seniors began to expand, opening businesses covering Guildford, Woking & Godalming, Harrow, Pinner & Northwood, and Sevenoaks, Tonbridge & West Malling and Ashford & Swale and Brighton, Hove and West Sussex.
Seniors Helping Seniors is now looking to expand across the entire South East and East UK regions.

Are there Seniors Helping Seniors franchises for sale?
Like many businesses, some franchisees may prefer to look at taking over an established territory rather than build a business from scratch. Contact Seniors Helping Seniors to see if there is a franchise currently for sale in the area of your choice.

What support and training does Seniors Helping Seniors offer franchisees?
Seniors Helping Seniors franchisees receive all the necessary training they require to start a successful business.
An intense five-day initial period includes two days orientation at the Seniors Helping Seniors headquarters in Kent, which is followed by a period of territory-based research and three days of further Owners Training. Training has been adapted for social distancing.
Additional hands-on services are provided free of change in the enhanced business package to enable new partners to concentrate on the specific areas of the business they choose.
Franchisees who would like to gain some international experience can visit the Seniors Helping Seniors business in America.
The Seniors Helping Seniors franchisee is assisted thereafter with monthly follow-ups, news updates and best practices to help them realise their expectations for their business. A printed manual, online tools, plus access to a mentor and in-person support can be expected.
Crisis management was proven by the COVID-19 rollout. Though the pandemic brought unprecedented issues, the advice and guidance from the franchisors during COVID-19 was timely, relevant and ensured the clients and carers stayed well and business grew. Seniors Helping Seniors is renowned for its successful PR suite.
In November 2020 Seniors Helping Seniors had received two five-star reviews from its franchisees, according to Trustist, underlining the positivity felt towards the franchisor among its franchise network. One franchisee, Paul M, said: "We would be happy to (and have done so) recommend the Seniors Helping Seniors franchise to anyone looking for a rewarding business and making a difference to the lives of the elderly."
What kind of franchisee is Seniors Helping Seniors looking for?
Seniors Helping Seniors helps solve two of the greatest social problems facing the UK today, namely elderly care and employment opportunities for people as they age.
Many Seniors Helping Seniors franchisees are from helping careers such as nursing, caring and teaching. No prior care experience is necessary as all skills are taught.
Communication is a key skill of the franchisee, as are a positive outlook, reliability and a desire to help the community. Franchisees will find that helping others adds meaning and fulfilment to their own lives. The oldest Seniors Helping Seniors franchisee is 75 years of age, the youngest is 30 years of age.

What are Seniors Helping Seniors' terms of agreement and renewal?
The initial Seniors Helping Seniors franchise term lasts a minimum of 10 years with an option to renew.

How in demand are Seniors Helping Seniors franchises right now?
The 2018 British Franchise Association NatWest Franchise Survey reported: 'Care franchises are booming in the UK'. 18 per cent of people residing in the UK are over the age of 65 and 80 per cent of them own their own home and families are spread far and wide. High quality care services are needed more than ever.
Older people are living longer. They resist traditional care and do not want to enter residential care, ever!
If you're considering running a care franchise this year, there really is no better industry to thrive in and Seniors Helping Seniors is leading the way by offering tailored care that people want and carers want to provide. The company has zero problems with recruiting carers and zero staff turnover.
The Office for National Statistics has estimated that the current UK population of 66 million will grow to over 74 million by 2039. Currently, 18 per cent of the UK's population is over the age of 65 and 2.4 per cent is over the age of 85.
Some local authorities in southern regions of the UK already have a quarter of their population over the age of 65. It is estimated that by 2036, over half of local authorities will have 25 per cent of their local population aged 65 and over. Over 85s are also expected to grow in number.
How can I get started on setting up my own Seniors Helping Seniors franchise?
Training for a Seniors Helping Seniors franchise is handled by the franchisor, who has personally launched and manage a Seniors Helping Seniors operation.
To find out more or to request further information on franchising with Seniors Helping Seniors, fill out the enquiry form below or call 01227 454 900 for an informal discussion.

Request Free Information
Send a free enquiry to Seniors Helping Seniors for further information!
Enquire into this franchise today