The information you submit via our enquiry form is shared only with the franchise business(es) that you have selected.
The franchise business will contact you by means of email and/ or telephone only to the email address and phone number you have provided.
By submitting the enquiry form you are consenting to send your personal information to the selected franchise business.
You also agree to receive further newsletter email marketing from What Franchise.
Close
Did you know?
Paris Baguette has an expected revenue of £1.5 - 2 million after 2 years!
Request free information in just 60 seconds!
Take the first step in becoming your own boss!
Minimum Investment
£500,000
Business Type
Food & Beverage
Funding Support
Potential third party
Franchise Fees
£50,000 (single unit)
Expected Revenue After 2 Years
£1.5 - 2 million
About Paris Baguette
Paris Baguette is a premium neighbourhood bakery café offering a high-quality selection of cakes, sandwiches, coffee, pastries, breads, salads, and beverages. The brand currently operates two units in London, five in Paris. In the US Paris Baguette is a proven franchise concept with over 120 franchised stores.
The company is looking to select two entrepreneurs based in and around London to become the brand's very first UK-based franchisees. If you are able to open a store within London, this franchise is the perfect opportunity for you.
Your store location will sit aside the company's two current locations -
● Battersea Power Station, Circus Road S, Nine Elms
● Kensington High Street, London
How does the Paris Baguette franchise model work?
Paris Baguette benefits from 35 years of franchising experience in a half dozen countries. The company ensures franchise owners have the tools and support they need to run a successful business, and the team delivers support for each critical step of setting up a bakery café, including help with site selection, store design and construction, training, operations support, product development, logistics, distribution, advertising, marketing guidance, and more.
As a Paris Baguette franchisee, you will benefit from a proven, successful franchise model and a highly skilled leadership team. It is an exciting brand to own and operate, and franchisees are offered an exclusive area to develop as their own. The company offers business planning and finance support, as well as an innovative store design and fit-out process.
What qualities is Paris Baguette looking for in its franchisees?
Paris Baguette is seeking well-capitalised franchise partners who are passionate about re-establishing the neighbourhood bakery café as the heart of the community where they operate. A love of premium cakes, innovative sandwiches, high quality coffee, providing excellent customer service, and building a high-performance team are obligatory. A £1million net worth is necessary to progress this opportunity.
What training and support does Paris Baguette provide franchise owners?
Owners, operators, bakers, and cake-makers all train for a minimum of eight weeks before the café opening. Paris Baguette provides an onsite support team to help with the first few weeks of operation and is always available for ongoing operations support and supplementary training.
Did you know?
Paris Baguette has an expected revenue of £1.5 - 2 million after 2 years!
Request free information in just 60 seconds!
Take the first step in becoming your own boss!
What locations is Paris Baguette looking to operate in?
The brand is initially targeting Greater London and the southeast. Ultimately, the entire UK will become available.
What is the minimum investment level required to set up your own Paris Baguette business?
The minimum investment level required is £500,000. A franchisee could expect to turn a profit within three years having earned a salary during those 3 years. Multi-unit opportunities are available".
What are the Paris Baguette franchise terms of agreement and renewal?
The Paris Baguette franchise agreement term is 10 years, with a brand refresh requirement after five years. Renewal periods will be granted every five years thereafter.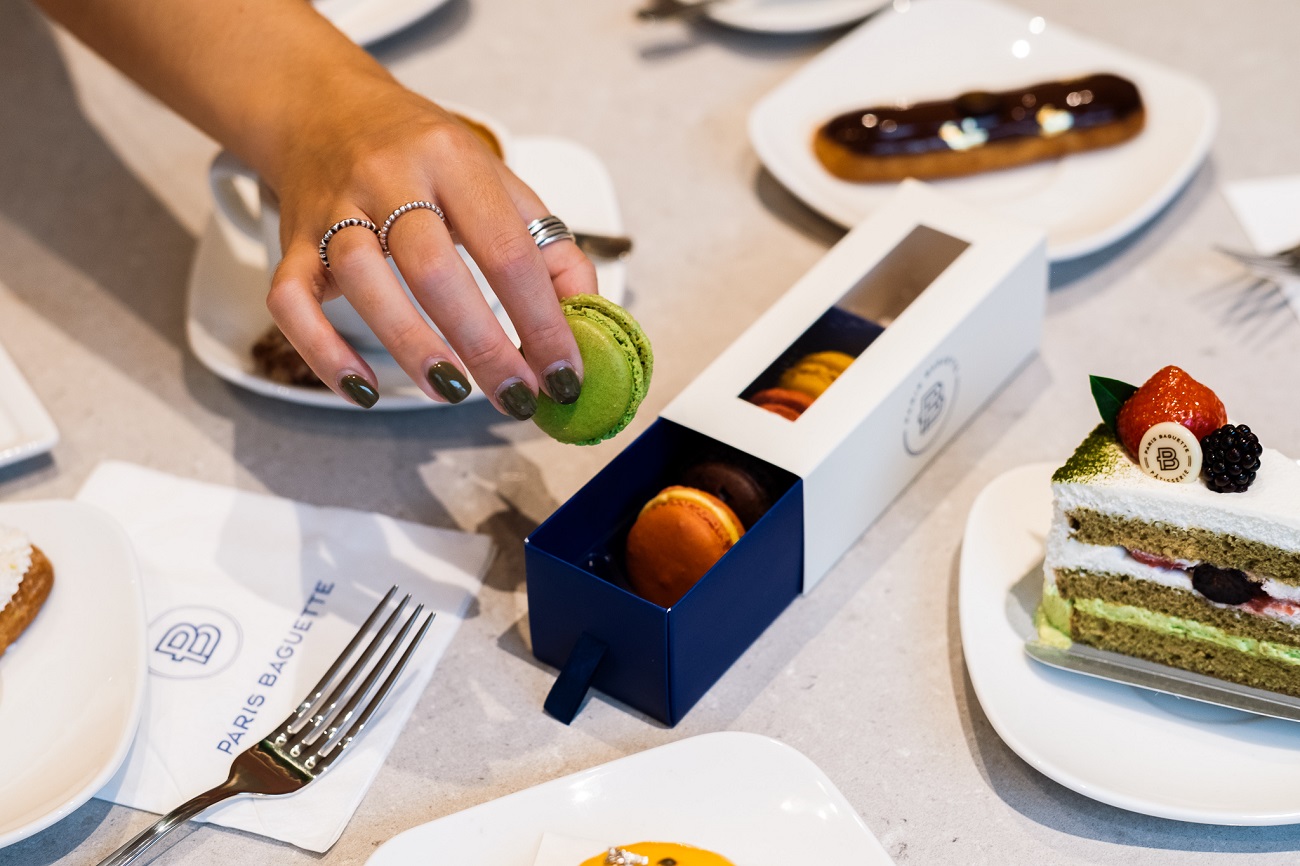 Why is the Paris Baguette franchise a good investment?
Paris Baguette is on a mission to re-establish the neighbourhood bakery café as the heart of the community across the UK. The brand brings expertly crafted baked goods, premium cakes, innovative sandwiches and salads, and the highest quality coffee to its guests through a warm and welcoming bakery café experience that delivers joy to everyone. Guests are happy and franchisees make money.
How in demand are the services that Paris Baguette provides?
There was once a time when there were bakeries across the UK. Most of these disappeared in the sixties and seventies, overwhelmed by the might of a few big chains. Fortunately, in the last 30 years, great bread bakers have exploded onto the streets and into the markets. However, what Britain lacks is premium cakes, exquisite pastries, innovative sandwiches, and high-quality coffee in baker's shops. The demand for these items is high, and it is unfulfilled. Paris Baguette is here to fill that need.
How do I start setting up my own Paris Baguette franchise?
To find out more, or to request further information on franchising with Paris Baguette, complete the form below and click on the 'Request Free Information' button now.
Request Free Information
Send a free enquiry to Paris Baguette for further information!
Enquire into this franchise today