The information you submit via our enquiry form is shared only with the franchise business(es) that you have selected.
The franchise business will contact you by means of email and/ or telephone only to the email address and phone number you have provided.
By submitting the enquiry form you are consenting to send your personal information to the selected franchise business.
You also agree to receive further newsletter email marketing from What Franchise.
Close
Get Ahead VA
Get Ahead VA is a virtual agency that provides business support services to our clients, through a team of professional, experienced virtual assistants
Minimum Investment
£8,000
Business Type
Business & Professional Services
Expected Revenue After 2 Years
Assuming you have grown a team to support your clients potential for revenue: £50k, plus
About Get Ahead VA
Get Ahead VA is offering an exciting opportunity for anybody who wants to set up their own business, with the assistance of a supportive team and a successful brand behind them.

Through Get Ahead VA's franchise model, you can become the regional director of your own branch. You will be a business owner in your own right and have full control over your branch, while still receiving all the benefits of being part of an established, award-winning and profitable brand.

Get Ahead VA is a virtual agency that provides business support services to our clients, through a team of professional, experienced virtual assistants (VAs). As a franchisee, you will build a network of clients and develop and manage your own team of VAs. You will generate ongoing work and pair clients with the most appropriate VA from your team.

Established in 2010, Get Ahead VA saw the need and opportunity to supply affordable, flexible and seamless support services to organisations of all different types across various sectors. Its growth since then has proved that there is a significant demand for the services it offers.
Get Ahead VA's head office is in Guildford, Surrey. The brand is proud to have regional offices in Berkshire & North Hampshire, West Surrey, Leeds, Newcastle and South Yorkshire, and is continuing to grow across the UK.

If you're looking for an exciting career where you can be your own boss and enjoy the flexibility of a good work-life balance, the team would love you to be part of the Get Ahead VA family.
How does the franchise model work?

The Get Ahead VA franchise model provides you with the opportunity to go into business for yourself, but not by yourself. With Get Ahead VA, you will be part of an established, award-winning brand, but still be a business owner in your own right.

You run a defined territory and provide outsourced support to your clients through a core team of virtual assistants and over time you are encouraged and supported to build a local regional team of virtual assistants. Your clients are business owners who need support in telephone answering, administration right through to marketing and PR. You are given ongoing training and mentoring to build the necessary skills to effectively network face to face and online to build a dedicated client base.
What makes a good Get Ahead VA franchisee?

Franchisees come from a variety of backgrounds - HR, marketing, project management and senior office management. They all have experience of running teams and projects. It is essential that franchisees have excellent communication skills - verbal and non-verbal and have the confidence to speak in public. Networking involves a lot of listening to others, understanding requirements and building relationships. Get Ahead VA franchisees succeed when they demonstrate a mixture of all these attributes!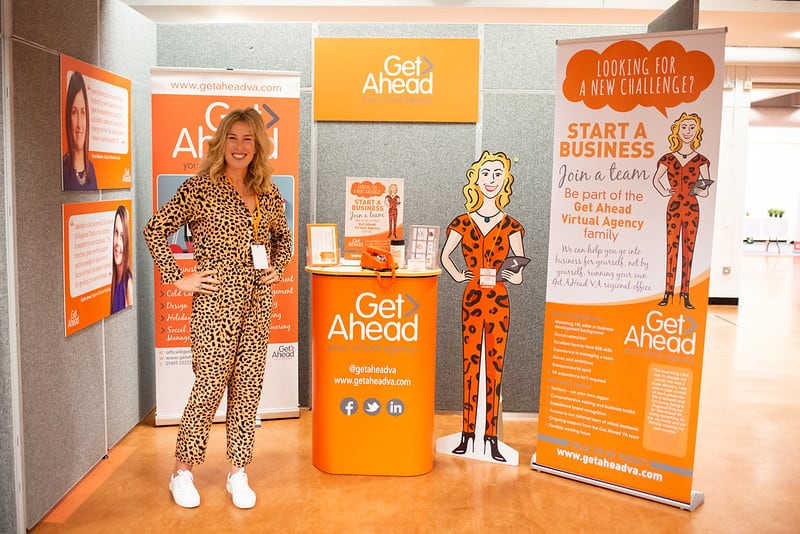 What training and support does the brand offer?
Franchisees are hugely supportive of each other and they are involved in the recruitment process of new franchisees as it is essential that they fit within a growing team.
After a discovery meeting, the induction involves a full two-day session including photos, a video and full briefing from a variety of the team so the new franchisee has the confidence to get out there networking from day one. The induction is bespoke and identifies specific areas of development for each new franchisee.
The support does not end after the induction - the brand knows the importance of regular support, mentoring and training. There are monthly online calls with all the franchisees together, which is a wonderful way to share best practice and there are many opportunities throughout the month to have one to ones with the franchisor.
How much does a Get Ahead VA franchise cost?
The franchise fee is £8k + VAT and there is a 10 per cent monthly management fee. The first year needs the new franchisee to have a level of cash flow to enable them to build up a solid client base and scale. A financial forecasting tool is available.
What locations or territories are you looking to operate in?
The brand is looking for new franchisees throughout the UK and uses territory mapping software to make sure that each territory has the right spread of potential clients (business owners with 1-5 employees).
What are the franchise terms of agreement and renewal?
Five-year licence with the opportunity to renew free of charge.

Request Free Information
Send a free enquiry to Get Ahead VA for further information!
Enquire into this franchise today