The information you submit via our enquiry form is shared only with the franchise business(es) that you have selected.
The franchise business will contact you by means of email and/ or telephone only to the email address and phone number you have provided.
By submitting the enquiry form you are consenting to send your personal information to the selected franchise business.
You also agree to receive further newsletter email marketing from What Franchise.
Close
Did you know?
Get Ahead has an expected revenue of Assuming you have grown a team to support your clients potential for revenue: £50k, plus after 2 years!
Request free information in just 60 seconds!
Take the first step in becoming your own boss!
Minimum Investment
£8,000
Business Type
Business & Professional Services
Expected Revenue After 2 Years
Assuming you have grown a team to support your clients potential for revenue: £50k, plus
About Get Ahead
The business idea that is Get Ahead offers an exciting virtual assistant franchise opportunity to anyone who loves managing a team - and wants to set up their own business.
It's rare for a new business owner to be able to focus on their management skills, but that's exactly what Get Ahead franchisees do.
In a key difference to other franchises, you don't carry out client work yourself - so your business can grow through your love of people management and without being limited by your capabilities or your time.
Providing a wide range of business support/personal assistant services to a large target audience, Get Ahead is an outsourcing specialist. The company finds clients who want to outsource their admin, social media, digital marketing, book-keeping, PR, telephone answering or require expert marketing strategies - or pretty much anything else - and matches them with the right experts from Get Ahead's team. With over 50 skilled professionals, Get Ahead can always find the right person for the job - and the company loves nothing more than making a perfect match.
Rebecca Newenham had the business idea for Get Ahead and successfully launched the company in 2010. She still runs it today.
Now a successful business, Get Ahead has grown rapidly through the opening of regional offices across the UK, where it now provides outsourced business support to a 100-plus network of clients at any one time.
The Get Ahead offering has been a huge hit with clients because of the emphasis on providing top quality experts, matched perfectly to their business needs, coupled with simplicity and flexibility.
And the company's awards shelf shows that it's good at what it does! Get Ahead is extremely proud to say that it's won a number of awards over recent years, including a Theo Paphitis 'Small Business Sunday' award and an SME News 'Business Elite' award.
How does the franchise model work?

Through the Get Ahead franchise business model, you'll become the Regional Director of your own branch of Get Ahead, producing and working to a business plan agreed with the franchisor.
You'll be a service-based business owner in your own right, with full control over your home-based business. But you'll still receive all the benefits of being part of an established, award winning and profitable brand, with your source of income being derived from a number of clients.
As a fast-growing franchise with a loyal audience, you'll become a key player in Get Ahead's supportive team, shaping the customer experience and future direction of the business.
You'll regularly meet with the franchisor, Rebecca, who is a passionate advocate for all her Regional Directors and provides essential business management advice and business plan support.
An integral part of this proven business opportunity is the ongoing training and mentoring that's delivered by business experts to enhance the skills to network and build your client base. You'll also have day-to-day contact with other fellow franchisees - an energising team of individuals, all keen to help their peers develop and succeed.
When it comes to marketing, Get Ahead's home-based business owners benefit from the brand's fantastic social media and online presence.
You'll also benefit from ongoing extensive investment in marketing and PR, including the provision of a monthly marketing tool kit, to help you plan your own initiatives and aid business development.
You'll run a defined territory and will be responsible for finding clients who want to outsource their business services, such as social media or administration.
You'll make the match to the right expert from the Get Ahead team and manage the relationship. Over time, you will be encouraged and supported to build a local team of your own experts.
Did you know?
Get Ahead has an expected revenue of Assuming you have grown a team to support your clients potential for revenue: £50k, plus after 2 years!
Request free information in just 60 seconds!
Take the first step in becoming your own boss!
What makes a good Get Ahead VA franchisee?
Franchisees come from a variety of backgrounds, including HR, marketing, project management and senior office management. The are all ambitious business people, possess entrepreneurial spirit and have experience in running teams and projects.
For this type of business, it is essential that you have excellent communication skills - verbal and written - have the confidence to speak in public and have the ability to provide first-class customer service to the target customer base.
You'll spend a lot of time at business networking events, which involves listening to others, understanding requirements and building relationships. Get Ahead VA franchisees succeed when they demonstrate a mixture of all these skills.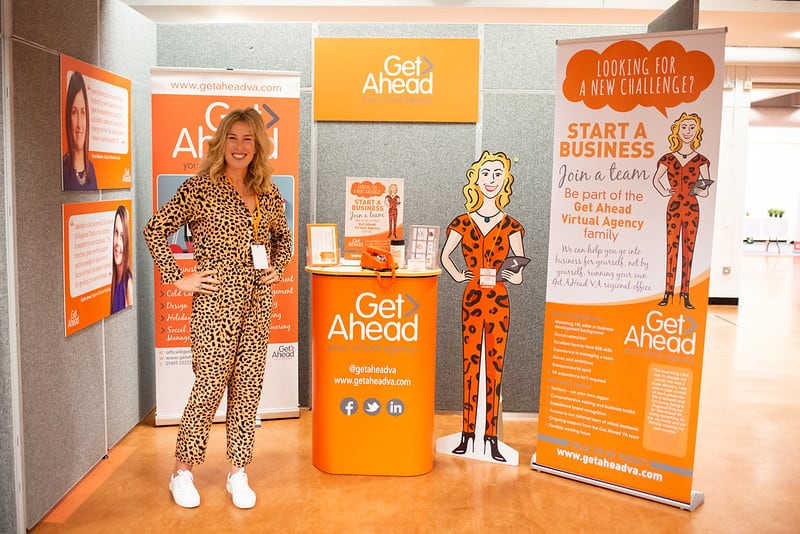 What training and support does the home-based business offer to its virtual assistant business owners?
Get Ahead's network of home-based business owners are hugely supportive of each other and they are involved in the recruitment process of new franchisees, as it's essential that Get Ahead 'newbies' fit well within the growing team.
After a discovery meeting, the extensive training programme involves a full two-day session, including photographs, a video and a full briefing from a variety of the team, so you have the confidence to get out networking from day one.
Unlike many generic inductions, the Get Ahead induction is bespoke, identifying specific areas of development for each new franchisee.
You'll also have access to detailed and easy-to-follow manuals to use as a great point of reference as your franchise develops.
Get Ahead's support continues through your life as a franchisee - the company understands the importance of regular support, mentoring and training.
There are monthly online calls with all the franchisees together and there are many opportunities throughout the month to have one-to-ones with Rebecca, the franchisor.
How much does a Get Ahead VA franchise cost?
The franchise fee is £8,000 (plus VAT) and there is a 10 per cent monthly management fee.
In the first year, you'll need to have a level of cash flow to enable you to build up a solid client base and scale. A financial forecasting tool is available.
What locations or territories is Get Ahead looking to operate in?
Get Ahead is looking for new franchisees throughout the UK to provide its virtual assistant services via its simple business concept. The home-based business uses territory mapping software to make sure each territory has the right spread of potential clients (business owners with one-five employees).
What are the franchise terms of agreement and renewal?
The initial franchise agreement comprises a five-year licence, with the opportunity to renew free of charge.
Can you sum the opportunity up in one sentence?
If you love managing people, delivering top quality customer service and want to join a fast-growing, award-winning, super-supportive franchise, Get Ahead could be the perfect franchise for you.
How do I start setting up my own Get Ahead franchise?

To request further information about this virtual assistant franchise, complete the form below and click on the 'Request Free Information' button now.
This home-based business offers exciting business opportunities and its services are in growing demand.

Request Free Information
Send a free enquiry to Get Ahead for further information!
Enquire into this franchise today