The information you submit via our enquiry form is shared only with the franchise business(es) that you have selected.
The franchise business will contact you by means of email and/ or telephone only to the email address and phone number you have provided.
By submitting the enquiry form you are consenting to send your personal information to the selected franchise business.
You also agree to receive further newsletter email marketing from What Franchise.
Close
Did you know?
CareYourWay has an expected revenue of 1,000,000 after 2 years!

Request free information in just 60 seconds!
Take the first step in becoming your own boss!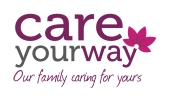 CareYourWay
Multi-award-winning family-run care franchise that specialises in person-centred, outstanding care at home
Minimum Investment
£29,500
Business Type
Care & Elderly Services
Expected Revenue After 2 Years
1,000,000
About CareYourWay
CareYourWay is a multi-award-winning family-run care franchise that specialises in offering outstanding personal care at home. With nearly two decades of experience within the ever-growing home care sector, this management franchise provides an opportunity to thrive with a highly profitable venture into the care industry.
Dedicated to building a successful business network that provides the opportunity to achieve and exceed business goals, there is an unprecedented opportunity for individuals to live a fulfilling and rewarding lifestyle. As an award-winning franchise model, CareYourWay has retained its outstanding reputation with major regulatory boards, such as the Care Quality Commission (CQC).
As a brand that reflects excellence within the home care industry, its client satisfaction levels are consistently high across the board and has been awarded Home Care Service of the Year for three years running (2020, 2021 and 2022). Within this network of passionate people, who are striving to better care while thriving with an attractive income, you have an opportunity to make a difference in many people's lives through the wide variety of outstanding options of care that CareYourWay provides.
How does the CareYourWay franchise model work?
At CareYourWay, you don't need prior experience in care to launch your own business. To ensure your business success, its dedicated franchise team of specialists, who have nearly two decades of experience within the home care industry, will guide you throughout your business journey.
To CareYourWay, providing an outstanding support network is essential to its franchise model. It works very closely with franchisees to ensure that their business thrives. The dedicated support network will maintain regular contact as you follow a bespoke plan to success, including business training, resources, strategy, departmental support, ongoing advice, guidance to market your business and a proven methodology of how to build a qualified, reliable, and effective team of outstanding care staff.
As you launch your business, your support continues throughout your entire journey. CareYourWay has built a franchise model that encourages peer-to-peer franchise support, building an open and wide community of passionate individuals, all making a difference, whilst owning a successful business.
What is CareYourWay looking for in its franchisees?
From head office down, CareYourWay is about quality, not quantity. It is looking for the right people to join its network of passionate individuals who wish to make a life-changing difference for elderly people. The care company adopts a selective recruitment process, which has helped to build a community of highly engaged, like-minded individuals. It is on a search for people who wish to provide an exceptional care service alongside acquiring a desire to make a positive difference whilst running a thriving home care business.
In its franchisees, it looks for:
· Individuals whose vision and values align with CareYourWay.
· People who acquire the drive to launch and build a successful business.
· A highly motivated ethos toward business.
· People who are empathetic and wish to provide a dignified, sensitive care service.
· Individuals who wish to deliver the highest level of care.
What training and support does CareYourWay provide?
As a CareYourWay business owner, you have access to your own bespoke training plan. In managing your own local office, CareYourWay believes that providing an outstanding level of support is essential to business success. You will be overseeing day-to-day business operations, meeting clients, recruiting quality caregivers, coordinating with your registered manager, conducting marketing to drive business success, and much more.
The business' outstanding level of training includes a comprehensive and detailed guide through the most important fundamentals of the home care business, taking the time to delve into how to launch, run and grow your successful franchise.
Your training will cover:
· CareYourWay's brand values, ethos, and approach to care.
· Delivering CareYourWay's person-centred, outstanding service.
· Recruitment strategy.
· Financial management and success.
· Marketing guidance and support.
· Software operations.
· Website and social media support.
· Business strategy.
· Building a culture and community of excellence.
Did you know?
CareYourWay has an expected revenue of 1,000,000 after 2 years!

Request free information in just 60 seconds!
Take the first step in becoming your own boss!
How much does a CareYourWay franchise cost?
To start a CareYourWay franchise, entry costs are £29,500. Within this package, you will obtain:
· An exclusive and highly competitive territory.
· Trading rights.
· Access to CareYourWay's award-winning business model and training.
· Brand-unique strategy, including recruitment, finance, business development and marketing.
· A detailed and thorough start-up package, providing a wide spectrum of everything you'll need to launch your business, including a comprehensive training course.
You will also require working capital to launch your business. CareYourWay's acclaimed and highly reputable nominated accountants (who are rated within the top 20 within the UK), are specialists within franchising, providing a high degree of support with business planning and financing of the business.
It estimates that the overall figure required to launch your business is around £80,000, which is flexible depending on personal requirements.
With a highly profitable business model, your financial projections are extremely attractive. With a low-risk, high-yielding business opportunity, you're able to launch your franchise with the breathing space and reassurance of an extremely positive financial return.
What locations or territories is CareYourWay looking to operate in?
It is very likely that there will be an available territory in your area. With a minimum of over 65s amounting to about 45,000, the business has strived to provide an over-and-beyond territory that yields an extremely high potential for success. Through working with industry-leading, specialist territory companies, it has devised a territory strategy that is mapped out to work for you.
What are the franchise terms of agreement and renewal?
CareYourWay's five-year franchise term offers rights to renew with no additional costs incurred.
Why is CareYourWay a good investment?
The care provider has been providing its wide range of outstanding services for nearly two decades, entering its exciting new stage of franchising in the summer of 2021. After so many years of proving an outstanding model, where the business plan has been tested to its limits, through a recession, a pandemic and national hardship, it has continued to expand, grow, and build an outstanding brand reputation and community.
The model provides a whole service, offering clients a person-centred, relationship-led care service throughout their entire care needs. CareYourWay strives for excellence within care, ensuring that its service is provided at the highest band possible.
There is an unprecedented demand and opportunity for a thriving care business. With governments continually relying on private care companies to provide outstanding service, and statistics reinforcing the demand, such as there being over 1.4 million individuals on a care waitlist as of July of 2021, business potential is incredibly high.
Through an exceptional business and franchise opportunity, CareYourWay seeks to exceed client expectations and reform the standard of care within the industry. To leave a footprint in its evolution, CareYourWay is now on a search for like-minded, passionate people to launch a thriving business, while playing an integral role within a brand of individuals who seek to better care at home on a local and national level.
How in demand are care services?
The demand for care is unprecedented. A rapidly ageing population is presenting an incredible market opportunity. With the Office of National Statistics predicting that people aged from 85 will grow from 1.6 million to a staggering 3.2 million within just 20 years, now, perhaps more than ever, care has an unrivalled demand.
With over three-quarters of people eventually developing a need for social care, the target audience is growing with every year that passes.
How do I start setting up my own CareYourWay franchise?
To find out more, or to request further information on franchising with CareYourWay, complete the form below and click on the 'Request Free Information' button now.

Request Free Information
Send a free enquiry to CareYourWay for further information!
Enquire into this franchise today