The information you submit via our enquiry form is shared only with the franchise business(es) that you have selected.
The franchise business will contact you by means of email and/ or telephone only to the email address and phone number you have provided.
By submitting the enquiry form you are consenting to send your personal information to the selected franchise business.
You also agree to receive further newsletter email marketing from What Franchise.
Close
Did you know?
Support Solutions has an expected revenue of £120,000 net profit after 2 years!
Request free information in just 60 seconds!
Take the first step in becoming your own boss!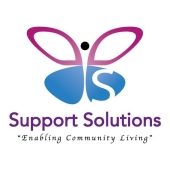 Support Solutions
Providing better working conditions for carers and better quality care for clients
Business Type
Care & Elderly Services
Total Investment
£10,000-plus
Expected Revenue After 2 Years
£120,000 net profit
About Support Solutions
Support Solutions was founded by Catherine McClure, who has been an activist in improving the care sector for more than 20 years.
She has worked at all levels, moving up the management ladder in the care sector, working as a social worker, managing care on behalf Hull City Council as the home care registered manager with over 2,000 hours per week, working as a director in a national care firm, regional manager in a care charity and much more before founding Support Solutions.

Catherine founded Support Solutions with the aim of providing better working conditions for carers, such as proper full and part-time contracts, as well as better care services for clients.
The proof is in the pudding. As Support Solutions' first office was opened with just £3,000 working capital, Catherine's client base grew solely through word of mouth, before it joined the council's local framework in month six.
Unlike many business ventures, Support Solutions' franchise model can be tailored to suit your goals and level of investment. You are able to start the business as a low-cost franchise with little capital investment, but with a higher level of involvement, or a higher capital investment, but with less involvement.
The franchisor's focus is to ensure your compliance with the Care Quality Commission, the Support Solutions' brand reputation and standards of quality care, as well as quick growth and profitability.
How does this home care franchise work?
As part of the franchise package, the company offers comprehensive training to franchisees in all areas of running a Support Solutions branch.
You will complete a week's training, as well as be provided with ongoing support in all aspects of this home care services franchise from head office. You will register with the CQC and work with head office to implement marketing strategies and follow a business plan to reach and recruit potential clients both private and through the local authority. Head office will guide you to implement, monitor and grow your own team of care staff as you scale your business with multi-million-pound market potential.
What type of business owners is Support Solutions looking to recruit?
The ideal franchise owner is somebody who has been a registered manager before. Somebody who is a natural team leader and has a good reason to be working in the care sector, such as a desire to help people and a passion for quality.
This type of franchise owner is similar to Support Solutions' first franchisee in Worthing, whose business is growing at an unprecedented rate.
Carole has all her quality controls up to date and is receiving excellent feedback from her clients. Due to Carole's high level of involvement within the business, she is following the growth pattern of Support Solutions' first branch in York, which started with just £3,000 capital. Spending minimal amounts on advertising, it achieved £150,000 in revenue in year one.
Of course, this is just one way to run a Support Solutions branch. Another ideal franchisee is somebody who still possesses the desired personal qualities to help others but may wish to be less involved in the business.
This is absolutely fine, as Support Solutions' head office helps recruit and train your registered manager. It will work with your registered manager to scale your business, but this requires a higher level of working capital, as you are having to pay salaries from day one.
Support Solutions works with you to implement a business plan that suits your budget. The higher the level of investment, the higher the potential revenue is.
What initial and ongoing training and support is provided?
Prospective franchisees are invited to discuss the Support Solutions business model, review the company's prospectus and meet with a local rep.
Did you know?
Support Solutions has an expected revenue of £120,000 net profit after 2 years!
Request free information in just 60 seconds!
Take the first step in becoming your own boss!
After an initial meeting, prospects are invited to meet the founders of Support Solutions, where they can ask questions, discuss the model in more depth and get to know each other before proceeding.
Catherine works directly with franchisees during their initial training and is the main contact for ongoing support. During the week-long initial training, franchisees discuss quality, CQC guidelines, operating policies and paperwork, marketing and all aspects of running a Support Solutions branch.
All territories come with their own website and inclusive SEO.
West Sussex franchisee Carole Westgate says: "I was looking for a franchise business. I have experience in the care industry, so it made sense to stay within that sector.
"I applied for more information about Support Solutions and was contacted without delay. I received further information and what they offered to set up a business.
"I spoke to Catherine about the package and was confident that support would be there and it has been. I've been given assistance to fill in forms for CQC registration and been assisted all the way through the various organisations that are essential to a care provider.
"All the work has been done for me to register easily, with Catherine arranging memberships through the company name, so we're all linked. Catherine regularly contacts me to check all is well, while waiting to continue with set up, which sadly has been affected by lockdown.
"However, I've been given plenty of guidance and know what I need to be doing, so I'm ahead for my launch.
"Background work has also been carried out by Catherine that the local council are open to new providers prior to the business paperwork being signed, thus ensuring it's a viable business proposition.
"The whole process has been brilliant and I can't wait for the future with Support Solutions."
What's the earnings potential of a Support Solutions franchise?

You can expect to turn a profit in year one. The higher your level of initial investment, the higher you can expect your returns to be. Multi-unit operations are available.
What locations or territories is Support Solutions looking to operate in?
Support Solutions is currently expanding throughout the UK. You can view operating territories on the company's website.
What are the franchise terms of agreement and renewal?

Support Solutions' franchise agreement is fairly standard for the industry.
A franchisee must operate within the brand guidelines where advertising and quality is concerned. The management fee is six per cent.
Why is the Support Solutions franchise a good investment?

This franchise is a good investment because it can be tailored to suit you.
Support Solutions has excellent experience and resources to help you stand out from your competitors. You will receive a rapid return on investment, with a chance to earn six-figure profits and own a seven-figure business.
How in demand are the services provided by Support Solutions?

The home care market size in the UK is currently estimated at £5bn. With a compound growth of nearly two per cent, there is additional demand for £100,000,000-worth of services, increasing annually.
How do I start setting up my own Support Solutions franchise?
To request further information on franchise opportunities with this company, complete your contact details below and click on the 'Request Free Information' button now.
Prospective Support Solutions franchisees are required to take part in the company's comprehensive recruitment process before they are granted a franchise.
It is recommended you complete in-depth and independent research into any franchise opportunity before you make an investment.
As part of your due diligence, you may want to pay for the services of a suitably qualified accountant and a lawyer who is familiar with franchising.

Request Free Information
Send a free enquiry to Support Solutions for further information!
Enquire into this franchise today