The information you submit via our enquiry form is shared only with the franchise business(es) that you have selected.
The franchise business will contact you by means of email and/ or telephone only to the email address and phone number you have provided.
By submitting the enquiry form you are consenting to send your personal information to the selected franchise business.
You also agree to receive further newsletter email marketing from What Franchise.
Close
Did you know?
Chicken Cottage is eligible for funding support!
Request free information in just 60 seconds!
Take the first step in becoming your own boss!
Chicken Cottage
The go-to quick service outlet for the world's most flavoursome grilled and fried chicken and succulent sides
Total Investment
£150,000
Expected Revenue After 2 Years
N/A
About Chicken Cottage
Chicken Cottage have been in business for almost 30 years with more than 60 restaurants operating in the UK, Africa and South Asia. With further global expansion well underway throughout the Middle East, Africa, Europe and the UK, Chicken Cottage has its sight set on being the first and largest 100% halal, fried & grilled chicken QSR in the world.
Born and head quartered in Wembley, London and headquartered in the UK, Chicken Cottage is a member of the British Franchise Association (BFA), focused on developing sustainable and ethical franchise growth around the world. Furthermore, Chicken Cottage has been listed in the Elite Franchise Top 100 in 2023.
Chicken Cottage believes there are three key pillars that differentiate it from other chicken franchises:
- Genuinely halal: Chicken Cottage is a 100% halal brand. It is committed to ensuring the ethical sourcing of chicken and has full exposure and traceability of the product.
- Product quality and taste: The R&D team is dedicated to offering a quality, fresh, irresistible menu built to attract a diverse range of customers. The operations team is also focused on ensuring that Chicken Cottage provides a seamless customer journey using efficient systems and the latest technology. The brand is also one of few to offer both grilled and fried chicken.
- Steeped in history and experience: Chicken Cottage has strong brand recognition. The leadership team have worked with some of the world's biggest QSR and retail brands, and prides itself on its in-house expertise.
Chicken Cottage's business model has given existing franchisees a solid platform to grow their own highly rewarding multi-unit operation. By the end of 2023, the franchise will have grown its network footprint by 20 per cent, with 80 per cent of this growth coming from within existing franchisees.
How does the Chicken Cottage franchise model work?
Chicken Cottage offers models which are adaptable to location and market, empowering franchise partners to grow their business and eventually, their portfolio, sustainably and efficiently.
Formats range from traditional bricks and mortar QSR restaurants to kiosks, containers, drive-thru sites, and virtual kitchens. It will be assessed which sites and models are appropriate for you.
Regardless of the style of shop franchisees choose to proceed with, they will still have access to the same resources for their investment. This includes full training, site sign-off, fit-out and build guidance as well as high levels of support over the opening period of their new business. From there, they will have the ongoing support of a franchise business manager.
Additionally, all Chicken Cottage franchise partners leverage off the brand's national marketing calendar as well as a robust supply chain because of the bulk-buying power the franchise has as a network.
What type of franchisees are Chicken Cottage looking for?
Chicken Cottage has a diverse range of franchise partners, and they are either categorised as owner/operators or investors.
Owner/Operators: usually individuals or business partners who have recent experience working hands-on in the QSR or fast-food sector. These franchisees should have the capability to open their first Chicken Cottage and work in it as the manager. They should then have the ambition to continue to grow their portfolio of Chicken Cottage shops.
Investors: usually business groups who have previously run hospitality business or currently do. This franchisee type will generally appoint leadership for their Chicken Cottage shops and endeavour to open at least three within their first five years of partnership.
Regardless of whether franchise partners are actively working in their business or on their business, they all share the same passion for the Chicken Cottage brand. They are relentless in their approach to drive their business forward and collectively share the company vision.
Did you know?
Chicken Cottage is eligible for funding support!
Request free information in just 60 seconds!
Take the first step in becoming your own boss!
Training and support
It is paramount to that franchise partners align with operational standards and ethos.
For new franchise partners, embarking on this journey entails participation in a comprehensive two-week franchise development programme. This programme is meticulously designed to furnish you with the essential skills and knowledge needed to not only operate but thrive within a Chicken Cottage business.
The franchise development programme encompasses a wide spectrum of vital aspects, ranging from day-to-day operations and profit management to efficient business administration and local store marketing strategies.
Throughout this journey, you will be mentored by a dedicated and highly knowledgeable franchise business manager. They will serve as your constant companion, offering guidance during your training, assisting in the identification and opening of your initial restaurant, and standing alongside you during the crucial initial days, weeks, and months of your venture.
The operations team will play a pivotal role in ensuring that your staff are adeptly trained in every facet of station operations. The brand's approach to training is hands-on, with on-site delivery to ensure that your team acquires a practical understanding of how to uphold the impeccable service standards synonymous with Chicken Cottage.
As you expand into multiple restaurant operations, the responsibility of training new staff or management teams will fall upon you. However, rest assured that teams will be readily available to oversee and provide support throughout this crucial process.
The journey with Chicken Cottage will be underpinned by unwavering support from a team of franchise business managers and operations experts, each boasting extensive experience working with global Quick Service Restaurant (QSR) brands. Their collective wealth of expertise is a formidable asset to the brand.
Beyond operational support, you will also benefit from the guidance of an experienced marketing department. This dedicated team will work tirelessly to drive business to your Chicken Cottage establishments, ensuring that brand presence remains strong and dynamic in the market.
Financial information
The Chicken Cottage financial model sees compliant franchisees, operating in line with the operations manual, endeavour to achieve ROI within 18-24 months of trade.
As the key focus is seeing franchisees grow from single-site owners to multi-site, the support office will work hand-in-hand with the franchise partners on the financial health of their business. Franchisees will be given the tools to assess opportunities for growth on both revenue and profitability, then the support to develop tangible action plans to achieve progress.
Many current franchise partners initially started with one location and have since grown their portfolio of Chicken Cottage shops.
Why is Chicken Cottage a good investment?
Chicken Cottage's fee structure and flexible model enables franchise partners to build successful clusters of Chicken Cottage shops.
The ongoing royalties are at 4 per cent and the advertising levy is 2 per cent. The advertising levy is wholly invested in brand development and store marketing.
The initial franchise fee is £15,000 and then is discounted heavily for subsequent territories.
- The global fast food and QSR market size is expected to grow 6.1 per cent from 2023 to 2027, according to The Business Research Company.
- The food delivery market gained traction following the Covid-19 pandemic and is still growing – expected CAGR 2023-2027 of 12.78 per cent, according to Market Insights 2023.
- The global halal food and beverage market is expected to grow at a CAGR of 5.5 per cent in the next 4-5 years, according to Orion Market Research January 2023.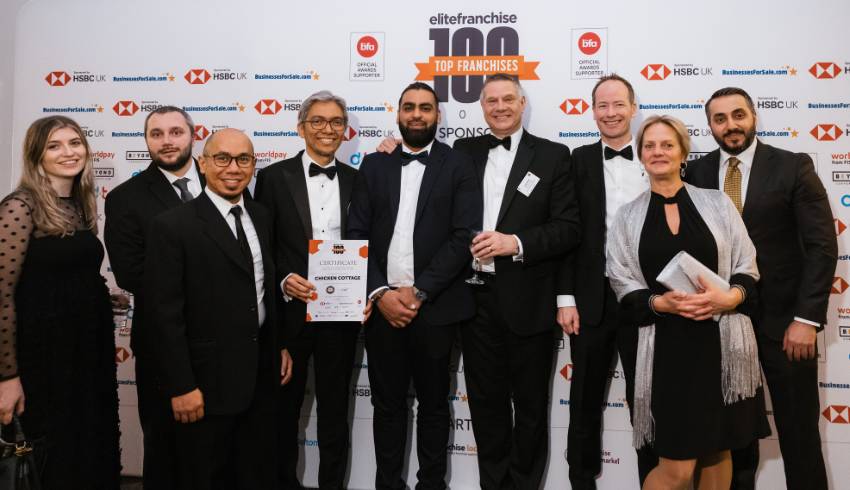 What are the franchise terms of agreement and renewal?
10 years + 10 years
What locations is Chicken Cottage looking to target?
National and international markets.
Request Free Information
Send a free enquiry to Chicken Cottage for further information!
Enquire into this franchise today