The information you submit via our enquiry form is shared only with the franchise business(es) that you have selected.
The franchise business will contact you by means of email and/ or telephone only to the email address and phone number you have provided.
By submitting the enquiry form you are consenting to send your personal information to the selected franchise business.
You also agree to receive further newsletter email marketing from What Franchise.
Close
Did you know?
Chicken Cottage has an expected revenue of Discussed at interview stage after 2 years!
Request free information in just 60 seconds!
Take the first step in becoming your own boss!
Chicken Cottage
The go-to quick service outlet for the world's most flavoursome grilled and fried chicken and succulent sides
Minimum Investment
£50,000
Funding Support
Third party
Total Investment
£150,000 to £250,000
Expected Revenue After 2 Years
Discussed at interview stage
About Chicken Cottage
Since 1994, Chicken Cottage has been the go-to quick service outlet for the world's most flavoursome grilled and fried chicken and succulent sides. In fact, Chicken Cottage was the first quick-service restaurant in the UK to incorporate both fried and grilled chicken into its menu, as well as the first to roll out halal options in every single one of its chicken shops.
With over 45 outlets already operating in the UK, and 10+ in new overseas markets, the Chicken Cottage franchise is looking for skilled and ambitious entrepreneurs to open a chain of highly successful chicken shops within their own exclusive territory.
The Chicken Cottage proven business model has already given some of the most up-and-coming businesspeople a solid platform on which to grow their own highly rewarding multi-unit operation.
For over 25 years Chicken Cottage has had a reputation for great food; customers know that Chicken Cottage means great quality at affordable prices, and just keep on coming back for more.
The Chicken Cottage franchise offers you the opportunity to build, or diversify, your own profitable portfolio in an industry currently forecast to reach £20.61bn in 2022*.
When you become part of the Chicken Cottage network, not only will you have access to a brand with over 25 years of experience, but you will also have the opportunity to expand beyond three chicken outlets in your own exclusive territory.
Chicken Cottage will provide you with innovative menu development to target your local market and you will have full access to the brand's supply chain, including halal compliance support.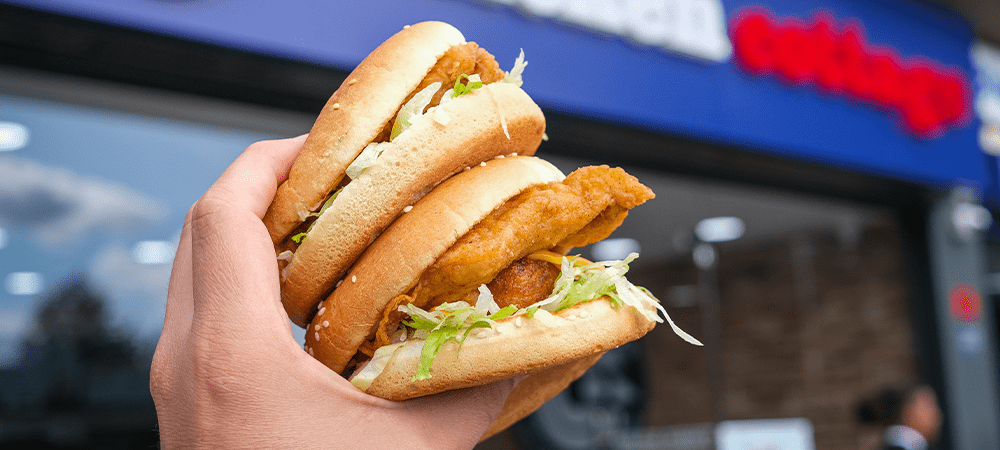 The dedicated operations team will always be there to support your business growth and you will have ongoing support from the experienced franchise team.
How does the Chicken Cottage franchise model work?
As a Chicken Cottage franchise partner you will have exclusive access to dedicated mapped-out territories in which to grow your Chicken Cottage portfolio – no one else can open a Chicken Cottage business within your exclusive territory. As a multi-unit franchise partner, you will control a minimum of three territories in which you can open your Chicken Cottage shops within a three- to five-year timeframe.
Being part of the Chicken Cottage franchise allows you to tap into decades of experience and expertise, giving you an unbeatable head start in your new business with proven operational procedures and quality control. You'll also benefit from access to all of the brand's preferred suppliers so that you can enjoy an economy of scale in supplying your new Chicken Cottage shops, and be immediately recognised by all the top delivery platforms.
What qualities is Chicken Cottage looking for in its franchise partners?
Chicken Cottage franchise partners come from a huge variety of backgrounds, but they all have one thing in common: the drive and passion to succeed in a dynamic and rewarding industry.
You will be an investor with strong business acumen, skills and ambition needed to realise the full potential of this chicken franchise. You will also be a people person who has what it takes to lead and inspire your own team to deliver superior Chicken Cottage customer service.
What training and support are available to Chicken Cottage franchise partners?
Chicken Cottage will provide you with everything you need to succeed as the owner of your own chain of Chicken Cottage shops, whilst you also reap the benefits and all the rewards of being part of one of the UK's most exciting brands.
Training on every aspect of day-to-day operations is carried out by the brand's experienced and knowledgeable operations team.
The training is very practical and hands-on and is delivered on site at your very first outlet so that you and your people gain a practical understanding of how to deliver the very high standards of service expected of the Chicken Cottage brand.
Did you know?
Chicken Cottage has an expected revenue of Discussed at interview stage after 2 years!
Request free information in just 60 seconds!
Take the first step in becoming your own boss!
Ongoing support
Your success and the brand's success go together like wings and fries… this is why your set-up and training is just the beginning.
You will be continuously supported by Chicken Cottage's franchise business managers and operations team.
To generate brand awareness within your exclusive area, as part of the ongoing marketing support and initiatives, you will receive:
• Website and social media management
• Innovative new menu items and special offers
• National email campaigns
• Local and national mail and SMS campaigns
• Quarterly marketing meetings and sales reviews
• PR support and enhanced performance marketing
How much does it cost to become a Chicken Cottage franchise partner?
Chicken Cottage recommends that you have £50,000 in readily available funds (with the balance being funded via high street banks or franchise finance specialists). The brand's experience shows that the total investment costs required (including franchise and legal fees) to open each QSR outlet is between £150,000 and £250,000, based on location, size and condition of the unit, with the average outlet being 1,500 sq. ft.
The franchise fees for Chicken Cottage are broken down as follows:
• £15,000 (plus VAT) for the first outlet
• £7,500 (plus VAT) for the second outlet
• £5,000 (plus VAT) for subsequent outlets
Kiosk options are available but Chicken Cottage's preference is that the first outlet set up is that of a full QSR bricks-and-mortar shop.
What locations or territories is Chicken Cottage looking to operate in?
Chicken Cottage currently has availability in some very key locations across the UK, from Bournemouth to Newcastle, including some prime London territories.
What are the Chicken Cottage franchise terms of agreement and renewal?
The initial franchise term is 10 years with the option to renew for a further 10 years.
What makes the Chicken Cottage franchise a good investment?
When it comes down to it, every business is a people business, and Chicken Cottage is no different. While fantastic food may be Chicken Cottage's main offering, it's the dedication to excellent customer service and the rapport it builds with every single person in the network that are at the heart of the brand's success.
Chicken Cottage prides itself on its experience and expertise and is dedicated to helping you build your own Chicken Cottage empire and a brand that has a future as a market leader in the QSR space.
How in demand are the products of Chicken Cottage?
The Chicken Cottage Brand is committed to providing sustainable and profitable growth for a new generation of investors.
The UK food and beverage market was estimated to be worth more than £75 billion in 2021. Although it contracted during the pandemic, the industry is now entering a period of growing demand with an increase of 4.1 per cent in 2021, and growth of more than 3 per cent predicted in 2022.
In January 2022, there was a 138 per cent increase in delivery and takeaway sales compared to pre-pandemic levels.
There has never been a better time to invest in a QSR concept with a proven track record and an ambitious and forward-looking plan.
How do I start setting up my own Chicken Cottage franchise?
To find out more about this franchise opportunity, or to request further information on franchising with Chicken Cottage, complete the form below and click on the 'Request Free Information' button now.
*Source: Market size of the fast food and takeaway industry in the United Kingdom from 2012 to 2021, with a forecast for 2022 - Statista.com
Request Free Information
Send a free enquiry to Chicken Cottage for further information!
Enquire into this franchise today