The information you submit via our enquiry form is shared only with the franchise business(es) that you have selected.
The franchise business will contact you by means of email and/ or telephone only to the email address and phone number you have provided.
By submitting the enquiry form you are consenting to send your personal information to the selected franchise business.
You also agree to receive further newsletter email marketing from What Franchise.
Close
Did you know?
Chop & Wok has outlets available across the UK
Request free information in just 60 seconds!
Take the first step in becoming your own boss!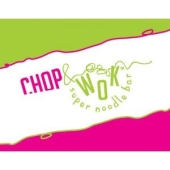 Chop & Wok
A wok-based restaurant and takeaway business that serves Pan-Asian fusion food
Minimum Investment
£15,000
Expected Revenue After 2 Years
N/A
About Chop & Wok
Chop and Wok is a wok-based restaurant and takeaway business that serves Pan-Asian fusion food from China, Thailand, Malaysia, Japan, and India in a modern setting.
The company was founded in 2009 and has a number of stores in Birmingham, Solihull, Wolverhampton and Coventry.
Popular with people wanting a lunchtime meal and evening diners, the Chop and Wok menu allows customers to select a wide variety of ingredients and special sauces. For ease of use, it's divided into two parts: Chop, where diners can choose from a selection of wraps and salads; and Wok, which features a range of noodle and rice stir-fry dishes. Sides and drinks are also available.
When it comes to its food, the company has three guiding principles: 'fresh', 'tasty' and 'healthy'. Meals are prepared in an open kitchen, meaning customers can watch their food being prepared.
All stores accept direct online orders via the website and the newly launched Chop and Wok app, while they also work with various third party ordering services.
Chop and Wok says all cooking oil used by the franchise is reused for things such as fuel, while the extraction system it uses traps around 94 per cent of the grease particles produced during cooking, significantly more than the 40 per cent trapped by industry standard filters.
Chop and Wok says its goal is to become a national brand by developing a network of company owned and franchised outlets. It is a provisional member of the British Franchise Association and launched its UK franchise scheme in 2016.
How does the Chop and Wok franchise model work?
This company provides investors with a 'turnkey' franchise opportunity, meaning every aspect of launching, establishing and growing the business is taken into account.
Chop and Wok franchisees use the company's contemporary branding and leverage its tried-and-tested systems and know-how, as well as receive assistance with site selection, store fit out and lease negotiations.
They also benefit from an established supply chain and are included on the company's website, which has 3,000-plus hits a week. Additionally, Chop and Wok reinvests franchise fees into systematic SEO for each store and inclusion in local marketing drives through SMS and email marketing.
As well as initial and ongoing training and support from the franchisor, franchisees are given a comprehensive operations manual, which provides detailed information on every aspect of running the franchise, plus access to the Chop and Wok intranet site for further help and guidance.
What locations or territories is Chop and Wok looking to operate in?
The company has franchise opportunities available throughout the UK.
Why is the Chop and Wok franchise a good investment?
The food and eating experience Chop and Wok stores provide are in demand, which is why the company has ambitious plans to become a national chain.
The company claims its fusion food offering, which combines south Asian and Oriental cuisine, is unique in the market, giving franchisees a distinct selling proposition.
The opportunity will tick all the right boxes if you're considering investing in a food franchise that prides itself on its healthy menu, is modern in its outlook and use of technology to maximise sales and the customer experience, is environmentally friendly and gives franchisees a tried-and-tested method of replicating the company's success in the UK to date.
In addition, Chop and Wok food appeals to both lunchtime and evening diners from a wide range of age and socioeconomic groups. The amount of different food choices on offer means the chances of diners returning to sample different ingredients and sauce combinations is high.
Once a franchisee has established their Chop and Wok business, they have the opportunity to open additional stores.
Did you know?
Chop & Wok has outlets available across the UK
Request free information in just 60 seconds!
Take the first step in becoming your own boss!
What ongoing fees does Chop and Wok charge its franchisees?
Franchisees are charged a royalty of three per cent of sales during what Chop and Wok describes as an 'introductory period', which rises to seven per cent following this time. Royalties are paid on a weekly basis.
These charges cover the cost of the support provided by the franchisor and the local and national marketing campaigns it devises and executes on behalf of the company's network.
Is bank finance available to fund a Chop and Wok franchise?
Up to 80 per cent of costs can be financed by some banks on production of a suitable business plan and subject to status.
Chop and Wok can introduce prospective franchisees to the specialist bank departments that consider funding applications from individuals wanting to become part of the franchise industry.
What's the earnings potential of a Chop and Wok franchise?
This depends on the franchisee's ability to follow Chop and Wok's franchise system, the time they invest in the business, store size, where it's located and overhead costs.
However, as in indication of potential return on investment, the company will provide interested investors with the financial information and trading figures of some of its company owned stores.
Its business projection calculator also gives would-be franchisees an insight into what they can expect to earn throughout their time trading using the Chop and Wok banner.
What skills are required to become a Chop and Wok franchisee?
No prior restaurant experience is necessary to become a Chop and Wok franchisee.
However, franchisees must be committed to being their own boss, possess the ability to work hard, be able to provide excellent customer service, be able to follow a proven system, be self motivated and have entrepreneurial flair.
Where in the UK is the Chop and Wok franchise based?
This company's headquarters are in Birmingham.
What training and support do Chop and Wok franchisees receive?
Initial training, which takes place at one of Chop and Wok's company owned stores, goes in-depth into every area of the business.
When it comes to support from the franchisor, franchisees benefit from marketing activity during the launch phase of the business, as well as local and national promotions, which are designed to raise awareness of the Chop and Wok brand and drive customers to stores.
Assistance with business management is provided by an experienced team either face-to-face or over the phone. Regular progress reviews are conducted to ensure franchisees remain on target to achieve their goals.
What are the Chop and Wok franchise's terms of agreement and renewal?
The initial franchise agreement lasts for 10 years. There's no charge to renew the contract after this period, providing the previous agreement has been adhered to.
How can I get started on setting up my own Chop and Wok business?
Chop and Wok recommends all prospective franchisees visit one of its stores to sample the food and ambience.
As part of the due diligence process, candidates must attend a discovery day, which are held on a regular basis, at which you can meet the founders of the company and discuss the opportunity in detail.
Before signing the franchise agreement, would-be franchisees are presented with comprehensive financial information about the franchise and its earnings potential.
To find out more or to request further information on franchising with Chop and Wok, click the 'Send Enquiry' button now.

Request Free Information
Send a free enquiry to Chop & Wok for further information!
Enquire into this franchise today