The information you submit via our enquiry form is shared only with the franchise business(es) that you have selected.
The franchise business will contact you by means of email and/ or telephone only to the email address and phone number you have provided.
By submitting the enquiry form you are consenting to send your personal information to the selected franchise business.
You also agree to receive further newsletter email marketing from What Franchise.
Close
Did you know?
Bella Italia has outlets available across the UK

Request free information in just 60 seconds!
Take the first step in becoming your own boss!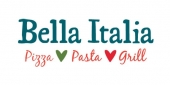 Bella Italia
Bella Italia offers a truly Italian experience, using freshly imported ingredients in its signature dishes
Minimum Investment
£350,000
Business Type
Food & Beverage
Expected Revenue After 2 Years
N/A
About Bella Italia
The heart of the Bella Italia franchise is to bring a truly authentic Italian experience to its diners. To guarantee that its guests' experience is genuine, Bella Italia imports all of its ingredients from Italy.
Bella Italia's pasta, for example, comes direct from the Gaetarelli family, who have been producing pasta by the shores of Lake Garda since 1952. The Pastificio Gaetarelli factory opened in 1964 and uses only the best ingredients to create high quality fresh pasta. This is used to create Bella Italia's signature Carbonara, made with a creamy sauce, leeks, granello cheese and topped with a crispy pancetta and black pepper.
Other signature dishes of the restaurant include fresh tagliatelle pasta, lasagne, pollo alla Milanese (chicken fillets) insalata verde (char-grilled tuna steak) or the hand-stretched sourdough pizza Roma. Cured meats and salami, lasagne, dried pasta, olive oil and coffee are all sourced from Italy and combined to make sure that you enjoy your meal.
Offering an all-day Italian menu in a warm and welcoming setting, there are now over 110 Bella Italia restaurants across the UK.
What is the history of the Bella Italia franchise?
Bella Italia has been around in one form or another for 40 years. The original restaurant chain, Pastificio, was founded by the Grand Metropolitan group, which also owned Pizzaland. The two chains were purchased by BrightReasons in 1991 and Pastificio was rebranded as Bella Pasta.
After expanding through the purchase of the Pizza Piazza and Prima Pasta restaurants in 1993, BrightReasons' Pizzaland restaurants began to struggle, and after a failed stock market flotation the company was sold to Whitbread, which owned Café Rouge among other brands.
Whitbreads sold off its 153 restaurants to Tragus Holdings in 2002, which rebranded Bella Pasta as Bella Italia. Tragus Holdings became Casual Dining Group (CDG) in 2014.
Today CDG operates 300 restaurants across the UK and employs nearly 10,000 people. The CDG business has grown by revitalising the original brands — Bella Italia and Café Rouge — and acquired two competitors: Las Iguanas in July 2015, and La Tasca in August 2015. In 2016, CDG begun opening franchise businesses abroad in India and Dubai, and signed a deal with the Fawaz Alhokair Group that year to open a further 18 restaurants in Saudi Arabia. The group signed its first
franchise deal in Ireland in 2017.
The Bella Italia brand was given an overhaul in 2016-17, bringing in contemporary design to some 95 of its restaurants and a new menu developed by Bella Italia's executive chef, Vittorio Lettieri, who created new food options that retained all the old favourites, but added new ranges, including seafood and vegan options.
The food is guaranteed GM-free and ethically sourced, using, for example, sustainable fish stocks and free-range eggs, for which Bella Italia was awarded the Good Egg Award by Compassion in World Farming (CIWF) and also the Ethical Procurement Award in 2017.
The Bella Italia franchise restaurants cater for dietary needs and can create gluten-free pasta and pizza, and vegan and low calorie options. An allergen menu is available online and in every restaurant.
In September 2018, Bella Italia entered the retail sector through a partnership with Tesco. A range of ready-made meals can now be bought in over 300 Tesco stores.
How does the Bella Italia franchise model work?
Bella Italia is a popular chain that benefits from constant reinvestment, brand marketing and the introduction of new products and innovations from menu design to restaurant re-design. Recent innovations mean you can now book a restaurant table online or click and collect, as Bella Italia now has a takeaway menu, delivered straight to your door via delivery services including Deliveroo, UberEats or JustEat. Delivery is available at selected sites and covers lunch, dinner and even breakfast.
The Bella Italia franchisee has access to supply chains that will help keep its costs down.
How much does a Bella Italia franchise cost?
Minimum investment in a Bella Italia franchise is estimated to be £350,000 + VAT, although that will depend on the size and location of the restaurant. Of this, £25,000 + VAT is the franchise fee, and the total investment required to establish the restaurant may be around £700,000 + VAT.
There is a royalty fee of 6 per cent of net sales + VAT.
A Bella Italia franchise may take between 3 and 12 months to set up. It is possible to set up multiple businesses and also to franchise Bella Italia alongside CDG's other brands, depending on whether the franchisee has the infrastructure to manage more than one operation.
What support and training does Bella Italia offer franchisees?
The Bella Italia franchisee is supported throughout their partnership with the Casual Dining Group, which has extensive experience of finding the right property for your business and access to design teams who can transform both the outside and inside to create innovative exterior and interior designs that set the business apart.
Did you know?
Bella Italia has outlets available across the UK

Request free information in just 60 seconds!
Take the first step in becoming your own boss!
Support continues via the online, mobile-optimised operations portal and applications where you can keep up to date with brand developments and receive guidance. Marketing support includes access to marketing and menu designs via the operations portal, where all sorts of branded, ready to print, point of sale and marketing collateral is available to download.
CDG will also help with website design and the franchisees' digital presence including social media and PR. A dedicated business development manager is on call to assist with every aspect of the business.
CDG will help create annual marketing plans and review a franchise's progress against it. Quarterly business reviews and audits will ensure that brand standards are being maintained and that the franchise is moving in the right direction.
What kind of unit and territory should I look to open a Bella Italia franchise in?
While most Bella Italia restaurants are opened in mall sites with high footfall, their size ranging from 275m² to 400m², the potential is there for both larger and smaller-sized premises.
The Casual Dining Group has recently opened up a number of concession sites in airports and hotels and there are plans for new expansions in coming months. A deal with London Town Group was signed in 2018 to operate food and beverage sites at Hotel Indigo, London Paddington, and the newly refurbished Holiday Inn, Wigstone, Leicester. CDG manages a number of franchises in UK airports, including Heathrow, Inverness and Luton.
What design options are available to the Bella Italia franchisee?
The interior of each Bella Italia is designed to be right for the local customer profile. Bella Italia restaurants have been created with three different categories in mind to appeal to different audiences.
Leisure sites are more colourful and playful, with bold, large scale features relating to Italian style and cultural references, such as sit-on Vespa motorcycles for customers to have their photographs taken on, and large hand-painted murals.
Metro schemes have a warm, industrial look with features in unfinished mild steel and reclaimed timber throughout. Contemporary light fittings and the sheet metal finish to the counter fronts adds to the distinctive look Bella Italia use in busy city centre locations.
The Trattoria style lends itself to small restaurants where space is limited and every inch has to be utilised carefully, including the kitchen, which is smaller and has to work more efficiently to produce the standard menu.
Are there currently any Bella Italia franchises available for sale?
Franchisees approaching a new business venture may prefer to look into taking over an established territory rather than build something new from scratch. In this case, buying an existing franchise is the route for you. Contact Bella Italia to see if there is a franchise currently for resale in the area of your choice.
Who is the ideal Bella Italia franchisee?
Casual Dining Group expects Bella Italia franchisees to have relevant experience in successfully expanding similar casual dining brands. They should be passionate about the brand and want to deliver a consistent and high quality customer experience as well as develop and expand the brand.
The franchisee should also be well-capitalised with a willingness to invest for a period of between three and five years.
How in-demand are Bella Italia franchises right now?
Sales for the Casual Dining Group rose 10 per cent in the year 2016-17 to £329m and the company has recently invested £30m in its three brands (the others being Café Rouge and Las Iguanas).
The investment confirms CDG's continued support of its franchisees and the continued growth of the brand.
The number of consumers choosing to eat out is at a record high, with an estimated 83m visits to casual dining locations and deliveries are expected to top 100m in 2019. The market for eating out continues to grow and it is said that over 98 per cent of Brits made a purchase in 2017, spending £49bn on food and drink (excluding alcohol). A Sacla report noted that UK consumers have a cosmopolitan palate, with 22 per cent choosing to eat Italian food.
How do I get started on setting up my own Bella Italia franchise?
There is an extensive process to be undertaken in setting up a Bella Italia franchise, including wide-ranging market research to make sure a new restaurant has the best chance of succeeding in a location. To find out more, or to request further information on franchising with Bella Italia, click on the 'Send Enquiry' button on this page now.

Request Free Information
Send a free enquiry to Bella Italia for further information!
Enquire into this franchise today