The information you submit via our enquiry form is shared only with the franchise business(es) that you have selected.
The franchise business will contact you by means of email and/ or telephone only to the email address and phone number you have provided.
By submitting the enquiry form you are consenting to send your personal information to the selected franchise business.
You also agree to receive further newsletter email marketing from What Franchise.
Close
Did you know?
Heavenly Desserts has an expected revenue of 20% after 2 years!
Request free information in just 60 seconds!
Take the first step in becoming your own boss!
Heavenly Desserts
Providing dessert lovers with the finest, most luxurious sweet treats
Minimum Investment
£90,000
Business Type
Food & Beverage
Funding Support
Third party
Total Investment
Depends on the concept
Expected Revenue After 2 Years
20%
About Heavenly Desserts
Heavenly Desserts have been franchising since 2017 and now have over 35-plus successful franchise stores and five company-owned stores with all doing well. Heavenly Desserts is an aspirational brand, beautifully and innovatively designed and customised to the area it operates in. It has nationwide and international opportunities available right now and will open 15 stores per annum ongoing.
The franchise fee of £17,500-plus VAT gives you access to a proven business model. In addition to desserts made on the premises, Heavenly Desserts provides speciality coffees and other delicacies.
Refusing to compromise on any aspect of its offerings, Heavenly Desserts' creations are designed by experienced artisans to look like miniature artworks, and each one tastes just as irresistible as it looks, providing a treat for all the senses. Crafted with care from only the finest ingredients including Belgian chocolate and Madagascan vanilla, the innovative Heavenly Desserts menu combines an extensive range of classic dessert options and decadent seasonal treats. Every dessert incorporates the very best flavours and textures from around the world, from American waffles to Italian gelato.
Along with the option of experiencing in-store dining with the most elegant surroundings, welcoming atmosphere and discreet table service, Heavenly Desserts franchises also offer a takeaway menu for decadent desserts on the go, and a limited menu can also be ordered by Deliveroo for home dining.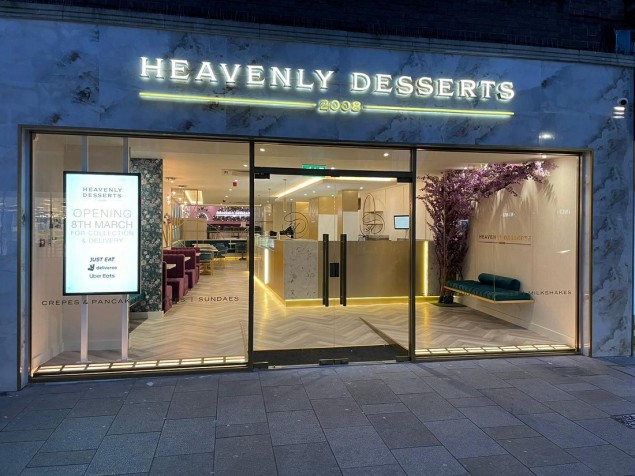 How much does a Heavenly Desserts franchise cost and what is included in the package?
Heavenly Desserts franchises are available as four possible concepts to suit different locations, each with a clear and transparent financial model. The Flagship Store from £265,000 (80-100 seats), Cafes from £215,000 (50-70 seats), Neighbourhood Store from £149,000 (up to 30 seats), and Kiosk from £99,000 (may vary depending on the size of the location).
The Heavenly Desserts franchise fee is £17,500-plus VAT for each of these options. The franchise package includes:
● Equipment leasing options
● Funding available (up to 60 per cent of investment)
● 5 per cent management service fee and 2 per cent marketing fee (of net sales)
● Comprehensive training package
● Supply chain solution
● Assistance with financial funding
● Recruitment guidance
● Support with site acquisition
● Marketing
● Exclusive territory
● Turnkey fit-out solution
● On-going business management support.
How much does a Heavenly Desserts franchisee earn?
Large format Heavenly Desserts stores are able to achieve an average of £15,000 in sales per week. In the first year of trading, franchisees should achieve a 20 per cent + EBITDA (Earnings Before Interest, Tax, Depreciation and Amortization), with an impressive 18 month ROI (Return On Investment) and OTE (On Target Earnings) of £50,000 per year.
What training is provided for Heavenly Desserts franchisees?
Heavenly Desserts provides a comprehensive training package for franchisees which takes place over a period of four weeks prior to the new business opening its doors.
Did you know?
Heavenly Desserts has an expected revenue of 20% after 2 years!
Request free information in just 60 seconds!
Take the first step in becoming your own boss!
Do Heavenly Desserts franchisees need industry experience?
Not necessarily, founded in 2008, after refinement and development Heavenly Desserts began its expansion in 2012 and currently has 40-plus stores trading in the UK, with 35-plus successfully franchised. It provides the very finest in delectable desserts, not only are they beautiful to look at but also quality in taste and aroma. Its stores are renowned as some of the most stylish outlets in the UK. Attention to detail, creativity and customer service continues to be the soul of Heavenly Desserts.
Heavenly Desserts is looking for franchisees with:
● a strong can-do attitude
● a proven focus on and understanding of customer service
● the ability to understand staff needs and motivation
● a strong desire to succeed.
Does a Heavenly Desserts franchise cover an exclusive territory?
Yes, master and regional franchises are available across the globe. Having become increasingly popular and successful in recent years, Heavenly Desserts is now looking to expand its presence in the UK and international market by sharing its recipe for success and recruiting quality franchise partners.
International franchising commenced in earnest in 2019.
What new territories is Heavenly Desserts looking to operate in?
Single and multi-unit opportunities are available throughout the UK.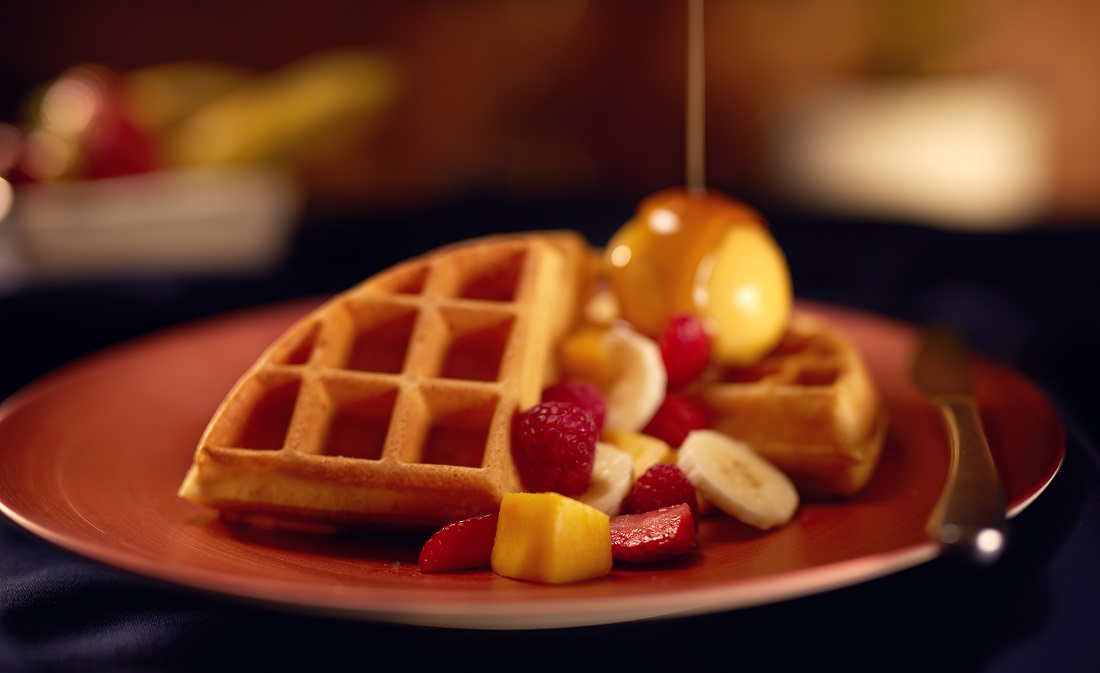 Why choose a Heavenly Desserts franchise?
Heavenly Desserts began life as five company-stores that traded for eight years before the franchising business model was created, meaning that the team is likely to have experienced and overcome any problems or issues that franchisees may come across. With a belief in ethical and transparent trading, the Heavenly Desserts franchising ethos is that 'both sides win', which is why it offers outstanding support and guidance to new business owners in order to ensure that their restaurant is successful.
Franchisees are given access to the head office team of industry experts, and Heavenly Desserts prides itself on the personal relationship it has with each and every franchise owner. New business owners are given advice at every step and are offered much more than the usual nine to five support.
Heavenly Desserts franchisees also benefit from the innovative and pioneering vision of the founders. A regularly updated menu helps restaurants to gain and retain customers, with recent changes including a range of gluten-free menu options, along with new breakfast menus to extend potential trading hours.
How can I apply for a Heavenly Desserts franchise?
After receiving a franchising brochure, Heavenly Desserts will contact potential applicants to discuss their requirements and preferred possible locations for their new business. Potential franchisees will be invited to attend a Discovery Day, which offers an overview of the business model and operations along with more detailed financial and marketing information. The Heavenly Desserts franchise team will also be happy to discuss the brand's future plans and answer and questions, and a one to one meeting is also available at this time on request.
If you would like to receive more information on starting a Heavenly Desserts franchise, please complete the web form on this page.
Request Free Information
Send a free enquiry to Heavenly Desserts for further information!
Enquire into this franchise today