The information you submit via our enquiry form is shared only with the franchise business(es) that you have selected.
The franchise business will contact you by means of email and/ or telephone only to the email address and phone number you have provided.
By submitting the enquiry form you are consenting to send your personal information to the selected franchise business.
You also agree to receive further newsletter email marketing from What Franchise.
Close
Did you know?
Jasper's Catering Franchise has outlets available across the UK

Request free information in just 60 seconds!
Take the first step in becoming your own boss!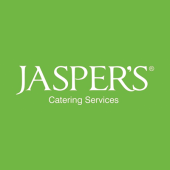 Jasper's Catering Franchise
Jasper's Catering is franchise aimed at corporate businesses, providing them with buffets, lunches, and snack platters
Minimum Investment
£42,500
Business Type
Food & Beverage
Expected Revenue After 2 Years
N/A
About Jasper's Catering Franchise
Jasper's Catering Ltd began in 2004 when two business partners - Nathan and Paul - saw a gap in the corporate catering market. They went to work building a brand and business model that thrived on high-quality food and professional delivery. With the demand for Jasper's corporate catering services growing, Nathan and Paul set to work creating training and manuals to help others repeat their success.
Now, Jasper's Catering franchises exist around the UK serving up everything from specialist buffets to individual lunch boxes.
Jasper's Catering's pride and joy is its large range of menu options. Offering more variety than any other caterer in the UK, corporate clients can tuck into freshly cut sandwich triangles, colourful tapas bites, and delectable hot food dishes. Fillings are changed often, keeping menus relevant and exciting. To support local farmers and save resources, food is sourced locally where possible and used platters are collected and recycled.
Just like a secret recipe handed down from generation to generation, Jasper's Catering has perfected its training and service. Each kitchen is designed according to company regulation. Suppliers go through a rigorous process to ensure only the best food makes it onto the platter. And expert caters work hard to deliver fresh, high quality buffets.
How much does a Jasper's Catering franchise cost?
The initial investment for a Jasper's Catering franchise is £91,644 + VAT. This breaks down to £29,997 for the franchise fee and a £62,417 investment in building your production unit (all kitchen equipment).
In addition, it's suggested you have at least £25,000 of capital to work with for everyday running costs like supplies, wages, and fuel.
How much money can I expect to make by running a Jasper's Catering franchise?
Like with most businesses, your earnings will exponentially increase with each year. Existing franchisees provided a conservative four-year model where your personal earnings five times by the fourth year. Starting at a turnover of £158,000 a year and £25,280 earnings, you could grow those numbers to £621,000 turnover and £136,620 earnings after four years in business.
What territories are currently available for a Jasper's Catering franchise?
Jasper's corporate catering franchises operate throughout the UK. You are free to choose any location as long as there is not pre-existing Jasper's in the area. Your chosen territory is mapped out and analysed by the Jasper's support team for viability.
The density of companies, companies with over 20 people, company turnover, and industry types in your area are all considered before your region is finally agreed.
Why should I choose a Jasper's Catering franchise over other food and catering franchise options?
The team behind Jasper's is dedicated to supporting its franchisees. It's their support that makes the difference between a difficult launch and smooth, easily projected growth.
Each 'territory' (an exclusive area with no other trading franchisees) is made up of a minimum of 13,000 potential corporate businesses. As part of this, the Jasper's team sets up meetings and teaches you proven techniques in winning customers. The head office work with you during launch to make certain you are turning over £3,000 per week by the seventh week.
To keep you on track, you have weekly support calls with the head office and monthly one-on-one sales meetings to make sure you are reaching your targets and KPIs.
As long-term support, you'll join meetups with other franchisees six times a year to meet new suppliers and join new training sessions.
What skills or experience do you need to own a Jasper's Catering franchise?
You do not need to be an experienced caterer or have previous food production training. The only personal trait you need going in is 100 per cent commitment to your goals.
The Jasper's system has worked for plenty of franchisors and is updated constantly to provide the best results.
Did you know?
Jasper's Catering Franchise has outlets available across the UK

Request free information in just 60 seconds!
Take the first step in becoming your own boss!
You will receive full production training to teach you the necessary skills in managing and operating your franchise. If you have experience in managing a team, your skillset will help but it's not a requirement. Being driven and passionate about service and high standards will set you up to thrive. Traits such as honesty, a willingness to learn, and strong communication skills will help you in growing quickly. If you are willing to put in the work, you'll get great results.
Can existing catering businesses partner with Jasper's Catering Ltd?
Existing caterers can apply to join the brand by purchasing a Jasper's Catering license. There is a demand for Jasper's products in many UK areas that have no franchise presence. The demand is forwarded to the licensed caterer in the area. There is no change to your existing catering business, just the opportunity to bring in more customers and grow with roughly £250,000 turnover in just two years.
What does Jasper's Catering provide franchisees with to ensure that their launch is a success?
Pre-launch, Jasper's will work with you to help your franchise get up and running. This includes meeting new clients and finding £1,000,000 in potential business for you to target in your first year.
In the first seven weeks, the Jasper's franchise team will help you reach a starting turnover goal of bringing in £3,000 per week.
As part of the franchise fee, your new business will be set up with a full social media profile (managed by Jasper's support staff for the first year), local PPC advertising campaigns, and formulated sales emails sent to targeted businesses.
What training and support do Jasper's Catering franchisees receive?
Jasper's is dedicated to its franchisees and spends an incredible amount of time on support and training. After the official contract has been signed, you will undertake a 12-week training program to equip yourself with the necessary skills to exceed. You'll spend quality time with the support team and undertake training in Jasper's award-winning business management system.
After these 12 weeks, you'll have detailed manuals on sales, operations, production and human resources relating to your business and the training to use them.
Support is ongoing and includes useful updates like new menus, brochures, system development, and marketing supplies.
How can I find out what existing Jasper's Catering franchises are for sale?
On occasion, a franchise will be listed for sale on the Jasper's Catering franchise website. If you don't find a franchise listed in a suitable area, you can still start your own or request to be emailed updates. Bobby George, the recruitment manager, will be happy to talk you through your options. You can contact him by clicking the enquire button found on this page.
How do you apply for a Jasper's Catering franchise?
It all starts with a relaxed conversation. Jasper's is not looking to make a hard sell, but rather find partners who are a good match. You can start the process by contacting the team by clicking the enquiry button on this page.
After an initial chat, you'll meet in person with one of the founders to go over the process and system. If that goes well, you will have the opportunity to chat with some existing franchisees.
Once you've decided to go ahead, a chartered accountant will take you through creating a business plan.
If the franchisors give you the go-ahead, Jasper's will set up meetings at Natwest and Lloyds TSB. Assuming the banks are satisfied with your business plan, you select a funding option, pay the 10 per cent franchise fee deposit, and get started!
To start the application process and learn more, click here to fill in the online form or call directly.

Request Free Information
Send a free enquiry to Jasper's Catering Franchise for further information!
Enquire into this franchise today