The information you submit via our enquiry form is shared only with the franchise business(es) that you have selected.
The franchise business will contact you by means of email and/ or telephone only to the email address and phone number you have provided.
By submitting the enquiry form you are consenting to send your personal information to the selected franchise business.
You also agree to receive further newsletter email marketing from What Franchise.
Close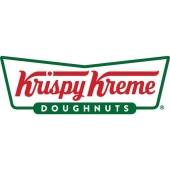 Krispy Kreme
An international fast food retail operation that offers customers a range of doughnuts, which are made fresh daily, plus hot and cold drinks.
Minimum Investment
£1,500,000
Business Type
Food & Beverage
Expected Revenue After 2 Years
N/A
About Krispy Kreme
What is Krispy Kreme and what services does it provide?
Krispy Kreme is an international fast food retail operation that offers customers a range of doughnuts, which are made fresh daily, plus hot and cold drinks. It opened its first UK store in Harrods in 2003. Special occasion and gifting doughnuts are available in London for occasions such as Mother's Day baby showers, birthdays and weddings.
In recent years, the business has set up a delivery service in partnership with Just Eat, Uber Eats and Deliveroo, a click and collect option that is available seven days a week from most of its 120 stores in the UK and Ireland and an online and app-based customer reward scheme called Friends of Krispy Kreme.
As well as its network of UK stores, the company has over 1,000 self serve display units located in retail partner's outlets nationwide.
Vernon Rudolph founded Krispy Kreme in 1937, when he started selling doughnuts to grocery stores in Old Salem, North Carolina using a yeast-raised doughnut recipe he bought from a French chef. It wasn't long before he started to sell his hot glazed doughnuts direct to local customers.
A period of sustained expansion followed and in 2015 the company opened its 10,000th store in Kansas City, USA.
In 2016 Krispy Kreme was acquired by JAB Holding Company, an investment firm that also owns Pret A Manger, Peet's Coffee and Panera Bread, among a number of other brands.
Since 2016, the company has raised over £150,000 for the Teenage Cancer Trust charity, which helps fund much-needed specialist care, while in 2018 and 2019 Krispy Kreme linked up with the BBC's Children in Need initiative and raised £50,000 through the sale of Pudsey-branded doughnuts.
How does the Krispy Kreme franchise model work?
Investors are given a comprehensive package of training and support, which allows them to operate using the Krispy Kreme branding, systems and know how.
The company operates three formats:
• The factory store, which focuses mainly on the manufacture and production of fresh doughnuts.
• The tunnel oven shop, which is a retail unit that is supplied by the factory store and where doughnuts are decorated with icing, etc on site.
• The fresh shop. Similar to the tunnel oven shop, this type of outlet is supplied by both the factory store and tunnel oven shop.
How much does it cost to become a Krispy Kreme franchisee?
Somewhere in the region of £1.5m, which covers all the equipment necessary to run the business, inventory, franchise costs, training and construction costs. The initial franchise fee can cost up to £20,000.
Are there any ongoing charges made by the franchisor?
Yes. Krispy Kreme charges its franchisees a royalty fee of 4.5 per cent of turnover.
Why is Krispy Kreme a good investment?
Like many established international franchises, Krispy Kreme provides franchisees with a recognisable brand name to trade under and a way of operating that has been stress tested by the franchisor in many different markets over a number of years.
It's adapted its business model over time and now offers nationwide delivery and click and collect services to suit changing customer demands when it comes to purchasing fast food, while the Friends of Krispy Kreme online and app based scheme means customers can earn rewards such as free doughnuts, access to exclusive competitions, news and offers, plus birthday treats every year, which in turn encourages repeat purchases.
The offering is niche, giving the franchisee a unique selling proposition, and has been refined over the years to appeal to health conscious customers who are looking for an indulgent sweet treat or gift.
Krispy Kreme has reduced the sugar content in its products by six per cent since 2015 and the company continues to explore ways it can reduce the amount of sugar in its glazes and icings. It has stated that it aims to cut sugar content by 20 per cent by the end of 2020 in line with targets set by Public Health England.
Where in the UK is the Krispy Kreme franchise based?
The company's UK headquarters are in Camberley, Surrey.
What training and support do Krispy Kreme franchisees receive?
A franchisee's initial training can last for up to 16 weeks and covers all aspects of running the franchise, including operations, business strategy, marketing and customer service. In addition, all general managers are required to complete a 12 week training course before they are put in charge of a Krispy Kreme store.
Franchisees are also assisted to find a suitable site for their store and given guidance on store design and fit out.
Ongoing training and support are provided by the franchisor as and when required in order for franchisees to keep up to speed with brand strategy and wider industry developments.
What experience do I need to become a Krispy Kreme franchisee?
Prospective franchisees mush have either restaurant or retail sector experience, be self-motivated, possess good business acumen and be committed to delivering first-class customer service. They must also be able to follow a proven method of doing business.
Are Krispy Kreme's products responsibly sourced?
The company says it is focused on making sure all raw materials and products used in its business are sourced in a sustainable way.
For example, Krispy Kreme's coffee is Rainforest Alliance certified to ensure it meets the highest environmental and social standards, while animal welfare is top of its list when it comes to choosing its supply chain partners. In 2019 the company announced that only free-range eggs would be used in doughnuts sold in the UK and Ireland.
What about the inevitable waste generated by a business such as Krispy Kreme?
Krispy Kreme is trying to reduce this as much as possible. In 2019 it removed 11 tons of plastic from the business, which included 1.6 million plastic straws. Currently, 93 per cent of its nonfood waste is diverted from landfill and 20 per cent is recycled, which the company estimates have cut its CO2 emissions by 21 tons.
How can I get started on setting up my own Krispy Kreme business?
Before investing in a franchise, individuals must conduct their own in-depth research into the business they're interested in.
On top of online research, franchise exhibitions and franchisor discovery days are an effective way to find out more about a franchise opportunity.
Speaking to existing franchisees about their experience of being their own boss is also a good idea. Many franchisors encourage would-be franchisees to do this, but in many cases you will need permission from the franchisor before you do so.
Once this has been done, a recruitment process begins that will involve the disclosure of personal and financial details in order for a franchisor to decide whether the candidate is right for its network. A series of meetings with the franchisor and key members of its head office team will follow in order to gauge whether a sound business relationship can be established and the goals of the prospective franchisee can be achieved by investing in the franchise.
The final stages of the process include the signing of the franchise agreement, the securing of funding if necessary and commencement of initial training.