The information you submit via our enquiry form is shared only with the franchise business(es) that you have selected.
The franchise business will contact you by means of email and/ or telephone only to the email address and phone number you have provided.
By submitting the enquiry form you are consenting to send your personal information to the selected franchise business.
You also agree to receive further newsletter email marketing from What Franchise.
Close
Did you know?
Taka Taka has an expected revenue of From £18-20,000 per week. First year R.O.I 40% after 2 years!

Request free information in just 60 seconds!
Take the first step in becoming your own boss!
Minimum Investment
£70,000
Business Type
Food & Beverage
Funding Support
Third party through banks
Total Investment
£120,000 – £300,000
Franchise Fees
Territory fee £2,500 and outlet fee £15,000
Expected Revenue After 2 Years
From £18-20,000 per week. First year R.O.I 40%
About Taka Taka
Stamatios Miaris (Mike) opened his first Taka Taka in Corfu about 25 years ago. The brand grew well and enjoyed immense success in the food industry, particularly due to the freshness of the product and the authentic flavours of the Greek family kitchen quickly making it the talk of the island.
After a few years, the opportunity arose for Mike to come to the UK and he decided to open the Taka Taka Triangle food restaurant in Queens Row, Bristol. Once again the combination of the freshness of product and the authentic flavours of the Greek family kitchen was a great success. Within the first three years, the Taka Taka Triangle restaurant carved itself a place in local legend, amongst all age groups and demographics – from the youngsters to the office workers. Mike and his teams' unwaning commitment and determination to offer the very best of Greek street food to the people of Bristol continued and Taka Taka has since opened a further four Taka Taka restaurants in Bristol, Bath and Bournemouth.
The strength of the brand has been proven by Taka Taka's commitment to build and open the Bournemouth restaurant in November 2021 in the midst of the pandemic. The restaurant is excelling and growing steadily week on week.
It is Mike's aim to make Taka Taka the name of choice for Greek street food across both, the UK's high streets and eventually worldwide, using the highest quality products and standards of service to deliver the very best Greek street food experience.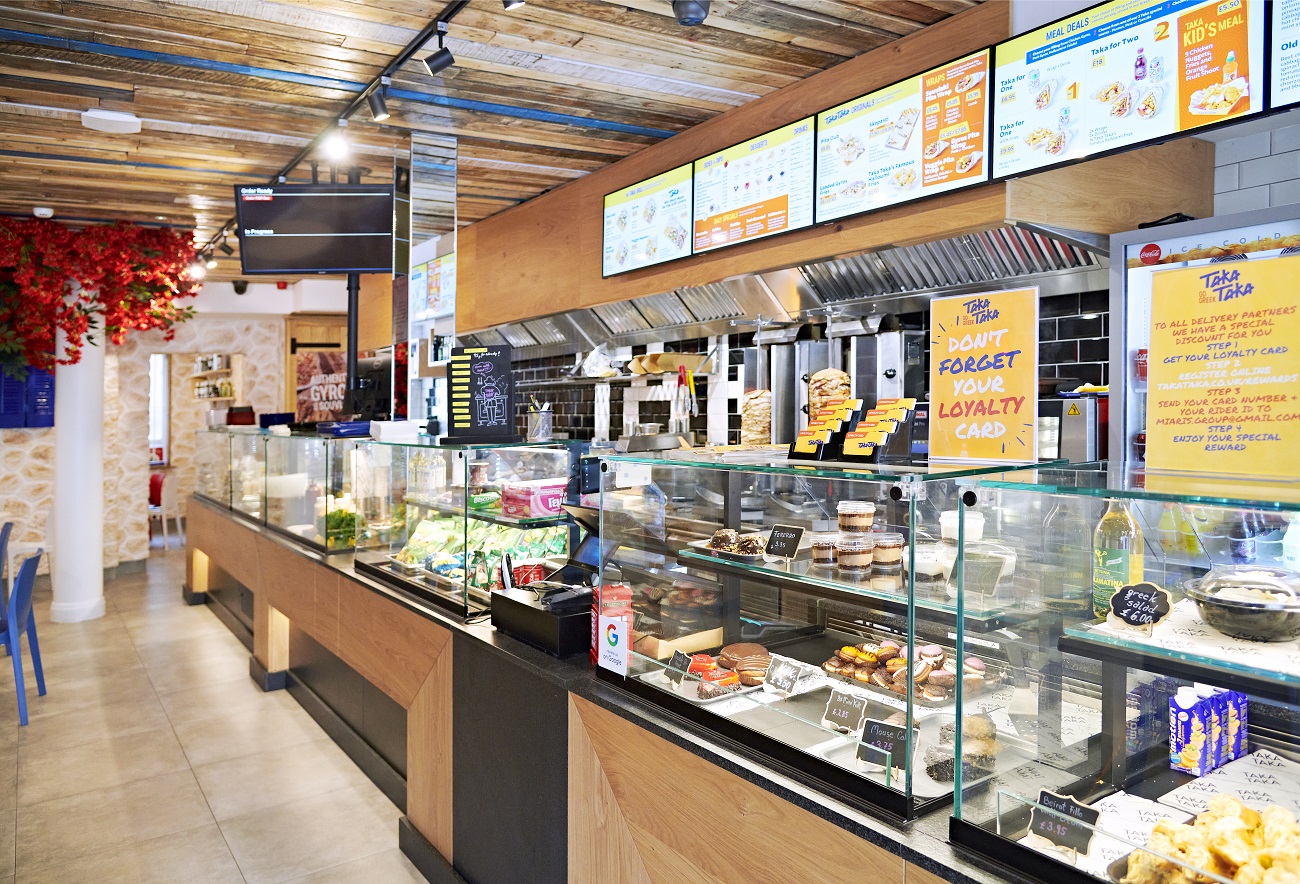 How does the franchise model work?
Taka Taka sees franchising, alongside company-owned outlets. Two more are in build and to be opened in Q4 2022 as a way to offer its standards of excellent food to more people across the country through a very profitable and successful model.
The model is simple, to provide the highest quality of food and drink within the Greek street food marketplace. The food franchise has chosen great suppliers, gives excellent training, tightly controls preparation and concentrates on managing stocks, product holding times and service to ensure that customers receive its food and drink in the freshest possible condition.
It works hard to ensure that the menu offers authentic flavours of the Greek family kitchen so that its delicious food stands out as the most flavoursome of its type in the marketplace. Taka Taka believes that eating out or having a takeaway is so much more than eating. In the true Greek style, it should be an occasion, an experience. That is why Taka Taka always wants to thrill customer base with a better service than they expect. The team are professionals and, whatever the weather, they always treat customers enthusiastically, politely and with genuine interest and a friendly smile.
Taka Taka has not invested large sums on gimmicky designs or finishes, fancy marketing or media. It does the simple things right and offers a Greek ambience with a healthy Mediterranean menu, reminiscent of the Greece we all know from holidays.
Simply, Taka Taka sells excellent quality food and thrills customers with exclusive offers, with the highest quality ingredients, delivered with a smile, so customers can put their trust in knowing they're getting something safe and wholesome.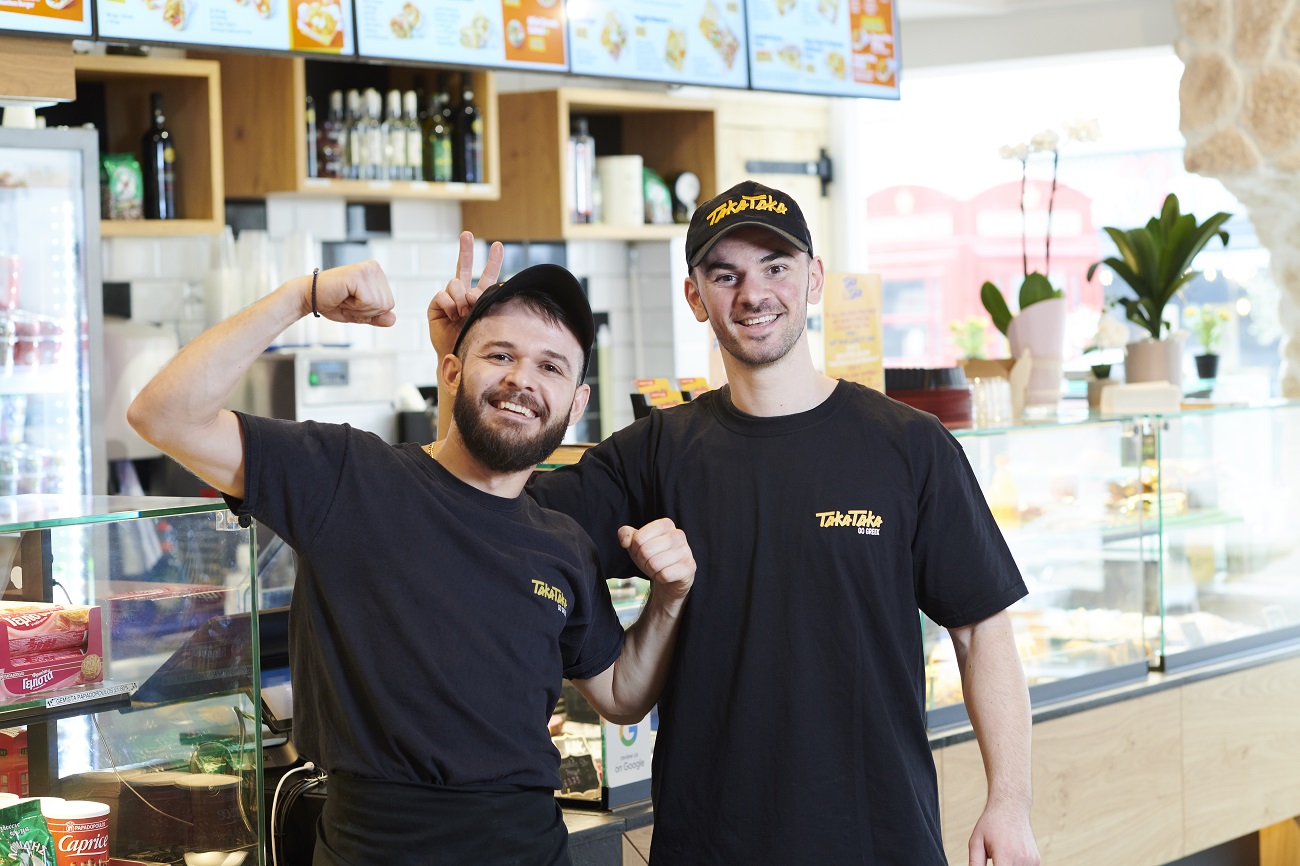 What type of franchisee is Taka Taka looking for?
Franchising is mutually beneficial – Taka Taka shows you how to run a successful and profitable food business and in turn, you help make the business more successful.
Taka Taka wants people who are looking for the challenge of being their own boss with the umbrella security of successful business support. F&B experience is useful but not essential, likewise business experience. What is most important is commitment and drive to succeed together with plenty of energy to work in the outlet. Simply giving your business the attention it deserves.
Taka Taka believes that you must be part of a community and understand it if you are to offer excellent products and customer service. It has thus chosen to expand through franchising so that dynamic professionals like you, who have the passion to uphold its high standards and the local knowledge to drive more business, will better represent the brand across the UK. It is difficult to find and motivate employed managers who are as energetic as self-motivated franchisees running their own businesses.
The Taka Taka franchise is in many ways a partnership where everyone involved wants to maximise the returns on the food business. The way to achieve this is to work together, and the organisation has been designed accordingly.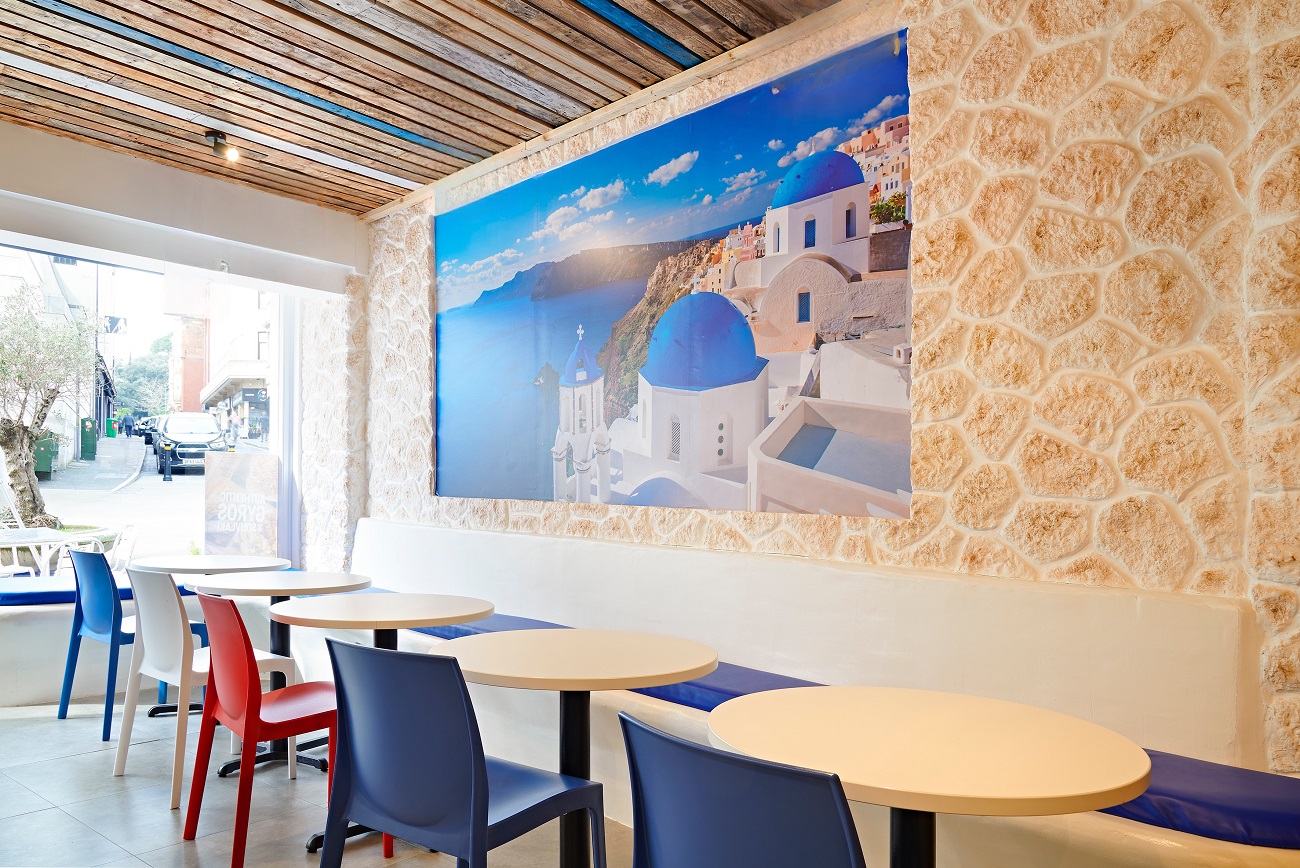 What training and support is provided to franchisees?
Taka Taka has designed an organisational structure to provide franchisees with all the support and backup they need. The team has over 110 years of experience, with specialists in every area relevant to the business, including site selection and purchase, marketing, training, personnel, buying, accounts and design.
The comprehensive training and support from the time you sign the franchise agreement is second to none. The team will guide you and hold your hand every step of the way. From the most up-to-date computer-based training programmes to the one-to-one on-the-job training in an operational kitchen ensures that you gain all the essential knowledge.
Did you know?
Taka Taka has an expected revenue of From £18-20,000 per week. First year R.O.I 40% after 2 years!

Request free information in just 60 seconds!
Take the first step in becoming your own boss!
The very first part of Taka Taka training is to achieve level two in health and safety. Once this formal training is completed, the team moves the training to be comprehensive and Taka Taka specific – brand familiarisation and in simplicity, how to cook, sell and run the outlet.
This initial training will involve both classroom training and on-the-job training, with the depth and complexity of the training being tailored to the specific needs and experience of the trainee.
Just prior to opening, during opening and a number of days after opening, Taka Taka will have a team working in your restaurant to ensure you have a smooth successful launch. Support continues throughout your whole life with Taka Taka, supporting you with operations managers and the head office support department.
Initially, the most important thing is to see, smell, touch and taste both the food and ambience of Taka Taka. The team invites all prospective franchisees to come to one of its restaurants, where they can sense the true magic of the brand, meet the team and see if they like Taka Taka enough to want to join the franchise.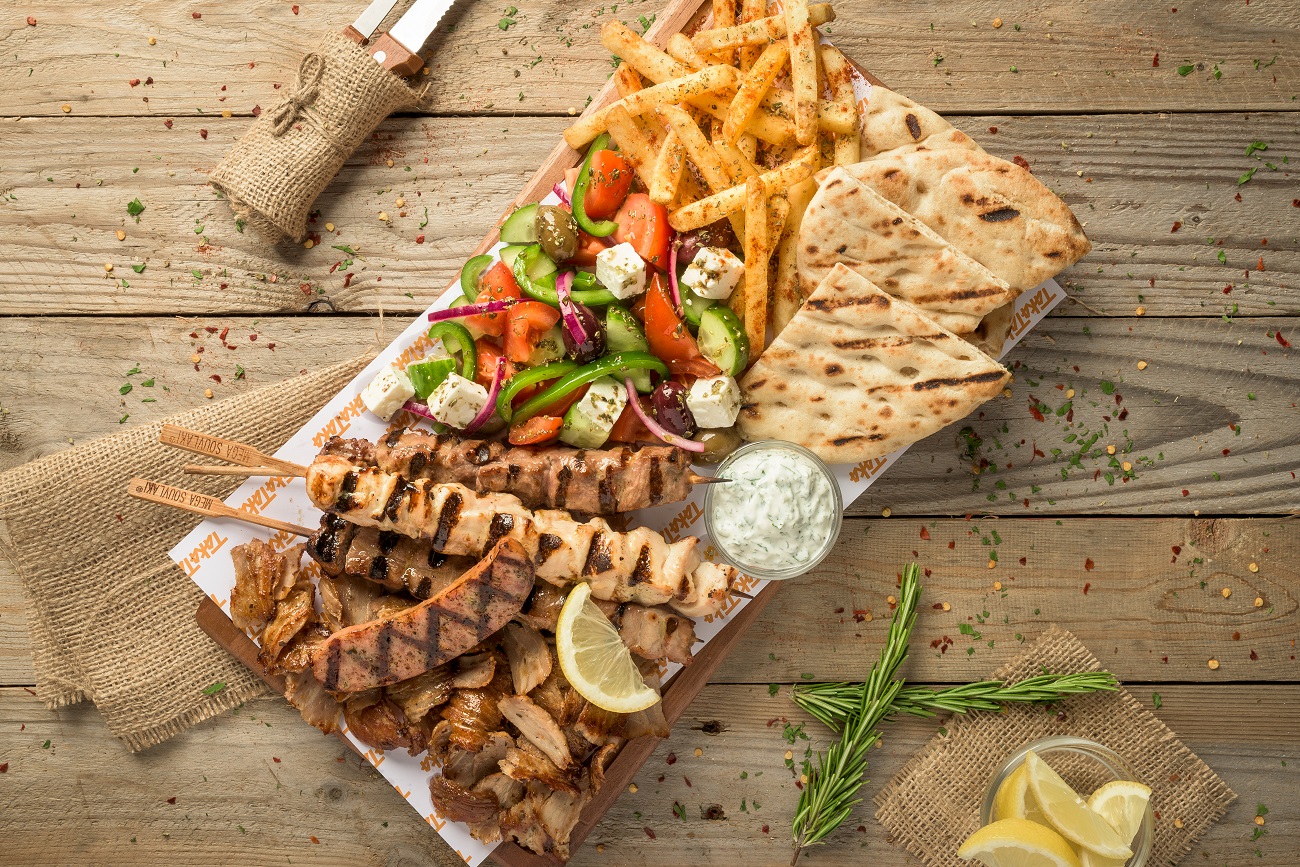 How much does a franchise cost?
Taka Taka has been running food restaurants and takeaways in UK for over 12 years and all are trading profitably. It currently has five food restaurants, takeaways and kiosks trading, with another two being built to open in Q4 2022. Taka Taka has actual return on investment and financial five-year projections for its three models.
The model is based on three different concepts:
• Restaurant
120 to 200 sq m and 10 to 12 tables
• Takeaway
80 to 120 sq m and 2 to 4 tables
• Kiosk
70 to 100 sq m and no tables
There is also an option of dark kitchens to support deliveries within a territory.
The cost of development will vary by the model and condition of the outlet but will cost between £120,000 to £350,000.
When it comes to franchise fees, Taka Taka has an innovative process for selling exclusive territories where the franchisee will buy a territory for £2,500 and this exclusive territory will be big enough to have the potential for two or three outlets. This means that franchisees have an area to market and expand their business without being boxed in but adjoining franchisees are close.
Taka Taka is looking to talk with prospective franchisees from all sectors of the market – major corporates, middle-sized companies and multiple brand franchisees to individual professional entrepreneurs.
What locations or territories is Taka Taka looking to operate in?
Taka Taka is currently based in the west of the UK, however, it wants to expand across the country with its three models. Together with strong ties with all major delivery platforms, the team believes that Taka Taka franchises will be a success in all cities and medium to large towns.
Its territory mapping model has been developed to show the area's potential by analysing the population and demographics. Together with its area analysis, its business partners and your local knowledge give the head office team a fairly good idea of a territory's potential.
What are the franchise terms of agreement and renewal?
Taka Taka is offering a five-year franchise agreement, renewable for a further five years at no extra cost, subject to achieving the necessary criteria for £15,000. The criteria are that any essential renovations, redecorations or equipment upgrades are completed before the second five-year term commences.
The franchise agreement can then be renewed for another five-plus-five years (after the first 10 years) on the terms applicable at the time of signing the new agreement.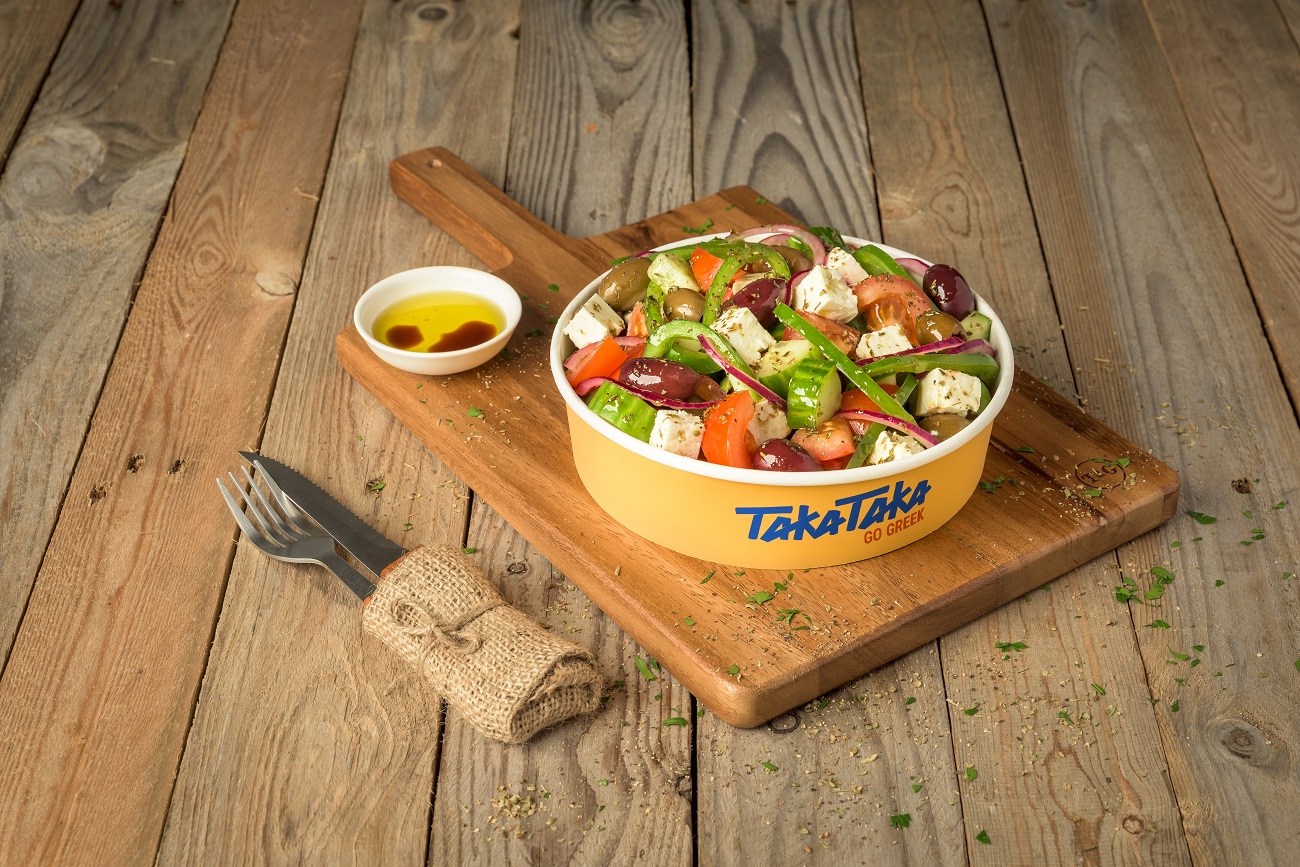 Why is a Taka Taka franchise a good investment?
Taka Taka has been in business for over 25 years and is still profitably making and selling the highest quality healthy Greek and Mediterranean food. Greek street food is currently the second or third most popular street food and is part of an industry worth around £19bn which means its potential is vast.
Taka Taka is not a startup venture, it has served its apprenticeship for over 25 years running its own food restaurants for many years in the UK and before that in Corfu. It has made mistakes and matured, and is now a very profitable food business looking forward to the next step in expansion – franchising.
How in demand is Greek food?
The Greek and Mediterranean menu is one of the healthiest in the world and this blends in well with the growing trend for healthy and vegetarian-based food. This exactly sums up Greek street food and the reason why it is placed second or third in the list of most popular street food. The fast food and takeaway industry is worth around £19bn and there is a trend to move away from red meat which will further drive the consumer demand and enhance Greek street food's popularity.
How do I start setting up my own Taka Taka franchise?
To find out more about this franchise opportunity, or to request further information on franchising with Taka Taka, complete the form below and click on the 'Request Free Information' button now.
Request Free Information
Send a free enquiry to Taka Taka for further information!
Enquire into this franchise today