The information you submit via our enquiry form is shared only with the franchise business(es) that you have selected.
The franchise business will contact you by means of email and/ or telephone only to the email address and phone number you have provided.
By submitting the enquiry form you are consenting to send your personal information to the selected franchise business.
You also agree to receive further newsletter email marketing from What Franchise.
Close
Did you know?
Dream Doors has outlets available across the UK

Request free information in just 60 seconds!
Take the first step in becoming your own boss!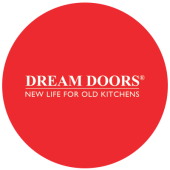 Dream Doors
A fully supported kitchen makeover franchise that works hard to ensure its franchisees succeed
Minimum Investment
£30,000
Business Type
Homecare & Property Maintenance
Expected Revenue After 2 Years
N/A
In Brief
Award-winning franchise model – no carpentry skills required as comprehensive training and support underpin a proven business model. Receive customer leads - national advertising supplements local marketing programmes, with centralised lead generation. Free franchise renewals and reduced management service fees as sales increase. Six-figure income after year three, with £600,000 turnover within your exclusive territory.
About Dream Doors
Dream Doors was founded in 1999 and it has grown rapidly in over the last 20 years. Dream Doors has over 90 franchises in the UK, which offer kitchen makeovers and transformations that are less than half the price of a brand-new kitchen and significantly less hassle and upheaval.
Dream Doors has built a reputation for ethical trading and integrity and has a detailed recruitment process that ensures their franchisees remain true to the brand's ethos.
Why choose a Dream Doors franchise over other home refurbishment business opportunities?
A Dream Doors franchise is a different kind of opportunity. If you are an enthusiastic person, who loves meeting people and helping them achieve their dreams this might be the perfect opportunity for you.
A Dream Doors franchise doesn't involve selling or cold calling, as all of your leads come from a combination of national advertising - which is part of your marketing support -, local advertising that you do to raise awareness in your area and through Dream Doors' stylish and easy to navigate website.
With this franchise, you're a business owner, a salesperson, a marketer, and a business developer. You will be involved in meeting customers, surveying their kitchens and providing ongoing customer care once their kitchen makeover is completed.
As a part of your Dream Doors franchise you will be allocated an exclusive territory in the UK, with all of the leads generated by extensive national advertising and forwarded to you.
As a Dream Doors Franchisee you'll have the benefits of running your own startup business but with the backing and resources of a national brand. As franchises historically have a failure rate of just 2.6 per cent compared to startups at nearly 33 per cent, being part of a national company is a bankable advantage.
Do Dream Doors franchisees need a background or experience in kitchen fitting, carpentry or home maintenance?
With a Dream Doors franchise, you're a business owner and marketer. Having trade skills would offer you no advantage, as all of the kitchen fitting is subcontracted to professional trades-people, leaving you free to do what you do best, run your business.
A background in sales, marketing or having good business experience would be helpful as would drive determination and a determination to succeed. However, with the comprehensive training that comes as part of being a Dream Doors franchisee the core skills are learnt during your induction.
How much does a Dream Doors franchise cost?
The cost of a Dream Doors franchise starts at £35,000 and is renewable every five years. The renewals are free and many franchisees have renewed a number of times, demonstrating the success you can have as a Dream Doors franchisee.
In addition to the £35,000 in liquid funds that you need to cover the cost of the franchise, you will need a further £50,000 to cover the cost of leasing a minimum 1,000-square-foot showroom with storage, as well as outfitting the showroom to display the kitchen doors, accessories to show your potential customers, and working capital.
Dream Doors will help you put together a business plan and all the necessary supporting documentation to facilitate borrowing the £50,000 if you don't have the available capital.
Dream Doors' franchise team currently works with the franchising departments at a number of major high street banks who are adept at finding the best deals.
Once you begin making sales the management service fee is structured in an innovative way that encourages you to generate as much business as possible. The more you earn the
less you pay. Everyone starts the year on 9.2 per cent of sales and as you hit certain thresholds the fee reduces first to 6.2 per cent and finally to 4.2 per cent.
Did you know?
Dream Doors has outlets available across the UK

Request free information in just 60 seconds!
Take the first step in becoming your own boss!
What income or profit can you expect to make by running a Dream Doors franchise?
A Dream Doors franchise can give you a very good income.
Typically in year one, when you are setting your business up and getting the ball rolling Dream Doors estimates that £30,000 income is a realistic forecast.
Going into the second year once you are becoming more established, they expect most franchisees will earn between £50,000 and £60,000.
By the third year, you'll be firmly established and could expect an income of between £80,000 to £90,000. Bear in mind: these estimates are not set in stone and Dream Doors has franchisees who earn in excess of £150,000 per year.
You can of course sell your franchise, either through Dream Doors or on the open market.
One caveat is that the prospective purchaser has to be approved by Dream Doors as a suitable franchisee.
How does the Dream Doors franchise model work?
Dream Doors has been offering franchise opportunities since 2004 and is full member of the British Franchise Association (BFA).
In 2008 Dream Doors won the BFA Brand Builder of the Year award and followed this up with a DTI-backed National Training Award, then in 2009 two Franchise Marketing awards (FMA). Most recently, in 2017, Dream Doors was a double winner at the inaugural Home and Livings Awards.
This extensive array of silverware shows that the company is committed to the success of its franchisees.
A Dream Doors franchise gives you everything you need to succeed. As part of this, you'll get full training in kitchen terminology and products as a part of your award-winning thirteen-week comprehensive training course.
Initially you'll go to Dream Doors' headquarters for 10 days and learn sales and marketing, administration, finances and how to measure a kitchen. Before you start trading there will also be a further week of product training, design and surveying.
Once you open your Dream Doors outlet, a Business Development Manager will accompany you on all of your sales calls until you're comfortable to go to calls on your own.
Dream Doors will also help you to find your premises, as well as assist with design and outfit your showroom. Additionally, you'll get help and support with recruitment and staff training as well as finding local kitchen installers.
Dream Doors wants you to succeed and will support you for the life of your business to ensure that it is a success.
How do you apply for a Dream Doors franchise?
The application is multi-step, starting with an initial discovery meeting where the commitment, work, returns, and investment are all explained.
This is followed by a more detailed meeting where Dream Doors will do a credit check and, after signing an NDA, open its books to you and let you see exactly how everything works.
If at this stage both sides are keen to continue, Dream Doors recommends meeting up to three existing franchisees, unsupervised, so you can ask all the questions you want and get answers from people who are already working in their franchise.
Once all the finance is in place, then all you need to do is sign the franchise agreement and book on to a training course.
If a Dream Doors franchise looks like a good fit and you'd like further information or to start the application process, click the enquiry button on this page.
Request Free Information
Send a free enquiry to Dream Doors for further information!
Enquire into this franchise today