The information you submit via our enquiry form is shared only with the franchise business(es) that you have selected.
The franchise business will contact you by means of email and/ or telephone only to the email address and phone number you have provided.
By submitting the enquiry form you are consenting to send your personal information to the selected franchise business.
You also agree to receive further newsletter email marketing from What Franchise.
Close
Did you know?
Stencil-Tech has an expected revenue of Discussed at information disclosure stage after 2 years!

Request free information in just 60 seconds!
Take the first step in becoming your own boss!

Stencil-Tech
Leader in concrete technology and the decorative concrete industry with 30 years of industry success
Minimum Investment
£19,900
Business Type
Homecare & Property Maintenance
Funding Support
Third party – Shire Franchise Finance
Expected Revenue After 2 Years
Discussed at information disclosure stage
About Stencil-Tech
Stencil-Tech is the leader in concrete technology and the decorative concrete industry. So, you'll be partnering with the best in the business!
Having been in operation for more than 30 years, Stencil-Tech has supplied its products and system to customers in over 50 countries, and there are over 10,000 driveways and 7,500 patios that have been designed and delivered using the Stencil-Tech system. So, you'll become part of an established, recognised industry brand.
Using its products and kit, you too can create beautiful designs on either newly laid or existing concrete or asphalt surfaces. So, you'll help homeowners feel proud of their properties.
Stencil-Tech's products and system give the surface the appearance of tiles, stones, pavers or rustic bricks, so this is a fantastic alternative to traditional block paving which is prone to ongoing issues and upkeep for the owner. So, the end result for the customer not only looks fabulous, but it's hassle-free for them too. Happy customers = happy franchisees.
The main advantages of Stencil-Tech's products over traditional block paving are:
• Fast application
• Dust-free system
• Non-slip finish
• Grouted paving effects
• Custom designs that no other concrete system can offer
• Easily repairable
• Low maintenance
• Overlay and wet-cast systems available when needed
• Cost-effective
• No weeds or sinking.
Stencil-Tech runs a C.I.T.B government recognised training facility from its head office based in Cambridgeshire. So, you know you will be receiving world-class training and ongoing support.
All of its products are C.E.R.A.M accredited and conform to British standards. So, you'll have access to the best products on the market.
Stencil-Tech has high review scores online and excellent testimonials from its customers. So, you'll get instant access to these too, to help you promote yourself to potential customers in your area.
How does the Stencil-Tech franchise model work?
Very simply – you'll be creating fabulous looking driveways and patios for your customers in your exclusive territory. You will be using Stencil-Tech's products, kit (stencils and rubber imprinting mats) and guaranteed system and techniques to wow your local community.
You will have overall responsibility for advertising the business locally (with help and guidance from the head office team), sell to customers (with Stencil-Tech's training and support) and install the driveways and patios (with the help of a team you put in place and Stencil-Tech's training and mentoring).
What does Stencil-Tech look for in its franchise owners?
Awarding franchises is a two-way job interview – you're checking out the franchisor, and the business is checking you out.
Here's what Stencil-Tech is looking for:
• Enjoy working in the open air.
• Be fit and active, and happy working with your hands.
• Love dealing with people, being social and friendly.
• Have a desire to grow a successful profitable business.
• Be interested in marketing, sales and team management.
• Be aware of the importance of financials and have a desire to make a profit.
• Be willing to implement the franchise model.
• Have adequate business funding.
• Be committed to delivering high standards of quality and service.
• Possess good attention to detail.
• Be able to prioritise.
• Have strong organisation and communication skills.
• Be prepared to listen to advice and guidance.
If you feel you fit the bill, fill out the enquiry form on this page and the Stencil-Tech team will be in touch for an initial conversation and to send across some relevant information.
Did you know?
Stencil-Tech has an expected revenue of Discussed at information disclosure stage after 2 years!

Request free information in just 60 seconds!
Take the first step in becoming your own boss!
What training and support does Stencil-Tech provide franchise owners?
Stencil-Tech will train and support you on how to:
• Run the business on a day-to-day basis
• Advertise and market the business
• Understand and explain the services and products
• Talk to potential customers and present yourself
• Measure, calculate and quote for jobs
• Calculate the costs and order the materials for the job
• Sell, upsell and cross-sell using Stencil-Tech's sales materials
• Write up a written contract
• Finance each job
• Install the wet cast system, using the imprints and stencils
• Do spray-on and overlay jobs
• Ensure you're complying with all health and safety requirements
• Guarantee customer satisfaction
• Be a successful franchise owner!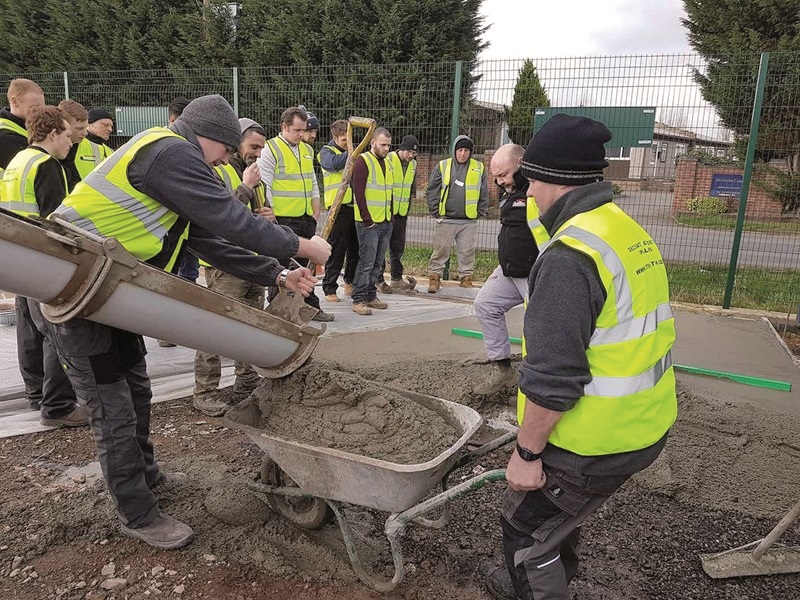 How much does a Stencil-Tech franchise cost?
The management service fee is £750 to £1,250 per month and the national marketing levy is £75 to £125 per month.
The model returns excellent profit margins, so you can be well-rewarded for your hard work in running the business. The Stencil-Tech team is happy to sit down with you to run over all the financial information as part of the process. To find out more, fill in the enquiry form on this page.
What locations or territories is Stencil-Tech looking to operate in?
The franchise opportunity is available across the whole of the United Kingdom. Stencil-Tech has used a franchise territory mapping company to split up the UK into equally fair territories based on the number of houses with three bedrooms or more. A more densely populated territory will cover a smaller area, and the drive time for a franchise owner will be longer in a territory with more countryside. But all franchise partners will get a fair and equal opportunity.
The head office is based in Cambridgeshire and will continue to service areas close to it. But apart from that, the rest of the UK is available.
What are the franchise terms of agreement and renewal?
The Stencil-Tech franchise agreement, drawn up by a recognised BFA accredited franchise lawyer, is for an initial term of five years. Should all conditions be met, and both parties want to continue further, Stencil-Tech will offer another five-year term rolling at no extra cost.
Why is a Stencil-Tech franchise a good investment?
There is currently no other franchise opportunity out there doing what Stencil-Tech does. It is therefore looking for those early adopters to get on board as soon as possible to take advantage of this fantastic product offering.
How in demand is Stencil-Tech's products?
There are an estimated 16.2 million households in Great Britain that have off-street parking, Stencil-Tech wants to sign up franchisees to reach this market.
How do I get started on setting up my own Stencil-Tech franchise?
To find out more or to request further information on franchising with this concrete technology business, complete the form below and click on the 'Request Free Information' button now.
From there it's a really easy process:
Step 1: Send Stencil-Tech your details
Step 2: Stencil-Tech will send you its Franchise Prospectus
Step 3: Have a 15-minute call or Zoom to find out a bit more about each other
Step 4: Fill out an Expression of Interest form
Step 5: Meet with Stencil-Tech to go over the Franchise Information Pack and financial info
Step 6: Come and see the Stencil-Tech team work.

Request Free Information
Send a free enquiry to Stencil-Tech for further information!
Enquire into this franchise today