The information you submit via our enquiry form is shared only with the franchise business(es) that you have selected.
The franchise business will contact you by means of email and/ or telephone only to the email address and phone number you have provided.
By submitting the enquiry form you are consenting to send your personal information to the selected franchise business.
You also agree to receive further newsletter email marketing from What Franchise.
Close
Did you know?
Agency Express has an expected revenue of £40,000 after 2 years!
Request free information in just 60 seconds!
Take the first step in becoming your own boss!
Agency Express
Provides the UK's residential and commercial estate agents with a reliable and cost effective 'For Sale/To Let' board service
Minimum Investment
£24,500
Business Type
Lettings & Property
Expected Revenue After 2 Years
£40,000
In Brief
A low-cost, van-based franchise which is used by over 60 per cent of estate agents - no prior experience required. The award-winning package includes a van deposit, tools, marketing, software and eight-day training course. Receive national bookings within your exclusive, protected territory - boost income and profit by adding additional vehicles. Impressive annual turnover of a single van is £65,000 with achievable targets of over £100,000.
About Agency Express
Former estate agent Stephen Watson set Agency Express up in 1998 to offer a nationwide professional estate agency board service to both corporate and independent estate agencies.
Agency Express is the UK's largest and only nationwide estate agency board company with a network of over 112 franchisee. The company works for over 45 per cent of all estate agency offices in the UK and currently conducts over 100,000 property visits per month. Customer satisfaction currently stands at 98 per cent.
Agency Express can also design and supply customised boards to customers through its partnerships with a number of signage companies around the UK.
As a market leader and winner of the British Franchise Association HSBC Franchisor of the Year award, Agency Express franchisees benefit from the company's nationally recognised brand, established reputation, comprehensive franchise package and proven business formulas.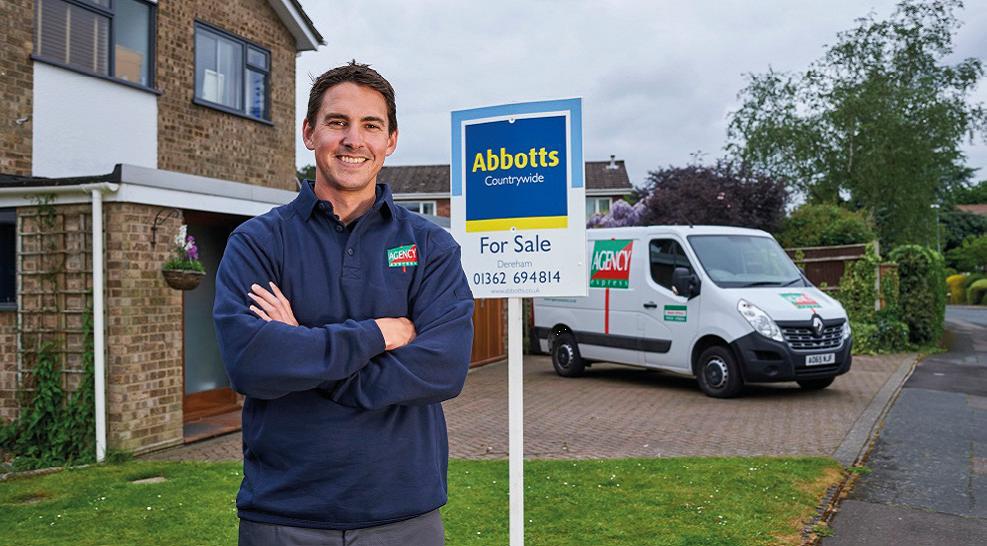 How does the Agency Express franchise model work?
The Agency Express franchise is low cost and van-based.
There are three options for would-be franchisees: a new franchise, a master franchise and a resale franchise.
With a new franchise, franchisees can build their own business with the assistance of Agency Express in a protected territory.
Master franchisees are currently being sought as Agency Express continues to expand into Ireland and Europe.
A master franchisee buys the rights to operate a franchise in a specific country or territory and expands the business by recruiting suitable franchisees into the network in order to meet the demand for the franchise's goods and services.
The master franchisee is responsible for training and supporting the franchisees under its jurisdiction and earns an income through royalty fees charged to them.
Used exclusively by Agency Express franchisees, the company's SignMaster3 online board management system is free of charge to customers.
Designed and built by Agency Express, estate agents using the system can add a new listing, manage erected boards and view their locations, request boards are re-sited as and when required and provide information on board requests and the previous six months' invoices using one app.

What Agency Express franchises are available as a resale option?
A number of resale franchises are available in the UK at any one time.
While the investment level can be higher for an Agency Express franchise resale because the business has already been operating for a period of time, investors benefit from an immediate income and established customer base.
What Agency Express franchises are up for sale?
A select number of greenfield and resale territories are available across the UK.
How much does an Agency Express franchise cost?
The unique Agency Express franchise package requires an investment of £21,500 plus fully claimable VAT and has been carefully designed to get your business up and running straight away.
The company's franchise package includes:
• A territory licence - a 10-year renewable franchise agreement to trade under the fully protected Agency Express identity (European Trademarked) within your own exclusive territory
• The deposit paid on a new Renault Master van supplied complete with Agency Express graphics, removable racking and satellite navigation system
• Specialist tools and equipment
• Corporate clothing
• Stationery and marketing materials
• Public liability insurance - the premium paid on your first 12 months' public liability cover (£5,000,000)
• Launch and on-going support - pre- and post-launch support comprising initial territory research, customer database creation and weekly mailshot campaigns
Where in the UK is the Agency Express franchise based?
The company's headquarters is in Norwich, Norfolk.
Did you know?
Agency Express has an expected revenue of £40,000 after 2 years!
Request free information in just 60 seconds!
Take the first step in becoming your own boss!
What training and support do Agency Express franchisees receive?
All franchisees have to complete an initial training course that lasts for eight days.
Two of these days are spent at Agency Express head office, where all the theory necessary to be a successful franchisee is taught. A further three days is spent in the company-owned Norwich trading territory, where franchisees can work under the supervision of experienced operatives.
The final three days are dedicated to marketing and launching the franchisee's business. A mailshot to local estate agents containing details of the business and the services offered is followed by concentrated promotional support to help franchisees hit the ground running.
When it comes to ongoing support, the Agency Express head office offers a large dedicated support team to provide back up and support to the franchisee network so assistance and advice is only ever a telephone call away.
The company's unique SignMaster3 on-line board ordering system supports franchisees by reducing administration to a minimum, and the centralised accounts department takes care of all invoicing.
Do Agency Express franchisees need industry experience?
No prior experience of the sector is necessary, nor are any type of business qualifications required, as full training plus initial and ongoing support are provided by an experienced franchisor.
However, franchisees must have good people skills, be hands-on, self-motivated and energetic.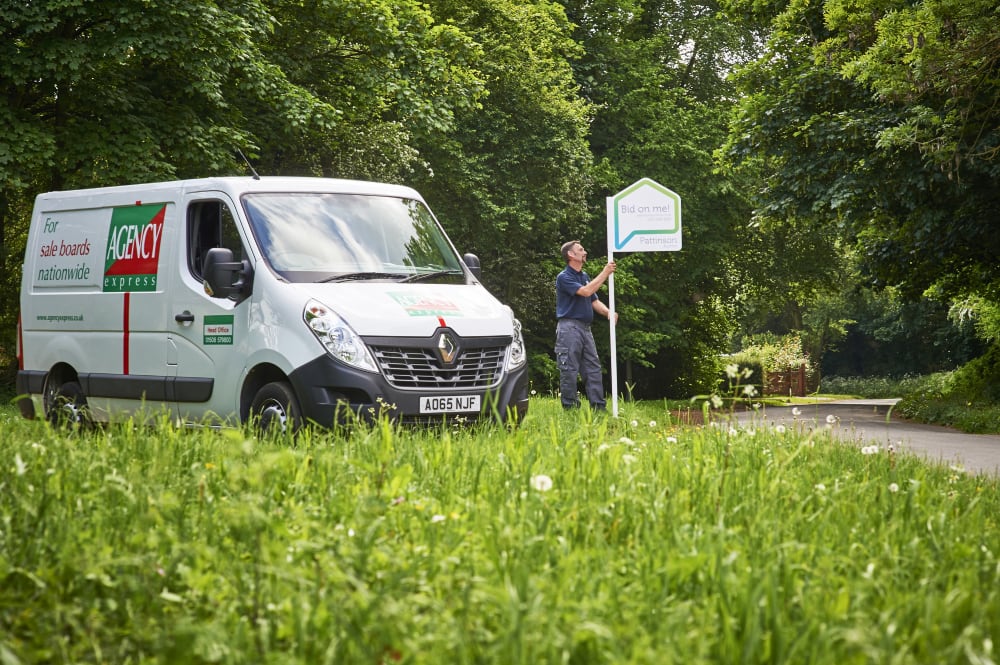 Do Agency Express franchisees need an office and/or storage space?
An Agency Express franchise doesn't require commercial premises. For a single-van franchise, a single garage is sufficient for storage.
How in demand are the services provided by Agency Express?
Franchisees operate in a growing, multi-million-pound service sector where, on average, there are 1.5m estate agency boards on display in the UK and Ireland at any one time.
When you consider that all of these boards need siting, maintaining, retrieving and storing, it will come as no surprise to find out that Agency Express franchisees complete in the region of 5,000 board movements every day.
What's the earnings potential of an Agency Express franchise?
Each franchise territory is carefully designed to give franchisees the maximum reward for their efforts and to enable putting additional vehicles and employees on the road as the business expands. Ultimately, individual earnings are determined by ambition, and there is no upper limit!
Agency Express top franchisees turned over in excess of £160,000, with many others exceeding £100,000. An established single vehicle operation should generate turnover in the region of £65,000 which, after expenditure, should provide a net profit of approximately £45,000.
Why is an Agency Express franchise a good investment?
There are many reasons to choose to become an Agency Express franchisee. The company has low start-up costs, and as it is a van-based business it has low overheads. The company is already well-established, so franchisees get access to existing national accounts, family friendly working hours, minimal paperwork and a centralised invoicing and payments system.
Agency Express franchises are simple to operate and produce 100 per cent daily repeat business. The company has no national competitor and is also accredited by both the British Franchise Association and the Irish Franchise Association.
How can I get started on setting up my own Agency Express business?
After your initial application to the company, you will be invited to a formal meeting at the Agency Express head office in Norwich, where you can meet the team behind the business and ask any questions you may have about the franchise opportunity. With the continued success of Agency Express and its franchisees, there has never been a better time to get on board.

Request Free Information
Send a free enquiry to Agency Express for further information!
Enquire into this franchise today