The information you submit via our enquiry form is shared only with the franchise business(es) that you have selected.
The franchise business will contact you by means of email and/ or telephone only to the email address and phone number you have provided.
By submitting the enquiry form you are consenting to send your personal information to the selected franchise business.
You also agree to receive further newsletter email marketing from What Franchise.
Close
Did you know?
ChipsAway International is eligible for funding support!
Request free information in just 60 seconds!
Take the first step in becoming your own boss!

ChipsAway International
Provides top quality repairs to minor car paintwork damage, quickly, conveniently and competitively
Minimum Investment
£15,000
Business Type
Motoring Services
Total Investment
£29,995 +VAT
Expected Revenue After 2 Years
N/A
In Brief
No experience needed – four-week comprehensive training course leads to IMI technical accreditation, plus unlimited ongoing technical and business support. National advertising done through the head office generates an average of £150,000 worth of repair enquiries per franchisee per year. Fantastic earnings potential from a proven business model with over 25 years in the industry. Expansion opportunities support growth from mobile operators to multi-van operators or fixed-base centres.
About ChipsAway International
ChipsAway was launched in the UK in 1994, and today provides SMART (Small to Medium Area Repair Technology) repair technology to car owners across the country.
With a rapidly expanding network of over 200 franchisees in the UK, it now has the largest network of repair specialists in the UK, who provide high-quality, value-for-money repairs to car paintwork, on a same-day basis.
Specialists work from vehicles fully equipped as mobile workshops or fixed-base units known as Car Care Centres.
How does a ChipsAway franchise work?
Be your own boss and enjoy being part of the ever-expanding automotive industry with a turnkey ChipsAway franchise. Research shows the brand is recognised by 11 times as many customers as its nearest competitor, meaning ChipsAway is always top of the list for the nation's car repairs. So, when you launch a franchise, you'll automatically become one of its hundreds of other successful business owners.
Want to launch your own ChipsAway franchise, but not sure it's right for you? Here's why it is:
- ChipsAway supplies an average of 1,000-plus leads per ChipsAway franchisee each year, meaning it brings the business to you
- Many of its specialists achieve turnovers in excess of £80,000 a year, which equates to earnings of £50,000-plus
- National TV and online advertising campaigns keep the network front of mind for people in your area
- ChipsAway has been established for over 25 years – it is recession-proof with a proven business model and a hugely experienced support team
- Studies show that franchises have a success rate of approximately 90 per cent, compared to only about 15 per cent for businesses that are started from the ground up
- ChipsAway gives you all the support and training you need to launch your successful franchise including technical training, sales and marketing support and business mentoring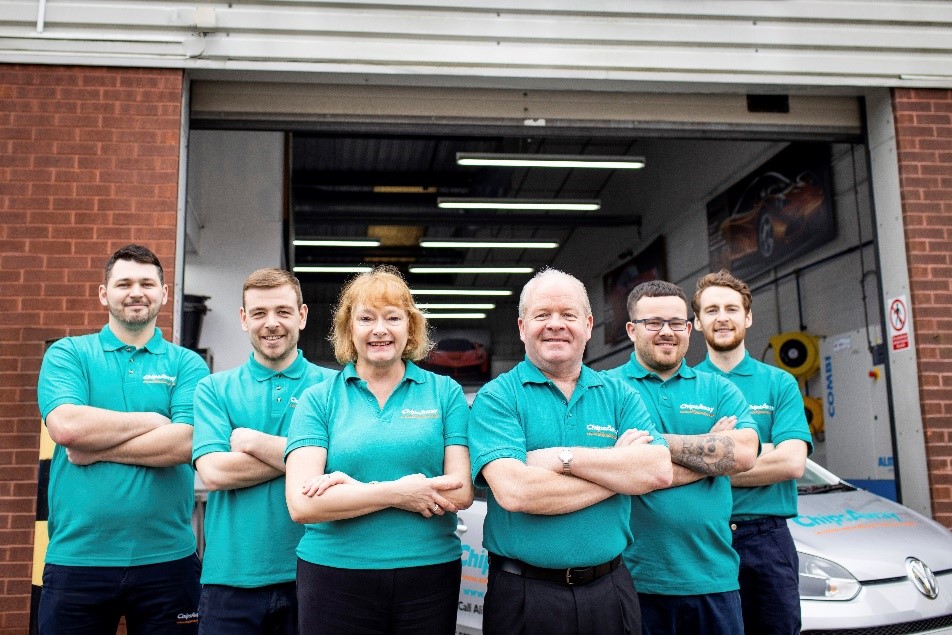 Are you ready for something more?
Whether you want job security, want to fit work around the most important people in your life, want to earn more or just want a more flexible lifestyle, you can have it all with the ChipsAway franchise.
Franchisees share that launching a business with ChipsAway gives them more satisfaction and freedom than any previous job role, providing them with the opportunity to perfectly balance professional and personal commitments. That's because, with ChipsAway, you're free to choose how much work you take on, and when you do that work.
Plus, they get the satisfaction of being out on the road, meeting new people every day to who they're proud to deliver outstanding service. Every day is different, but every day is worthwhile.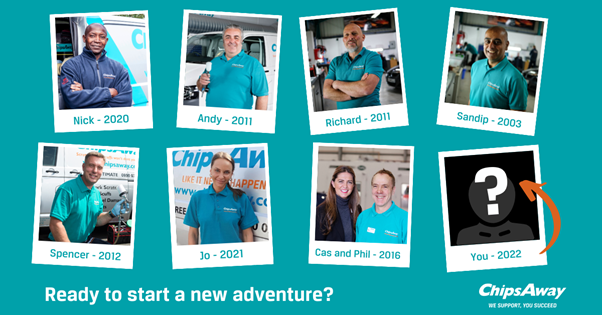 How do you know whether this franchise will work for you?
Everything is set up for you to succeed from the minute you launch your franchise because although you'll be your own boss, you definitely won't be going it alone.
As well as offering practical and technical training in all elements of the service you'll deliver, ChipsAway provides a course in sales and marketing, unlimited support from its head office and supplies you with a business mentor – an experienced franchisee – who you can call whenever you need to.
Did you know?
ChipsAway International is eligible for funding support!
Request free information in just 60 seconds!
Take the first step in becoming your own boss!
The ChipsAway business model can be adapted to suit your aspirations and lifestyle, so the opportunities for you are unlimited. If you're a motivated individual willing to take on an exciting new challenge, you can enjoy all the benefits of being part of a franchise network and have the chance to improve your future.
The ChipsAway franchise package includes all the essential components for business success, including:
- Full sales and marketing support
- IT and accounting systems
- Technical training
- Business mentoring
- Digital marketing and PR support
All of this, as well as the fact its franchisees receive an average of over 1,000 customer leads per year as a result of the national marketing activity done centrally, means you can get up and running quickly and profitably, with the reassurance you'll have a regular flow of eager customers.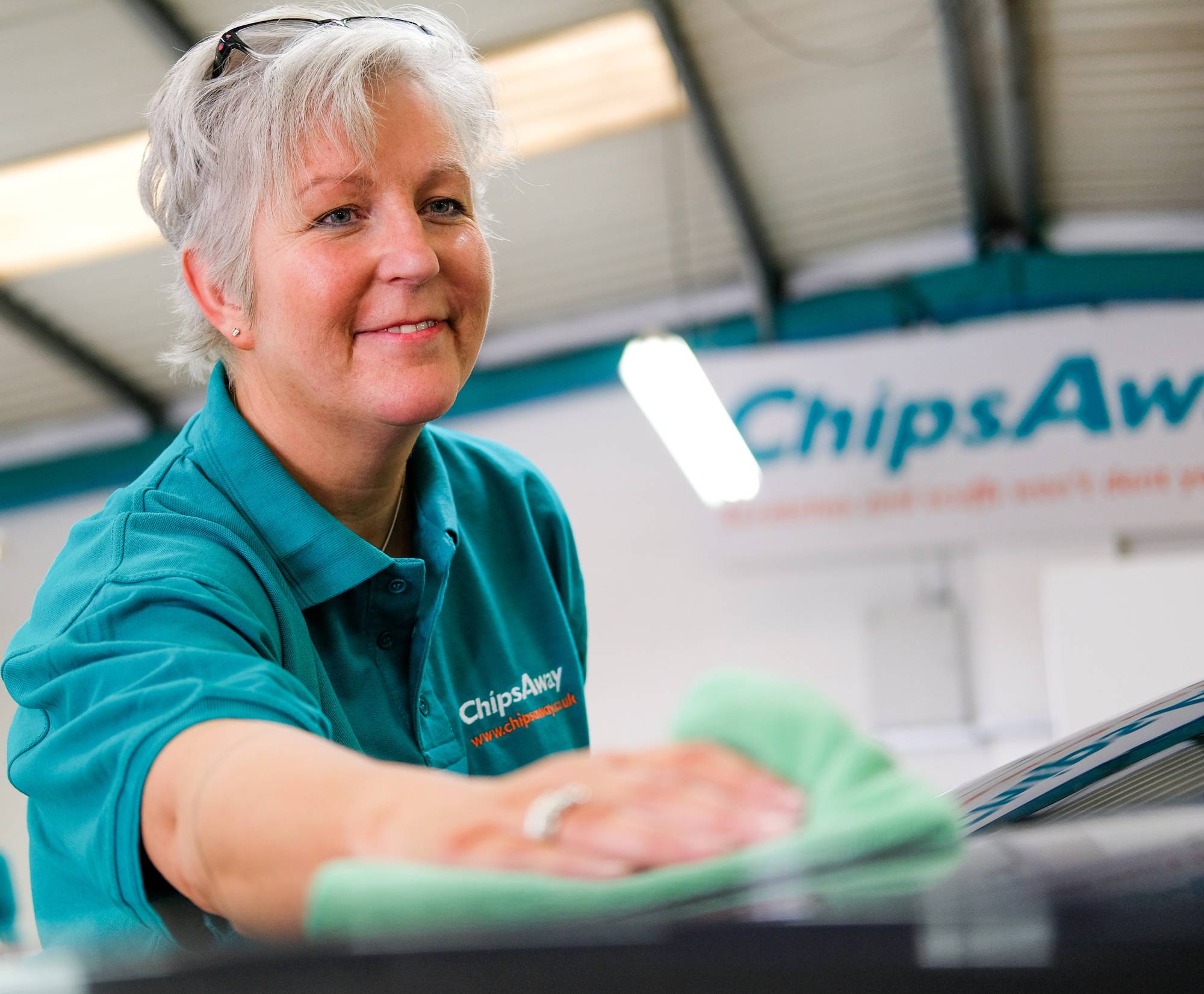 How much will you need to invest to get started?
Your ChipsAway franchise will cost £29,995-plus VAT, but with its various pricing options, you'll only need £15,000-plus VAT to get started.
What does success look like?
The beauty of running your own business with ChipsAway is that you define your own success. Some franchisees work from a single van, happy to go it alone and celebrate their own financial milestones. Others wish to expand their network, opening several franchises and employing multiple members of staff. Meanwhile, some engineers opt to set up a Car Care Centre which acts as an HQ for their empire.
However you choose to work with ChipsAway, the team will help you reach your ambitions.
Is this the best car repair franchise in the UK?
What has been shown by a YouGov survey is that ChipsAway is the most recognised car repair franchise in the UK. In addition, with over 200 franchisees it is the largest network of SMART vehicle repairers in the country.
Do I need car repair experience to start a ChipsAway franchise?
Established for over 25 years, this market-leading car repair franchise makes it simple and straightforward for you to start your own business.
You don't need any car body repair experience because you'll receive four weeks of expert, hands-on car repair training at its bespoke facility – accredited by the Institute of the Motor Industry (IMI) – before you start work.
How can I apply for a ChipsAway franchise?
Want more information about this car repair franchise? The first step towards starting your own ChipsAway business and joining this successful network is to complete the enquiry form on this page.
While the success rate of franchise businesses is high, it's important you conduct independent, in-depth research into any franchise opportunity before making an investment.
Request Free Information
Send a free enquiry to ChipsAway International for further information!
Enquire into this franchise today