The information you submit via our enquiry form is shared only with the franchise business(es) that you have selected.
The franchise business will contact you by means of email and/ or telephone only to the email address and phone number you have provided.
By submitting the enquiry form you are consenting to send your personal information to the selected franchise business.
You also agree to receive further newsletter email marketing from What Franchise.
Close
Did you know?
ChipsAway International Ltd is eligible for funding support!
Request free information in just 60 seconds!
Take the first step in becoming your own boss!

ChipsAway International Ltd
ChipsAway specialists provide top quality repairs to minor car paintwork damage, quickly, conveniently and competitively
Minimum Investment
£15,000
Business Type
Motoring Services
Total Investment
£29,995 +VAT
Expected Revenue After 2 Years
N/A
In Brief
No experience needed – four-week comprehensive training course leads to IMI technical accreditation, plus unlimited ongoing technical and business support. £80,000 of guaranteed enquiries generated in year one within your exclusive territory through national advertising.Unlimited earning potential
- proven business model delivers in excess of £75,000 per annum. Expansion opportunities support growth from mobile operator to multi-van operator or fixed-base centre.
About ChipsAway International Ltd
The ChipsAway brand was established in the US where the pioneering Small to Medium Area Repair Technology (SMART) to carry out car body repairs was developed. SMART car bodywork repair allows for quality repairs to minor paintwork scratches, minor dent damage, bumper scuffs, and alloy wheel repairs. The aim of a ChipsAway automotive paintwork repair franchise is to provide an alternative to a body shop that offers customers convenience, quality, and affordability.
In 1994 the body repair specialist arrived in the UK. Since then, the market-leading franchise business has gone from strength to strength, growing a substantial network of repair specialists and developing into a successful franchise by offering an outstanding service. The franchise business is now a full bfa member with in excess of 200 franchisees in its UK-wide network. In 2008 the company was acquired by the multi-brand franchisor Franchise Brands. This provides a ChipsAway franchisee with access to a range of services and features such as accredited training, a customer base, national advertising and marketing, and ongoing support.
Franchisees begin as mobile operators. However, this can change. While the majority remain as mobile workshops that go to the client, others opt to open fixed-based centres and cater to customers requiring more substantial vehicle repairs. A further option is to acquire several mobile units.
The services, network, support structure, flexibility, and nature of the ChipsAway franchise opportunity have all contributed to it becoming one of the fastest-growing and most popular car body repair franchise operations in its category. These factors are discussed in more detail later.
How does a ChipsAway franchise work?
How to join
Established for 25 years, ChipsAway's market-leading automotive repair franchise makes it simple and straightforward for you to start your own business, as it provides all the essential components required to become your own boss in the ever expanding automotive industry.
A benefit of franchising is that you don't need any car scratch repair franchise experience because you'll receive four weeks of expert, hands-on car repair training from ChipsAway specialists at the company's bespoke accredited facility – accredited by the Institute of the Motor Industry (IMI) – before you start work.
The potential franchise business owner can obtain a great deal of information before a commitment is made or any money changes hands. The first step is to register your interest on the ChipsAway business website and to request the free information pack. The company also holds regular open days which are advertised on their website. These allow interested parties to ask questions, meet staff, and watch SMART demonstrations.
There is also the option of meeting with existing franchisees and perhaps going with them on a call-out to a customer. The aim is to give you a strong sense of the business and work before you commit to anything.
Once you are happy, the initial investment must be made before the next stage can commence.
On average, each franchisee received over £150,000 worth of customer inquiries from Head office in 2020* and are given all the support and training needed to start a successful paint and bodywork repair business.
There's no better time to become your own boss. With market leader ChipsAway, you can wave goodbye to working hard for someone else's gain, control your own diary and reap your own rewards.
By choosing this highly regarded body repair specialist you will benefit from:
• A tried and tested business model with a fantastic reputation.
• Over £150,000 worth of customer inquiries* generated per franchisee per year.
• • National advertising, including high-profile TV advertising campaign activity, social media and digital campaigns.
• All the support and training you need to launch your successful business and deliver outstanding repairs.
• An established brand - recognised by 11 times as many customers as the nearest car repair competitor, according to a recent YouGov survey.
The ChipsAway franchise is all of the above and more.
Keep reading to understand how you can create a better lifestyle for you and your family without the uncertainty that often comes with starting a business.
*The average franchisee received over 1,000 enquiries via head office in 2020, which at ChipsAway's average repair value equates to over £150,000.
Investing in a franchise
A ChipsAway franchise costs £29,995 + VAT. However, the minimum investment is £15,000 + VAT as the company offers a few pricing options. These are available from the company directly. Further good news is that, because this is a recognised brand and a proven business model, banks are more open to granting loans or financing, subject to status and the provision of a business plan.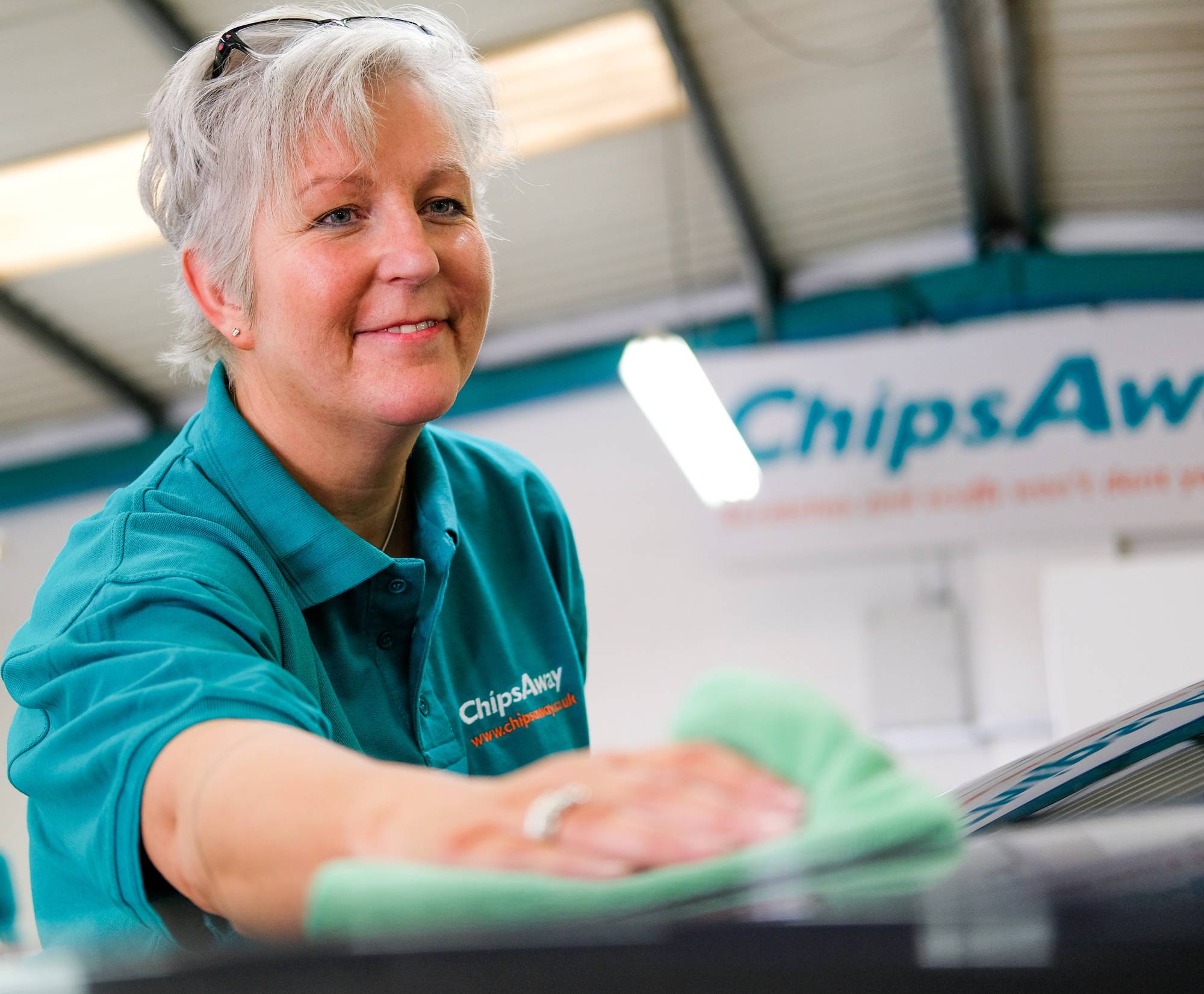 Are you ready for something more?
Imagine if you could leave the frustrations of your current job or business behind and, in a very short space of time, be totally in control of your own life.
You're not stuck behind a desk - you're out on the road, meeting people and providing a great service for them.
You're free to choose how much work you take on and when you do that work.
And it's easier for you to make time for the most important people in your life.
Whether you need to fit work around your children or other family members or you just want a more flexible lifestyle, you can have it all with the ChipsAway franchise.
How do you know whether this franchise will work for you?
Everything is set up for the new franchisee to succeed. Although you'll be your own boss, you definitely won't be going it alone.
As well as the practical training and a course in sales and marketing, you will benefit from national marketing campaigns such as TV, which last year alone generated over £57 million worth of customer enquiries to the ChipsAway network.
And you get unlimited support from ChipsAway head office, plus your own mentor - an experienced franchisee - who you can call whenever you need to.
What does success look like?
You choose how far you want to take your business.
Some franchisees are happy to stick to one van and work alone in their mobile business. Others have several vans or have set up a car care centre and taken on staff.
Keith McGowan has been a franchisee since 2001 and has the biggest ChipsAway car care centre in the UK. Turning over more than £1 million, he demonstrates what's possible if you're prepared to put in the work.
Did you know?
ChipsAway International Ltd is eligible for funding support!
Request free information in just 60 seconds!
Take the first step in becoming your own boss!
What do you get for your investment in a turn-key ChipsAway franchise?
A comprehensive franchise business package that comprises all the components for business success, including:
• Initial training: The first phase involves accredited specialist training offered at an Institute of the Motor Industry (IMI) training centre. This programme consists of a four-week beginners training course and a two-day sales and marketing module. There is further technical advice and training provided during the first six months of a franchise.
• Launch assistance and pack: All franchisees are assisted with putting together a bespoke launch and marketing plan for their business and area. The company also provides leaflets, stationary, a uniform, local advertising, and a personal email address and website.
• Proven earnings potential: Based on the average repair cost and the number of enquiry calls head office receives, a new ChipsAway franchise is guaranteed a minimum of £80,000 worth of enquiries in the first year of operation (based on 2017 figures). Earnings are dependent on the amount of work the franchisee accepts and carries out. However, enquiry and current franchisee income statistics indicates the potential to earn in excess of £75,000 per annum.
• National integrated marketing strategy: ChipsAway is a nationally recognised brand that has been built over 20 years and is maintained through a multi-pronged sales and marketing strategy. The tools that are utilised include TV advertisements, SEO and digital marketing, online advertising campaigns and offline campaigns such as print promotions. This national marketing activity builds and maintains the brand and generates customer leads and business for members of the ChipsAway franchise network. In addition, the company has partnerships with motoring companies and accounts with others.
• Ongoing support: After the initial launch, franchisees continue to receive support from various sources. Firstly, new network members are provided with business mentoring, which is delivered by an experienced franchisee. Secondly, there is unlimited technical support and business advice available. Franchisees also have access to the lead management CRM System that aids in business admin. Finally, there is an annual conference and regular ChipsAway franchise forum events one can attend.
• Access to exclusive territory: Despite the size of the existing network, there are still territories available. However, it's necessary to find out from ChipsAway if the specific or local area you are interested in is available. Each franchisee is given an exclusive or dedicated territory and every effort is made to profile customers to match each franchise owner.
• Expansion opportunities: All franchisees begin with a single mobile unit. Thereafter the business model allows for as much – or as little –expansion as the individual wants. It is possible to move from one van to multi-van, from a single territory to several, to establish a workshop or Car care Centre, to remain a one-person operation or to take on staff.
Is this the best car repair franchise in the UK?
What has been shown by a YouGov survey is that ChipsAway is the most recognised car repair franchise in the UK. In addition, with 200 franchisees (and rising) it is the largest network of SMART vehicle repairers in the country.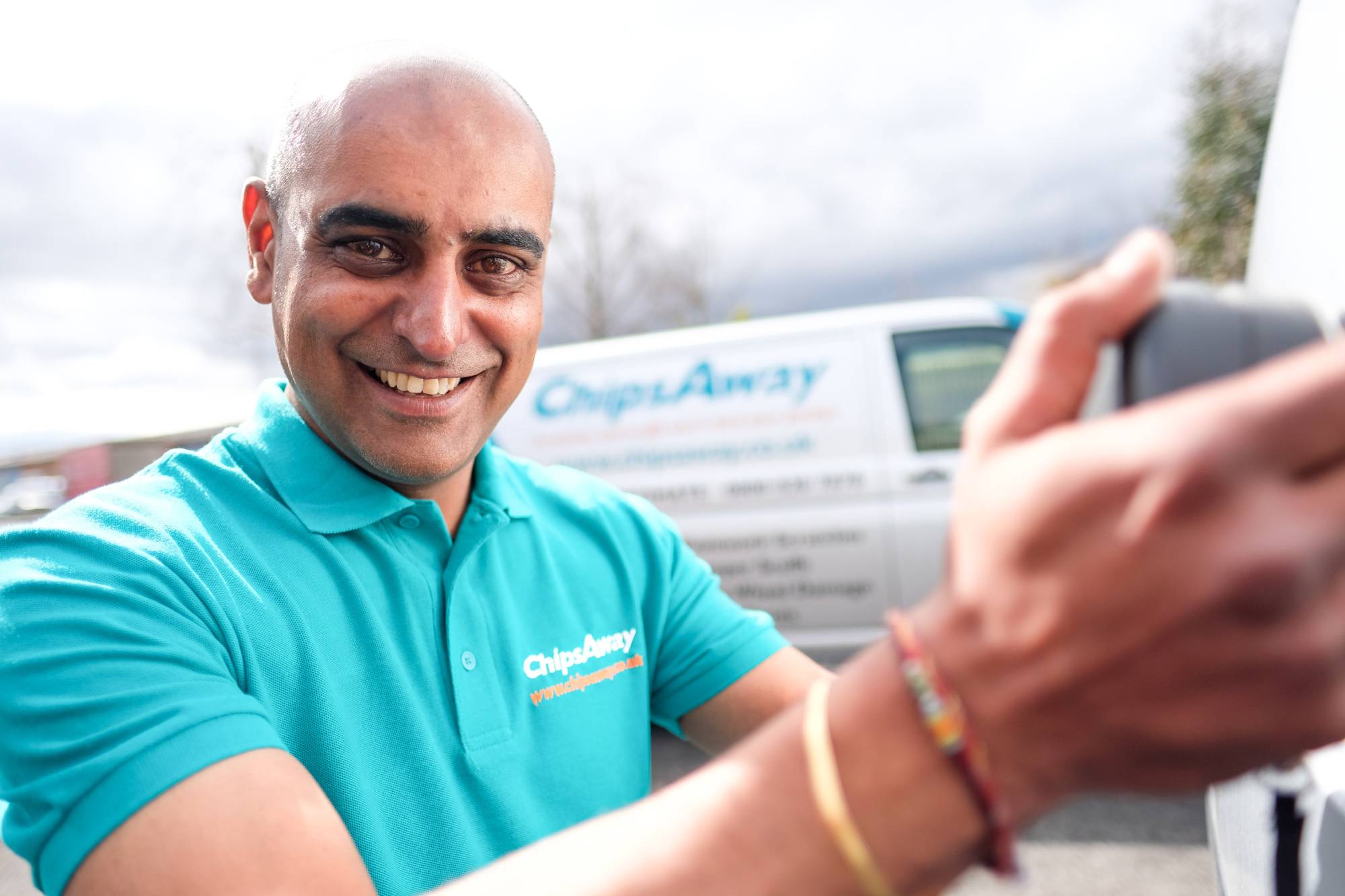 Common questions about a ChipsAway franchise
Do I need previous experience?
No body repair experience is necessary as ChipsAway provides full training at its bespoke IMI accredited facilities. Most of its franchisees have no prior experience of self-employment let alone experience in this sector, so ChipsAway understands the importance of providing the highest quality of teaching and support throughout, including access to a business mentor.
What are the business costs of a ChipsAway franchise?
A ChipsAway franchise is £29,995+VAT, although you only need £15,000+VAT personal funds to get started.
Is my preferred territory available?
Despite being the largest SMART repair network in the UK, ChipsAway still has many franchise territories available nationwide. To find out if your specific area is available, get in touch by filling out an enquiry form on this page.
What is included in a ChipsAway franchise package?
Before you invest in a franchise it's important to know what you will be getting for your money. Get in touch by filling out an enquiry form on this page.
How much money can I make from a ChipsAway franchise?
The beauty of a ChipsAway franchise is that the business model provided is tried and tested, and has been refined over the 20-plus years of being in franchising, lead by international franchisor Franchise Brands plc. Depending on your ambitions, rewards for hard-working franchisees are unlimited. ChipsAway's proven business model offers the opportunity for successful business owners to turnover in excess of £75,000 per annum (based on existing franchisees).
What training is included?
ChipsAway's IMI-accredited technical training programme is designed for complete beginners to the automotive sector. As well as this, the franchise provides you with expert business, sales and marketing training to help you be your own boss as head of your own mobile business.
Does ChipsAway provide the customers?
ChipsAway runs extremely successful national advertising campaigns which last year generated over £57,000,000 worth of customer enquiries for its network. However, franchise partners are also given marketing training and support to enable them to build their own local customer base.
Can I speak with existing members of ChipsAway's network of franchisees before making a decision?
Speaking to franchisees is an integral part of the decision making process. If you attend an open day you will meet both new and established franchisees. The brand can then arrange for you to speak to anyone from the network, and go out with them to enable you to make a well-informed decision.
How can I apply for a ChipsAway franchise?
Want more information about this car repair franchise? Are you a motivated individual? The first step towards starting your own ChipsAway business and joining this successful network is to complete the enquiry form on this page.
While the success rate of franchise businesses is high, it's important you conduct independent, in-depth research into any franchise opportunity before making an investment.
Request Free Information
Send a free enquiry to ChipsAway International Ltd for further information!
Enquire into this franchise today