The information you submit via our enquiry form is shared only with the franchise business(es) that you have selected.
The franchise business will contact you by means of email and/ or telephone only to the email address and phone number you have provided.
By submitting the enquiry form you are consenting to send your personal information to the selected franchise business.
You also agree to receive further newsletter email marketing from What Franchise.
Close
Drain Doctor
The UK's largest full service combined emergency commercial and domestic plumbing and drainage maintenance company
Minimum Investment
£35,000
Total Investment
£70,000 +VAT
Franchise Fees
£35,000 +VAT
Expected Revenue After 2 Years
N/A
In Brief
Excellent reputation – trusted, nationally recognised brand offers unlimited opportunities – take on multiple territories to grow and expand your business. Reduce start-up costs with vehicle and equipment leasing and up to 70% bank funding. High-profit potential – target turnover of £1 million, which can easily reach £2 million. Generate work from day one – centralised lead generation and commercial accounts in your exclusive territory deliver immediate revenue.
About Drain Doctor
Established in 1994 and now operating over 50 franchised units across the UK, Drain Doctor offers a full domestic and commercial emergency plumbing and drainage maintenance service, available 24/7, 365 days a year. Working from a national price list to national standard levels in each local area, Drain Doctor Plumbing and Drainage has a reputation for transparency, reliability and customer service.
Responding quickly to every emergency or maintenance call, each Drain Doctor van is equipped to deal with any plumbing emergency from broken taps to non-flushing toilets, along with drainage services including clearance, jetting and patching, with technicians able to carry out drain surveys using bespoke CCTV equipment. Other services offered by each Drain Doctor franchise include gutter cleaning, fitting water filter taps, rainwater harvesting, cesspit and septic tank installation and maintenance and a number of preventative plans for commercial customers.
With no call-out fees, overtime or weekend charges, Drain Doctor's fully uniformed technicians instead diagnose the plumbing problem and quote an exact pre-fixed price before starting the job. Any work completed is then guaranteed, and they will even carry out a plumbing inspection.
Drain Doctor is proud of its reputation for reliable, trustworthy technicians, delivering high-quality plumbing solutions at fair prices around the clock, all year round.
How does a Drain Doctor franchise work?
Drain Doctor is part of the multi-million pound Dwyer UK franchising group which covers 3000 franchises from 20 consumer brands in 11 countries, making it a member of an exceptionally successful and profitable franchising business model.

All Drain Doctor franchisees receive the backing of the national office from the very beginning, with support during the creation of a business plan and the set-up of the franchise. This is followed by an initial two-week training programme at the UK head office covering the business model in comprehensive detail. Further technical, marketing and business training, support and assistance is available on an ongoing basis along with confidential operations, marketing, and technical manuals. Franchisees also have the right to use the Drain Doctor brand, logos, bespoke technology, systems and software, along with marketing materials.
A Drain Doctor franchise is granted for an initial 10-year period but can be renewed after that for another 10 years with no additional fee.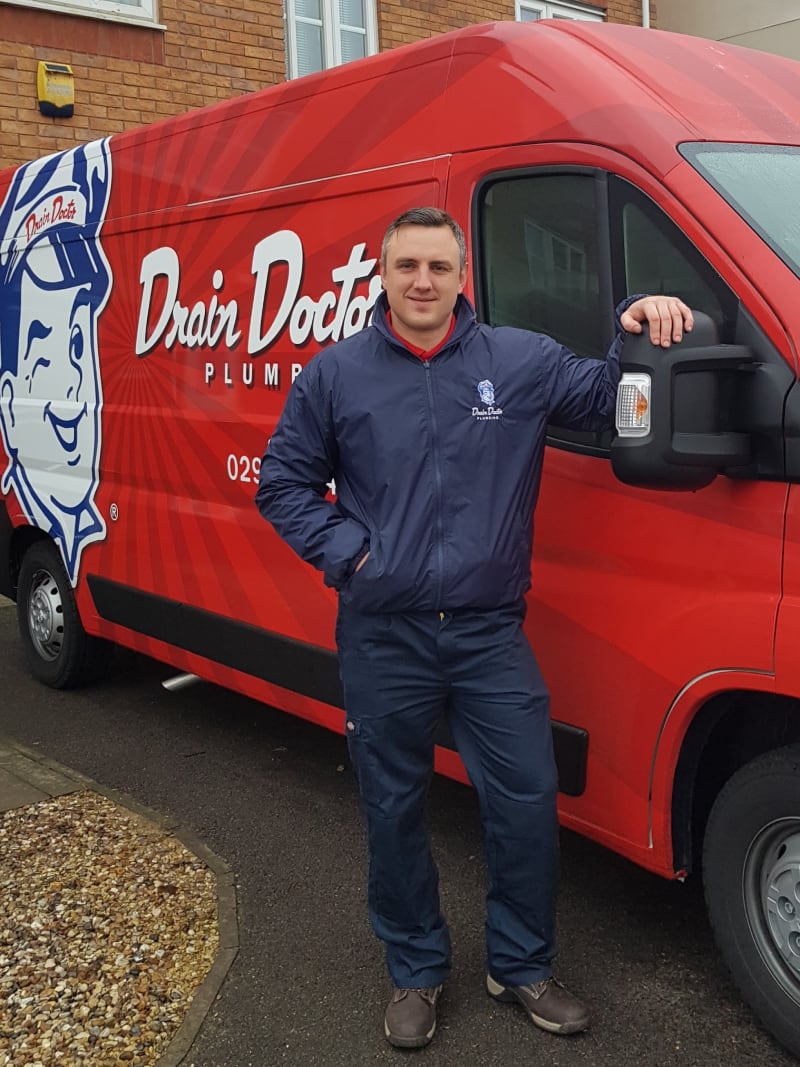 How much does a Drain Doctor franchise cost?
A Drain Doctor UK franchise requires an average total investment level of £70,000 + VAT. That investment is made up of an initial franchise fee of £35,000, and the required working capital to get the franchise off the ground. Drain Doctor has strong working relationships with a variety of big-name high street banks, and have a history of successful franchisee finance applications of up to 70 per cent, bringing the liquid capital required down to £33,000 + VAT. Some financial assistance is available to applicants along with vehicle and equipment leasing.
Drain Doctor franchise resale opportunities are also available – prices of established franchises vary depending on size and previous performance.
How much could I earn from a Drain Doctor franchise?
A Drain Doctor franchise has a high profit and growth potential, with a target turnover of £1m, though some franchisees are achieving turnovers of up to £2m.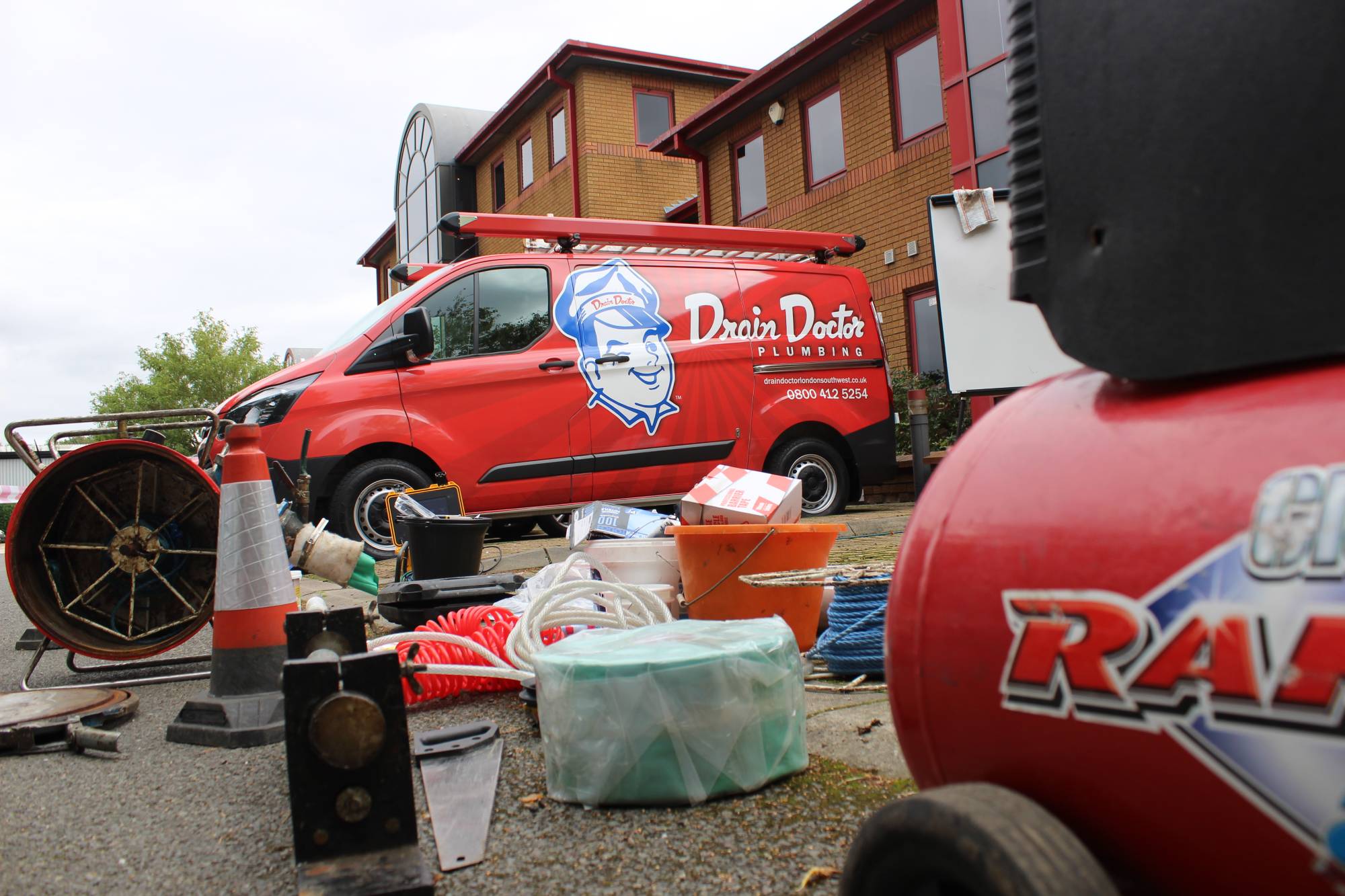 Does a Drain Doctor franchise cover an exclusive territory?
Yes, a Drain Doctor franchise is divided up into territories based on a population of approximately 400,000 people rather than geographical size. Franchisees receive the exclusive rights to operate and advertise within that territory, and will also receive any centrally received enquiries from customers based in that area. More than one territory can be purchased by a single franchisee.
The territory system is an important part of the Drain Doctor franchise setup, because it ensures that there is no competition or conflict of interest between franchisees.
Instead, franchise partners are encouraged to share successful ideas, best practice and strategies to improve and develop the operation of the franchise as a whole, meaning the business model is constantly evolving.
Do I need plumbing experience to become a Drain Doctor franchisee?
Not necessarily. Drain Doctor franchise owners come from a wide range of backgrounds, with many experienced in associated trades. Drain Doctor welcomes plumbers who are looking to transform their standalone businesses into part of a larger, national business to achieve greater growth, but training will be given to all suitable applicants.
What is essential to become a Drain Doctor franchise owner is drive, hard work, enthusiasm, and a commitment to customer service excellence.
Do I have to use Drain Doctor products?
No. Drain Doctor has certain standards of equipment that must be used, and rules about where and how the company logo is carried, but equipment and supplies can be purchased from the franchisee's choice of supplier.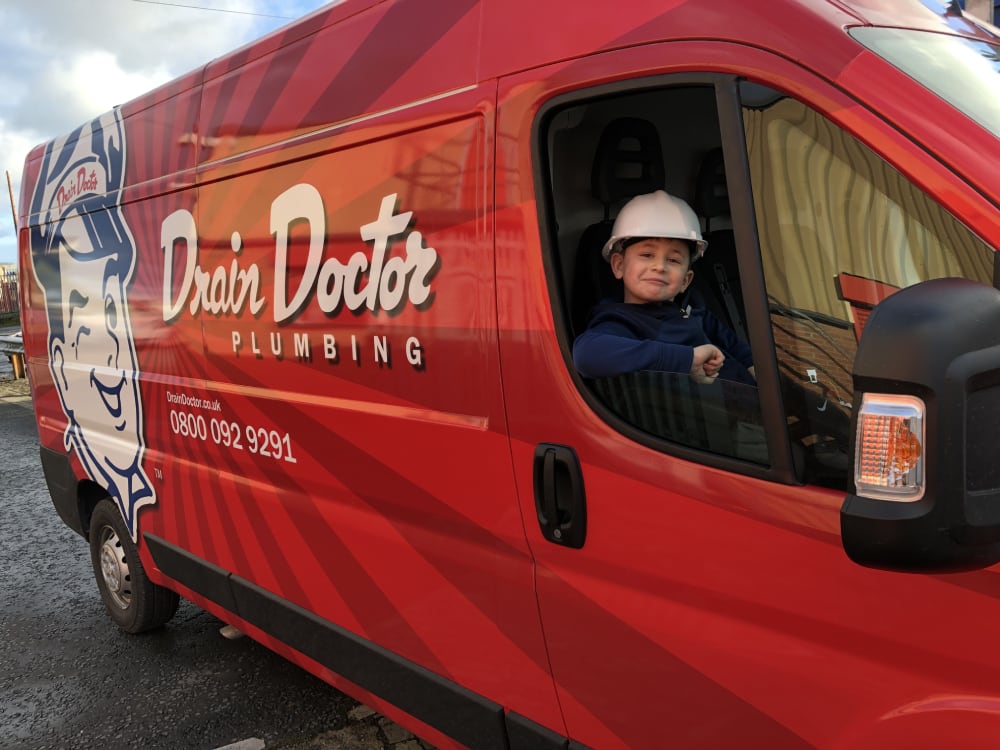 Can I list my Drain Doctor franchise for sale?
Yes, and Drain Doctor may even be able to help you to find a buyer. Franchises that are part of a large national chain are often more highly-valued assets than individual companies, as purchasers are buying a known enterprise.
Drain Doctor has an interest in every franchise being a success, and while the brand has first refusal to buy a franchise and must agree to any transfer, by using its network of contacts and national resources, a Drain Doctor franchise resale is often a faster and easier process, too.
Will I meet other Drain Doctor franchise partners?
Drain Doctor has a strong franchisee network, and franchise owners are actively encouraged to get together to provide mutual support and share ideas through national and regional training, meetings and information exchanges.
An annual three-day convention brings all Drain Doctor franchise owners together to learn from each other's experiences and find out about updates to the business format. As franchisees achieve success through new marketing or operational processes, all franchise owners are informed through regular news bulletins, enabling them to apply the new processes to improve their own business performance.
Why choose a Drain Doctor franchise over other plumbing firms?
In an industry that has had problems with rogue traders, the reputation of emergency plumbers has sometimes suffered. As a response to this, householders looking for a good, trustworthy service at a fair price can often feel more comfortable using a national or big-name expert brand than an independent, standalone plumbing business. Drain Doctor franchises' policy of no hidden call-out fees and following a national pricing structure has also contributed to its reputation as a 'safe choice' in an emergency, leading to increased demand.
As well as supporting each franchise in local marketing activities, Drain Doctor also undertakes national advertising and has a number of national commercial accounts. As a Drain Doctor franchise owner, any service requests that occur in your territory are directed to your business.
How do I find out more about Drain Doctor franchise opportunities?
A number of new territories are currently available nationwide, along with Drain Doctor franchise resale opportunities. In order to find out more, first register your details to arrange a phone call. Several phone conversations will usually take place over a couple of weeks, after which a face-to-face meeting will be arranged to discuss suitability. Following that meeting, a successful candidate will be invited to attend a training course before launching their franchise.
To begin the application process, click the enquiry button found on this page.

Request Free Information
Send a free enquiry to Drain Doctor for further information!
Enquire into this franchise today