Securing a future for her children
Posted: 29 Jul 2019
Estimated Read Time:
in about 8 minutes
FASTSIGNS franchisee Achi Atanda is building a strong family business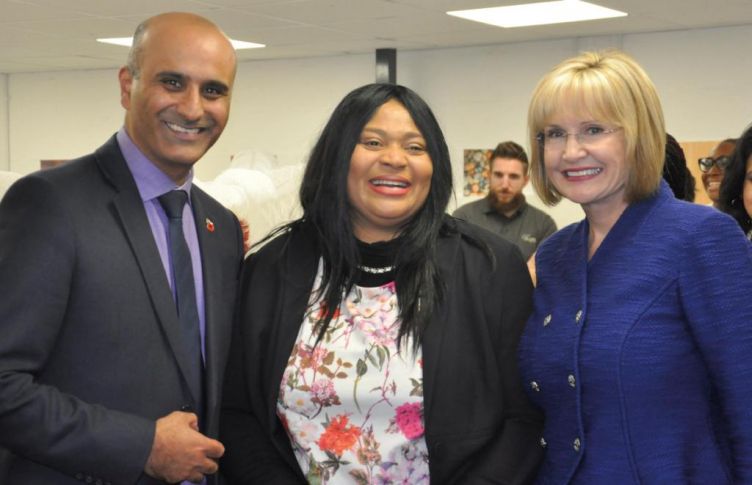 When her son suggested starting a family business, Achi Atanda became open to the idea of creating a career opportunity that would secure a future for her children. The family started to search for a business that would satisfy her three children's aptitude for design and provide a stable foundation for their business.
It was her eldest son who came across the FASTSIGNS franchise. The design and creative elements of the brand satisfied his interests, while his parents were impressed by FASTSIGNS' business model, which offers a business to business management opportunity that supports companies with high quality, high impact signage solutions.
Forward thinking
Achi explains: "We saw the purchase of our business as a foundation for our children's future. It was important that whatever we did, we needed to pique their interest and get them excited for our business, so that when the time is right for them, they can join us in operating it."
As a family, they were attracted to FASTSIGNS' range of products and liked the future focus the business has.
Achi adds: "The digital signs, augmented reality and interactive products were a great pull for my children. They are from a generation that is so au fait with technology, these types of signage solutions are not only great for customers, they also intrigued my youngsters.
"Even the more traditional building signs and vehicle, window, wall, door and floor graphics are created using cutting edge technology, so we see the signage industry as a very dynamic and exciting sector to own and operate a business in."
Invaluable support
While her children are completing their educations, Achi operates the centre herself with a team of sales and production staff. Not having had any experience in the signage industry didn't hold her back from investing in a FASTSIGNS franchise and she found the support offered by FASTSIGNS to be invaluable.
Achi worked with the FASTSIGNS UK support team to identify staff who would complement her skill set and fill the required skills gap. Based on its extensive knowledge, FASTSIGNS supported her as she set up her centre and prepared for opening, including providing her with access to the company's tools, equipment and resources.
"Although there have been some challenges, it has been extremely rewarding running my own FASTSIGNS centre," Achi says. "I love meeting people from different backgrounds, understanding their signage requirements and creating a diverse range of signs for them."
Of the family business she has started, Achi says: "My husband and children are not yet working with me. I have a great team who are supporting me in the meantime. I am honoured to be the one to bring to life the future of our family dream. When my eldest son finishes his A Levels, who knows what the future holds for FASTSIGNS Leicester?"
At a glance FASTSIGNS
Established: 1985
Number of franchised outlets: over 700 worldwide - 22 in the UK
Location of units: worldwide
Minimum capital required: £36,000
URL: www.fsfastsigns.co.uk
Contact: john.davies@fastsigns.com
Our Guide to Getting Started in Franchising
Grow yourself from a franchising no to a franchising pro!
Ones to watch
Franchisors provide an insight into how they've built their businesses.
This month's
best opportunities
You have pending
Here's just
five reasons

why you should join our

FREE

newsletter!
New articles added every week

Hand picked franchise opportunities just for you

First class help and advice for franchising and business

We have the industries best contributors on board

Inspiring and insightful franchise case studies