The information you submit via our enquiry form is shared only with the franchise business(es) that you have selected.
The franchise business will contact you by means of email and/ or telephone only to the email address and phone number you have provided.
By submitting the enquiry form you are consenting to send your personal information to the selected franchise business.
You also agree to receive further newsletter email marketing from What Franchise.
Close
Did you know?
FASTSIGNS is eligible for funding support!

Request free information in just 60 seconds!
Take the first step in becoming your own boss!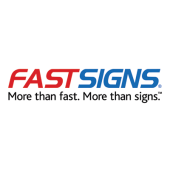 FASTSIGNS
Specialises in signage, graphics and visual communications solutions, and is at the forefront of the signage sector for technological advancement
Minimum Investment
£25,500
Business Type
Print & Promotional Services
Total Investment
£120,000
Expected Revenue After 2 Years
N/A
In Brief
Easy business start-up with a choice of franchise packages – launch a new business, incorporate into a complementary business or convert an existing business. Assistance securing funding up to 70%, with reduced first-year fees to kickstart profit. No technical experience required – comprehensive training in the UK and US provided. A six-figure income is achievable for established businesses - net profit is over 20%.
About FASTSIGNS
FASTSIGNS International Inc has been making signs since 1985, when company founders Gary Salomon and Bob Schanbaum opened their first store in Dallas, Texas.
Due to the demand for its practical solutions service, the sign company began franchising the business model in 1986 with a list of compelling features. The FASTSIGNS franchise business model was launched in the UK 10 years later. A worldwide franchisor and at the forefront of signage, today FASTSIGNS International has around 675 signage business centres around the world offering sign solutions, 20 of which are in the UK.
Services provided to customers include graphic design, content development, project management, site surveying, installation, and shipping and storage - all delivered with a focus on exceptional customer service.
Products offered include a range of signs, vehicle graphics, exhibits, and displays as well as promotional products and interactive and digital solutions for professional business clientele. As a result, FASTSIGNS is a one-stop shop of cost-effective signage solutions for customers of all shapes and sizes.
FASTSIGNS is a full member of the British Franchise Association.
How does the FASTSIGNS franchise model work?
There are three ways franchise candidates can join the FASTSIGNS UK franchise network and become a signage solution specialist by owning a sign franchise.
The first option is to open a new FASTSIGNS centre. Ideal franchisees operate in a protected territory that contains 5,000 potential business clients.
A Co-Brand franchise involves an already established company in a complementary industry operating a FASTSIGNS center within its premises. The established company would retain its original identity, but would be able to expand its offering to customers and increase turnover and profit as a result.
A Co-Brand franchise owner also benefits from a royalty fee reduction during their first year of trading.
The types of businesses FASTSIGNS UK would consider for a Co-Brand partnership include small format printers, graphic designers, photographers, videographers, lithographers and embroidery shops.
Do you already own a sign and graphics company? FASTSIGNS' Conversion Opportunity means you could convert your business into a FASTSIGNS UK centre. If you decide to do so, you will be entitled to a reduction in franchise fees and royalty payments, as well as a conversion allowance.
A management franchise, franchisees use the latest digital signage technology and printing techniques identified by FASTSIGNS to fulfil orders for companies working in the manufacturing, retail, sports and leisure, education and healthcare sectors, building a successful business in an exclusive territory in the process.
How much does a FASTSIGNS franchise cost?
The cost of a FASTSIGNS sign business franchise depends on centre size and the type of franchise opportunity you decide to invest in. However, as a guide, the minimum investment required for a new FASTSIGNS UK centre is £36,000.
Funding for the initial cost of opening a FASTSIGNS centre is available from banks familiar with franchising - they can lend up to 70 per cent of the cost. FASTSIGNS can help prospective franchisees secure funding, if necessary.
As well as support and training, franchisees get help with selecting a suitable site and negotiating a lease, fit-out drawings, architectural planning, a protected territory containing 5,000 business customers, a pre-opening marketing campaigns plan, access to FASTSIGNS' online management system and an invitation to the company's annual convention and key suppliers showcase.
All of these elements means the potential of building a profitable business is high.
For the first 12 months of trading, franchisees pay a royalty fee of four per cent of their monthly gross turnover, plus a one per cent contribution to FASTSIGNS' central national advertising fund. This rises to seven per cent and two per cent respectively after year one.
How much profit do FASTSIGNS franchisees receive?
FASTSIGNS franchise profit is quoted by the company as a net profit of over 20 per cent.
Did you know?
FASTSIGNS is eligible for funding support!

Request free information in just 60 seconds!
Take the first step in becoming your own boss!
According to FASTSIGNS, centres hit break-even point quickly, providing franchisees follow the company's tried-and-tested systems of operation.
What FASTSIGNS franchises are currently for sale?
Franchises are currently for sale in the south west, north west and north of England, Exeter, Plymouth, Scotland, Ireland and Wales. No doubt, there's a FASTSIGNS franchise business opportunity for sale near you.
What is the typical income of a FASTSIGNS franchisee?
Successful franchisees can earn six-figure incomes once their businesses are established in their local area as a result of the attractive margins generated. More in-depth earnings potential figures of a FASTSIGNS centre are discussed with potential franchisees during the recruitment process.
Where in the UK is the FASTSIGNS franchise based?
FASTSIGNS' UK head office is in Stafford.
What support and training do FASTSIGNS franchisees receive?
Training lasts for four weeks and is broken down into three phases:
• One week at a FASTSIGNS franchise in the UK.
• Two weeks at FASTSIGNS' global headquarters in Dallas, Texas.
• One week at your new centre.
Ongoing training events are also provided.
The support provided by the franchisor is tailored to individual franchisee's needs. It starts during the opening of your centre and continues via regular contact with a personal mentor and FASTSIGNS' business consultants, who can advise on finance, marketing, sales, production and managing staff.
Franchisees also have access to the company's franchise advisory committee.
You don't need any experience in sales, of the signage industry or running your own business to become a FASTSIGNS franchisee, as they come from all walks of life. As a business management opportunity, ideal candidates are franchisees who have managed people in the past and are self motivated, hard-working and want to be their own boss - and not necessarily those with sector experience.
What are the FASTSIGNS franchise's terms of agreement?
The investment allows current franchisees to operate under the FASTSIGNS banner for 10 years.
How in demand are the services provided by FASTSIGNS right now?
All types of professionally produced and cutting edge signage is in high demand by companies in almost every sector you can think of, making the FASTSIGNS franchise an excellent opportunity for the right investor.
Projects a FASTSIGNS franchise business typically assists customers with include:
• Boosting awareness of their location.
• Creating enhanced user experiences of facilities through the use of wayfinding signage.
• Enhancing office-based culture by using signage applications as interior décor.
• Helping to effectively brand events.
How can I get started on setting up my own FASTSIGNS franchise?
You can contact FASTSIGNS either by clicking the enquiry button on this page, or by phone or through its website.
Would-be franchisees are asked to complete a short profile form, which will help FASTSIGNS to evaluate your suitability for becoming a franchisee and investing in the franchise offering.
You can then attend a discovery day at FASTSIGNS' head office in Stafford, where you can meet the company's management team, including managing director John Davies, and have any questions about the franchise opportunity answered.
After the discovery day, FASTSIGNS will arrange visits to the centres of your choice in order for you to get a first-hand feel for how the business operates.
Before you sign the franchise agreement and embark on your career as a FASTSIGNS franchise, you'll have the opportunity to speak to Mark Jameson, the company's executive vice president of franchise support and development, who's based in America.
FASTSIGNS says your franchise can be up and running within six months of your initial contact with the company. However, this timescale will depend on the time it takes to negotiate the lease on your chosen real estate, secure funding, complete training and fit out your centre.
To find out more or to request further information on franchising with FASTSIGNS, click the 'Send Enquiry' button now.

Request Free Information
Send a free enquiry to FASTSIGNS for further information!
Enquire into this franchise today