The information you submit via our enquiry form is shared only with the franchise business(es) that you have selected.
The franchise business will contact you by means of email and/ or telephone only to the email address and phone number you have provided.
By submitting the enquiry form you are consenting to send your personal information to the selected franchise business.
You also agree to receive further newsletter email marketing from What Franchise.
Close
Did you know?
Mr Simms Olde Sweet Shoppe is eligible for funding support!
Request free information in just 60 seconds!
Take the first step in becoming your own boss!
Mr Simms Olde Sweet Shoppe
Provides an evocative experience that caters for sweet lovers of all ages
Minimum Investment
£37,000
Funding Support
Third party
Total Investment
£37,000-plus depending on shop size
Expected Revenue After 2 Years
N/A
About Mr Simms Olde Sweet Shoppe
Becoming a Mr Simms Olde Sweet Shoppe franchise owner offers you the best of several worlds: the opportunity to be a successful business owner, running your own business your own way, but with the strength of an established, successful brand and the support of a highly experienced management team.
The company operates a traditional sweet shop franchise chain that provides a unique and evocative experience that caters for those with a sweet tooth and sweet lovers of all ages. Mr Simms prides itself on the breadth and quality of its huge range of products, which features lines from around the world alongside the best of British.

Greater than all of this though, is the opportunity to be part of something truly special – a much loved part of your local community, making life a little sweeter every day.
Mr Simms' sweet shop franchise shops are effectively a network of independent local businesses operating in a wide variety of locations – from rural villages to seaside towns, tourist hot spots to bustling cities and town centre locations – and all under the same brand.
The company's property portfolio covers a range of store sizes and formats, in both traditional high streets and modern retail centres. This diversity is part of Mr Simms' unique character, but without careful management, it also risks confusing customers and undermining the brand's sense of value.
Mr Simms' vision and values provide the common ground upon which we can all stand together and set a new standard for traditional British sweet shops around the world.
How does the Mr Simms franchise model work?

This company offers its franchisee the freedom to operate independently, while complying with the Mr Simms tried and tested business model.
It offers full support right from the beginning, whether it is finding a location, shop design, training and product guidance or visual merchandising, operational, digital marketing and special wholesale prices from the company's own warehouse.
Mr Simms charges an initial franchise fee and a monthly flat fee.
What type of franchisee is Mr Simms looking to recruit?
Mr Simms doesn't have a fixed demographic of people, but its franchisees are united by the values shared by the sweet shop business.
Franchisees should have a passion for the products sold by Mr Simms and contribute a valued service to the local community.
The company is renowned for its enthusiastic, friendly, cheerful and chatty style, so expects franchisees to share the values and attributes you look for in a personal shopping experience.
What training and support is offered to franchisees?
Once you have committed to being a franchisee, Mr Simms will enrol you onto its training programme, where you will visit the company's lead shop in Stafford for customer training and learn about the ethics of the company's standards.
Did you know?
Mr Simms Olde Sweet Shoppe is eligible for funding support!
Request free information in just 60 seconds!
Take the first step in becoming your own boss!
Mr Simms will show you how to set up your business and layout your shop, including merchandising.
After your launch, it will provide continuous support and business advice throughout your journey as a franchisee. This could include marketing campaigns, advice on effective visual displays and shop audits.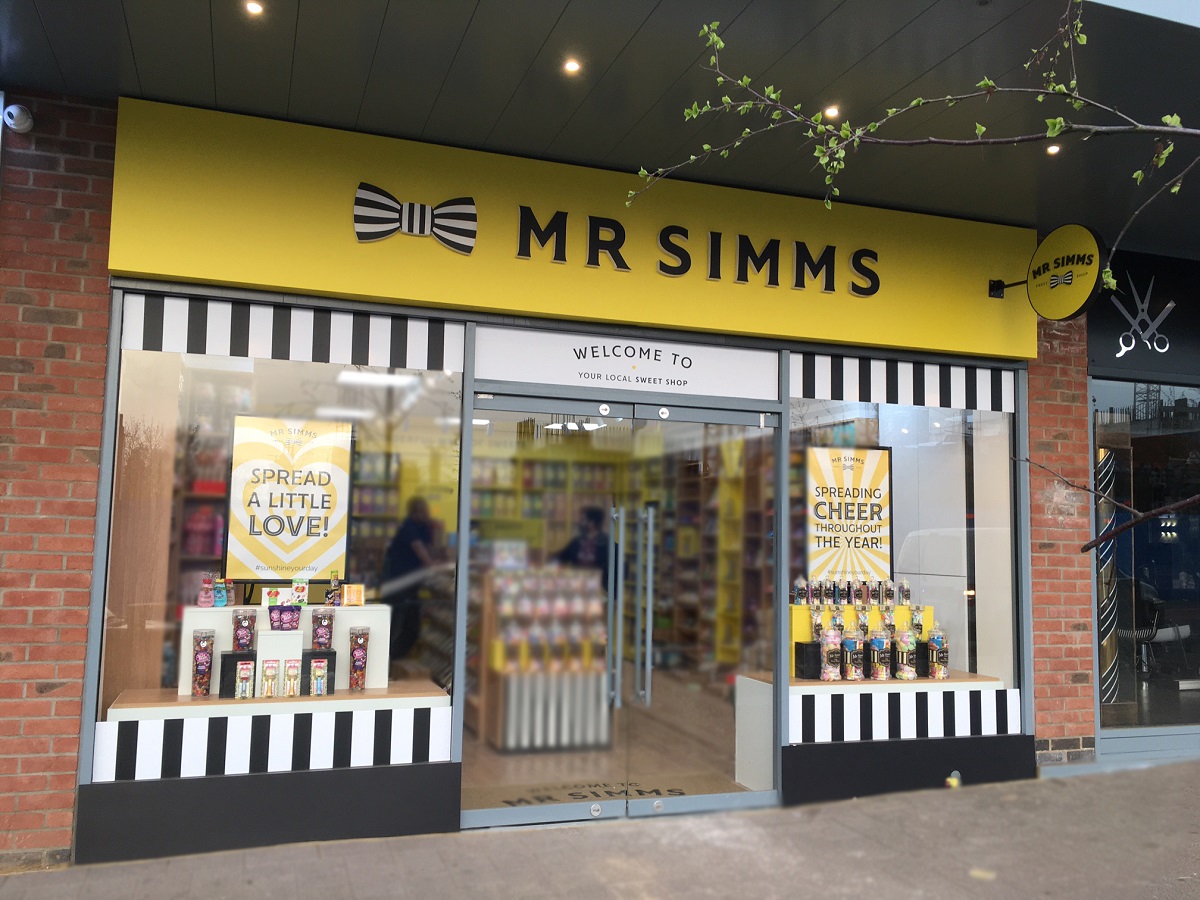 How much does it cost to become a Mr Simms franchisee?
The minimum investment requirement is approximately £25,000 and you will require additional funding that is either self-arranged or secured through Mr Simms' selected banking partners.
As per company policy, Mr Simms prefers not to disclose financial information, as its flat monthly fee charge is not dependent on a franchisee's annual turnover. Mr Simms prefers to introduce an applicant to its franchisees to discuss these details during a meeting to understand the business and the experience they have earnt.
What locations or territories is Mr Simms looking to operate in?

The company is looking to have a presence in prominent towns, cities, tourist places, shopping centres, malls, transport hubs and seaside locations.
Providing the demographic research is compelling, Mr Simms would welcome your suggestion and work with you to help start your business.
How long is the initial franchise agreement for?
Why is the Mr Simms franchise a good investment?

Mr Simms says its franchise is unique, in that it offers you the chance to start a business that is different from what is currently available on the UK high street.
This business can easily be operated alone or with the help of a small group of part-time staff.
How in demand are the products provided by Mr Simms?

Mr Simms offers a personal shopping experience that has been sorely missed on the high street.
The company's unrivalled product range features lines from around the world alongside the best of British.
The customer age range can easily cover three generations, therefore, Mr Simms has sweets for the young, plus, some of the old-time favourites. The company's shops serve the local community and give customers a shopping experience that is lacking today.
How do I start setting up my own Mr Simms franchise?
To find out more, or to request further information on franchising with Mr Simms, complete the form below and click on the 'Request Free Information' button now.

Request Free Information
Send a free enquiry to Mr Simms Olde Sweet Shoppe for further information!
Enquire into this franchise today