The information you submit via our enquiry form is shared only with the franchise business(es) that you have selected.
The franchise business will contact you by means of email and/ or telephone only to the email address and phone number you have provided.
By submitting the enquiry form you are consenting to send your personal information to the selected franchise business.
You also agree to receive further newsletter email marketing from What Franchise.
Close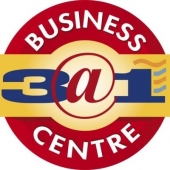 3@1 Business Centre
The one-stop retail solution for essential printing, courier, photo and business needs
Minimum Investment
£250,000
Business Type
Business & Professional Services
Total Investment
£250,000
Franchise Fees
5% of individual stores or 1% of gross sales of sub-franchised stores
Expected Revenue After 2 Years
Minimum £1m
About 3@1 Business Centre
3@1 Business Centre elected the tried and tested mechanism of franchising to connect with aspiring entrepreneurs while working to expand its business footprint.
3@1 Business Centre offers these entrepreneurs individual unit opportunities, multi-unit opportunities and area opportunities that will maximise their investment.
The goal of the 3@1 Business Centre concept is to make communication, business and courier services, as well as associated consumables like packaging and paper, immediately accessible to the consumer and business user – a comprehensive business centre.
The main 3@1 Business Centre counter is the heart of the business. From here, the company offers business services, local and international courier, web communication services, extensive printing solutions and KodakMoments photographic services. The POS ensures accuracy in all transactions and the smooth running of the business.
Printing solutions:
• Digital printing
• Large format printing
• Canvas printing
• Sublimation printing
• T-shirt and mug printing
• Plan printing
Courier services:
• International courier
• Domestic courier
• counter to counter
• Online shopping collection and return point
Kodak photographic station:
• Variety of sizes
• ID and visa photographs
• Photo books and collages
Business services:
• Large format scanning
• Photocopying
• Graphic and web design
• Lamination and binding
• Office consumables
• Secretarial services
• Business registration services
Communication services:
• Internet
• Microsoft Office services
• Online email service
• Online shopping
• Ticket booking
How does the 3@1 Business Centre franchise model work?
3@1 franchising, the one-stop retail solution for essential printing, courier, photographic and business service needs, is excited to announce that it's now expanding abroad, granting master territory franchises to operate its successful concept throughout Europe, the UK and the rest of the world.
The company says: "Our established brand, since 1999, currently has more than 90 stores in five countries.
"Our successful tried and tested business model can be adapted to any local condition and a master franchisee has the exclusive rights to an area to either sub-franchise or open multiple stores within the region.
"This proven business concept offers an excellent investment opportunity with a healthy rate of return. It's an opportunity to evolve alongside our expanding retail franchise brand and meet the ever-changing communication and technology needs of consumers and businesses all over the world today."
What type of franchisee is 3@1 Business Centre looking for?
The company wants to recruit people with drive and energy to promote and represent the brand.
3@1 Business Centre wants people who love working for themselves and relish the rewards that go with that.
Entrepreneurial businessmen and women looking to own and operate under a master franchise licence abroad, should be motivated, enjoy interacting and building relationships with franchisees and have a passion for helping young businesses succeed.
What training and support is provided to franchisees?
3@1 Business Centre provides full training applicable to every aspect of owning and operating a master franchise and individual store.
What locations or territories is 3@1 Business Centre looking to operate in?
The company has franchises available in all areas of the UK. 3@1 Business Centre is also looking for franchisees in other countries in Europe.
What are the franchise terms of agreement and renewal?
Full contractual terms will be provided to anyone interested in the franchise.
Why is the 3@1 Business Centre franchise a good investment?
The brand is offering a low-cost business that has the potential to make returns very quickly. In addition, 3@1 Business Centre has proven itself to be a very successful franchise that has been operating for 21 years.
How do I start setting up my own 3@1 Business Centre franchise?
To find out more, or to request further information on franchising with 3@1 Business Centre, complete the form below and click on the 'Request Free Information' button now.

Request Free Information
Send a free enquiry to 3@1 Business Centre for further information!
Enquire into this franchise today