The information you submit via our enquiry form is shared only with the franchise business(es) that you have selected.
The franchise business will contact you by means of email and/ or telephone only to the email address and phone number you have provided.
By submitting the enquiry form you are consenting to send your personal information to the selected franchise business.
You also agree to receive further newsletter email marketing from What Franchise.
Close
Did you know?
Top Stitch has outlets available across the UK

Request free information in just 60 seconds!
Take the first step in becoming your own boss!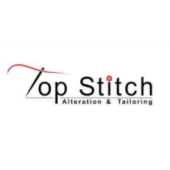 Top Stitch
Provides clothing alteration, tailoring and repair services for general and speciality clothing
Expected Revenue After 2 Years
N/A
About Top Stitch
What is Top Stitch and what services does it provide?
Top Stitch is a UK based tailoring franchise that provides clothing alteration services for clients.
It offers a wide range of alteration and clothing repair options, helping customers to enjoy a new lease of life from garments that no longer fit or feel in style. The company also specialises in providing alteration services for special occasion wear, such as bridal and bridesmaid dresses.
The brand has been established since 2010 is and respected by customers for providing a high quality and reliable service. The brand regularly works with premium designer labels and customers can feel reassured that valuable items of clothing will be handled and adjusted well.
The franchise provided by Top Stitch is a complete turnkey package, giving franchise owners the chance to get started immediately. For anyone keen to start a franchise in the fashion or tailoring business, this can be an excellent opportunity.
Where can you find a franchise territory with Top Stitch?
There are opportunities to find a franchise territory across the UK. To find out more about potential locations, contact Top Stitch directly.
Where are the headquarters for the Top Stitch franchise located?
Top Stitch's headquarters is in Leeds.
How much does it cost to start a Top Stitch franchise?
To start a franchise with Top Stitch, you would need to invest £47,500, including franchise fees.
What kind of financial assistance can you get to start a Top Stitch franchise?
You may be able to obtain financial assistance to fund part of the franchise from most major high street banks. You may be required to demonstrate access to a sufficient amount of liquid capital to complete the funding process.
What sort of experience or background do you need to have with a Top Stitch franchise?
As Top Stitch provides franchisees with full initial and ongoing training and support, you do not need to have experience in tailoring or a similar industry. However, it can help to have some interest in fashion or garment care.
Although experience is not needed, you should be an ambitious and self motivated person, with the determination to make the business succeed. It can be helpful to have some prior business experience to demonstrate that you have the acumen and leadership skills required.
As the role will involve dealing with members of the publc as well as staff, it is essential to have excellent communication and people skills, with the ability to build good rapport.
What kind of business is a Top Stitch franchise?
A Top Stitch franchise can be run from home or management franchise, with staff employed to carry out the service. As a result, you do not need to have tailoring skills in order to run the franchise. However, you should be able to use the training and support systems that the brand provides, in order to start and develop the franchise business yourself.
Did you know?
Top Stitch has outlets available across the UK

Request free information in just 60 seconds!
Take the first step in becoming your own boss!
What kind of training or support will you receive when starting a Top Stitch franchise?
Top Stitch provides support and training across all aspects of the business from the outset.
Franchise owners are helped to locate the best site in their chosen territory, as well as given assistance with lease negotiation should they need it. Once the store is set up, franchisees are given training in all parts of the business, from the techical knowledge and skills required to business administration and operations.
Top Stitch also provides franchisees with comprehensive operating manuals and continues to support them throughout the lifetime of the business, with ongoing support and training available.
What does the Top Stitch franchise package include?
Top Stitch offer a complete turnkey franchise package, allowing franchisees to get started immediately with the business. The start-up package includes everything a franchise owner may need to start trading and develop the business.
The package includes shop fitting and signage and all equipment, furniture and merchandise required. Franchisees are also provided with marketing assistance to help develop the brand and raise customer awareness.
What are the market opportunities available with a Top Stitch franchise?
For franchisees interested in working with fashion and apparel in a challenging and diverse environment, starting a business with Top Stitch can be a fantastic option.
The UK's fashion industry is worth over £26 billion and with a growing awareness of sustainability and environmental impact in the fashion world there is a greater interest and demand among consumers for tailoring services to help repair or repurpose existing garments.
The franchise is also an excellent opportunity due to the well thought out package provided to partners by Top Stitch. Franchise owners are well supported, ensuring that whatever your experience you will be able to start trading immediately after training and set up is completed. The brand is already well established, giving franchisees the advantage of trust and recognition of the brand among customers, making it easier to build more awareness about it once established.
The franchise provides franchise owners with a potentially swift return on investment, because of the high profit margins that can be achieved. This means that franchisees can achieve a positive cash flow fairly soon after opening for business.
How to get started
To find out more about starting a franchise with Top Stitch, contact the brand directly through its website to arrange a call back and get further details about current opportunities with the company.

Request Free Information
Send a free enquiry to Top Stitch for further information!
Enquire into this franchise today