The information you submit via our enquiry form is shared only with the franchise business(es) that you have selected.
The franchise business will contact you by means of email and/ or telephone only to the email address and phone number you have provided.
By submitting the enquiry form you are consenting to send your personal information to the selected franchise business.
You also agree to receive further newsletter email marketing from What Franchise.
Close
Did you know?
Café Rouge has outlets available across the UK

Request free information in just 60 seconds!
Take the first step in becoming your own boss!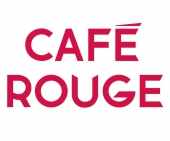 Café Rouge
All-day French bistro-style restaurant serving everything from morning coffee to evening meals
Minimum Investment
£350,000
Business Type
Food & Beverage
Expected Revenue After 2 Years
N/A
About Café Rouge
Café Rouge is the UK's premier all-day French dining restaurant franchise. With close to 100 restaurants in the UK, Café Rouge serves up a whopping 6,000,000 dishes a year with mouthwatering French culinary styles. A member of the CDG (Casual Dining Group), Café Rouge's award-winning menu has been a hit with UK audiences for years. As a franchise brand, Café Rouge is constantly looking for areas of growth in England and internationally.
Each Café Rouge franchise promises consistent excellence to its loyal fan base. As a franchisor, you'll recreate classic French dishes and develop creative twists to localise your menu. Launched in London by Karen Jones and Roger Myers, Café Rouge was founded by: "foodies on a mission to recreate real French food and wine in a Parisienne bistro-style setting".
The brand has enjoyed evergreen popularity thanks to modernised menus and a firm grasp on the French niche. As branches are open for all-day service, from a casual breakfast to a formal dinner, Café Rouge franchises perform best in areas with high foot traffic and maximum visibility, like in shopping centres or busy high streets. There are plenty of opportunities to open new stores in the UK and the head office team can assist you with zoning.
CDG is the unifying force behind the Café Rouge franchise. Backed with professional training partnerships and a national supply chain, CDG give franchisees the confidence of a tried-and-tested business model. This is not a franchise opportunity for the inexperienced, but rather requires a firm hand on the wheel to drive management, consistency, and growth year-on-year.
How much does a Café Rouge franchise cost?
The franchise fee for a Cafe Rouge restaurant is £25,000 + VAT. It includes training and support and various promotional material specific to the Café Rouge restaurant. Your total investment will vary widely depending on your chosen territory and location. Costs can reach £700,000 depending on the size of the restaurant and the time it takes to gain popularity. For a more detailed cost analysis, contact CDG directly by filling in the enquiry form on this page.
What does the Café Rouge franchise menu feature and what is the brand's USP?
The Café Rouge menu pays homage to typical French bistro cuisine. Your chefs will be preparing all three meals of the day and dishing up everything in between. The Café Rouge franchise is unique in serving customers for the entire day. From the first morning espresso to the last glass of red wine, your staff will need to be attentive and hard working.
Starters include classics like Crevettes and chicken liver pâté while a la carte mains take it up a notch with Confit de Canard & Boeuf Bourguignon. Serve up a variety of Black Angus cuts for meat-lovers and casual burgers with a French twist. Lunch hour comes with an influx of Croquet and Baguette orders as well as tapas-style nibbles. Delectable afternoon tea is served from 12pm onwards and bottomless bubbles will have customers rushing back for more.
As a Café Rouge franchisee, your chefs will be expected to replicate each dish perfectly. Franchisees have the flexibility to localise their menu to an extent and the creativity to develop seasonal specials.
Can I own and multiple Café Rouge franchises?
Yes, you can. Existing franchise partners own between five and 20 restaurants. You can only begin the process of setting up additional locations once you have proven your first Café Rouge franchise is successful and stable.
How does Café Rouge fit into the Casual Dining Groups (CDG) franchise?
CDG has three restaurants in its franchise profile enabling you to draw support from a large body of experience in the restaurant industry. The support given is standardised throughout all franchises, meaning the quality of training and support is top notch.
Did you know?
Café Rouge has outlets available across the UK

Request free information in just 60 seconds!
Take the first step in becoming your own boss!
Do I need any experience to buy a Café Rouge franchise?
Unlike other franchises which only require passion and some capital, Café Rouge requires direct experience in the restaurant industry. Casual dining experience is a must, and experience in managing and growing brands is highly desirable. You should have a prime real estate location in mind and an understanding of how to secure it.
On the investment side, you need a healthy amount of capital and reasonable liquid funds to invest over a long period of time (3-5 years). A Café Rouge restaurant is not a 'quick fix' and takes time to generate positive cash flow.
How long will it take to set up my Café Rouge franchise restaurant?
A franchise with CDG takes anywhere from three-12 months to be realised. The fluctuation in time frame depends on your unique situation, territory, and chosen location.
What criteria must proposed location/premises Café Rouge franchise fulfill?
A Café Rouge franchise requires high footfall traffic spread out during the day to truly perform. As you are open throughout the day, you will need to attract various types of customers ranging from mum's having brunch to a business dinner. Good locations include shopping centres, garden centres, buildings used for a combination of commercial and leisure, and concessions environments.
Your restaurant location needs to be between 275 – 400 m2 with the opportunity for smaller locations in special cases. As part of your franchise fee, you will receive assistance from CDG with your location selections, territory, and design. The internal design team will help you create a bespoke interior and exterior design that is complements modern trends.
Why should I choose a Café Rogue franchise over other restaurant franchise options?
Café Rouge appeals largely to the millennial age group. the brand has built a loyal following with budget-friendly deals coupled with an upscale yet casual dining atmosphere.
Its nationwide presence ensures your franchise will be off to a strong start with customers already aware of the quality you offer. On top of the benefit of going with a trusted brand, a market-leading cocktail menu promises a thriving bar trade with high-profit margins.
What training and ongoing support do you receive as a Café Rouge franchisee?
You will receive pre-training and post-training as a part of your franchise package. CDG has a long-standing partnership with Alain Ducasse Enterprises to supply training, performance reviews, and consult restauranteers. Café Rouge has received awards from Heathrow airport for its training and mentoring programme. Training is comprehensive and is offered to both you and your staff on an ongoing basis.
Ongoing support includes quarterly business reviews and audits that are designed to keep you on track in the competitive world of service.
To market your franchise, you will be added to the operations portal for access to all branded material and menus. The head office will help you with website creation and digital presence via social media.
You will also work with the Café Rouge team to build an annual marketing plan to work towards.
How can I apply for a Café Rouge franchise?
To apply for a Café Rouge franchise or find out about buying a Café Rouge franchise for sale, fill in the enquiry form on this page.

Request Free Information
Send a free enquiry to Café Rouge for further information!
Enquire into this franchise today