The information you submit via our enquiry form is shared only with the franchise business(es) that you have selected.
The franchise business will contact you by means of email and/ or telephone only to the email address and phone number you have provided.
By submitting the enquiry form you are consenting to send your personal information to the selected franchise business.
You also agree to receive further newsletter email marketing from What Franchise.
Close
Did you know?
CUPP is eligible for funding support!

Request free information in just 60 seconds!
Take the first step in becoming your own boss!
CUPP
A premium bubble tea brand, unique in only using in-house fruit purees and healthy ingredients to produce their bubble teas
Minimum Investment
£20,000
Business Type
Food & Beverage
Funding Support
Third party
Total Investment
£60,000 - £300,000
Franchise Fees
£15,000 + VAT
Expected Revenue After 2 Years
N/A
About CUPP
CUPP is an award-winning premium bubble tea brand based in the UK. Established in 2012 after the founder and CEO, Lee Peacock, lived for many years in the country where bubble tea was invented – Taiwan.
From day one, CUPP set itself apart from other bubble tea companies and refined the way bubble tea is made by using only the best and freshest ingredients. This is achieved by producing its own in-house real fruit purees and syrups from its central production facility, using quality loose leaf tea, organic milk, premium milk substitutes, and fresh fruit to flavour its bubble teas.
CUPP is a pioneer and wants to change the bubble tea industry where the majority of operators use artificial ingredients and sugary flavoured powders. CUPP has also set out its ethics and sustainability by scrapping all plastic straws for biodegradable bamboo fibre straws; the first for any bubble tea operator in the UK.
The brand also reflects the teas. A sophisticated and fresh brand with unique designs and outlets in converted shipping containers, kiosks and high street stores, appeals to a wide-ranging and varied age group and demographic. This is a great business opportunity for anyone who is seeking a unique and exciting franchise.
How does a CUPP franchise work?
CUPP is a turnkey solution to opening your own bubble tea store, offering everything you need from extensive and complete training to assistance with site selection, individually designed stores to fit site requirements, fit out, marketing and ongoing support to launch and grow your business.
CUPP requires that all franchises use the same ingredients across the brand, this is to ensure consistency and adherence to the brand's high standards. All ingredients are purchased through CUPP's supply chain except locally sourced ingredients like milk. CUPP will share its central supply chain distribution and pass on the financial benefits to franchise owners of the greater buying power.
CUPP welcomes and encourages multi-store franchisees to benefit from economies of scale. This is discussed in initial conversations.
How much does a CUPP franchise in the UK cost?
CUPP has a turnkey operation from £60,000, the franchise fee of £15,000 is included in this figure. Ongoing, there is a royalty fee of 5 per cent of your turnover and 1 per cent for marketing, both are paid monthly. Building rent, rates and utility costs are not covered, and must be calculated and paid by the franchisee.
Did you know?
CUPP is eligible for funding support!

Request free information in just 60 seconds!
Take the first step in becoming your own boss!
Franchisees can obtain funding from third party sources like high street banks.
What do you get for the cost of your CUPP franchise?
The franchise fee will give you an exclusive agreement to use the CUPP brand for an initial period of five years, this is then renewable for a further five year period in line with the franchise agreement.
The fee includes the costs of training on all operational aspects of the business, assistance with site location, design and set up, all required manuals and handbooks, and assistance with store openings.
What territories can a CUPP franchise operate?
CUPP has identified potential territories available across the UK. Please enquire via the form on the site to find out more.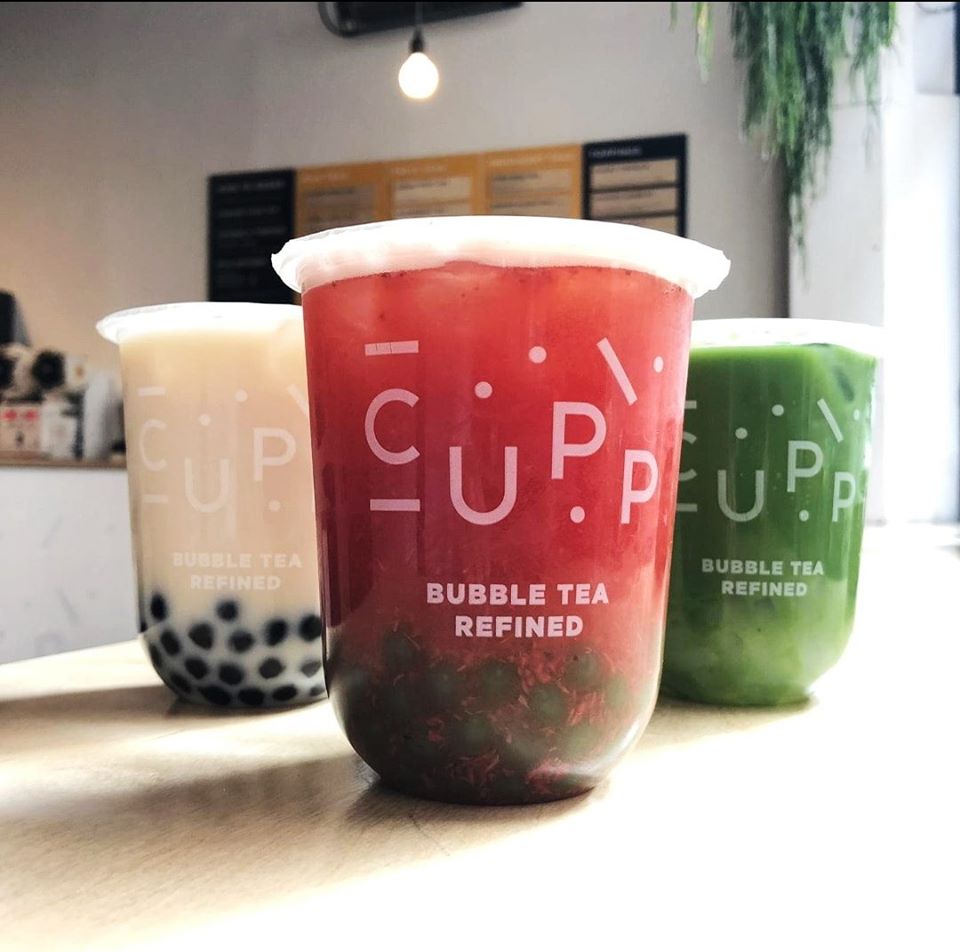 What kind of training and support do you get?
CUPP provides an extensive and complete training and support package from initial set up to ongoing support after launch.
There is a seven-day training course that covers all aspects of the business from bubble tea making, operational procedures, brand values and ethos, customer service, and much more. Everything you need to run a successful CUPP franchise. The training course is held at CUPP headquarters in Bristol.
Alongside the training programme, franchisees will receive the CUPP operational manual which will contain every aspect of the business. Franchisees will also have access to further training and support to help develop your business whether that be to extend to other territories or to new markets.
How can I apply for a CUPP franchise?
CUPP has a multi-stage recruitment process. After completing an application form, the potential franchisee has an initial discussion followed by a one-to-one discovery meeting with the franchise manager. After this, a business plan is presented at an interview with the founders of CUPP and if the application is approved a £3,000 deposit is paid to reserve a territory.
Next comes, signing the franchise agreement, site acquisition, and paying the initial franchise fee, before training recruitment and store launch. To get started, click on the 'Request Free Information' button.

Request Free Information
Send a free enquiry to CUPP for further information!
Enquire into this franchise today