The information you submit via our enquiry form is shared only with the franchise business(es) that you have selected.
The franchise business will contact you by means of email and/ or telephone only to the email address and phone number you have provided.
By submitting the enquiry form you are consenting to send your personal information to the selected franchise business.
You also agree to receive further newsletter email marketing from What Franchise.
Close
Did you know?
The Spitting Pig Co has an expected revenue of 40% net profit on a turnover of £110,000 after 2 years!
Request free information in just 60 seconds!
Take the first step in becoming your own boss!
Minimum Investment
£8,950 - £ 14,950
Business Type
Food & Beverage
Franchise Fees
£12,500 + VAT
Expected Revenue After 2 Years
40% net profit on a turnover of £110,000
In Brief
The only franchise that can guarantee you £150,000 in bookings in year one with on target net profit of 30 to 40 per cent.
About The Spitting Pig Co
Spitting Pig is the only franchise that can guarantee you £150,000 in bookings in year one with on target net profit of 30 to 40 per cent.
As well as the financial benefits, there are many other advantages of becoming a franchisee with the most established hog roast catering brand in the UK.
Spitting Pig was started by managing director Stephen Marsden in 1994, with the mission of bringing an exciting, high-quality product that could be freshly made on-site to the event catering industry in the UK.
Since then, Spitting Pig has gone on to become a successful business and the leading hog roast caterer in the UK, as well as a nationwide expert in outdoor event catering for weddings, corporate events and private parties.
The company offers clients a showstopping signature dish accompanied by food that is all freshly made on-site, along with fantastic customer service in order to create a unique outdoor mobile catering experience for everyone who attends the event.
Spitting Pig also designs and manufactures its own industry-leading hog roast machines at its UK site, so you can be assured that the company has the technical expertise as well as the culinary knowledge and event catering experience that it takes to be the number one hog roast caterer in the UK, delivering this type of food to a consistently high standard on an ongoing basis.
Due to the ever-growing demand for its product, Spitting Pig took the decision to franchise the business 18 years ago and since then the brand has continued to thrive.
This low-cost franchise currently has 28 franchisees across the UK, all of whom are running successful mobile catering businesses and doing something that they love.
Spitting Pig is always eager to welcome more franchisees into the family. If you are currently seeking to become part of a successful catering franchise that you can grow and develop with the aid of Spitting Pig's expert support and guidance, the company is sure that it can offer you the franchise opportunity you have been looking for.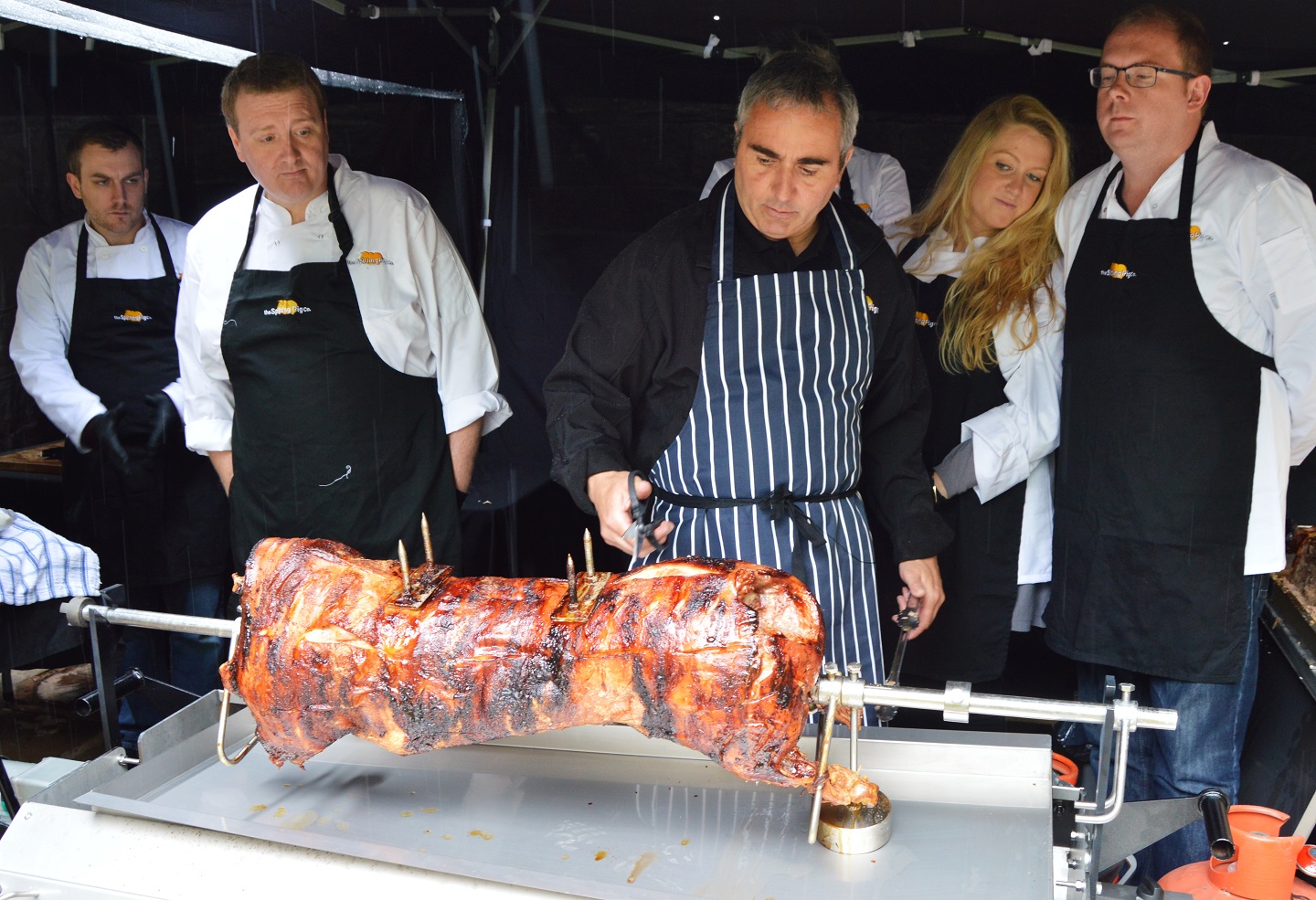 How does the franchise business model work?
The Spitting Pig Co franchise offers you the opportunity to develop a sustainable business through a reputable and established brand that has been in existence for 25 years, enabling you to build a substantial customer base without having to worry about chasing bookings or doing the marketing yourself.
The company's central team will take care of the sales and booking side of everything, leaving you free to focus on what you love – providing fantastic food and service to your clients.
Spitting Pig will also offer you the flexibility to choose how much time you want to commit to your food business, whether you are seeking a complete change in career and wish to run your catering business full-time or whether you would like to do it on a part-time basis, catering at weekend events, for example.
As a franchise business owner, you will receive a licence to use the Spitting Pig brand, as well as access to Spitting Pig's state of the art hog roast catering equipment and essential event catering supplies, in addition to many other benefits, which include:
• Full initial and ongoing training and support, including expert advice in event catering, from food preparation and menu planning to logistics and customer service.
• An exclusive trading territory.
• A range of equipment, including two hog roast set-ups, hog roast machines, gazebos, tables and chafing dishes.
• Lead and booking generation from the head office. All your bookings are provided for you from head office.
• Your own website, email address and bespoke social media campaigns targeted at potential customers.
• An established supply chain.
• Advice on storage solutions.
• Uniforms for all members of your catering and events team.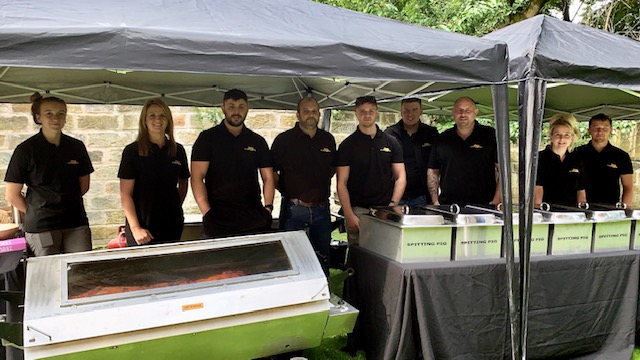 What training and support is provided?
Spitting Pig offers franchisees all the necessary training and support required to run a successful hog roast catering company, even with no previous event catering industry experience.
Under the company's expert guidance and comprehensive training programme, the franchise owner is given all the tools they need to build and grow their own hog roast catering business.
Spitting Pig's extensive training and support package offers franchisees all the benefits of being their own boss, while also having the reassurance that the company's central team are always on hand to provide ongoing advice and practical assistance.
Spitting Pig offers comprehensive initial franchisee training at its purpose build Hog Roast Academy based at the company's head office in Lancashire.
This covers all aspects of running the franchise, including food preparation methods, operating Spitting Pig's hog roast catering equipment effectively, setting up events and serving food, health and safety, food hygiene, menu development, essential customer service skills and managing client expectations.
During the initial training period, the company will also go through what is expected of franchisees when they are representing the Spitting Pig brand and what support they can expect in return after becoming part of the Spitting Pig network.
Did you know?
The Spitting Pig Co has an expected revenue of 40% net profit on a turnover of £110,000 after 2 years!
Request free information in just 60 seconds!
Take the first step in becoming your own boss!
After the initial training is completed, franchisees will have the opportunity to get some hands-on experience by working alongside existing franchise owners at live events and will continue to receive ongoing training throughout their tenure as a Spitting Pig franchisee.
Spitting Pig franchisees will also benefit from being granted membership to The Nationwide Caterers Association, which is the only trade body for mobile caterers in the UK, as well as access to Spitting Pig's own mentorship scheme.
When new franchisees are ready to start catering for their own events, they will receive in-depth training from Spitting Pig's central team on the admin side of running their own hog roast business. This includes training on how to create invoices and provide accurate quotes, as well as managing PAYE and VAT systems and end of year accounts.
What type of franchisee is The Spitting Pig Co looking to recruit?
Spitting Pig franchisees come from varied backgrounds and have differing levels of experience. Many of the company's franchisees have previously worked in catering, hospitality, retail or customer service in restaurants, hotels and even on cruise ships.
Having a catering and hospitality background is not a prerequisite for becoming part of the Spitting Pig team, however, as its franchisees come from all walks of life and have a wide spectrum of skills and experience to offer.
What is important isn't how much experience you have in catering and hospitality, it is that you have the passion, drive and commitment to promote the Spitting Pig brand through the development of your own successful hog roast catering business.
All Spitting Pig franchisees share the determination to succeed in their own catering and events business while having the reassurance of ongoing support provided by the company's central team.
Spitting Pig franchise opportunities are suited to self-motivated and ambitious individuals who want the freedom to be their own boss and have the determination to build a successful mobile catering business.
Ideally, you will be a team player who can work autonomously, while also being able to operate effectively as part of the wider Spitting Pig network.
Most of all, anyone who wants to become a Spitting Pig franchisee much have the desire to provide superior food and exceptional customer service at all times and the commitment to give clients an unbeatable mobile catering experience.
If you are someone who does not shy away from hard work or a challenge and has a genuine desire to exceed customer expectations, you would be an ideal candidate for a Spitting Pig franchise opportunity.
What's the earnings potential of the franchise?
Spitting Pig Co franchisees can expect to be profitable in their first year of trading, according to the company.
In its franchise prospectus, The Spitting Pig Co provides the following 'expected earnings' illustration:
• Year 1. Expected turnover: £80,000. Net profit: 40 per cent.
• Year 2. Expected turnover: £110,000. Net profit: 40 per cent.
How much does The Spitting Pig Co franchise cost?
The franchise fee is £12,500-plus VAT, which is used to pay for ongoing website costs, back-office support, sales support, training and accounts administration.
What locations or territories is The Spitting Pig Co looking to operate in?
Scotland, Wales, East Anglia, Hertfordshire, Hampshire, Sussex, Kent and London.
What are the franchise's terms of agreement and renewal?

The Spitting Pig Co's initial terms of agreement last for five years, with an option to renew at the end of the contract.
Why is this franchise a good investment?

Franchisees will be tapping into over 25 years of experience in the outdoor event catering trade when they invest in a Spitting Pig Co business.
On top of this, they will also benefit from a tried and tested franchise that has been replicated across the UK and a commitment by the franchisor to the continual growth and development of the brand, which has an excellent reputation in the events industry.
Because of the nature of the business, franchisees are able to be flexible in the hours they work, enabling them to run their company around other commitments, while benefiting from the fact that The Spitting Pig Co's menus are popular with people of all ages and suitable for all different types of events and special occasions.
How do I start setting up my own The Spitting Pig Co business?
Complete the form below and click on the 'Request Free Information' button now.
The recruitment process includes meeting with The Spitting Pig Co's management team at the Hog Roast Academy in Lancashire, where they will provide an insight into the business, review your business plan and answer any questions you have.
You'll then be invited to attend a hog roast event to help you decide whether the business meets your expectations.

Request Free Information
Send a free enquiry to The Spitting Pig Co for further information!
Enquire into this franchise today