The information you submit via our enquiry form is shared only with the franchise business(es) that you have selected.
The franchise business will contact you by means of email and/ or telephone only to the email address and phone number you have provided.
By submitting the enquiry form you are consenting to send your personal information to the selected franchise business.
You also agree to receive further newsletter email marketing from What Franchise.
Close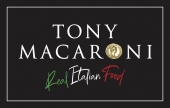 Tony Macaroni
Restaurant chain specialising in Italian cuisine
Minimum Investment
£250,000 - £ 750,000
Business Type
Food & Beverage
Total Investment
£500,000-£750,000
Expected Revenue After 2 Years
N/A
About Tony Macaroni
Tony Macaroni opened its first restaurant in 2007. The brand is part of the Scottish-based Viva Italia Group, which has 19 restaurants under its umbrella and currently employs more than 500 people.
A proud family-owned, family-run business, it refuses to compromise on quality, value, freshness or service and never cuts corners. Tony Macaroni expects every one of its franchisees to embrace these ethics and protect these long-established brand values in its own restaurants.
Whether guests are dining in or ordering from the takeaway menu, they will experience food that has been prepared to order – there's no pre-assembling or microwaving at Tony Macaroni!
The menu has been carefully selected by Tony Macaroni's multi-award-winning consultant chef Fabio Campoli. For over 15 years, Fabio has been one of Italy's most respected chefs and his knowledge of the country's cuisine is unrivalled.
From 2000 to 2013, he was consultant chef for RAI, Italy's main television channel. More recently he hosted a new show, called My Italian Recipes, on Italy's Channel 4 and is currently presenting The History of Italian Cuisine on La7 with the legendary Rossano Boscolo.
Fabio has also worked on several Hollywood films, including Mission Impossible, so his attention to detail is second to none.
How does the Tony Macaroni franchise model work?
The company offers three different franchise options:
• City centre
• Retail park
• Shopping mall.
For each of the three business models, the following are critical to the success of the franchisee's business:
• Finding the right location
• Securing the right rental banding
• Controlling all overhead costs, especially in relation to food, drink and labour costs
• Increasing average spend per customer
• Increasing footfall and weekly sales.
Tony Macaroni has embraced the current trend for takeaway and delivery, which can add up to 20 per cent in incremental sales. The company has optimised its menus to ensure customers enjoy the same quality of food through takeaway as they would experience in its restaurants.
How much does it cost to become a Tony Macaroni franchisee?
The level of investment for the store fit-out, equipment, stock, small wares and launch marketing package will range from approximately £250,000 to £750,000-plus VAT (including the initial franchise fee).
However, this will vary depending on the size and location of your premises, seating capacity and level of refurbishment required.
The single-unit franchise fee is £25,000. Tony Macaroni charges a royalty fee of six per cent and a marketing fee of three per cent.
What's the earnings potential of a Tony Macaroni franchise?
These are challenging times for the hospitality industry, but Tony Macaroni is perfectly positioned to emerge even stronger and take advantage of the opportunities presented by newly available sites right across the UK.
Pre-lockdown, Tony Macaroni was already delivering exceptional sales increases in units taken over from competitors. For example:
Silverburn, indoor shopping mall location
• Previous restaurant tenant average weekly takings £8,000 compared to Tony Macaroni £34,000
• First-week trading after lockdown was £35,000.
Glasgow Fort, outdoor shopping mall location
• Previous restaurant tenant £8,000 compared to Tony Macaroni £35,000
• First-week trading after lockdown was £43,000.
Livingston, outskirts town centre beside large chain hotel
• Previous restaurant tenant £11,000 compared to Tony Macaroni £53,000
• Livingston Tony Macaroni has been open for 10 years and has consistently delivered average weekly takings of £50,000-plus each year. First week trading after lockdown was an incredible £85,000.
Dundee, city centre high street location
• Previous restaurant tenant £17,000 compared to Tony Macaroni £44,000
• First-week trading after lockdown was £49,000.
Why is the Tony Macaroni franchise a good investment?
With an oversupply of rental property and Tony Macaroni's track record of transforming unit sales, there has never been a better opportunity to invest in this proven brand.
How do I start setting up my own Tony Macaroni franchise?
To find out more, or to request further information on franchising with Tony Macaroni, complete the form below and click on the 'Request Free Information' button now.

Request Free Information
Send a free enquiry to Tony Macaroni for further information!
Enquire into this franchise today