The information you submit via our enquiry form is shared only with the franchise business(es) that you have selected.
The franchise business will contact you by means of email and/ or telephone only to the email address and phone number you have provided.
By submitting the enquiry form you are consenting to send your personal information to the selected franchise business.
You also agree to receive further newsletter email marketing from What Franchise.
Close
Did you know?
Jetts 24 Hour Fitness has outlets available across the UK
Request free information in just 60 seconds!
Take the first step in becoming your own boss!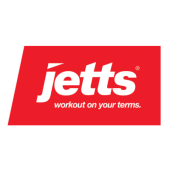 Jetts 24 Hour Fitness
Features of Jetts' gyms include 24/7 access, no lock-in contracts, low fees, high-quality equipment, convenient locations and friendly policies
Minimum Investment
£150,000
Expected Revenue After 2 Years
N/A
About Jetts 24 Hour Fitness
Jetts is an award-winning Australian fitness company founded in 2007 by Brendon and Cristy Levenson, who decided to build a gym entirely based around their customers. Features of Jetts' gyms include 24/7 access, no lock-in contracts, low fees for members, high-quality equipment, convenient locations and friendly policies. Whilst simple, these features revolutionised the fitness industry and allowed Jetts to become one of the most successful and trusted gyms in the business, with over 250 studios around the world today. Jetts' mission is to "inspire people to live a better life".
Jetts boasts of locations worldwide including Australia, New Zealand, Thailand, Holland and more. In the UK, Jetts only takes on 10 to 15 ambitious franchisees at once, in order to give business owners the best chance to do well, and secure their ideal sites in a short timeframe. Now, Jetts has a strong team of experienced professionals in the UK providing ongoing franchisee support.
How does a Jetts 24 Hour Fitness franchise work?
There are a number of ways to get involved in a Jetts 24 Hour Fitness franchise. The first is a semi-passive investment gym option, which will allow you to develop your own gym while still keeping your day job, as you are only required to spend 10 hours a week on the business. Alternatively, if you are a passionate fitness professional, you have the option to own a Jetts gym as an Owner Operator.
As a Jetts franchise owner, you will be joining a company with a successful business model, a proven track record and consistent growth. Your day-to-day will include managing the gym, recruiting staff, marketing, and ensuring the administration and financial sides of the business are in order.
How much does a Jetts 24 Hour Fitness franchise cost?
You will need an average start-up investment of £150,000 in order to join the franchise. This will include the site, as well as an initial licence fee of £29,500. Once the club is operating, there is also a small monthly royalty fee, covering ongoing club support and monitoring.
For this investment, you will receive a full induction to give you the tools and knowledge to start your own club, your own territory and support with finding an appropriate site, as well as a 5-day initial training programme for you and your manager. Jetts will help you design the club with an economical fit-out low staffing requirements. In fact, you will only need one full-time team member. Jetts also provides regular workshops, modules, and operations manuals that are available online.
Generated revenue will come from memberships, joining costs, personal trainer rents and merch sales, so you will have plenty of revenue streams once your gym is set-up. The nature of Jetts' business model will allow you to receive 90 per cent+ of your income paid automatically in advance. With this simple and straightforward business model, expected revenue will only depend on how high your rent is. Once determined, most other costs are fixed, so Jetts can help you estimate how much you will make by providing you with historical cash flows. On average, Jetts' clubs break even in three to six months and offer an excellent return on invested capital.
Did you know?
Jetts 24 Hour Fitness has outlets available across the UK
Request free information in just 60 seconds!
Take the first step in becoming your own boss!
The term of the franchise agreement is 15 years in total.
How to find funding for a Jetts 24 Hour Fitness franchise?
If you cannot raise the funds for your Jetts 24 Hour Fitness by yourself, Jetts has an Approved Banking Accreditation and Westpac accredited funding available for qualified business owners.
Do Jetts 24 Hour Fitness franchisees need prior fitness experience?
Not necessarily, but it can be useful to have some prior management experience, as your main role will be to manage your new gym. Training is an ongoing process at Jetts so from day one, Jetts will provide support. First, you will receive five days of initial training from Jetts. After that, you can find a number of resources online and will be able to attend regular workshops provided by Jetts.
New locations for Jetts 24 Hour Fitness franchises
There are two location options available for you to start your own Jetts. You can either buy an existing Jetts gym or alternatively, take the brand to a new country.
In general, ideal locations will include high-visibility sites in close proximity to convenience stores or centres, where there is car parking and medium to high level of foot traffic.
Finding the right building
During your initial induction, Jetts will provide assistance to start sourcing suitable sites in your local area. Jetts has a "Leasing Team", who will work with you through the process. Firstly, they will work with their substantial agent network to help you identify the most suitable site opportunities in your area and help you select the right one. They will provide help with site qualification, demographic analysis and negotiation of the Offer to Lease.
Finding a Jetts 24 Hour Fitness Franchise for sale
You may decide you prefer to buy an existing gym, you can do so directly from Jetts. A number of Jetts gyms are available for sale around the world, just get in touch to find out if there is one in your area.
Why choose a Jetts 24 Hour Fitness franchise?
Jetts is one of the most successful gym franchises in the UK and a great opportunity to get involved in the industry while still keeping your day job if you decide to opt for the semi-passive investment gym option. From the start, you will receive full training and strong support from the Jetts Support Office, filled with state directs, business performance managers and other experienced professionals who can guide you through your journey.
Moreover, you will be benefiting from Jetts' strong global presence, brand and reputation. Jetts offers a stable return on investment and boasts of an outstanding infrastructure in terms of technology, operating systems and marketing. You will also gain strong multi-club representation and the opportunity to expand your business. In fact, some business owners own over 10+ clubs.
How do I apply?
The first step to opening up your own Jetts franchise is to get in touch by completing the form on this page.

Request Free Information
Send a free enquiry to Jetts 24 Hour Fitness for further information!
Enquire into this franchise today