The information you submit via our enquiry form is shared only with the franchise business(es) that you have selected.
The franchise business will contact you by means of email and/ or telephone only to the email address and phone number you have provided.
By submitting the enquiry form you are consenting to send your personal information to the selected franchise business.
You also agree to receive further newsletter email marketing from What Franchise.
Close
Did you know?
Speaking Roses has outlets available across the UK
Request free information in just 60 seconds!
Take the first step in becoming your own boss!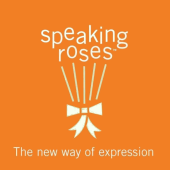 Speaking Roses
Speaking Roses offers personalised floral gifts for corporate and domestic customers, with messages and images printed onto fresh flowers
Minimum Investment
£6,960
Expected Revenue After 2 Years
N/A
About Speaking Roses
Speaking Roses is a unique florist franchise, offering personalised printed gift products, made with fresh flowers. The brand has its own patented technology, allowing franchisees to print words and images onto fresh flowers and other products, such as artificial flowers, wood, glass and more.
Speaking Roses was founded in Utah in the US, and has franchises around the world.
Is the Speaking Roses franchise available in the UK?
The headquarters for Speaking Roses is based in Utah, but its possible to purchase franchises in the UK, as well as elsewhere in the world.
How much does a Speaking Roses franchise cost?
To start a standard franchise with Speaking Roses, you'll need to make a minimum investment of £7,990. The company offers a range of licensing packages at different prices, depending on your level of experience and business goals. Further information about different licensing options is available from the company upon enquiry.
There is also a franchise fee applicable of £100.
What funding opportunities are there for a Speaking Roses franchise?
There are opportunities to get funding support from the company to start your franchise. Alternatively, you may be able to get funding from most major banks.
What territories are available for a Speaking Roses franchise?
Speaking Roses is a global franchise, and territories are available all over the UK.
What makes the Speaking Roses franchise unique?
Speaking Roses have created their own patented technological process that distinguishes what they offer from any other kind of personalised gift printing service. The company does not use stickers or decals, but directly applies ink in a fast and efficient way, with a state-of-the-art flower printer. This can apply bright and metallic ink to a variety of delicate surfaces.
The brand has gained global viral recognition, featured in over 100 major global publications and media networks, including Forbes and the Oscars, and has gained publicity through support from celebrities such as Tom Cruise and Dustin Hoffman. As there is no other brand providing this service, this can be an exciting and unique opportunity for anyone looking for a creative and novel business opportunity.
What experience do you need to start a Speaking Roses franchise?
While the franchise is based in the floristry industry, you do not need experience as a florist to start a Speaking Roses business. It is an ideal franchise for anyone with a creative eye, and an appreciation for how you can use the brand's unique technology to create appealing and innovative products for customers.
As with any franchise, having a good business sense will be a helpful trait. Would-be franchise owners should be self-motivated, dedicated and have great communication skills to network and promote the product to a wider market.
What training and support will you receive with a Speaking Roses franchise?
Speaking Roses offers a Speaking Roses University for all franchisees, allowing them to complete their training through online study. The brand also offers a live, three-day training course on-site at its headquarters in Utah.
Did you know?
Speaking Roses has outlets available across the UK
Request free information in just 60 seconds!
Take the first step in becoming your own boss!
The course covers all parts of the service, including practical knowledge on to handle their unique printing equipment and flower handling skills during and after printing. The programme also covers essential sales and marketing information, and franchisees are taught how to target particular niches within the floristry, gifting and advertising industries.
While the programme trains you on how to create products for a range of applications such as holidays, birthdays, weddings and other everyday celebrations, Speaking Roses will also support you on the development of any new product ideas you may come up with.
Speaking Roses also offers regular training sessions at its headquarters to share new ideas and skills, helping franchisees to continually offer new and exciting products to customers.
What do franchisee reviews say about owning a Speaking Roses franchise?
Existing franchisees have found that owning a Speaking Roses business has been a positive experience overall, with many franchisees finding the level of support provided by the business to be helpful and inspiring. Through the online training materials, the company regularly provides support on all aspects of sales and marketing, helping franchisees navigate the steps needed to establish and grow their business.
Many franchisees have also enjoyed the opportunity to bring greater creativity into their business, by working with such a unique product.
Is a Speaking Roses franchise a good business opportunity?
Owning a Speaking Roses can potentially present a great business opportunity for astute and creative franchisees, as the technology and product offered by the brand is a globally unique one.
With no other brand offering the same service, franchisees have a unique advantage.
The versatility of the process also enables franchisees to tap into a wide range of market sectors, which allows you to build your business according to your own goals and interests. This can include domestic customers, by selling personalised gift products for everyday celebrations, and by offering products for the wedding industry.
Many franchisees have also successfully expanded the product into the corporate, marketing and advertising sector, by creating tailored products for businesses of all sizes in various applications, from hotel and restaurant openings and special events, product launches, corporate gifts and promotional schemes.
Potential franchisees can explore the company's extensive gallery of past products to find inspiration.
Franchisees from all over the world have also found attending the in-person training programmes at the US location to be a great opportunity, as it has helped them network with other franchisees, and enabled them to exchange ideas and advice through a global network of other Speaking Roses owners.
How can I get started on running my own Speaking Roses franchise?
To find out more about starting your own Speaking Roses franchise, click the enquiry button on this page. You'll receive more information about different licensing options, pricing options and funding support, as well as details on available training programmes.
Request Free Information
Send a free enquiry to Speaking Roses for further information!
Enquire into this franchise today