The information you submit via our enquiry form is shared only with the franchise business(es) that you have selected.
The franchise business will contact you by means of email and/ or telephone only to the email address and phone number you have provided.
By submitting the enquiry form you are consenting to send your personal information to the selected franchise business.
You also agree to receive further newsletter email marketing from What Franchise.
Close
Did you know?
Optic-Kleer has outlets available across the UK
Request free information in just 60 seconds!
Take the first step in becoming your own boss!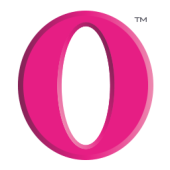 Optic-Kleer
Independent windscreen repair-only company offering high-quality repairs to private customers, plus small and large corporate customers
Minimum Investment
£19,950
Business Type
Motoring Services
Expected Revenue After 2 Years
N/A
In Brief
Start earning from day one – no experience necessary. Launch and running costs are low – stock purchase is less than 1% of turnover. The turnkey business opportunity provides an exclusive territory, help with limited company and VAT setup, all tools and equipment. Premium positioning - high footfall supermarket locations boost customer numbers - benefit from national marketing and insurance company referrals to increase revenue.
About Optic-Kleer
Optic-Kleer is an independent windscreen repair-only company offering high-quality repairs to private customers, plus small and large corporate customers. As a well-established franchise, the company is celebrating its 26th year in business.
The repairs are normally carried out at no cost to the customer - subject to insurance cover - as Optic-Kleer is recognised by many insurance companies. Insurance brokers often refer customers to Optic-Kleer due to its recognition as a high quality, competitive windscreen repair company.
Optic-Kleer also achieved 5 Star Franchisee Satisfaction status in 2021.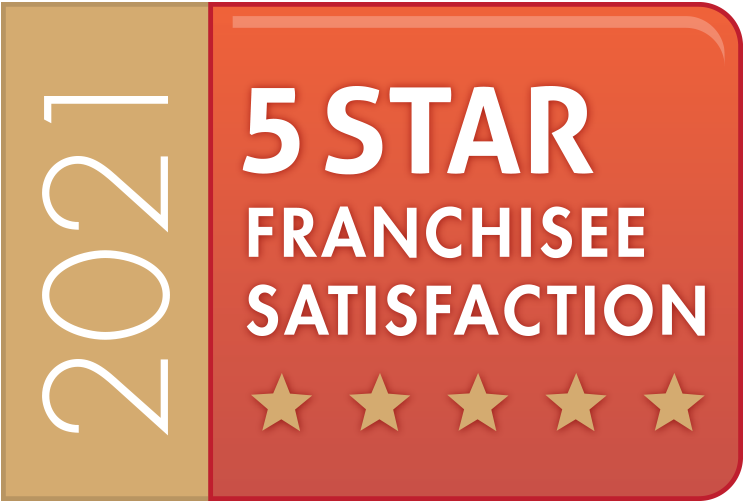 How does the Optic-Kleer franchise model work?
Optic-Kleer professionally maps out an exclusive windscreen repair territory to suit every franchisee, who work mainly from supermarket and various DIY store car parks.
All the windscreen repair equipment, tools, resins, seals, and marketing materials are included in an initial franchise fee of £19,950 so that everything is ready for franchisees to immediately begin trading. (Ongoing equipment costs are less than one per cent of turnover.)
In addition to the franchise fee, you will need a van to work from.
Franchisees are able to book workdays through head office several weeks in advance, so their work plan can be managed effectively.
The company has a competitive management service fee due to its web-based admin system, with 17.5 per cent of gross revenue payable monthly. This covers consumables and the team at head office who deal with all invoices and queries.
What locations or territories is Optic-Kleer looking to operate in?
Opportunities are available across the UK. Optic-Kleer retains the final decision on territories. The company guarantees that no other Optic-Kleer franchisee will be located within the exclusive territory. Your exact territory will be specified in your franchise agreement.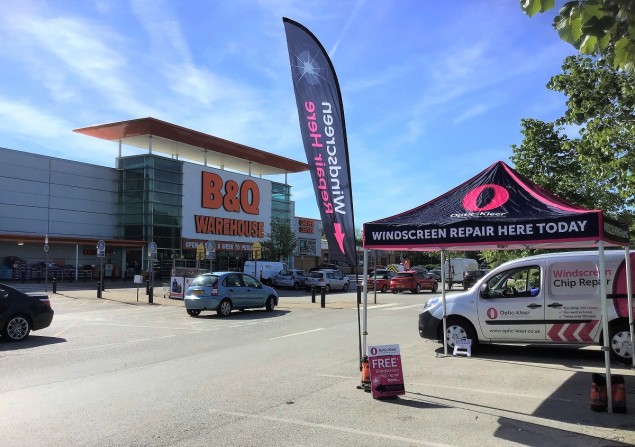 Why is Optic-Kleer a good investment?
• The Optic-Kleer franchise package is a low-cost turnkey business opportunity that equips franchisees to start earning from day one in their local community.
• Optic-Kleer will help you set up your own limited company with no need for premises, stock or staff and you get a rewarding opportunity working with a customer-focused company with a reputation for excellent customer service.
• There is plenty of variety in joining the Optic-Kleer network and franchisees who enjoy building relationships with customers report high levels of job satisfaction.
• In 2016, Optic-Kleer invested in its digital systems, including a new customer website for smartphone, tablet and desktop; a new back-office system, so that administrative staff can process claims more efficiently; and a mobile app to help run operations and maximise opportunities.
• Optic-Kleer has significant buying power and established supplier contacts and is constantly updating its processes and materials with the latest equipment from around the world.
• Optic-Kleer's use of relevant local and national marketing, combined with a strong presence in supermarket and DIY store car parks, means there is no need for cold calling, door knocking, leaflet drops or other time-consuming methods of creating business.
• Franchisees have the benefit of starting their own business with fewer risks involved while benefiting from the support of a company that has developed a method of doing business that produces successful results.
• Offering professional windscreen repair services to customers while they shop means huge time savings, which is crucial in a busy world. A huge, untapped marketplace of vehicle owners is available for franchisees wanting to make the most of their time.
• Best of all, the specially developed resins and curing system enable Optic-Kleer to offer a lifetime warranty for as long as clients own their vehicle.
Did you know?
Optic-Kleer has outlets available across the UK
Request free information in just 60 seconds!
Take the first step in becoming your own boss!
Where in the UK is the franchise based?
Optic-Kleer's head office is in Boston, Lincolnshire.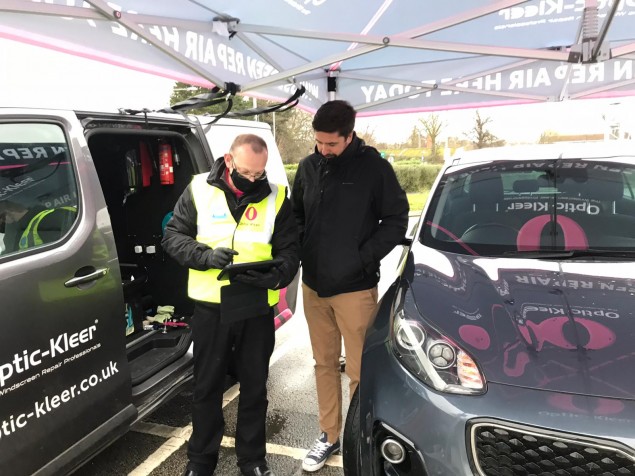 What support and training do Optic-Kleer franchisees receive?
Franchisees benefit from comprehensive head office support and training, which teaches individuals how to repair chips or cracks in windscreens.
Workshop training soon becomes 'reality', with solid earnings and actual hands-on repairs on real customers' cars. After hands-on training, Optic-Kleer helps franchisees set up their businesses, including VAT registration.
Optic-Kleer even provides half-board accommodation for franchisees during their initial training, so they can arrive at no cost and leave with a fully functional business. Essentially, franchisees leave Boston ready to start earning in their own territory.
What are the Optic-Kleer franchise's terms of agreement and renewal?
The franchise term is for 20 years, which is made up of an initial term of five years, followed by three subsequent terms of five years.
A franchise can be sold at any time subject to certain conditions. Optic-Kleer requires that new purchasers are approved by the company and take part in its training programme.
As for potential franchisees, previous sales experience is not a requirement, but franchisees must have an interest and affinity with what Optic-Kleer does.
As with running any business, a positive attitude and approach is essential. As an Optic-Kleer windscreen repair franchisee, you need to be happy to approach and talk to people. If you have the right attitude, you will have plenty of satisfied customers.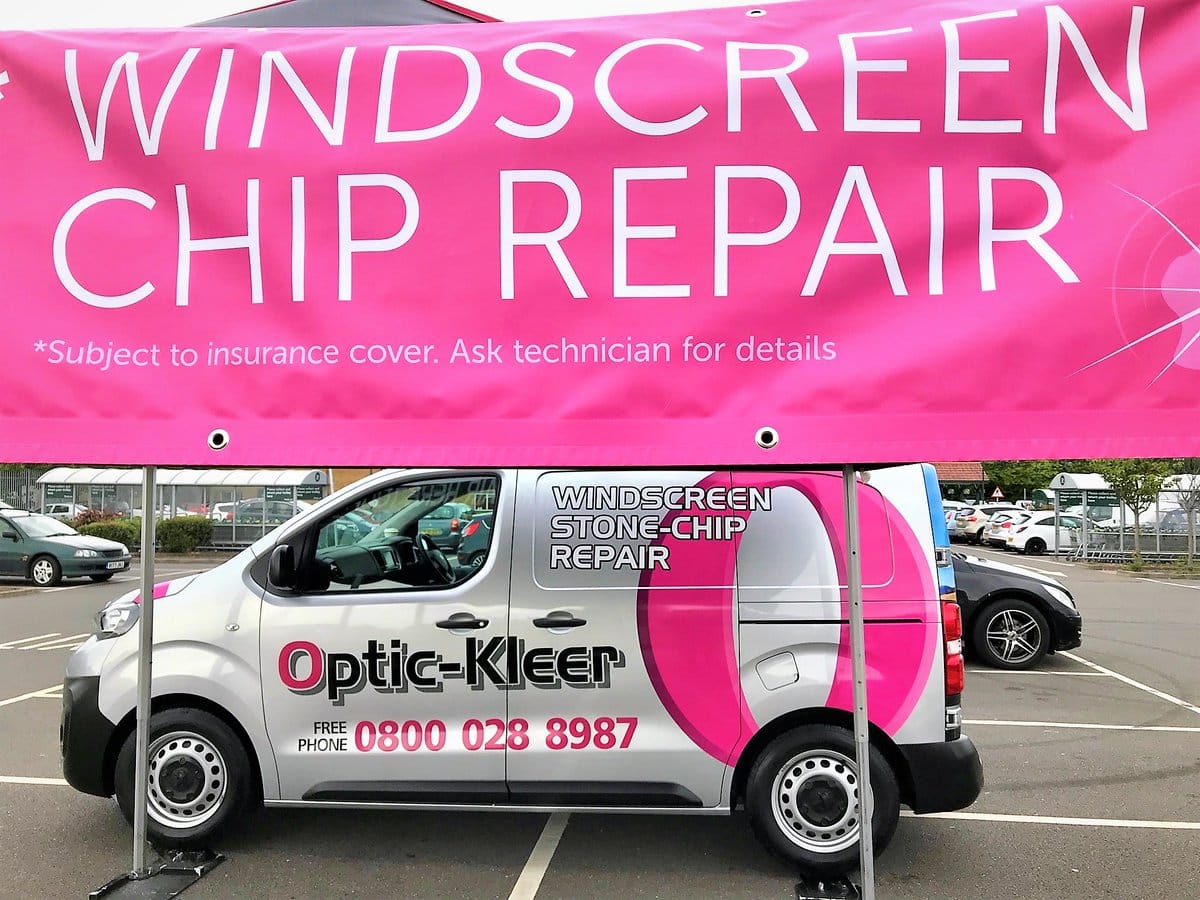 How in demand are windscreen repair services right now?
With more than 30m vehicles on UK roads, the potential market for windscreen repairs is six million every year, when you take into account figures that show one in five vehicles get a chip in the windscreen every year.
Windscreen repair is a captive market, as it is only specialists who can carry out repairs. Repairing windscreens is more cost-effective and therefore more popular than total windscreen replacement, and word of mouth recommendations are often the best way to build a business.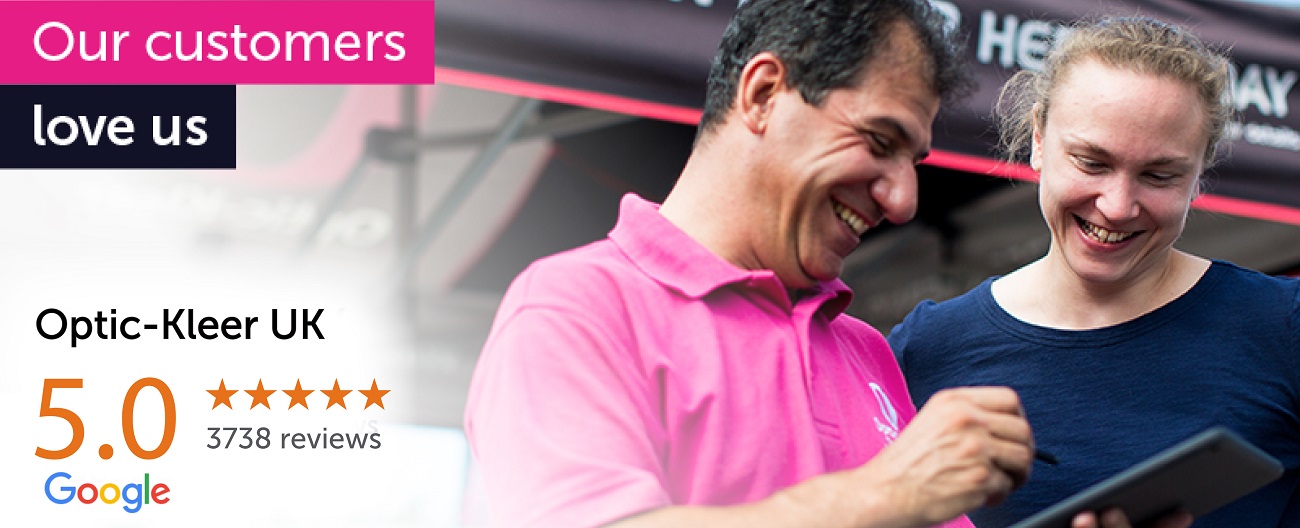 How can I get started on setting up my own Optic-Kleer business?
After clicking the button below you will be sent a brochure in which you can find the answers to many of the questions you might have about the business.
Optic-Kleer recommends interested parties ask trusted family and friends for advice, as well as carry out basic market and industry research to identify the potential and demand for windscreen repair services.
You can enquire about the availability of a windscreen repair franchise in your area and arrange a day in Boston for a face-to-face interview and to receive further information about Optic-Kleer.
If discussions continue and your exclusive franchise territory with Optic-Kleer is determined, you will be required to sign a non-disclosure agreement before a meeting with company director, David Overton.
Buying a franchise is a serious commitment, so you need to be sure this is what you want to do. Once you have signed the Optic-Kleer deposit agreement and paid a deposit of £1,000 (plus VAT), a franchise agreement will be prepared.
Optic-Kleer is happy for you to speak to other franchisees about their experiences - in fact, it is encouraged. The company also recommends you seek professional business and legal advice, so you are sure you fully understand your responsibilities.
To find out more or to request further information on franchising with Optic-Kleer, click the 'Send Enquiry' button now.

Request Free Information
Send a free enquiry to Optic-Kleer for further information!
Enquire into this franchise today