The information you submit via our enquiry form is shared only with the franchise business that you have selected.
The franchise business will contact you by means of email and/ or telephone only to the email address and phone number you have provided.
By submitting the enquiry form you are consenting to send your personal information to the selected franchise business.
You also agree to receive further newsletter email marketing from What Franchise.
Close
Sign of the times
Posted: 30 Oct 2019
Estimated Read Time:
in about 8 minutes
Three long-standing employees of FASTSIGNS Crawley have made their dream of business ownership a reality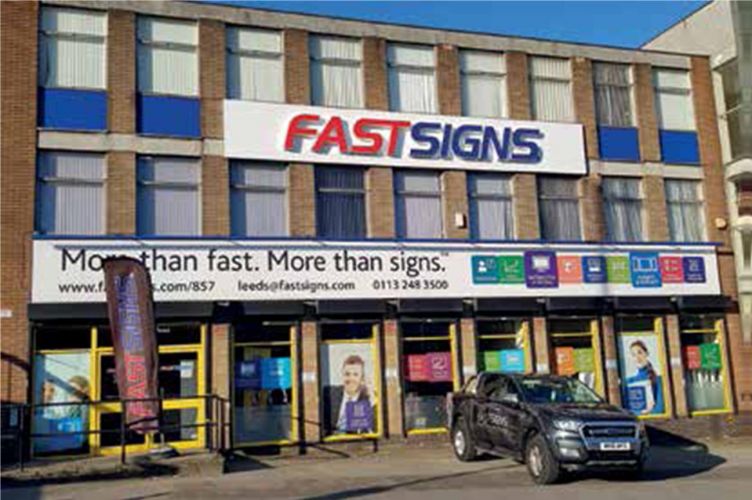 Launched in 1985 in Dallas, Texas, FASTSIGNS has more than 700 independently owned franchise centres in nine countries, with 22 centres in the UK. The franchise offers a business-to-business management opportunity providing eye catching signs, graphics and visual communications to a wide range of customers.
Melanie, José and Alan: Friends first
The team at FASTSIGNS Crawley took over the centre in December 2018. Husband and wife, José and Melanie Martinez, partnered with their long-term friend and colleague Alan White to purchase the franchise and build on the successful business.
In the mid-nineties, José joined the first ever FASTSIGNS franchise in the UK. Melanie has been at the FASTSIGNS Crawley centre since its launch in 1995.
She explains: "Having played such a pivotal role in helping FASTSIGNS Crawley evolve into the business it is today, being its franchisee has always appealed to me."
In 1997, Alan joined the team as the Crawley centre's sign maker and in 2000, as Melanie and José's family grew, José transferred to the Crawley branch to help manage their home life logistics. In a short time the three became firm friends as well as colleagues.
Signed, sealed and delivered
When the opportunity to purchase the franchise came up at the end of 2018, the time was right for José, Melanie and Alan to purchase the centre and become business owners. The three friends prepared thoroughly for the purchase.
Alan says: "We didn't want to miss something that might cause problems in the future. We had all wanted it for so long, we didn't want anything to go wrong in our new business. There's risk involved in starting your own business, but I was hungry for it. We all were.
"We knew we had the support of the FASTSIGNS brand behind us and we just wanted to get started. I thought nerves would kick in, but they haven't yet."
Transitioning from employees to owners has required hard work. Melanie explains "It was the hardest we've ever worked, but we haven't regretted it once. Even though we understand how the centre operates, there was still so much we needed to know about being business owners."
FASTSIGNS' UK support team has supported the trio through their transition period. "Having the resource of the support team has been invaluable," Alan says.
Sure sign
Almost a year into their franchise adventure, what does the future hold?
"The main thing is to keep enjoying doing what we do," Melanie says. "We want to grow our business to a sustainable level, maybe employ two or three more people. We want to maintain the close knit feel we currently have, provide a comfortable living for ourselves and have that satisfying feeling that we are building something for our future."
At a glance FASTSIGNS International Inc
Established: 1985
Number of franchised outlets: more than
700 worldwide. 22 in the UK
Location of outlets: nationwide
Investment range: £125,000 plus
Minimum capital required: £36,000
URL: fsfastsigns.co.uk
Contact: John.davies@fastsigns.com
enquiries@fastsigns.com. 01785 2453140
Our Guide to Getting Started in Franchising
Grow yourself from a franchising no to a franchising pro!
Ones to watch
Franchisors provide an insight into how they've built their businesses.
You have pending
Here's just
five reasons

why you should join our

FREE

newsletter!
New articles added every week

Hand picked franchise opportunities just for you

First class help and advice for franchising and business

We have the industries best contributors on board

Inspiring and insightful franchise case studies