The information you submit via our enquiry form is shared only with the franchise business(es) that you have selected.
The franchise business will contact you by means of email and/ or telephone only to the email address and phone number you have provided.
By submitting the enquiry form you are consenting to send your personal information to the selected franchise business.
You also agree to receive further newsletter email marketing from What Franchise.
Close
Did you know?
Signarama has an expected revenue of Gross profits exceeding 70% after 2 years!
Request free information in just 60 seconds!
Take the first step in becoming your own boss!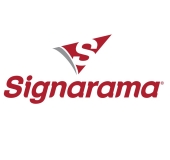 Signarama
Biggest sign making company in the UK, and provides signs for a wide range of industries and applications
Minimum Investment
£55,000
Business Type
Print & Promotional Services
Total Investment
£110,000 to £135,000
Expected Revenue After 2 Years
Gross profits exceeding 70%
About Signarama
Signarama was started with a single location back in 1986 in Farmingdale, New York by Ray Titus. Since he franchised the business, it has grown to over 650 locations worldwide. With over 35 years in business and the founder still actively involved, it brings a lot of experience and knowledge to the table. It is one of the world's largest sign and graphics businesses and has won numerous awards from Entrepreneur Magazine, Franchise Times, and it has even set a Guinness World Record!
Where are the head offices for the Signarama franchise located?
The UK head offices for the Signarama franchise are based in Harrow, England, while the world headquarters for Signarama is in Florida.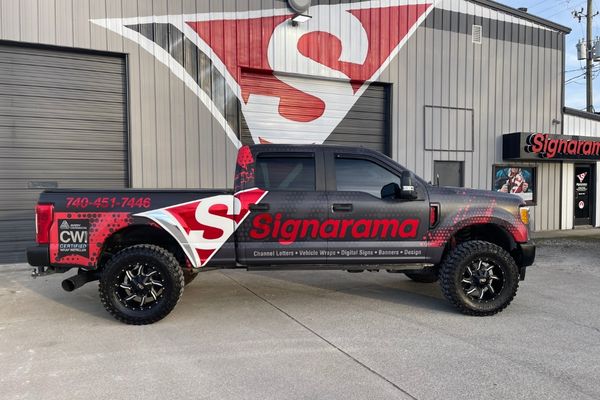 How much does a franchise with Signarama cost?
The minimum investment for a new Signarama is less than £60,000 for its Lite model. Its Production model is approximately £125,000, depending on the site chosen in your market. With an enthusiastic sales effort, you can expect to break even within the first three to six months of business.
Both options enable franchise owners to start the business and get it running immediately, and give potential franchisees the opportunity to choose according to their financial position, background and experience level.
Everything that it produces is custom-made, so gross margins are high. Many franchisees have gross profits exceeding 70 per cent. With more than 35 years' experience in signage and graphics, Signarama has weathered all types of economic environments and flourished in all of them, for one simple reason: signage continues to be the single most cost-effective form of advertising available.
In addition to initial fees, franchisees will also be required to contribute to the national marketing fund. The cost of these will vary depending on revenue.
How does the franchise model work?
Its franchise model has always been about being local within the communities and responding to customers' needs quickly. Franchise owners build relationships with other businesses in their local area to supply high-quality signage. It trains franchisees extensively on how to grow their customer base and turn those customers into high-value repeat clients.
Where can you find a franchise territory for Signarama for sale?
There are a number of franchise territories available with Signarama across the UK. For details on specific territories, contact the franchise team for current information on opportunities by filling in the enquiry form on this page.
What kind of financial support can you get to begin a Signarama franchise?
Financial support may be available from major high street banks and lenders to help start a franchise with Signarama, for a significant amount of the investment figure.
Did you know?
Signarama has an expected revenue of Gross profits exceeding 70% after 2 years!
Request free information in just 60 seconds!
Take the first step in becoming your own boss!
What kind of experience do you need to have to run a Signarama franchise?
Across the globe, it has franchisees from all types of backgrounds. If you don't have previous signage experience, don't worry – neither did most of its current group of 700-plus franchisees around the world!
Signarama is looking for business people that want to build customer relationships, grow a team and have an attitude to grow. It supports multi-unit ownership for the right franchise owners when they meet its multi-unit criteria.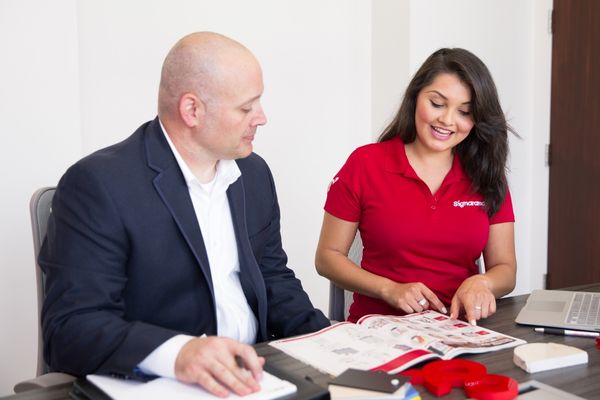 What kind of training and support do you get with a Signarama franchise package?
It offers a five-week training programme to start a Signarama franchise. The first two weeks are at its world HQ in West Palm Beach, Florida. Your airfare, accommodation and one meal per day are included in your investment.
From there you will spend a week of on-the-job (OJT) training in your market with an existing Signarama store, before the final two weeks with the support team at your store, kick-starting your Signarama business. After that, regular support visits to monitor progress are undertaken with its local support team.
What are the franchise terms of agreement and renewal?
The franchise term is 25 years, giving you the confidence to be able to grow the value of your asset over time, without the cost of franchise renewals or mandatory refurbishments.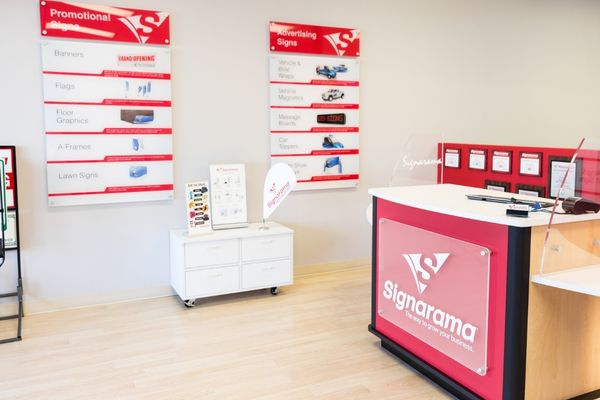 Why is a Signarama franchise a good investment?
Signarama is a Monday to Friday business, with relatively low staffing requirements, low inventory (order as you need it) and high gross margins and you deal with other business owners. It's a fantastic model for lifestyle and for those that enjoy time with their families on the weekend.
How in demand is signage?

The great part about Signarama is that every business needs and uses signs every day. Every business is a potential customer. B2B customers are 'sticky' – its franchisees say that anywhere up to 70 per cent of their business each month is from repeat customers, so growing your business is easy.
How can I get started on investing in my own Signarama franchise?
To find out more about starting a franchise with Signarama, contact the team directly by completing the online form on this page to arrange a preliminary discussion with a member of the franchise group to discuss available territories and franchising opportunities.
Request Free Information
Send a free enquiry to Signarama for further information!
Enquire into this franchise today